How to Deal With
Utah Robocall
s and Keep Yourself Safe From Them
Utah citizens are receiving roughly a million automated calls per day, which puts them in the top thirty states regarding the number of unsolicited computerized calls. According to the YouMail Robocall Index, in 2019, people of Utah were victims of 431.6 million robocalls. And these robocalls are getting worse. The number of hits per month is increasing, and the variety of schemes is becoming more personal and convoluted.
What Are Robocalls?
A Robocall is an incoming call from an unknown number, where instead of talking to a real human, you listen to a pre-recorded message. 
While some can be legitimate, a lot of robocalls are scams. The reason why this method is popular with scammers is an easy access to the technology required to conduct such an operation. You only need a few components to start massively spamming people over the phone—VoIP (Voice over Internet Protocol) software and Caller ID spoofing devices. 
VoIP is the technology that scammers use to call thousands of people in a day through internet connection. Scammers tend to use illegally acquired phone numbers, which are then fed into the software 

Caller ID spoofing is a method that allows the callers to change their Caller ID to any number they want, including numbers from well-known companies, numbers from your area code, and even your own number to harass other people 
Common Robocalls in Utah
Robocall scammers can approach you using a variety of methods, but utility scams seem to be quite popuar in Utah. These scammers intimidate people by threatening to cut off their power or gas if they don't make immediate payments on supposedly overdue bills, which was the case with National Grid Robocalls. 
Here are some other common robocalls in Utah:
Which Robocalls Are Legal?
Not every automated call you get is illegal. Companies sometimes use robocalls to get in touch with their consumers, send notifications, reminders, and information— which is why you can get a robocall to remind you about upcoming appointments. As long as the companies have your permission to call and are not trying to sell you anything, the calls are legal. 
Charities and nonprofits, for example, are allowed to use robocalling to contact you, as long as they don't outsource the operation to a telemarketing company. If they do the robocalling themselves, then it is a legal process, and they don't need your permission for it.
Some examples of both legal and illegal robocalls are:
Legal Robocalls

Illegal Robocalls

Public service announcements

Public surveys and studies

Political campaign calls

Some calls from charities

Appointment reminders

Calls from companies, institutions, and organizations that have your permission to call

Calls coming from spoofed or hidden numbers

Calls coming from companies trying to sell you products without your written consent

Calls designed to extract personal information
Stopping
Utah Robocall
s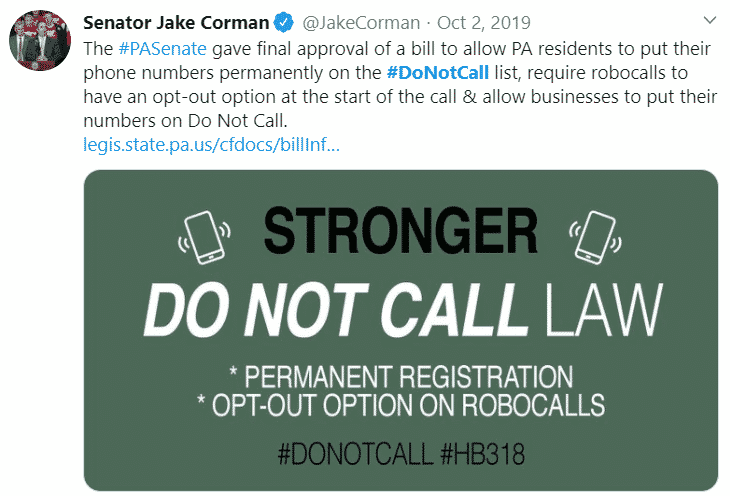 Progress is being made in fighting robocalls and other phone scams, thanks to the efforts of both the Federal Communications Commission (FCC) and the Federal Trade Commission (FTC). One of these efforts is the Pallone-Thune Telephone Robocall Abuse Criminal Enforcement and Deterrence Act (the TRACED Act). The  TRACED Act— legislation that will allow the FCC to push phone carriers to introduce call authentication technologies— was signed into law at the beginning of 2019. 
The FCC is also working on the development of STIR/SHAKEN protocol. STIR/SHAKEN is a system that helps carriers validate that the call is coming from the number displayed on Caller ID. The protocol should reduce scams that use spoofing technologies as a means to extract money from their targets. 
While the efforts from federal agencies are appreciated and could make some difference further down the line, you could take a look at some of the tips in the FCC guide to robocalls.
Prevent robocalls by registering on the Do Not Call list

Report robocalls to the FCC, FTC, National Do Not Call registry and your phone carrier

Block robocalls
Preventing Robocalls With Do Not Call Registry
The Do Not Call list is a registry of numbers created by the FTC in 2003, with the intention to reduce the number of unsolicited calls in the States. Once you register on the Do Not Call list, your number becomes permanently off limits to companies that don't have your written consent for calling. Some Do Not Call list exceptions are still allowed to contact you, but those are usually government institutions and public organizations. And if you were wondering how to check if a number is on the Do Not Call list, you can verify your registration on their website.
Reporting Robocalls
You can report robocalls by filing a complaint with the FTC, FCC, or the National Do Not Call Registry.
Filing a complaint with the Federal Trade Commission can be done through the

FTC Complaint Assistant

or by calling the 877-382-4357

Filing a complaint with the Federal Communicatrions Commission is possible through their

robocall reporting service

or by contacting them at 888-225-5322

You can also file a complaint with the National Do Not Call Registry by visiting their

website

You can and should report robocalls to your phone carrier
Blocking Robocalls
Depending on your preferred platform, there are plenty of options to block unwanted calls. Robocalls can be prevented by a built-in call blocker on your smartphone, a hardware device for the landline, or third-party apps.
Block Robocalls on Your Mobile

Whether it's Android or iOS, with a mobile phone, you have lots of options to block robocalls. Some mobile carriers have their tools for dealing with unwanted calls, so check with your service provider to see what's available. Some of these built-in options are not powerful enough to block spam calls. They can only identify suspicious numbers. 
Installing a third-party robocall blocking app remains one of the most reliable ways to prevent robocallers, telemarketers, and other spam callers from reaching you on your smartphone. 
You can check out some of the robocall blocking apps that work both on iOS and Android like Hiya, RoboKiller's Spam Call Blocker, Nomorobo's Robocall Blocking, or Truecaller.
Hiya
Hiya is a free robocall blocking service with some premium features. The app works with an extensive database of numbers, which enables it to analyze calls and identify suspicious numbers. 
Hiya's free basic plan includes:
Detecting incoming spam calls

Auto and manual spam reporting

Area code blocking

Spoofed numbers filtering
The app is free both for Android and iPhone, but you can upgrade to a Premium plan to get access to the caller ID database. The price for a premium plan is $2.99 a month or $14.99 annually.
RoboKiller's Spam Call Blocker
After identifying a call as spam, RoboKiller automatically blocks their number. It then sends the call to its "Answer Bots," that play pre-recorded messages to unsolicited callers.
The app offers a one-week free trial, while the regular price depends on your platform. For Android devices, you would need to allocate $2.99 a month or $24.99 a year and for iOS $3.99 a month or $29.9 per year. 
Some RoboKiller features are:
Tagging suspicious numbers as robocallers

Filtering through spam texts

Allowing you to create and customize "block" and "allow" lists
Nomorobo Robocall Blocking
A low-cost premium app, Nomorobo, lets you either automatically block robocalls or send them directly to voicemail. 
Nomorobo works by using its database to distinguish scams from legitimate phone calls. 
Some of the features Nomorobo offers are:
Blocking a spam call and sending it to voicemail

Identifying calls as spam

Blocking spam text messages

Helping you report a robocall or spam call
You can purchase the app for $1.99 a month, but Nomorobo also offers a two-week free trial.
Truecaller
This premium app is essentially a caller ID tool that can identify spam callers and locate them, even if they're not in your contact list. Truecaller uses a database to match and pinpoint scammers, which enables the app to block them automatically. 
Some of the features Truecaller offers are:
Creating a fully customizable blacklist and whitelist

Automated call-blocking

Providing the Caller ID tool to users
The app has a basic free plan and two premium versions. The price for the premium plan is $2.99 a month or $26.99 per year. There is also a Truecaller Premium Gold plan for $249 per year. 
How to Block Robocalls If You Are Using a Landline
Even though landlines are becoming obsolete, more than 40 percent of U.S. adults still live in households that have an operational landline. If you live in one of those households, you are familiar with the fact that scammers don't direct their robocall scams only towards mobile phones.
Since downloading additional software is not an option here, stopping robocalls from calling your home phone can be a bit tricky. Apart from adding your number to the Do Not Call registry, here are the steps you can take and tools you can use to control who calls your house:
Check what robocall blocking services your carrier offers

Look into Nomorobo's services for an internet-based digital line

Use Hardware call blocker like

Call Control Home
Check Out Call-Blocking Software Your Carrier Offers
Depending on your landline service provider, you can probably get access to some robocall blocking tools. Most of these services work for digital home phones only, so make sure to ask your provider about the details of their offer.
Here are spam blocking options that some of the largest landline carriers in Utah offer:
Landline Service Provider

Spam Blocking Options

AT&T offers their customers the Digital Phone Call Protect service, which allows users to stop spam calls, get alerts, and block specific numbers. The feature also includes a spoofing ID system.

Comcast offers their users to set up XFINITY Voice call blocking service. Comcast customers also gain access to Call Screening and Anonymous Call Rejection services.

Frontier has an extensive help center that offers tips on everything from dealing with telemarketing calls to activating a robocall alert on your Caller ID.

Spectrum provides its users with a third-party call blocking service. With this option, users can screen and block incoming calls and add numbers to the blacklist.

CenturyLink provides their customers with a hardware anti-spam device called V5000 Call Blocker. This device can automatically block over  5000 numbers that are already part of the device's blacklist. Users can also manually add numbers to the blacklist.

Verizon has four ways to help their users block calls on their landline. Users can sign up for Call Block services, Caller ID, Anonymous Call Rejection, and Caller ID/Call Waiting.

Verizon also added a  Spam Alert feature that will help in identifying spammers.
What Services Nomorobo Offers for Landlines?
The awesome thing about Nomorobo Robocall Blocking is that it's not cellphone-specific. It also works on digital home phones. Digital landline users can get a feature known as "Simultaneous Ring". With this service, Nomorobo intercepts and screens all calls coming to your landline. Legitimate calls will go through to your number, and scam calls will be blocked. You will also get notified if you get a spam call — your phone will ring once and stop, meaning a robocall was just blocked. If the phone keeps on ringing, it's a legitimate call, and you can answer it.
Try a Spam-Blocking Device
If you are still using a copper-wire landline, you can buy a hardware call blocker. These are small devices that you attach to your phone, and most come with their own lists of spam numbers. 
One of the most popular robocall blocking devices for landlines is Call Control Home. This device is simple to use. You only need to plug it into your landline and pair the device with the Call Control app on your smartphone. Call Control Home works with a list of recorded scam numbers to identify unwanted callers and block them before they can even connect. 
Additional features this device (matched with the app) offers are:
Automatic blocking of spam texts

The Quiet Hours feature

Personalized blacklists and whitelists
You Can Fight Back Robocalls in Utah With DoNotPay

You've added your number to the Do Not Call list, exhausted every robocall blocker available, and the harassment didn't stop? There is a way to get your robocall revenge against these scammers. DoNotPay is a powerful tool that can help you fight back against robocalls.
How to stop Robocalls with DoNotPay? Follow these simple steps:
Access DoNotPay through the

web browser

Use the Robo Revenge feature to create a

free virtual credit card

When you receive a robocall, and they ask you to pay for something, use the info from the virtual credit card 

Wait for the scammers to try to charge the card, which will result in DoNotPay receiving their details

You can now generate a letter demanding compensation

If they refuse to pay, you can use the app to initiate a

robocall lawsuit
What Else Can DoNotPay Do for You?
If you live in Utah, you know how easy it is to get a parking ticket in Salt Lake City, especially around Main Street. But disputing Salt Lake City parking tickets is a whole new level of annoyance, as is trying to get out of a gym membership or get United Airlines compensation.  But it doesn't have to be. Let DoNotPay, the world's first robot lawyer help you out with this and many other problems. You can use the app to stand up to corporations trying to profit off you, get help paying or lowering your bills, generate virtual credit cards to avoid being charged for free trials, and bypass bureaucracy nonsense.
You can access DoNotPay through the web browser and check out some of the issues that you can sort out without too much fuss.
Disputing traffic tickets

Fighting speeding tickets