How to Use Nomorobo Robocall Blocking App to Fight Robocalls
Did you know that, according to USA Today, Americans received as many as 58.5 billion robocalls in 2019? If nothing else, robocalls are annoying, especially when you receive them too frequently. They can be useful in some cases, but most people still consider them irritating. To make things even worse, some robocalls can even be a threat to your money or personal information.
With the rising number of robocall scams, people have become rather concerned about their safety. As a result, a wide range of options for fighting against robocalls has appeared, including various systems that you can install to block unwanted calls on your phone. One of these is the Nomorobo Robocall Blocking app. Before we get into the specifics about it, you need to be familiar with the very process behind robocalling.
Understanding the Method Behind Robocalling

Automated calls made by computer software to spread a message to a large number of people are called robocalls. In most cases, they are used for appointment reminders, political campaigns, and telemarketing.
The very process behind robocalling starts long before your phone rings. The person making these calls needs to pre-record the message that is to be delivered. But who is going to receive this message? No matter the purpose of their call, robocallers usually want to reach as many people as possible, so they find a way to obtain a long list of phone numbers. Buying phone numbers has become rather easy—if you can't get them from a legitimate broker, there's always a shady operator that can provide them.
Finally, the time comes to contact all those numbers. The fastest way to reach as many people as possible is to use robocalling software that can make a million calls or more in just one hour.
Which Robocalls Are Illegal?
Even though they are all a real nuisance, some robocalls are legal, so you can't hope for them to be forbidden. For instance, robocalls made as part of a political campaign are allowed by law, and so are those coming from charitable organizations.
However, with the rising number of robocall scams that can put you in quite a trouble, it is crucial that you know how to differentiate between legal and illegal robocalls, so you know when to act. For instance, if there's a scammer behind the robocall, they will probably ask you to press a command to put you through to a real person that will try to take your sensitive information or your money.
Here are more crucial differences to keep in mind:
| | |
| --- | --- |
| Legal Robocalls | Illegal Robocalls |
| Some companies ask their customers for written consent allowing them to make robocalls, so if you sign this, robocalls are legal | When you receive a robocall from an unknown company trying to sell you a product or service, you can be sure that this is illegal |
| Your service provider, too, is allowed to make robocalls about anything that has to do with your subscription if you give them your phone number willingly | A robocall made to get your personal information is in most cases illegal, so make sure you don't fall into the trap and expose your sensitive info |
| When a charitable organization makes a robocall asking for a donation, it is always a legal call, and it cannot even be blocked by robocall-blocking applications, such as Nomorobo | If an unknown company or an individual is making a robocall to ask for your credit card information, don't reveal it, as this is illegal to do |
| Those behind a government-approved study are allowed to make robocalls when looking for participants | Many fraudsters know how to manipulate numbers so that it only seems like the call is coming from a reputable institution, which is, of course, illegal |
| If you're struggling with paying bills and you have an unpaid debt, a debt collection agency is allowed to make a robocall, and you should always answer it, as neglecting debt collectors can get you into trouble | You should be on alert for fake debt collectors who contact people impersonating debt collection agencies and asking for the money to be transferred into a given bank account. They may even offer to lower your bills, which is just a trap |
| Robocalls made to deliver purely informational messages, such as those about canceled flights and appointments, are legal | If you receive a robocall telling you that you've won a prize, be it money or something else, you can be sure that this is an illegal call and a scam |
Put an End to Unwanted Calls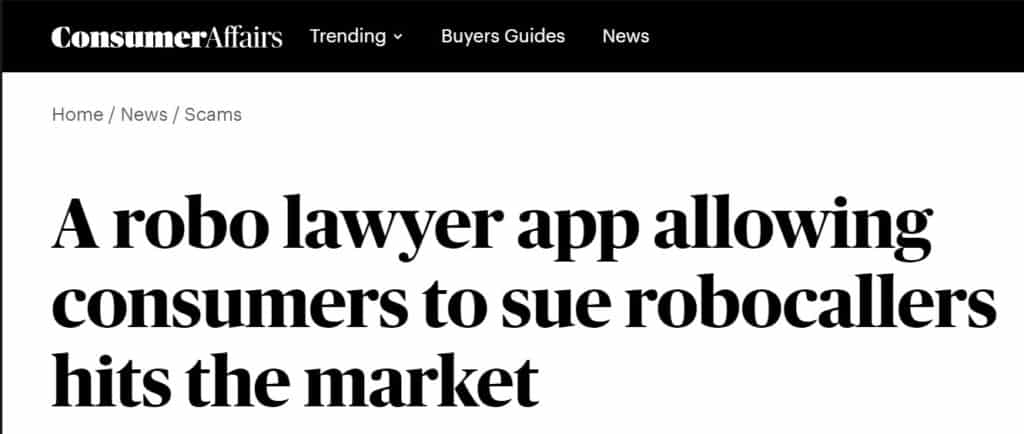 One of the most popular apps for blocking robocalls is Nomorobo Robocall Blocking. It is used primarily for illegal robocalls, but it can also block political campaign robocalls and telemarketers. These are some of the robocalls that the app cannot block:
Weather alerts
Robocalls made by schools
Robocalls made by doctors
Robocalls made by pharmacies
There is no such thing as the perfect solution, so a robocaller might manage to reach you even when you have the app installed. Nomorobo is updated every 15 minutes to make sure you get the maximum protection possible.
It is convenient because you can use the app to protect yourself from robocalls on both your landline and cell phones.
If you need it for your mobile, you can download the app on the App Store or Google Play. In this case, you will need to pay $1.99 per device per month. If you're still having second thoughts about using the app, you can sign up for a free trial period of 14 days. Don't worry about being charged after the free trial if you decide not to use the app—DoNotPay is here to manage all your subscriptions for you and prevent that from happening.
If you need Nomorobo for your landline phone, you can get it for free. Nomorobo can protect unlimited VoIP landlines 24/7 by stopping more than 2,700,000 robocallers.
Now let's find out what you need to do to set up Nomorobo and start fighting all those annoying robocallers.
How to Set Up Nomorobo Robocall Blocking
Do you think that Nomorobo Robocall Blocking is the right solution for you? Or at least you want to give it a try? Whatever the case, here are the steps to take to set up this app:
Sign up to Nomorobo
Choose your phone carrier
Go to the Voice tab
Select Settings
Enter the phone number provided by Nomorobo under the Advanced Call Forwarding section
Perform a test call to make sure you did everything correctly
Report Robocall Scammers if They Wrong You...
In some cases, no matter what app you have, even if it's one of the best like Nomorobo, scammers can still find a way to reach you. They are always looking for a way to get around rules and achieve what they want, and it can happen that they succeed in this.
If you find yourself in this situation, you shouldn't wait for them to trick you and take your money or commit identity theft before you act on it. As soon as you begin to feel harassed by robocallers, it's time to report them.
For a start, you should try listing your phone number on the National Do Not Call List—this is the first step you will find in the FCC guide to robocalls, too. Many people are satisfied with the results after doing just this, but it's not always effective. Should you continue to receive unwanted calls, you need to check if your number is on the Do Not Call list. Do it to be on the safe side and be completely sure that you did everything right to complete the registration. Here's how to do this:
Dial 1-888-382-1222
Dial 1-866-290-4236 to call via TeleTypewriter
You don't have to worry about Do Not Call list expiration, as there's no such thing. You should know, though, that there are some Do Not Call list exceptions. Check these if you continue to receive unwanted calls after the registration. If you find out that there's no mistake on your end and your number is on the list, you should report robocalls to the Federal Trade Commission.
...Or Better Yet, Rely on DoNotPay to Get Revenge

Being scammed by a robocall, i.e., people behind it, is a stressful and unpleasant experience. Just receiving too many annoying robocalls is frustrating, let alone being tricked into giving robocallers money or your sensitive data.
When something like that happens, people feel angry and helpless. Sounds familiar? The good news is that you do have someone to help you—DoNotPay. It is our mission to bring you the justice you deserve, so do not hesitate to rely on our app to help you get revenge on robocalls. You don't have to worry about filing a robocall lawsuit when you have our app at your disposal.
DoNotPay's Robo Revenge option is made to help you track those hiding behind robocall scams and make them pay for the damage done. We understand how exhausting dealing with robocalls must be for you, so we made this solution rather simple and convenient to use without much trouble on your part. This is what the process looks like:
Log in to your account on our app via the web browser
Go to Robo Revenge section
Put your phone number on the Do Not Call list
Provide the robocaller scammer with this virtual credit card number instead of your real card info
How Does Robo Revenge Work?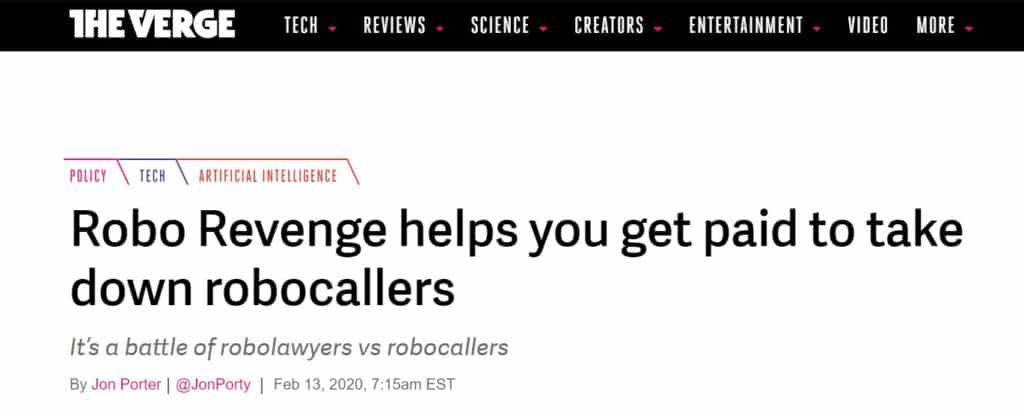 So, what happens next? The mechanism behind Robo Revenge is rather simple. The best part is that you can sue anyone who's wronged you — DoNotPay can sue robocall scammers for up to $3,000! To achieve that, we just need the scammer in question to contact you at least once more after you take the previously mentioned steps, and here's why:
We provide you with a free virtual credit card number, which is not linked to the real one, so your real card details are kept protected and out of the scammer's reach
When you give scammers your virtual credit card number, they think that it's real, so they immediately try to take the money off the account, which is exactly what we want them to do. Their very act of trying to take the money helps DoNotPay access your scammers' information and track them, so we know exactly who you're dealing with
When we have the necessary information about them, we give it to you so you can use it to file a claim against these fraudsters
If you want us to handle everything from start to finish, you can even use DoNotPay to send a demand letter for compensation on your behalf, so you don't have to lift a finger
When Not to Answer Your Phone
One of the steps to protecting yourself from robocall scams is learning about the different forms in which they can appear. Here are some of the most common forms of robocall scams that you need to be on the lookout for to avoid being tricked:
| | |
| --- | --- |
| Common Robocall Scams | What to Know About Them |
| Investment fraud | One of the tricks that scammers use to lure you into giving them a certain amount of money is to make you believe that you can earn even more with them. They present you with the idea to invest in their venture and assure you that it will pay off. These fraudsters usually go out of their way to make sure the documents they present to you look real and official so you'd believe them and fall into the trap. They also put official-looking seals and logos to trick you. The key word to be on the alert for here is "guaranteed," as they'll surely guarantee the return on your investment. |
| Fake robocalls from banks | Another common scenario is that you receive a robocall that is allegedly coming from your bank. By default, you believe everything they may tell you after you hear that it's your bank on the other end. Scammers impersonating bank officials usually tell potential victims that their credit or debit card information has been stolen. They may also try to scare you by saying that they noticed unusual activity on your account. When you hear these claims, you will likely believe them without much thinking. You may give the scammers your credit card information, and that's when the real problem begins. |
| Prize scams | People are always thrilled to find out that they've won something. Be it money, a trip to an exotic country, or something else, they are tempted to fall for this trap and accept the prize. But these robocalls are only scams made to get your personal or payment information. They sound too good to be true for a reason—they're never true. |
Steps to Take to Prevent Robocalls in the Future

Even though you're surely satisfied when you manage to stop robocalls, you would rather avoid this experience in the future, right? Fighting against robocalls can be challenging, but there are steps you can take to prevent them from bothering you again. Keep in mind the following tips to avoid having to deal with robocalls in the future:
Register your phone number on the National Do Not Call Registry
Never give your phone number to just anyone who asks for it
Be careful who you reveal your credit card info to, as you can encounter severe credit card issues if the wrong person gets your sensitive information
If they call to tell you that you've won something, the smartest thing to do is hang up the phone
Think about getting an unlisted phone number, so scammers cannot find you
What Else Can You Use DoNotPay For?
Helping you deal with robocalls is only one of the many things that DoNotPay can do for you. To put it shortly, we are here to help you get justice in various unfair and problematic situations. Be it an unfair parking ticket or a suspiciously high bill, we've got you covered—you just need to log in via the web browser. Here are the things that you can rely on our app to do for you:
Disputing traffic tickets
Fighting speeding tickets