Are
Robocalls Getting Worse
?
If you feel like you have been getting a lot more automated calls recently, you might be right. More than 5 billion pre-recorded spam calls target American phones each month, and thanks to the affordable (and legal) technology that produces these computer-generated calls, the numbers are going up.
And it's not just about the frequency. It seems like the robocalls are getting more subtle, target-specific, and better at covering their "robo" part, which makes it trickier to recognize them.
What Is Happening?
The increase in robocalls has been spurred by the combination of different factors connected to the development of available, cheap, and easy-to-use massive outreach technologies. Companies have been using the auto-dial software to deliver announcements and information to their clients, without having to mobilize the additional workforce to do it. It can be incredibly inexpensive and simple for anyone to set up an effective robocalling operation, which is an excellent opportunity for scammers. 
What's important to know about the robocall outbreak is that: 
Robocalling is an easy-to-start business

The legislation is not efficient enough

The technology for bypassing robocall blockers is advancing
Easy-To-Start Business
VoIP (Voice over Internet Protocol)—technology allows scammers to auto-dial thousands of phone numbers each day. VoIP uses internet connection, to make simultaneous calls and to play pre-recorded messages if anyone answers those calls. 
Robocallers use spoofing software to mask their numbers. They can use either a number from your area or from a well-known company. The technology itself is legal and has legitimate uses like spoofing your private phone to appear like your work number. 
Spoofing and VoIP software are inexpensive and don't need high-tech computers or a lot of people to manage it. Setting it up is also pretty straightforward and doesn't require advanced IT knowledge. 
A scammer can find anything they need to start auto-dialing people just by googling it.
Agencies Can't Keep Up
Despite all the new rules and initiatives that may help the Federal Communications Commission (FCC) and Federal Trade Commission (FTC) better tackle the robocall operations, Americans are still being massively spammed.
There have been efforts from both commissions to stop robocall scammers, including the TRACED Act, STIR/SHAKEN protocol, and a decision to create a database of phone numbers that can avoid unwanted calls—the Do Not Call Registry. FCC also gave phone companies the ability to block numbers they know are making robocalls using spoofing technology. 
But new rules and technologies always take time to fully deploy, and the limitations of the legal system restrict the actions of federal agencies while the scammers are running free.
The Robocall Technology Is Progressing
Some apps manage to get ahead of the spammers. Nomorobo robocall blocking service, for instance, can automatically filter-out calls that are in their blacklist database.
The sudden success of certain apps in preventing scammers from reaching their targets is causing them to call more often. Stronger software is being used that can handle a substantial number of calls, and spoofing is getting more sophisticated.
Are All Robocalls Illegal?
Sometimes these calls are entirely legal, like when you get a call as a reminder about an upcoming appointment. Various institutions use them to make public service announcements or conduct public polls. It is not allowed to make telemarketing robocalls unless the company has your written permission to call you. 
Unfortunately, that permission is often unknowingly granted when companies use confusing and long Terms of Service or other agreements.
Here are some examples of automated calls that are allowed, as well as those that are not. The table should help you see the difference between them.
Legal

Illegal

Automated reminders about upcoming appointments

Automated info calls about canceled or delayed flights

Calls from charities

Public polls

Political polls and other campaign calls

Public service announcements

Calls from any company you have given written permission to call you

Unsolicited sales calls

Calls from spoofed or hidden numbers

Charity calls not coming directly from the organization
What Are Some Common Robocall Scams?
Using modern technologies and massive outreach software doesn't mean that scammers don't have to get creative to cheat you out of your money or steal your personal information over the phone.
Depending on who they are targeting or when they are conducting the scheme, robocalls can vary and cover an array of topics and tactics.
Here are some quite successful and ongoing robocall scams: 
Utility scams

Health insurance frauds

Fake charities robocalls

IRS robocalls

Social Security robocalls
National Grid Scam
Reducing or postponing your electricity bill is often used as a pitch in National Grid robocalls. The scammers target people who need help with paying or lowering their bills and trick them into disclosing personal info. 
There is a more extreme version of the utility scam, where the pre-recorded message threatens you with a power cutoff if you do not make an immediate payment. Scammers count on their targets being afraid of services shutoff, and they are often right. 
What you should know: 
National Grid addressed the utility scams issue. They stated that while their employees may call you to inquire about unpaid bills, they will never ask you to make an immediate payment via a gift card, wire transfer, or prepaid credit card. National Grid will leave the method of payment to you.
National Grid employees will know your account number, so if you're doubting the legitimacy of the call, ask the caller to provide the last five digits of your National Grid account number.
Health Insurance Frauds
Health insurance frauds offer affordable healthcare plans and other inexpensive health insurance options. They are particularly active during the open enrollment season. 
The scammers behind the Blue Cross Blue Shield robocalls managed to make over one billion spoofed calls during the first four-and-a-half months of 2019, as part of a health insurance marketing scam.
What you should know:
Health insurance companies will not make sales calls to individuals who are not their clients. Blue Cross Blue Shield posted a lengthy statement regarding these fraudulent calls, and a guide on how to recognize healthcare scams and prevent them.
Fake Charity Robocalls
Scammers often pose as charities. Breast cancer robocalls—soliciting donations for the medical care of breast cancer survivors—are especially common.
What you should know:
Charities are legitimate organizations, but you should always do your research online before donating. A legitimate non-profit will have a website with full contact information and an option to donate.
IRS Scams
In IRS robocalls, the scammers will claim to call from the IRS, and say that they will file a lawsuit against you for unpaid taxes unless you make a payment immediately through wire transfer or prepaid credit card. 
What you should know:
The IRS doesn't initiate contact with taxpayers to request personal or financial information. According to the IRS website, if you receive an automated call claiming to be from the IRS, you should hang up. If you are unsure about the amount you might owe, check your tax account information online or review payment options to see the actual amount owed.
Social Security Scams
With Social Security robocalls, you might get a call in which the bot will claim there is a problem with your Social Security account and ask you to verify your personal information. The bots might explain that your Social Security numbers have been linked to criminal activity and therefore suspended, and that you need to confirm your number to reactivate it. 
What you should know:
You will not get a call from Social Security unless you have been in contact with the agency before, and those events are rare . Even in exceptional circumstances, Social Security Agency employees will not ask for your Social Security number.
How to Recognize and Block Robocalls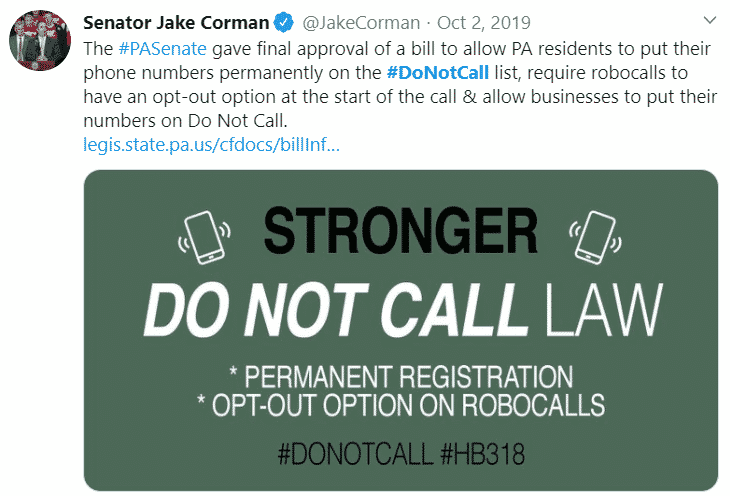 Robocalls may range in style and approaches, but they tend to stick to certain scripts, which can make it easier for you to identify them. 
FCC offers a guide on how to recognize and deal with robocalls. Here are some of their tips:
Scammers will offer you a prize but will ask for money first

Real law enforcement and federal agencies won't use robocalls to inform you that you will be arrested, fined, or deported if you don't make an instant payment

State and federal agencies will never ask you to disclose sensitive information—like your Social Security number—over the phone

Most legitimate businesses will send you written information about their offer before asking you to commit
Recognizing spam calls won't be enough to put an end to the robocall epidemic. 
There are several ways to fight back against robocalls, most of them successful up to a point. 
One of the first steps would be to check if your number is already on the Do Not Call list.
Do Not Call list is a registry created and managed by the Federal Trade Commission, and it contains the numbers that are not to be called by telemarketers. While there are Do Not Call list exceptions that can still call you, by adding your number to the list, you are making it illegal for most companies to contact you. Although the Registry is far from perfect, the good news is that your entry doesn't expire. It is a one-time action that could help keep some of the spammers away.
Depending on the type of phone you are trying to protect, you can try one of these robocall blocker options:
Install a call blocking hardware on your landline

Ask your service provider about call blocking services—usually, they are free for both landlines and cellphones

Use the call blocking option on your smart device—Android or iOS come with a built-in call blocker

Use third-party apps to block unwanted calls on your mobile phone
These tools differ in the degree of blocking and protection they offer, but most of them use the blacklist/whitelist arrangement, enabling you to add numbers you'd like to block or receive. Some devices or services may even include a blacklist number database that will automatically filter out known spam numbers. The effectiveness depends on the database accuracy and how often the company updates it.
Blocking Robocalls on Mobile Phones
If you are a cellphone user, downloading a third-party app is the simplest way to stop robocalls. These apps cover a variety of options, from manual blocking to accessing public lists of known spam numbers.
The prices vary, but most apps are available both for Android and iPhone.
App Name

Description

Hiya Caller ID & Block assists you in identifying calls you want to take and blocks the numbers you want to avoid. 

Some of the features are:

Caller ID

Auto-blocking

Reverse phone lookup capabilities

Specific area-code blocking

Spoofed numbers blocking

TrapCall enables you to know who is behind an anonymous or blocked caller ID, by unmasking hidden callers. 

Features: 

Automatically blocks spam from over 100,000 numbers

Unmasks hidden numbers

Allows you to blacklist unwanted callers

Allows for incoming call recordings

Nomorobo is an app that offers real-time protection from robocallers, telemarketers, and phone scammers.

The app has a robocall blacklist and can automatically block the call coming from those numbers. 

Features

Automatically blocks robocalls

Sends robocalls directly to voicemail

Identifies suspected numbers as a "Robocaller"

RoboKiller is an Android and iOS app that automatically blocks over 1.1 million telemarketers and robocalls, even if they are spoofing their numbers. 

Features:

Answers robocalls with recorded messages

Auto-filters known spam calls

Allows for manual blocking of unwanted calls

Reports spam calls to a public database

The Call Control–Call Blocker is an app that automatically blocks spam calls and allows for specific area code blocking. 

The app is available for both Apple and Android devices and is completely free.

Features:

Allows you to create a Whitelist and Contacts Protection

Allows you to report spam numbers and add them to the company's catalogue

Automatically blocks active spammers

Offers reverse lookup function—enabling you to track spammers
Get Revenge on Robocalls With Do Not Pay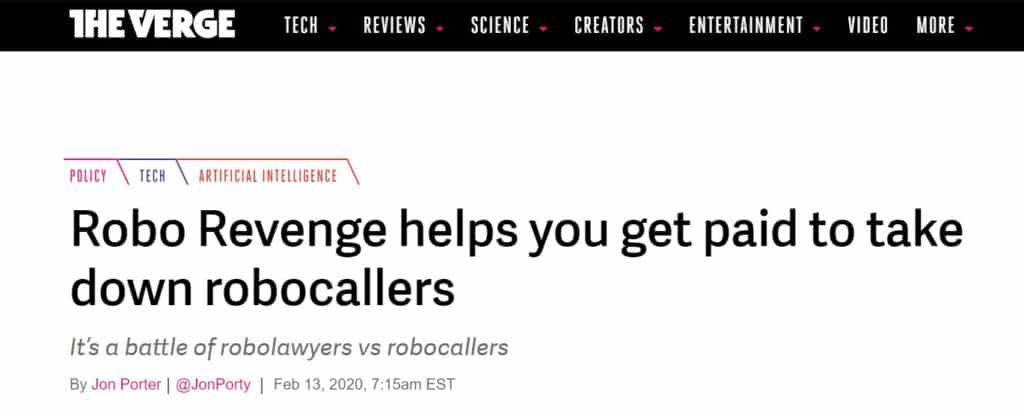 DoNotPay is your go-to application if you want to get robocall revenge. Here's how you can fight back against robocalls and get up to $3,000 in settlements with DoNotPay:
You receive a robocall, and the bot is demanding payment

Open DoNotPay through the

web browser

Once in the app, locate the Robo Revenge feature and use it to create a

free virtual credit card

 

Use the data from that fake

virtual credit card

once the scammers request the payment info

The scammers will try to charge your card, but DoNotPay will receive their info instead

Use the app again to generate a letter demanding payment, and if they refuse to pay, you can initiate a

robocall lawsuit
Additional Steps to Take to Prevent
Robocalls
From
Getting Worse
You can report robocalls to The Federal Trade Commission (FTC) and The Federal Communications Commission (FCC). Both agencies have been dealing with robocalls, in collaborative efforts with law enforcement agencies. 
The Federal Trade Commission offers a possibility to report unwanted calls online or by contacting them via phone. 
The Federal Communications Commission offers a robocall reporting option on their website. The FCC has also designated a phone line for this purpose. 
Another option to report unsolicited calls is the National Do Not Call Registry. You can file a complaint about unwanted automated calls through the Do Not Call website, even if your number is not registered. The site will instruct you to check the category that best describes what the call was about and report it. 
Other Problems DoNotPay Can Help You With
DoNotPay is a powerful tool that can help with a variety of matters, ranging from menial administrative tasks to dealing with big corporations. The app can be accessed in the web browser and will assist you with sorting out the following tasks:
Disputing traffic tickets

Fighting speeding tickets