Get the University of Pittsburgh Application Fee Waiver Effortlessly
The University of Pittsburgh is one of the most prominent comprehensive universities in the U.S. This public research facility is located in Pittsburgh, Pennsylvania.
Pitt has an acceptance rate of 59%, and if you want to be a potential candidate, you have to pay the college application fee. 
Don't let that stress you out—DoNotPay has all the information you need about college fees and fee waivers.
How Much Does the Pitt Application Fee Cost?
If you want the University of Pittsburgh to process your application, you have to pay a $55 non-refundable fee. The Pitt application fee is the same amount no matter if you are a first-year, transfer, or international student.
While some universities don't have application fees, others charge quite a lot per application. If you are wondering what universities have the most expensive application fees, check the following table:
Why Do Colleges Require Their Prospective Students To Pay the Application Fee?
When deciding to go to a university, future students are prepared to pay the necessary tuition, but many students wonder why they have to pay for applying. There are two main reasons:
To prevent those who are not genuinely interested from applying

To cover the costs of reviewing all those applications
What Is a Fee Waiver, and Why Do You Need It?
Application fees are one of the many costs you have to deal with when applying to college. Other application-related expenses may include:
Hiring private tutors

Preparing for tests

Taking the SAT and ACT exams

Visiting various college campuses
If you consider your financial situation challenging and fear you won't be able to pay the application fee, you might be eligible for a fee waiver.
Fee waivers are formal requests that prospective students have to submit to become exempt from paying a college application fee.
The average application fee is approximately $50, which puts the Pitt application fee slightly above average. Having to pay one application fee is bearable, but most American students apply to seven to ten colleges. If paying multiple college application fees is financially demanding for you, check if you meet the requirements to obtain a fee waiver.
Who Is Eligible for an Automatic College Application Fee Waiver?
Most universities in the States accept fee waivers. Some students might even be eligible for an automatic fee waiver. In case you were eligible for or took the ACT or SAT exam using a fee waiver, you are automatically qualified to avoid paying for the college application fee.
What Are the Requirements for Getting a Fee Waiver?
When it comes to determining whether someone qualifies for a fee waiver, students from the following categories are usually eligible:
The United States Department of Agriculture (USDA) regulates the Income Eligibility Guidelines. Consult the following table to check if your family income meets these specifications:
| | |
| --- | --- |
| Number of Household Members | Annual Income |
| One member | $23,606 |
| Two members | $31,894 |
| Three members | $40,182 |
| Four members | $48,470 |
| Five members | $56,758 |
| Six members | $65,046 |
How To Obtain a College Application Fee Waiver Using DoNotPay
Is applying to colleges stressing you out? Requesting college application fee waivers is no picnic either. We are well aware of how difficult it is to obtain college fee waivers, especially when applying to multiple universities. That's why DoNotPay came up with the practical College Application Fee Waiver feature.
Our handy tool uses an all-inclusive database of colleges and universities in the U.S. and can help you apply to colleges anywhere in America.
You can use DoNotPay to get:
New Student Application Fee Waivers

Transfer Student Fee Waivers

Enrollment Deposit Fee Waivers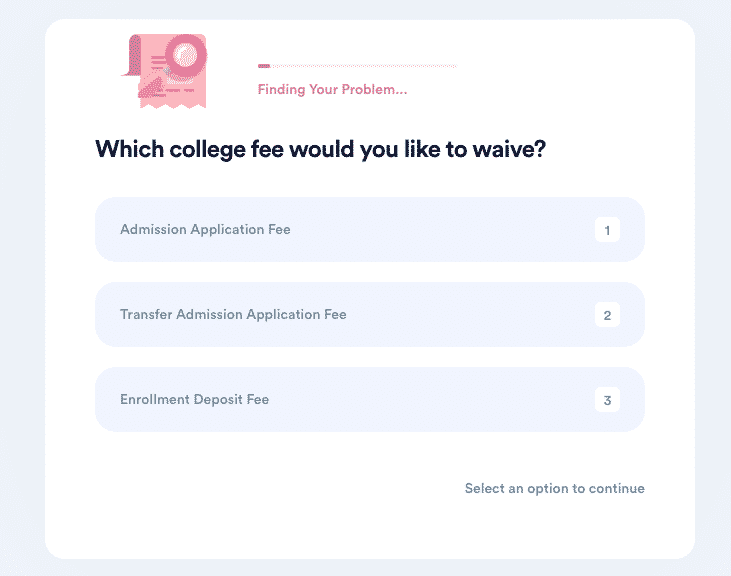 In case the university requires confirmation regarding your financial struggles, we can help you with getting a signature from your high school counselor. While going through the process of requesting a fee waiver with DoNotPay, inform us whether you need to obtain the signature from your high school counselor or any other assigned official.
How Does the College Application Fee Waiver Feature Work?
To request a fee waiver, access DoNotPay from any web browser, and follow the next steps:
Choose the

College Application Fee Waiver

feature

Select the type of fee waiver you need

Pick the college you are applying to

Answer some questions regarding your financial situation

Specify whether you need the signature from your high school counselor
Once you complete the request, we will handle the grunt work and make sure to improve your chances of getting a fee waiver. You can focus on your future studies, and we will handle the annoying chores, such as:
Filling out the fee waiver request form

Mailing the request to the admissions office of the desired university

Obtaining the signature from your high school counselor
As soon as the admissions office reviews your fee waiver request and decides whether they will waive your fee, DoNotPay will notify you.
Can I Request the University of Pittsburgh Application Fee Waiver on My Own?
Pitt's official website states that you can avoid paying the application fee, provided you do the following:
Apply online via the University of Pittsburgh,

Common

, or Coalition Application

Fill out the Self-Reported Academic Record (SRAR) as part of the online application process or upload your high school transcript

Submit your SAT or/and ACT score reports

Register for some of the online events, usually held in September and November
Let DoNotPay Handle Your Other Administrative Issues
Are you applying to other universities and colleges? Don't fear the application fees. DoNotPay can help you obtain fee waivers for nearly every university in America—Boston, Emory, Johns Hopkins, Fordham, Harvard University, The University of Texas in Dallas, and many more. Rely on us to have universities waive your fees for Brown, Harvard Law, Columbia Law, or other law schools in the U.S.
That is not all DoNotPay can assist you with. Access our app from any web browser, and check our other nifty features that can help you with:
Appealing traffic tickets

Contesting speeding tickets