Everything You Need To Know About the Penn State Application Fee
The Pennsylvania State University—also known as PSU or Penn State—is one of the largest public research universities in the U.S. It has 24 campuses in Pennsylvania, and students can choose from 18 colleges and 160 majors.
If applying to Penn State and other colleges poses a financial burden on you and your family, DoNotPay will help you request a college application fee waiver.
What Exactly Is a College Application Fee Waiver?
College application fees are usually super expensive. The average price of the application fee is around $60, but numerous colleges charge more—Stanford applicants need to pay $90. While some schools allow students to apply for free, the most popular universities are pricey:
If you want to apply to more than one university, you'll spend a lot of money on college fees and other expenses, such as:
Test preparations

SAT and ACT

College events

Travel expenses
Fee waivers enable students to apply for free to the schools they're interested in. Colleges usually waive fees for applicants who are in a bad financial situation. Some schools also grant merit-based and service-based fee waivers.
If the university you're interested in doesn't offer enough info regarding the fee waiver on the website, you can always consult your guidance counselor. He or she should be informed about each university's rules and tell you if you're eligible to receive a fee waiver.
A Guide to Getting a Penn State Application Fee Waiver
The Pennsylvania State University charges $65 for undergraduate and graduate application fee. Former and current military service members can apply to Penn State for free. Other candidates can request a PSU application fee waiver using:
Penn State also waives fees for students who received an SAT or ACT fee waiver.
Get a Penn State University Application Fee Waiver via MyPennState
To request a fee waiver from Penn State directly, follow these steps:
Create your

MyPennState account

Fill out the application on the

Penn State admissions website

—you'll need to use your MyPennState ID

Don't type in your credit card info when you get to the payment section—click on the

Print Summary

button instead

Send the summary, your MyPennState ID, and high school transcripts to

admissions@psu.edu

or the email of the campus you want to apply to and ask for a fee waiver
Submit your application when the Admission Committee informs you about their decision.
Get a Penn State University Application Fee Waiver in the Common App
If you want to apply to Penn State using the Common App, you can request a fee waiver on the same platform by following these steps:
Log in to your

Common App account

Click on the

Common App

tab and select

Profile

Choose the

Common App Fee Waiver

option

Click on

Yes

and tick the boxes next to the claims that apply to you
The following student categories are eligible to obtain the Common App fee waiver:
Applicants who received or are eligible to receive an SAT or ACT fee waiver

Federal Free or Reduced Price Lunch (FRPL) program participants

Students who live in a low-income family

Candidates whose families receive financial aid

Orphans or applicants who are homeless or live in a foster home

Wards of the state
Get a Penn State University Application Fee Waiver in the Coalition App
The Coalition App grants fee waivers to applicants who:
Qualify to be in the Federal Free and Reduced Price Lunch Program

Are eligible for a Pell Grant

Participated in Federal TRIO programs

Received the following fee waivers:

College Board

ACT

National Association for College Admission Counseling (NACAC)
Once you log in to your MyCoalition profile, select the Fee Waiver section and indicate which criteria apply to your situation.
How To Get an SAT and ACT Fee Waiver
If you obtain an SAT or ACT fee waiver, you'll save a significant amount of money. Both fee waivers cover many expenses, including the tests, scores, and college application fees. Your high school counselor will have the fee waiver forms that you should complete.
The eligibility criteria for obtaining an SAT or ACT fee waiver are the same as for the Common App fee waiver.
Can I Get a Penn State Graduate Application Fee Waiver?
Students who want to apply for Penn State graduate studies for free should visit the website of the school in question. Every program has different rules regarding fee waivers. If the program's website doesn't provide enough info, you should send an email and request more details.
Standardized exams that most grad schools require can be very pricey. DoNotPay can help you get a test fee waiver for any graduate program, including Dental Admission (DAT), Law School Admission (LSAT), and Medical College Admission Test (MCAT). We can also assist you in obtaining a Graduate Record Exam (GRE) fee reduction and help you save hundreds of dollars.
DoNotPay Helps Students Get a Fee Waiver in Under Two Minutes
If you're looking for a less complicated way to get a Penn State fee waiver, you can rely on DoNotPay and send your request in no time. We can help you get three types of fee waivers:
New Student Application

Transfer Student

Enrollment Deposit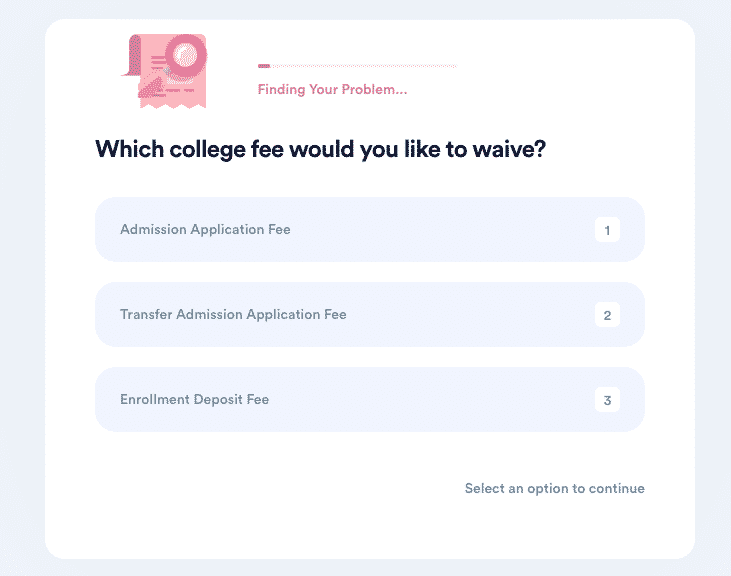 To make the most of our useful service, log in to your DoNotPay account in a , and follow these steps:
Pick our

College Application Fee Waiver

feature

Select the fee you want to waive and the school you wish to apply to

Answer our questions regarding your financial situation

Indicate if you'd like to get your counselor's signature and strengthen your request
DoNotPay will take care of the fee waiver form and mail it to your counselor or the school you want to apply to.
Why Is DoNotPay Better Than the Common App?
While the Common App can help you get a fee waiver quickly, it has its disadvantages. The platform covers 900 member schools, while DoNotPay's extensive database allows us to send your fee waiver request to any university in the U.S.
Another drawback of the Common App is that it's designed only for undergraduate schools. DoNotPay covers both grad and undergrad schools, including standardized exams.
Learn What Else DoNotPay Can Do for You
Since you've discovered DoNotPay, you can forget about issues like not knowing how to cancel Hulu, Netflix, or Spotify. We will help you cancel any unwanted membership in a few clicks. DoNotPay will also assist you in dealing with student loan bills and robocalls.
To enjoy these and many other handy services, open your DoNotPay account in a , and we will help you:
Dispute traffic tickets

Fight speeding tickets