Sunoco Gift Card Balance Check Explained by DoNotPay
Need a simple way to perform a Sunoco gift card balance check? DoNotPay has got your back! The process can be tricky—that's why we're here to make your life easier.
We will not only show you how to check your Sunoco gift card balance but also how to turn any remaining funds into cash!
Get To Know Sunoco Gift Cards Properly
Sunoco gift cards are a perfect present for anyone who loves being on the road. They can be used for:
Buying fuel at over 5,000 Sunoco gas stations
Paying for repairs at Ultra Service Centers
In-store purchases at Sunoco locations
Gift cards from Sunoco come in denominations from any amount between $10 and $500. They can't be returned in case they're lost, stolen, or damaged.
How To Do a Sunoco Gift Card Balance Check
You have three ways of conducting a Sunoco gift card balance check. You can do it:
Online
In person
Over the phone
With DoNotPay
Check Your Sunoco Gift Card Balance Online
Want to check your Sunoco gift card balance online? Here's how to do it:
Visit the company's website
Find the Sunoco Gift Cards section
Click on Check Balance Online
Enter your 19-digit gift card number and PIN
Complete the Captcha and submit
How To Check Your Sunoco Gift Card Balance in Person
You can also check your Sunoco gift card balance by visiting one of their stores and:
Giving the cashier your gift card
Inquiring about your remaining balance
Checking Your Sunoco Gift Card Balance Over the Phone
Would you rather avoid any contact while checking your remaining funds due to the COVID-19 virus? Dial Sunoco customer support at 800-278-6626 and:
Wait for them to pick up
Give them your gift card number and PIN
Ask about your remaining gift card balance
Effortless Sunoco Gift Card Balance Check With DoNotPay
You don't have to waste time trying to contact Sunoco reps or going to their store to check your balance in person! With DoNotPay, you can relax and let us do all the work!
Here's what to do once you :
Fire up our

Check Gift Card Balance

feature

Provide us with front and back photos of your gift card

Confirm your email address
DoNotPay will contact Sunoco in your stead and inform you about the exact amount you have left on your gift card in no time!
How To Use the Remaining Sunoco Gift Card Balance
Once you know how much balance you're working with, you can proceed to use it in some of the following ways:
Spend the remaining balance
Trade the gift card
Visit a gift card exchange kiosk
Sell your gift card
Spending the Remaining Balance
Are you planning a road trip soon? If yes, your Sunoco gift card might come in handy for buying fuel or snacks at Sunoco gas stations. In case you're short on money, you can always reload your used gift card. To add more funds, go to the Sunoco website and:
Click on Sunoco Gift Cards
Go to the Buy Online or Check Balance section
Hit Reload Gift Card
Enter your gift card number and PIN
Select the amount of money you want to add
Selling the Gift Card
If you want to sell your gift card, you can do it on various online marketplaces, such as:
Keep in mind that you will have to be patient as your card won't be sold immediately. You also won't receive the entire remaining balance—only a percentage.
Visiting a Gift Card Exchange Kiosk
Want a quick way to turn your gift card into cash? Visit one of the Coinstar gift card exchange kiosks and claim a percentage of your remaining balance.
Trading Your Gift Card
Did you know that you can trade your gift card for another one? Visit one of the websites that deal with gift card exchange and get a different card! When trading your gift card, be wary of amateurish-looking websites and watch out for scammers.
Can You Redeem a Sunoco Gift Card Balance for Cash?
Sunoco gift cards aren't redeemable for cash unless required by law. Cash policies are enacted in:
Rhode Island
Vermont
Connecticut
Oregon
Colorado
Missouri
Massachusetts
Maine
Washington
Puerto Rico
New Jersey
California
If you are a resident of any of these areas, you will need to explain the law to a Sunoco customer service rep to claim your money. Use DoNotPay instead—we can help you redeem your gift card without you having to do any explaining!
DoNotPay Helps You Get Cash for a Sunoco Gift Card in a Few Easy Clicks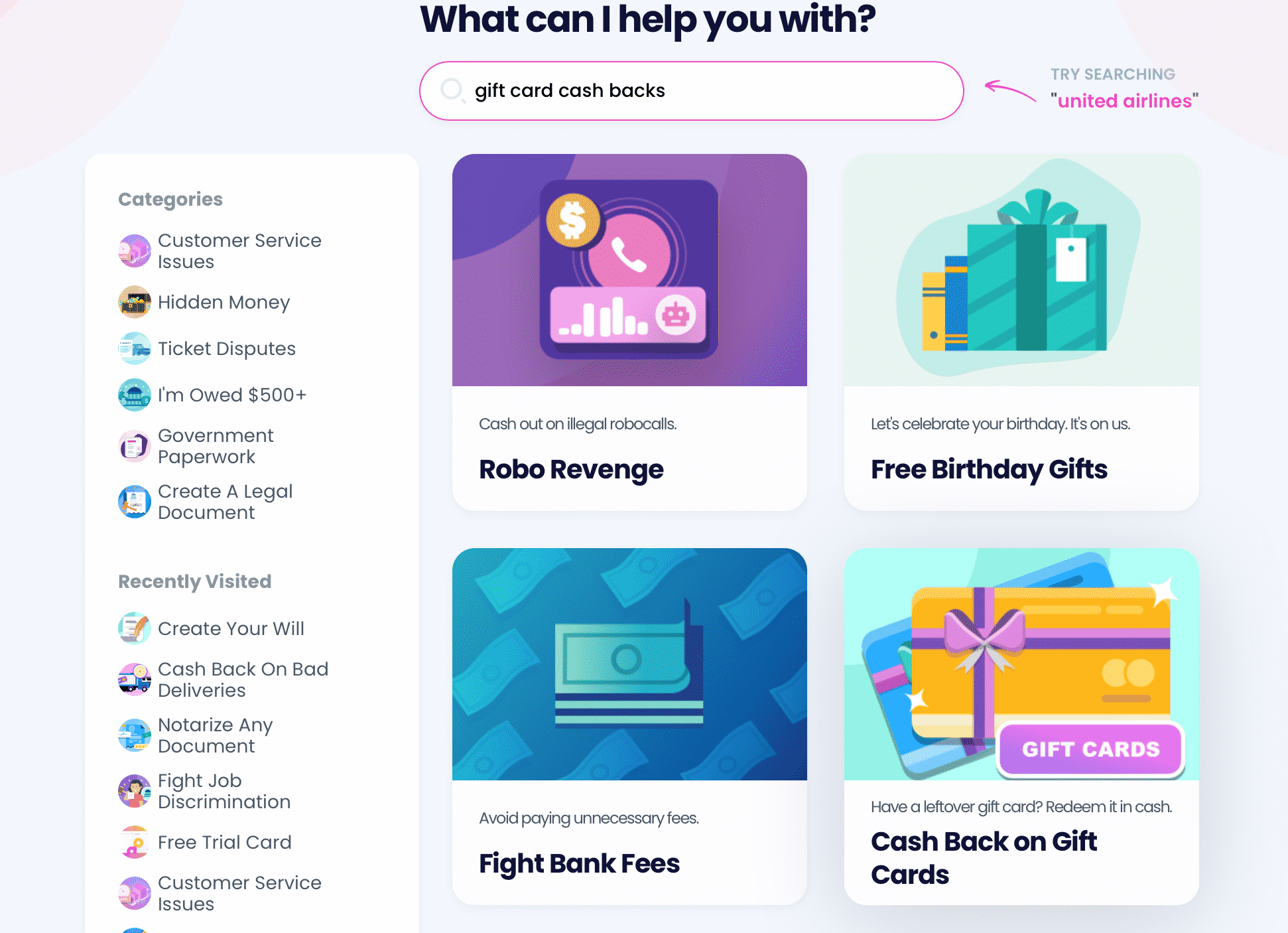 Want to get cash for your Sunoco gift card, but you don't want to deal without customer service representatives? DoNotPay has a solution! Our Gift Card Cash Back will enable you to claim your money back in minutes—you don't even have to be a resident of any of the states mentioned above! Here's how it works:
Select the Gift Card Cash Back product
Answer our chatbot's questions
Click on Submit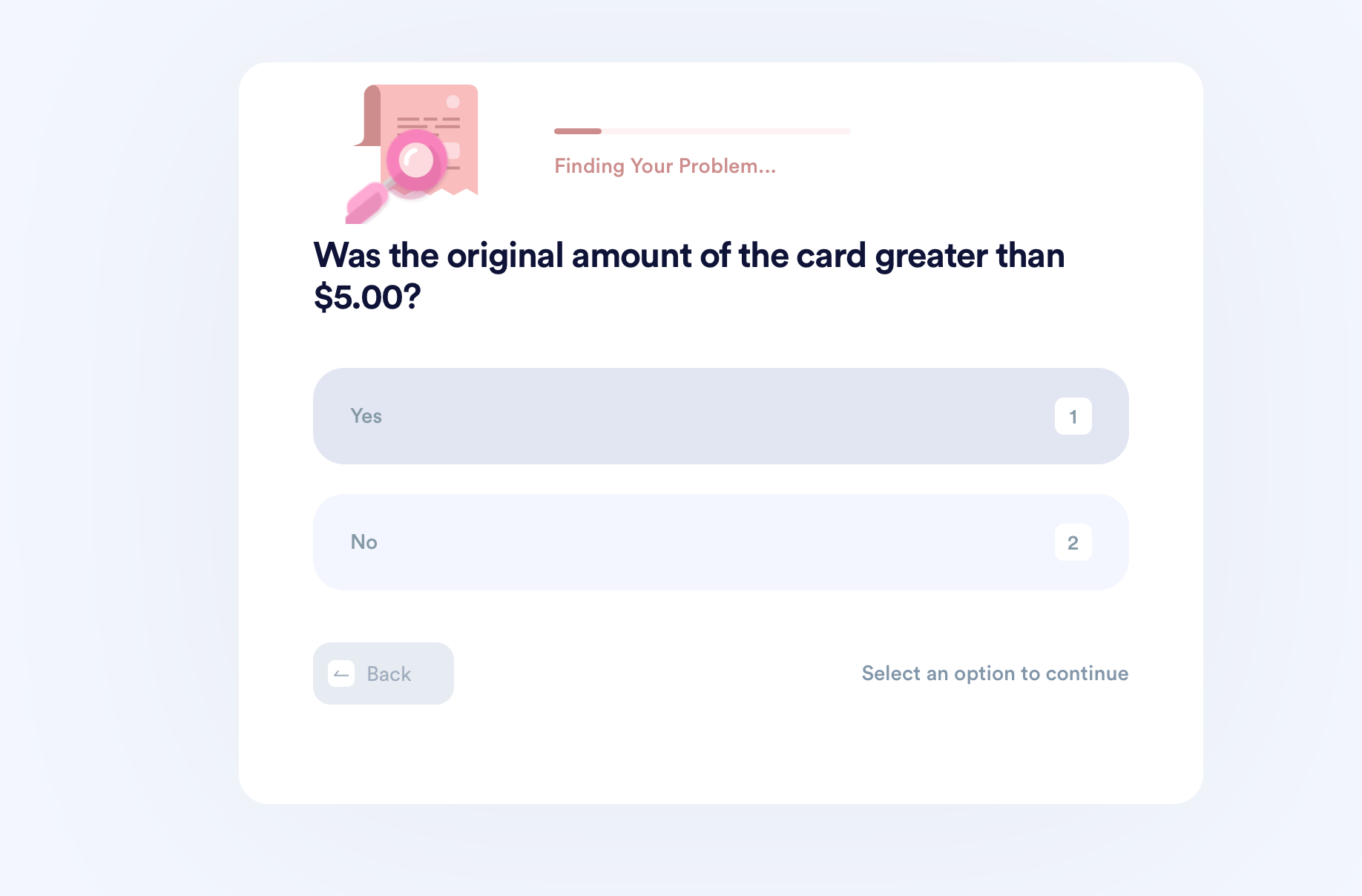 We will find a Sunoco office in a cash back state and forward your request there. You should get your money within two weeks.
Want to learn how to get free gift cards? Need help with gift cards from companies other than Sunoco? Check out the table below for details:
| | | | |
| --- | --- | --- | --- |
| Supermarkets | Fashion Brand Companies | Restaurants | Services |
| | | | |
DoNotPay Makes All Issues Go Away in Several Clicks
Using DoNotPay comes with plenty of advantages, the main one being that you can resolve just about anything in a matter of clicks. It doesn't get any easier than that!
Do you need to fax a document, draw up an agreement, submit a FOIA request, get a contract notarized, file a warranty or insurance claim, get a burner number, schedule a DMV appointment, or appeal a parking ticket as soon as possible? Sign up now and clear out your schedule because we'll handle it all!
Are you looking for your missing money? Do you need help with your utility bills or property taxes? We're here to help!
Get Rid of Paperwork With Your AI-Driven Assistant
Even though paperwork belongs in the past, we have to keep dealing with it almost daily. To avoid this annoyance, you can just use DoNotPay!
If you need to compose a demand letter to a rude neighbor, submit a claim for a late or missing package, request compensation from an airline, or sue any company in small claims court, we have your back!
All you need to do is sign up, tell us what you need, and resolve any issue in a matter of minutes!