Subaru Lifetime Warranty From A to Z
Subaru is a Japanese car brand and a division of Subaru Corporations. Experts consider it one of the safest and most trusted vehicle brands in the world.
Does Subaru Have a Lifetime Warranty Plan?
The company doesn't offer a lifetime car warranty, except for seat belts. All other systems in Subaru's vehicles have limited warranty policies. Subaru warranty periods range from three to eight years or 36,000 to 100,000 miles on the odometer.
Which Subaru Dealers Offer Lifetime Warranties?
The table below shows the authorized dealerships which have Subaru lifetime warranties in their offers:
Dealer
Type of Warranty
Coverage
Patriot Subaru

Exclusive Lifetime

Engine

Oil pan

Oil pump

Flywheel

Valve trains

Timing belts

Water pump

Engine block

Cylinder heads

Oil seals and gaskets

Intake and exhaust manifolds

Tom Wood Subaru

Limited Lifetime Powertrain

Engine

Cooling

Drivetrain

Transmission

Fueling system

Stanley Subaru

Lifetime Powertrain

Thermostat

Water pump

Internally-lubricated components included in the manufacturer's Powertrain warranty
How To Claim Subaru Lifetime Powertrain Warranty on Your Own
All mentioned Subaru dealerships follow the same pattern regarding warranty claims. If you wish to take advantage of your warranty, here are the steps you need to follow:
Take your car to the nearest Subaru dealership—none of them limits you to a specific repair center

Tell the staff about an issue you noticed and let them assess the situation

Get an approval from your program administrator before the repair starts if necessary—Tom Wood Subaru requires this step

Pay a deductible if needed
In case you need any further instructions before you file a warranty claim, you can reach out to the dealerships in the following ways:
Call

(317) 804-4361

to get in touch with Tom Wood Subaru

Dial

(877) 733-1269

to contact Patriot Subaru

Contact Stanley Subaru at

(866) 709-4461
Claim Your Subaru Lifetime Warranty With DoNotPay and Save Time
Whichever Subaru lifetime warranty you choose, DoNotPay can help you claim it if something goes wrong. Say goodbye to tiresome procedures and request a repair in less than five minutes with our app!
Here's what the claim procedure looks like when you use DNP:
Visit DoNotPay in your

and choose the

Claim Warranty

feature

Select

Car Warranty

and specify whether or not you want to claim an extended warranty

Enter the name of the dealership

Tell us what problem you detected
After you give us all the necessary info, we will generate a claim letter and send it to the provider in your name. You won't need to call customer support or argue with representatives. All you need to do is wait for the dealer to contact you and set a repair date.
Our Claim Warranty feature also deals with home warranties or extended warranty plans for used cars. Our knowledge base teaches you how to use home warranty reviews for finding the best home warranty plans in America.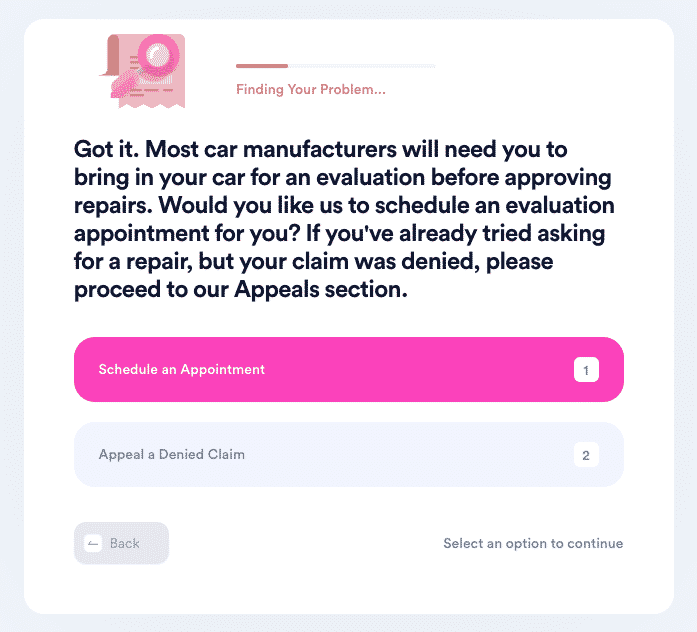 Get the Second Chance by Appealing a Denied Claim With DoNotPay
If a dealer doesn't want to cancel your extended warranty or rejects your warranty claim, there's no need to worry. You should file an appeal with DoNotPay and increase your chances of success. Bureaucracy remains in the past—you can do everything online before you can say knife!
To appeal a rejected claim with our help, follow these steps:
Open DoNotPay and choose the

Claim Warranty

feature

Select

Appeal a Denied Warranty Claim

Opt for

Extended Warranty Provider

Tell us more about the dealer and include a digital copy of your denied warranty claim
Our app will automatically forward your appeal to the company and ensure they contact you back regarding your case.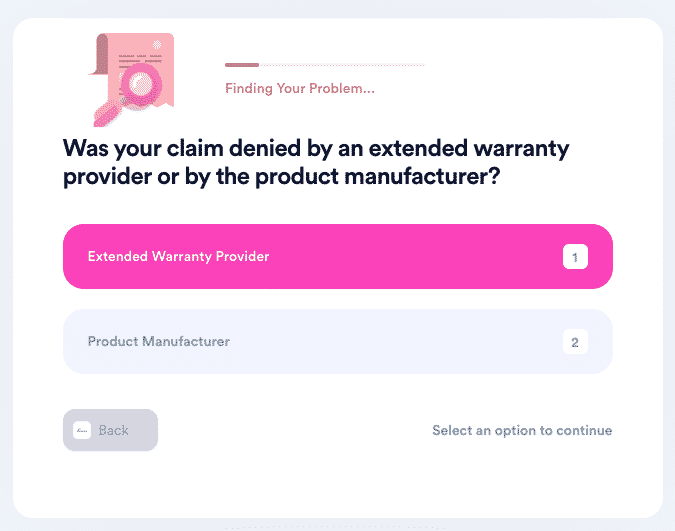 Can We Do Anything Else for You?
Claiming lifetime warranties from Totes, Oakley, Ray-Ban, Patagonia, and other companies gets much easier with DoNotPay. We also simplify filing claims with car manufacturers, such as Kia, Volvo, Lexus, Nissan, or Toyota.
Besides tackling your warranty-related issues, we can do much more to save you from tedious bureaucracy. Visit our platform in any and find practical tips for:
Appealing speeding tickets

Fighting traffic tickets