Steam's Refund Policy Streamlined: Everything You Need To Know
Steam has a lenient return policy for most purchases, but the rules are not always clear for everyone. If that's why you're here, worry not. We will explain everything about Steam's refund policy and tell you how to to send a return request in no time.
What Is Steam's Return Policy on Software?
Steam allows you to request a refund for most games—whether a game is:
Purchased by mistake
Incompatible with your device
Not to your liking
To get a refund, you must file a request within 14 days of purchase, provided that you have not played the game in question for more than two hours. This also applies to pre-purchased titles and bundles unless stated otherwise.
You will receive a full refund within one week of the request review. Your money will be sent to your initial payment method, be it through the Steam Wallet or other payment processors. Some payment options on Steam that allow refunds include:
MasterCard
Visa
PayPal
American Express
JCB
Discover
If your original payment method doesn't support a refund, the money will be credited to your Steam Wallet in full.
What Is Steam's Return Policy on Downloadable Content (DLC)?
Steam can refund unused, unmodified, untransferred DLC of a game that has been played for less than two hours, provided that you file a request within two weeks of purchase. Keep in mind that this policy doesn't apply to DLCs that are marked as non-refundable on the Store page.
Steam's Return Policy on In-Game Content
Refunds for in-game purchases are only applicable to games developed by Valve as long as they haven't been modified, used, or transferred in any way. You must send a refund request within 48 hours of purchase.
Unless otherwise stated on the checkout page, Steam doesn't offer refunds for in-game content created by third-party developers.
Does Steam's Return Policy Apply to Steam Wallet Top-Ups?
You can ask for your Steam Wallet funds to be refunded within two weeks of purchase, as long as you've purchased the funds on Steam and haven't used them.
Will Steam Refund a Gift?
If a Steam gift is unredeemed by the recipient, you will get a refund within the standard Steam's refund period. Gifts that have been redeemed can also be refunded so long as the giftee initiates the refund. Keep in mind that the two-hour playtime limit also applies to refunds on redeemed gifts.
Steam's Refund Policy—Exceptions
You can't ask for a game refund if you've been banned by the Valve Anti-Cheat System (VAC) or if Steam deems that you're abusing the refund system.
Video content like movies, series, clips, and tutorials are non-refundable unless the video in question belongs to a refundable non-video content.
What Is Steam's Return Policy on Hardware?
Most hardware purchased on Steam is eligible for a refund, as long as it's undamaged and uncompromised. You will be responsible for any damages that occur to the hardware while it's in your care.
Be sure to request a return within the following time frame:
| Product Category | Refund Request Deadline |
| --- | --- |
| Valve Index Hardware | Within 14 days of the transaction date |
| Other Hardware | Within 30 days of purchase |
You will be reimbursed up to two weeks after Steam receives the item. The reimbursed amount will be the price you paid plus the initial delivery charges. Keep in mind that the latter applies to the least expensive delivery method only.
How To Return a Game on Steam
You can request a refund for a game purchased on Steam by following these steps:
Go to Steam Support
Log in to your Steam account
Select Purchases
Click on the game you want to get a refund for
Choose the reasons for requesting a refund
Fill in the request form
Select the payment method from the drop-down menu
Submit the form
You will receive a confirmation email once the form is successfully submitted.
How To Return Steam Hardware
You can return hardware purchased on Steam by doing the following:
Log in to your account to initiate a request via Hardware Steam Support
Fill out the Return Merchandise Authorization (RMA) sheet
Pack the item alongside the RMA sheet in its original packaging or another suitable container
Attach a shipping label to the box
Mail the parcel
Be sure not to lose your shipping receipt in case you need to confirm your delivery.
DoNotPay Offers a Hassle-Free Method of Filing a Return Request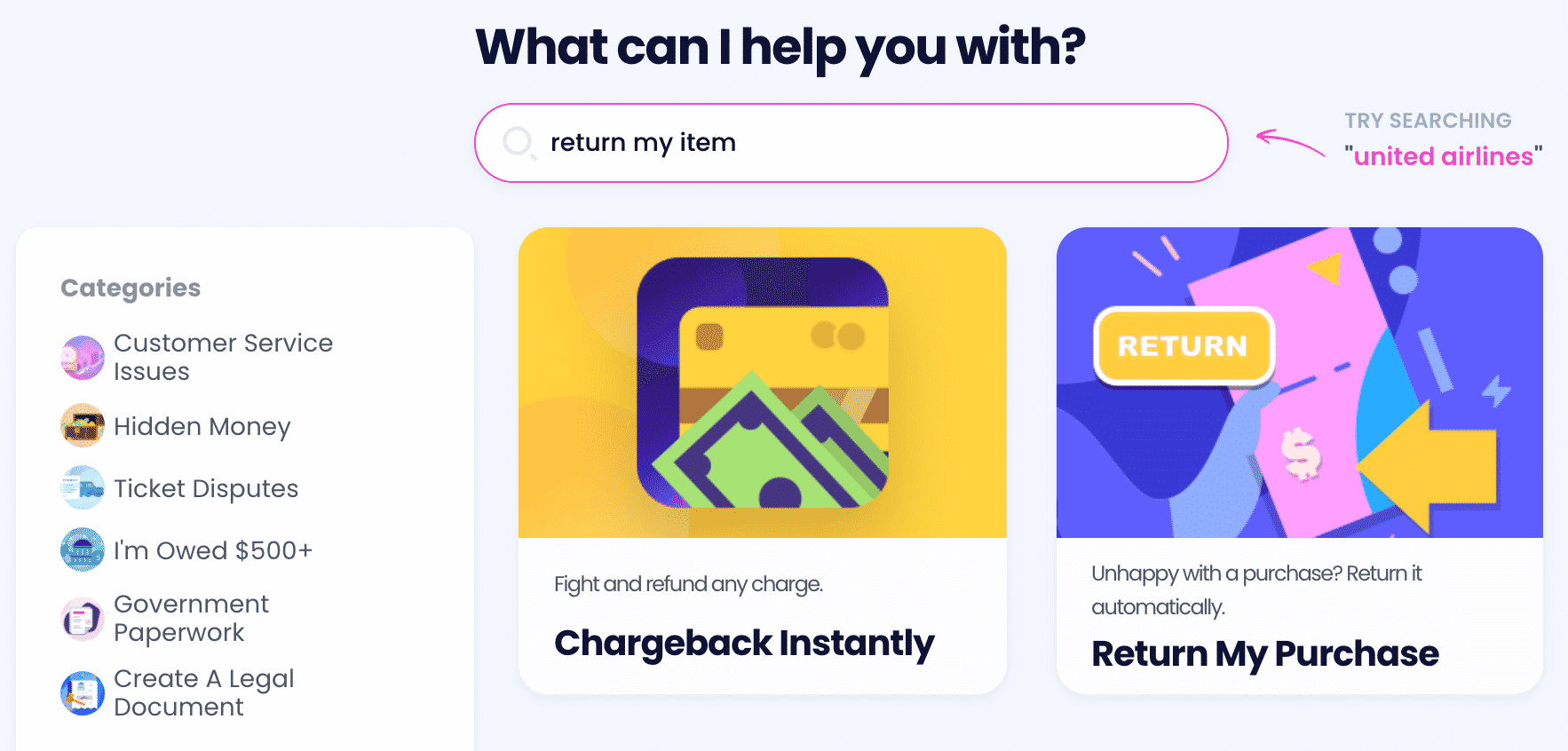 Filing a return request with Steam can take up so much of your time. The good news is, you don't have to go through all of that hassle because DoNotPay can help. Here's how our app works:
from any browser.
Locate the Return My Purchase product
Answer a few questions about your purchase
Submit the form
Our app will send a return request letter within minutes and generate a free shipping label for your convenience. The letter will state the solution you demand from the merchant and set a deadline for its timely completion.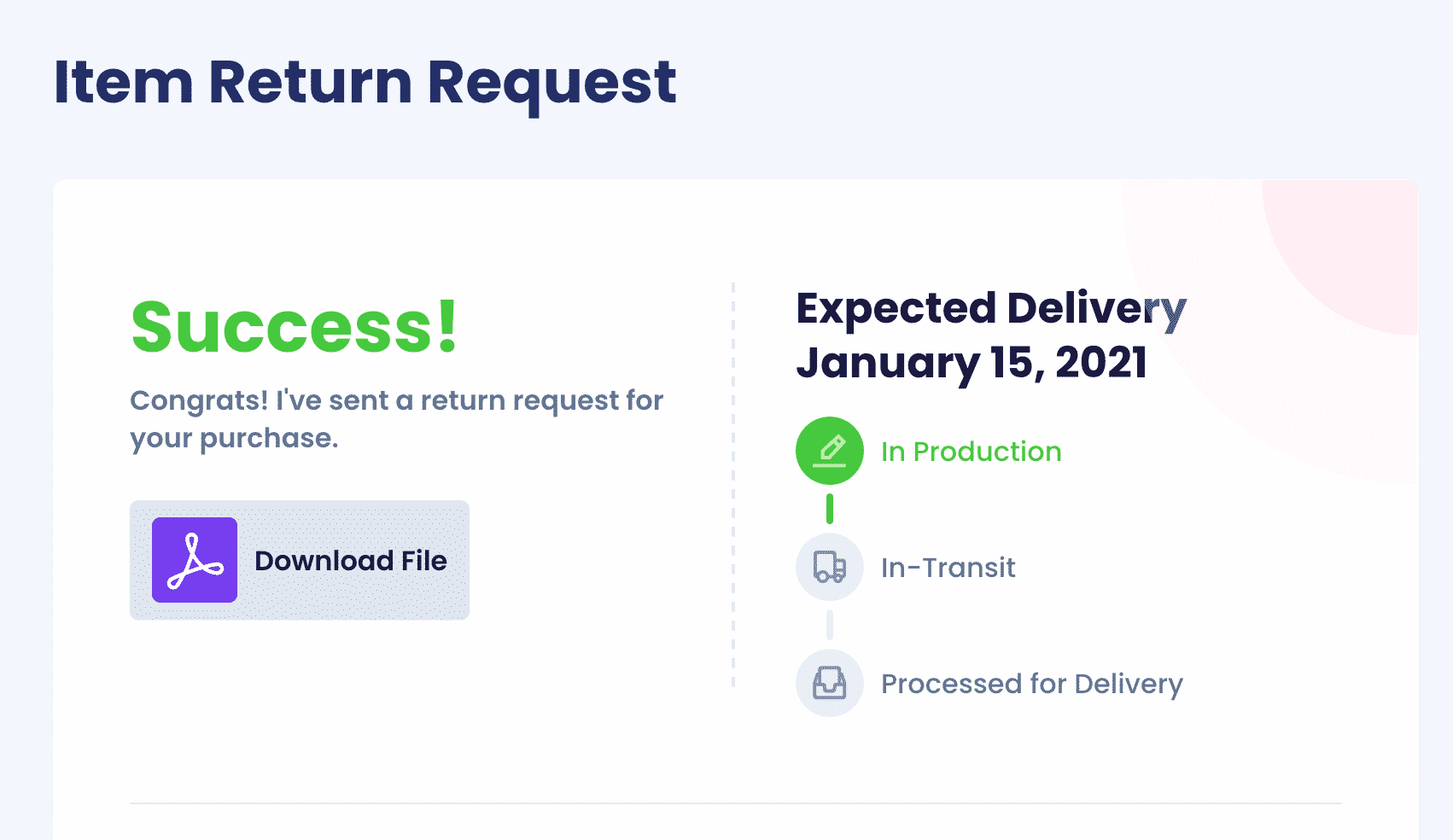 Can DoNotPay Help Sending Return Requests to Other Stores?
Our app can help you file return requests with various businesses, including:
Going Back and Forth With Companies Is a Thing of the Past
Have you been trying to contact the company you want to return your faulty item to with no success? No more—use DoNotPay's nifty product to jump the phone queue of any company's customer service line.
Waiting in any sort of line is dreadful, which is why we can also help you schedule a DMV appointment from the comfort of your home.
There are many more tiresome chores you no longer have to leave your bed to complete:
Make the Most of Your DoNotPay Subscription
Our app comes with a large selection of products—for one low monthly fee, you can use them all to complete dreadful admin tasks in a split second. Check out how you can: