Sleep Number Return Policy Decoded and Explained
If you can't get any good sleep after purchasing a bed from Sleep Number, help is on its way. In this article, DoNotPay will break down the Sleep Number return policy and let you know which products you can return and under what circumstances.
As soon as you , we can also handle the return in your stead if you don't feel like going through the process alone!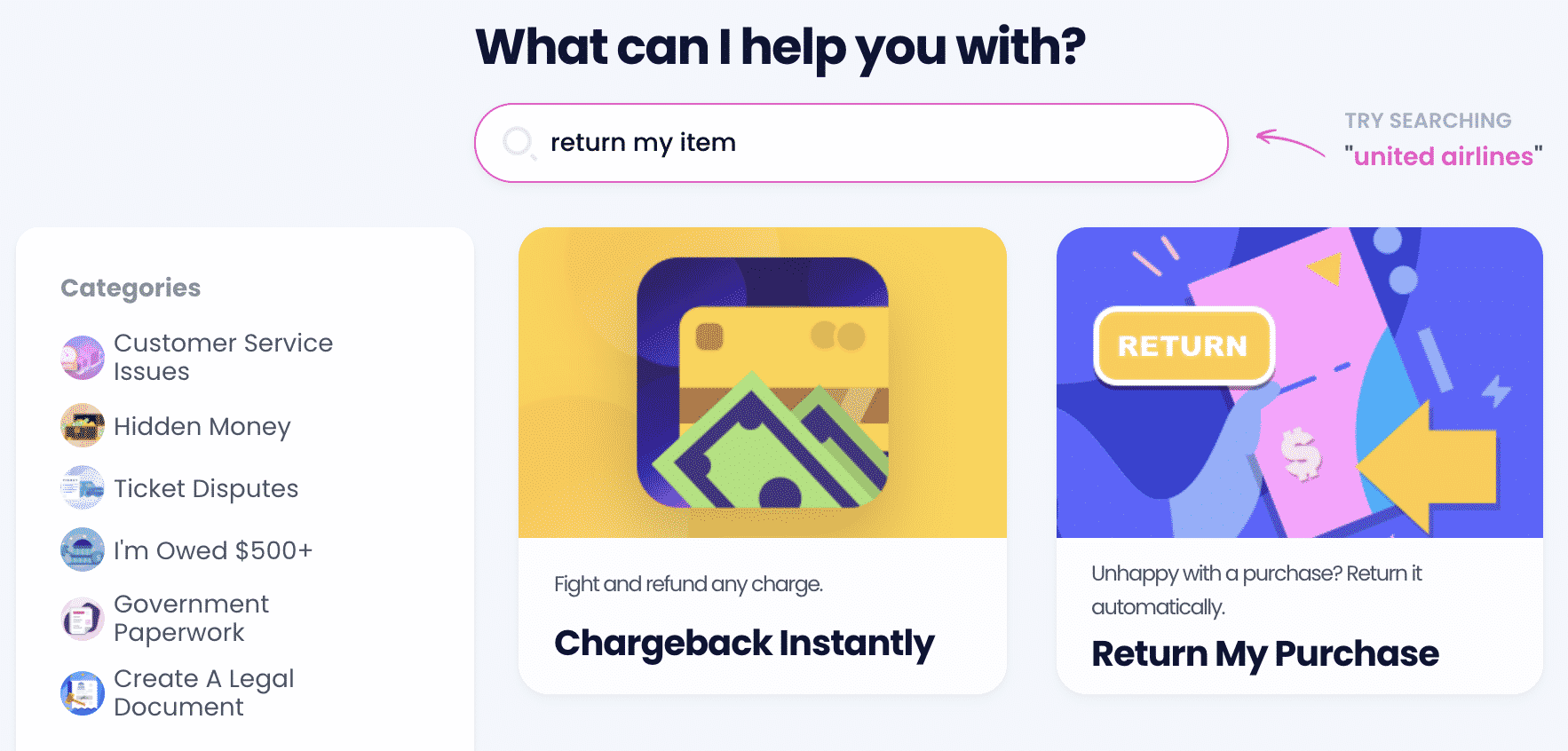 Sleep Number Return Policy—Key Points
The Sleep Number return policy has specific rules and conditions for returning items, and they are as follows:
Online returns are the only feasible option for most items you buy—Retail stores don't process return requests except for DualTemp™ layers
Only returns authorized by Sleep Number are valid—If you decide to send the item back before getting permission, the company may refuse the return, in which case you won't receive a refund or credit
Only items in good condition are returnable—Once the company receives them, you'll get reimbursed for the purchase price (minus any shipping or delivery fees)
Sleep Number Bed Return Policy—What Is the Deadline for Returns?
To qualify for a refund or an exchange, file a request within 30 days from the date of the transaction. Keep in mind that the merchant has to receive an authorized return no later than that.
Is Every Item Eligible for a Refund or Exchange?
You can initiate a return according to the Sleep Number bed return policy for any item except the following:
Upholstered Furniture Collection because these items are custom-made
All Factory Outlet, Display, Demo, Closeout Merchandise, and Clearance goods
FlexFit™ 1, FlexFit™ 2, and FlexFit™ 3 adjustable bases—You can't get a return authorization for these goods for two reasons:

Unique handling
Specific delivery requirements
Regarding the Bedding Collection's beddings and pillows, you are eligible for a one-time exchange within 30 days of the transaction.
What Is the Gift-With-Purchase Return Policy?
According to the Sleep Number return policy, the entire retail value of gift-with-purchase promotional products is deducted from any return refund. There are exemptions from this rule if:
The law bans such a deduction
You return a promotional item
What Are the Shipping Costs When Sending Sleep Number Products Back?
The Sleep Number return policy specifies that the customer is responsible for shipping costs. Depending on the circumstances, you will be required to pay:
$199–$249 per delivery plus taxes
$29.99 per label for items that qualify for UPS shipping
How To Return a Product to Sleep Number
You can check out all available methods of returning a faulty item to Sleep Number in the table below:
| | |
| --- | --- |
| Can You Place a Return Request Via | Yes/No |
| DoNotPay | Yes |
| In person | No |
| Email | No |
| Letter | No |
| Website | No |
| Phone | Yes |
You can call the Sleep Number's Customer Service Center at (800) 472-7185. They will provide you with a Return Service Order (RSO) number necessary to return the product.
Once Sleep Number accepts your return request and receives the merchandise, they will send funds to your original payment method. The money will appear on your bank or credit card account within the next 21 days.
Before you decide to go through the return process on your own, bear in mind that Sleep Number customers frequently complain about the company's customer service. Even if you reach a customer service agent and they show a willingness to cooperate, following their instructions leaves plenty of room for slip-ups.
A much simpler and far more reliable way to return a product is with DoNotPay. We will simplify the process and make sure you get a refund or exchange for the faulty product in record time!
The DoNotPay App—How Do We Make Item Returns Simpler?
DoNotPay is your way out of a complicated and time-consuming return procedure. Our app will save you time and money by allowing you to complete the process in a few simple steps and eliminating shipping fees for you. As a bonus, you won't have to deal with moody customer support agents.
The solution is only several clicks away—all you have to do is:
Choose the Item Return Request feature
Answer the questions the chatbot asks you and add images, if applicable
Hit the Submit button
Based on your answers, DoNotPay generates a custom letter that we send to Sleep Number. The letter contains information about why you wish to return the item and whether you'd prefer a refund or an exchange.
A specific response deadline informs the company when they are due to contact you. We also add a return label, so you don't have to cover the shipping costs. Having the form in writing may prove beneficial for you if the vendor decides to file a dispute.
Can I Use DoNotPay To Return Merchandise to Other Sellers?
You can use DoNotPay to send a product return request to any merchant, whether they are wholesalers or retailers. Refer to the following table to find some of them you are familiar with, discover others, and examine their return policies:
Want Your Money Back? Rely On DoNotPay!
The world's first robot lawyer can help you get your hard-earned money back in several ways. Are you dissatisfied with a product or service you paid for and want to request a refund? Do you want to request a late delivery refund? No problem—DoNotPay will do that in your stead! Do you think that you may have missing money and want to claim it? We can assist you in finding it!
No matter the issue, DoNotPay is your shortcut through bureaucratic hurdles. Our AI-driven app can help you dispute your parking tickets, get refunds and compensation from airlines, cancel any subscription service in a flash, and so much more!
What Else Is DoNotPay Capable Of?
Being your personal AI-powered assistant, DoNotPay can help you get rid of:
Are you sick and tired of big companies not taking their customers seriously? Our app will lend you a helping hand in the process of suing them in small claims court.
Do you want to skip waiting in lines at the DMV, jump the phone queue when reaching customer service, get help with paying your bills, or get copyright protection for your work? Sign up for DoNotPay to complete these tasks and so much more!