All the Essential Details About a Military Medical School Scholarship
Are you considering medicine as your career choice? The first step towards this noble profession is to get the necessary education.
More than 70% of medical school students carry debt. If you are interested in joining the military and want to avoid debt, consider a military medical school scholarship. This type of aid doesn't need to be repaid, so you can cover the expenses stress-free.
What many students struggle with is finding programs that are right for them. You may also wonder where to find such scholarships and how to apply. The good news is that DoNotPay has all the answers.
Our guide will tell you everything you need to know about securing free money for med school through military services.
The Best Military Med School Scholarships
In terms of military medical scholarships, these are the programs you must know about:
The Health Professions Scholarship Program (HPSP) military scholarships
Navy medical school scholarship
Army medical school scholarship
Air force medical school scholarship
The U.S. Department of Veterans medical school scholarship
If you want to browse more opportunities, subscribe to DoNotPay and discover all college scholarships you are eligible for in no time. You can even apply for no-essay ones without leaving the app.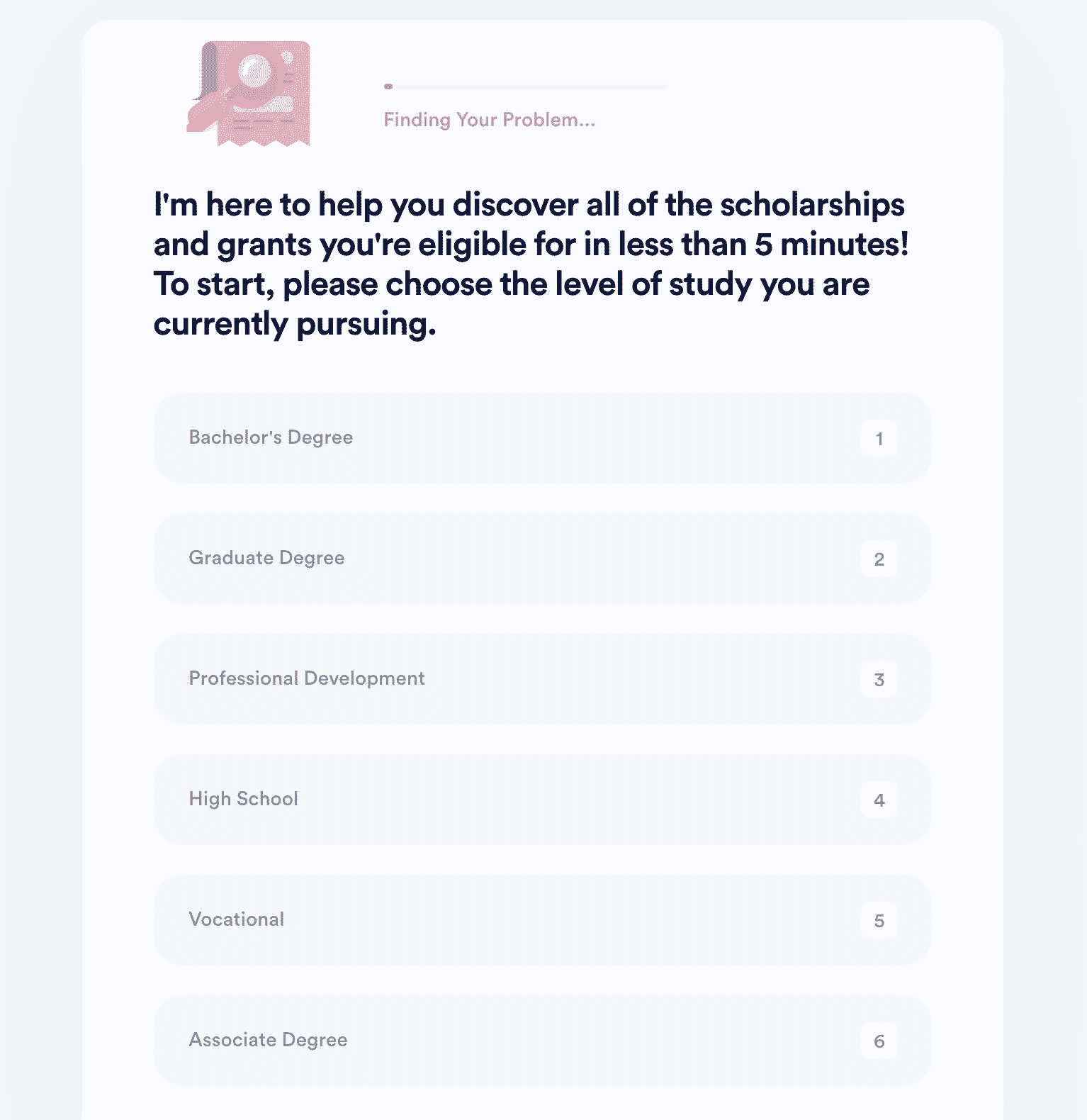 The HPSP Military Scholarships
The purpose of the Health Professions Scholarship Program is to finance navy, army, and air force medical students—both future and current ones. You can receive a military scholarship for two, three, or four years.
The funds you get will cover:
Medical school tuition
Fees
Monthly living expenses
For the HPSP scholarship program, you need to meet specific requirements. The criteria you need to satisfy are:
Age
Citizenship
Grade-Point Average (GPA) and Medical College Admission Test (MCAT) Scores
Other

Minimum—18 or 17 with parental consent
Maximum—36 or 42 for the navy

Must be a U.S. citizen

GPA—3.0 or higher
MCAT—500 or higher

Demonstrate leadership
Pass a security investigation
Pass a physical test
Demonstrate high moral standards
Interested in a Navy Medical School Scholarship?
If you join the navy and you are studying medicine—or plan to—you can get a scholarship through the HPSP. The program is for students enrolled in:
Medical school
Dental school
Qualifying health-care-related postgraduate programs
The scholarship includes:
Full tuition coverage
Monthly stipend exceeding $2,300
Signing bonus of $20,000 for those who commit to serving as a naval physician for three or four years
There is also the Navy Health Services Collegiate Program (HSCP) for medical students. The award goes from $157,000 to $269,000 for the time you attend medical school. The scholarship includes:
Monthly military salary
Housing allowance
Healthcare benefits package
Interested in an Army Medical School Scholarship?
The HPSP has the F. Edward Hébert Armed Forces Health Professions Scholarship Program for active duty army members. You have to be a U.S. citizen and have a baccalaureate degree from an accredited school to be considered as a candidate.
The aid is designed to cover expenses in the following fields of medicine:
Medical/Osteopathy
Dental
Veterinarian
Qualifying specialty nurse
Counseling/clinical psychology
Optometry
What you'll get if you receive this scholarship is:
Full tuition coverage
Funds for books, equipment, and other fees
$2,400 or more monthly stipend
$20,000 sign-on bonus
Officer's pay during school breaks
Regular monthly allowance for food and accommodation
Note that you are obliged to serve in the U.S. Army one year for every year you got the F. Edward Hébert Armed Forces scholarship.
Interested in an Air Force Medical School Scholarship?
Medical students who are willing to join the air force can receive the HPSP aid as well. You can get a three- or four-year scholarship.
The aid will cover:
Full tuition and other fees
Education costs—such as textbooks, supplies, small equipment items, and similar
Living expenses
While in the program, you need to be 45 days on active duty in the air force. After you graduate, you must serve one year for each year of scholarship you've received. The minimum years of serving are three.
Interested in the U.S. Department of Veterans Medical School Scholarship?
The Department of Veterans Affairs (VA) teamed up with the HPSP to provide gift aid for med students who want to serve in a VA facility and care for America's veterans. The institution offers 50 and more scholarships per year.
The financial assistance can last from one to four years. Once you graduate and finish residency, you can join the VA team full-time.
You can expect the following:
Financial support for tuition
Monthly stipend
Fee coverage
Money for books, equipment, and other medical school costs
The key requirements you need to meet are:
Be a U.S. citizen (veterans have an advantage)
Be enrolled in a medical school
Maintain acceptable academic progress
Complete residency training in a VA specialty
Serve for 18 months at a VA facility for every year of scholarship support
Application Process for a Military Scholarship for Medical School
Here are some important tips for applying for military med school scholarships:
Start preparing for the test that determines whether you are eligible to join the military
Gather test scores, transcripts, and letters of recommendation
Apply for programs when applying for medical school—early deadlines can give you an upper hand
Fill out an application for every service that you are interested in
Reach out to a recruiter to schedule a preliminary interview
If you are a military child or spouse, you should inquire whether you'll have an advantage for certain programs.
Securing a Military Medical School Scholarship Is Easier With DoNotPay
Why limit your financing to military-specific scholarships? You can receive the HPSP aid and apply for other programs you are eligible for.
As a military med student, you can also get scholarships for belonging to unique categories—such as:
DoNotPay can help you find all grants and scholarships you can receive—yours is only to:
Click on the Apply for Scholarships feature
Fill out the questionnaire regarding your education information
After a list pops up, you can revise it and apply for programs that don't ask for scholarship essays or letters of recommendation automatically.
Our nifty app can surface a custom list of aid for anyone. Whether you are an out-of-state, international, transfer, or graduate student or a high school senior, DoNotPay can help you.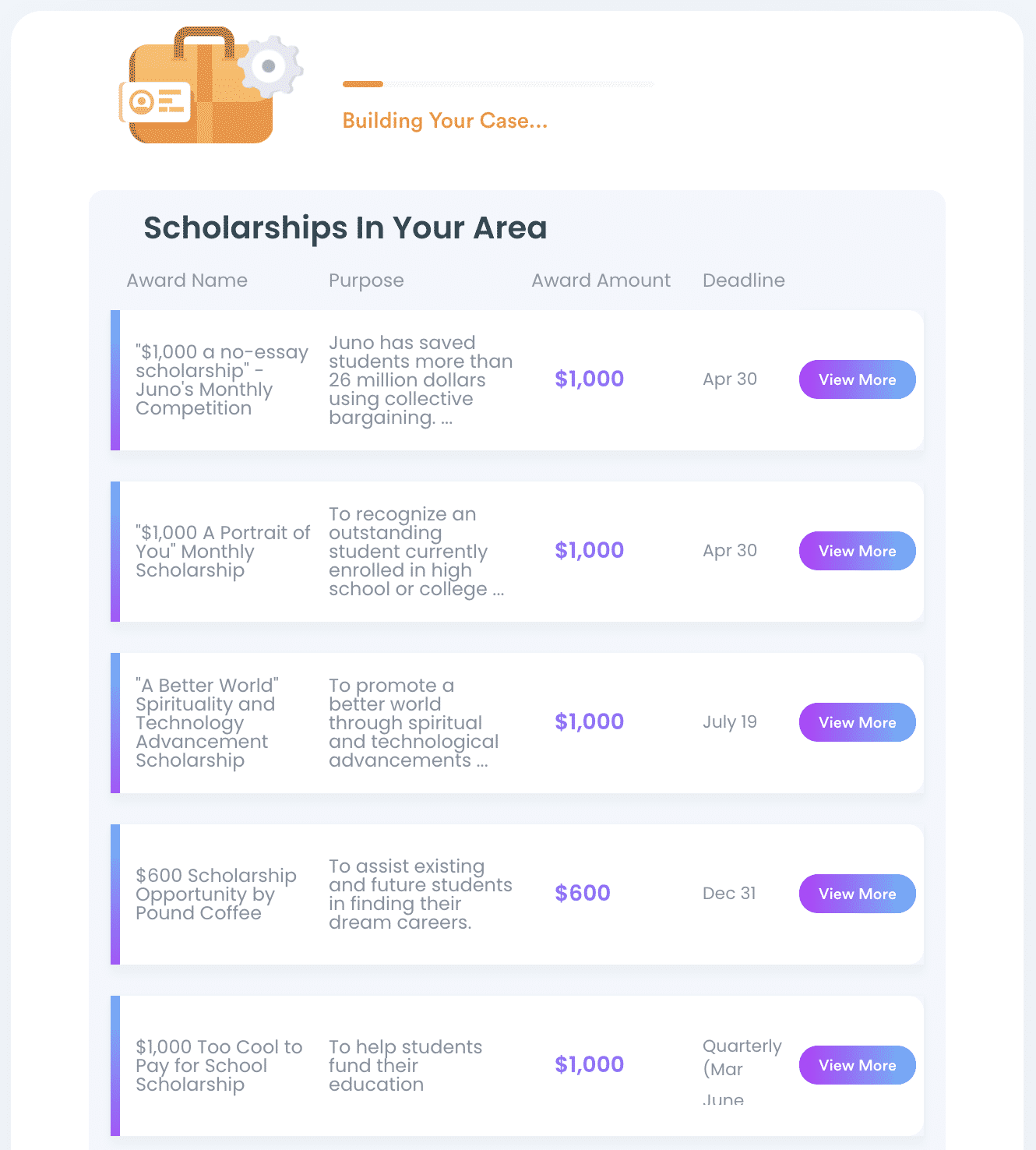 Anything Else You Need?
DoNotPay offers an exhaustive range of products and services for one low monthly fee. You can take full advantage of our offer once you resolve the issue at hand.
Our app can both save you money and help you earn it—sign up to appeal parking tickets, get assistance with utility bills, get compensation from airlines, request a refund, have your college application fees waived, find your missing money, reduce property taxes, enter any sweepstake, or send a financial aid appeal letter to any school.
We can also turn your gift card balance into cash, help you apply for scholarships, and assist you in getting compensation as a victim of crime.
There's Even More to Our Offer
The world's first robot lawyer can turn any nightmarish admin or legal procedure into a piece of cake. Look into our knowledge base to find out how to send a letter of warning to your bad neighbor, submit an anonymous complaint to your HR, fight workplace discrimination, get access to public records, deal with a stalker or harasser, put an end to robocalls, and file a complaint with any company.