A Simple Guide to Iowa State Scholarships
Studying at Iowa State University can be much less stressful if you have a scholarship. To get your hands on this financial aid type, you will need to search for all of the ones you are eligible for.
With all the scholarships awarded in Iowa, the choices are endless. How can you filter the Iowa State scholarships you can get? With DoNotPay!
Follow this guide to get top info about different scholarships you can apply for and details on how the application process works.
What Type of Iowa State University Scholarships Can You Get?
Iowa State supports its students' education with versatile scholarships. Some scholarships depend on your level of education, while others are awarded to students based on their specific circumstances or inclusivity. The scholarships you can revise for financing your ISU studies are:
Freshmen scholarships
Current students scholarships
Transfer students scholarships
International students scholarships
Graduates scholarships
Additional scholarships
Scholarships outside of the Iowa State University
Iowa State Merit Scholarships for Freshmen
To award and motivate high school students with excellent academic achievements, Iowa State has merit scholarships for freshmen. These scholarships are:
National Merit Full Tuition Scholarship
Loyal Scholar
Forever Scholar
Iowa State Scholarships for Current Students
Students who are already enrolled in ISU should primarily look for scholarships within their specific college or department. As a current student, you have an opportunity to find aid designed for your field in particular. You can contact your department's office to get more information about scholarships for undergraduates.
Iowa State Scholarships for Transfer Students
If you are coming to Iowa University as a transfer student, you can look into the following scholarship options:
The Iowa State Community College Transfer Scholarship
The Transfer Achievement Award
The Transfer Success Award
The Generations Award
The Phi Theta Kappa (PTK) Scholarships, including:

The Phi Theta Kappa (PTK) Member Scholarship
The PTK All-State Academic Team Award
The PTK All-USA Academic Team Award
Iowa State Scholarships for International Students
International students can apply for any scholarship that isn't limited to U.S. citizens. Some of the scholarships that these students are eligible for are:
International Merit Scholarships
Iowa State University Scholarships
Anne Doyle International Student Award
Return to Iowa Generations Scholarship
Iowa State Scholarships for Graduate Students
Grad students can get funding for their higher education through ISU scholarships, such as:
Diane Brandt Scholarship
F. Wendell Miller Scholarship
Tuition Scholarships for In-Service Teacher Professional Development
Diversity Funding Initiative Scholarships
EPA Marshall Scholarship Program
Nancy Foster Scholarship
George A. Jackson Award
Iowa State Ronald E. McNair Scholarship
Additional Iowa State Scholarships
Other than scholarships you apply for through the University's official application system, you can search for financial aid under certain categories. Iowa State has specific centers, programs, and awards for their diverse students—including:
Center for LGBTQIA+ scholarships
Department of Residence scholarships
Hixson Opportunity Awards
Military Science scholarships
Multicultural Visual Program scholarships
Return to Iowa-Generations scholarships
Study Abroad scholarships
University Honor Scholarships
Veterans Centers scholarships
Roy J. Carver Scholarship
Scholarships Outside of the Iowa State University
Not all scholarships are tied to Iowa State. You can find college scholarships that are created to provide monetary help to students from distinct groups. These funds usually come from foundations, philanthropists, and for- and non-profit organizations.
Check out some of the specific scholarships you can apply for:
Where Can You Look for Iowa State Scholarships?
If you want to find ISU scholarships, you should take these steps:
Go to the Scholarships page on the ISU official website
Click on the OneApp option
Select View All Scholarships
Type in a keyword to narrow down the search results—for example,

engineering
For scholarships coming from other sources, you'll need to look online. If you want to unify the research process and get a full list of scholarships you qualify for, . We will discover every single scholarship and grant you can get within a couple of minutes. Use our app to apply for any no-essay scholarship in a few clicks!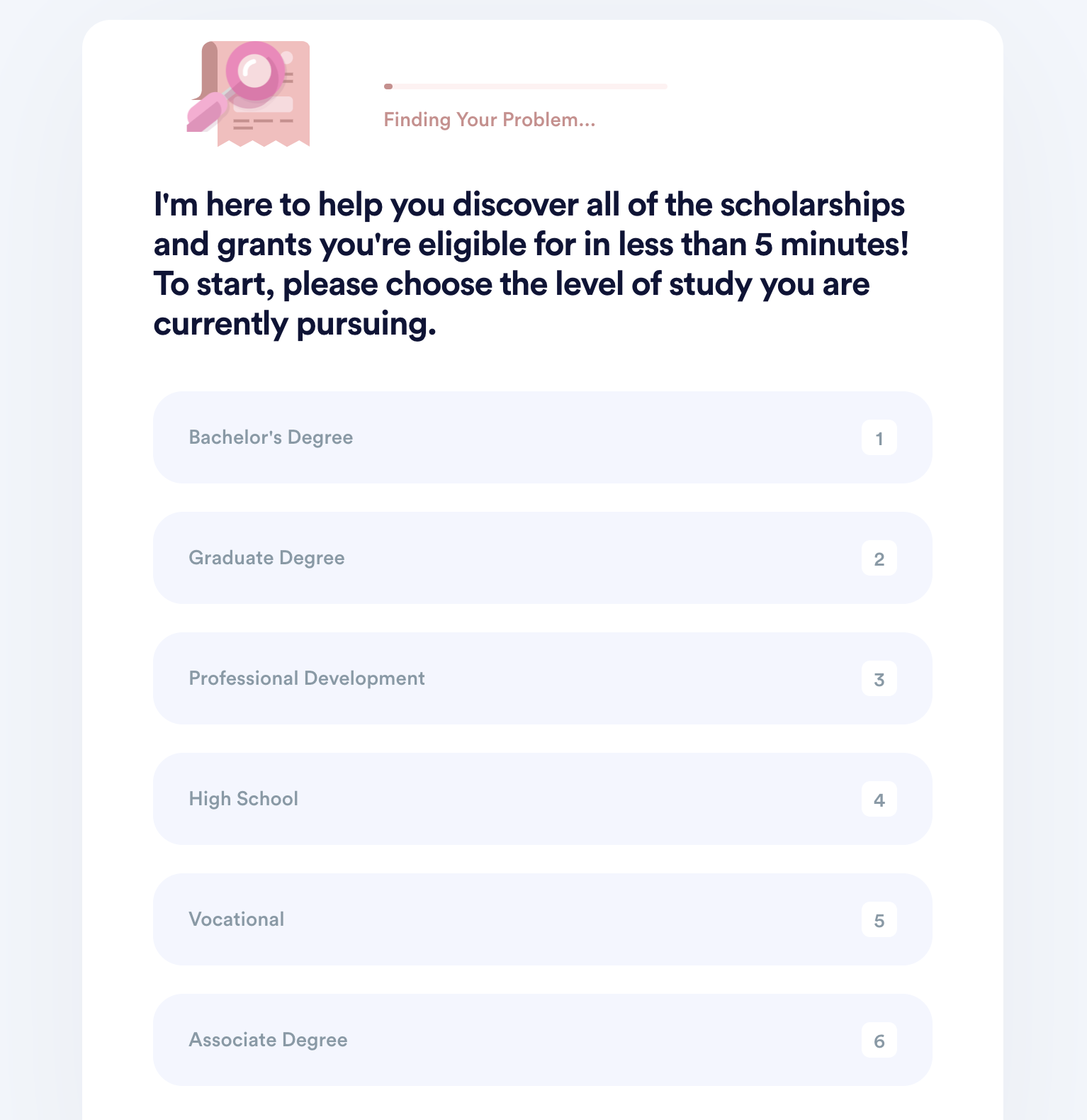 What Is the Iowa State Scholarship Application Process?
Iowa State University has created the OneApp scholarship portal that allows students to apply for scholarships from a single system—by following these steps:
Go to the Iowa State University website
Click on OneApp
Select Apply
Sign in with your ISU Net-ID and password
Follow the instructions
When you submit the request, the system will match you with all awards you qualify for.
The Office of Student Financial Aid, your college or department, or other campus units will use this application to choose the recipients. For any further questions, send an email to scholarships@iastate.edu.
Note that not all university scholarships use OneApp. Aid listed among the Additional Scholarships category demands a separate application. Scholarships that come from outside sources also have their own way of applying and unique requirements. They might ask you for a letter of recommendation, a scholarship essay, or another document.
The Deadlines for Iowa State Scholarship Application
When you need to apply for the ISU scholarships depends on several factors—such as your level of education and department. Check the table below to find relevant deadlines:
Department/College
Deadline for Freshmen
Deadline for Current Students
Deadline for Transfer Students
Office of Student Financial Aid
September 1–January 11
September 1—March 1
September 1—March 1

Agriculture and Life Sciences
Business
Design
Liberal Arts and Sciences

September 1–January 11
September 1—March 1
September 1—March 1
Engineering
September 1–January 11
November 1–February 1

September 1—January 1(spring entry deadline)
January 1—June 1 (fall entry deadline)

Human Sciences
September 1–January 11
September 1–January 1

September 1—January 11 (priority deadline)
After January 11, get in touch with the college
For information about scholarship deadlines for graduate studies, you need to contact your department.
Get Your List of Scholarships Within Minutes With DoNotPay
Are you looking for a way to find all scholarships you are eligible for in less than three minutes? , and you'll get a personalized list of scholarships—along with information about the amounts and deadlines.
Get your list now by doing the following:
Log in to your DoNotPay account
Select the Apply for Scholarships tool
Fill out our simple questionnaire
That's the whole ordeal! Your list will pop up in a jiffy, and you can start reviewing and applying for scholarships.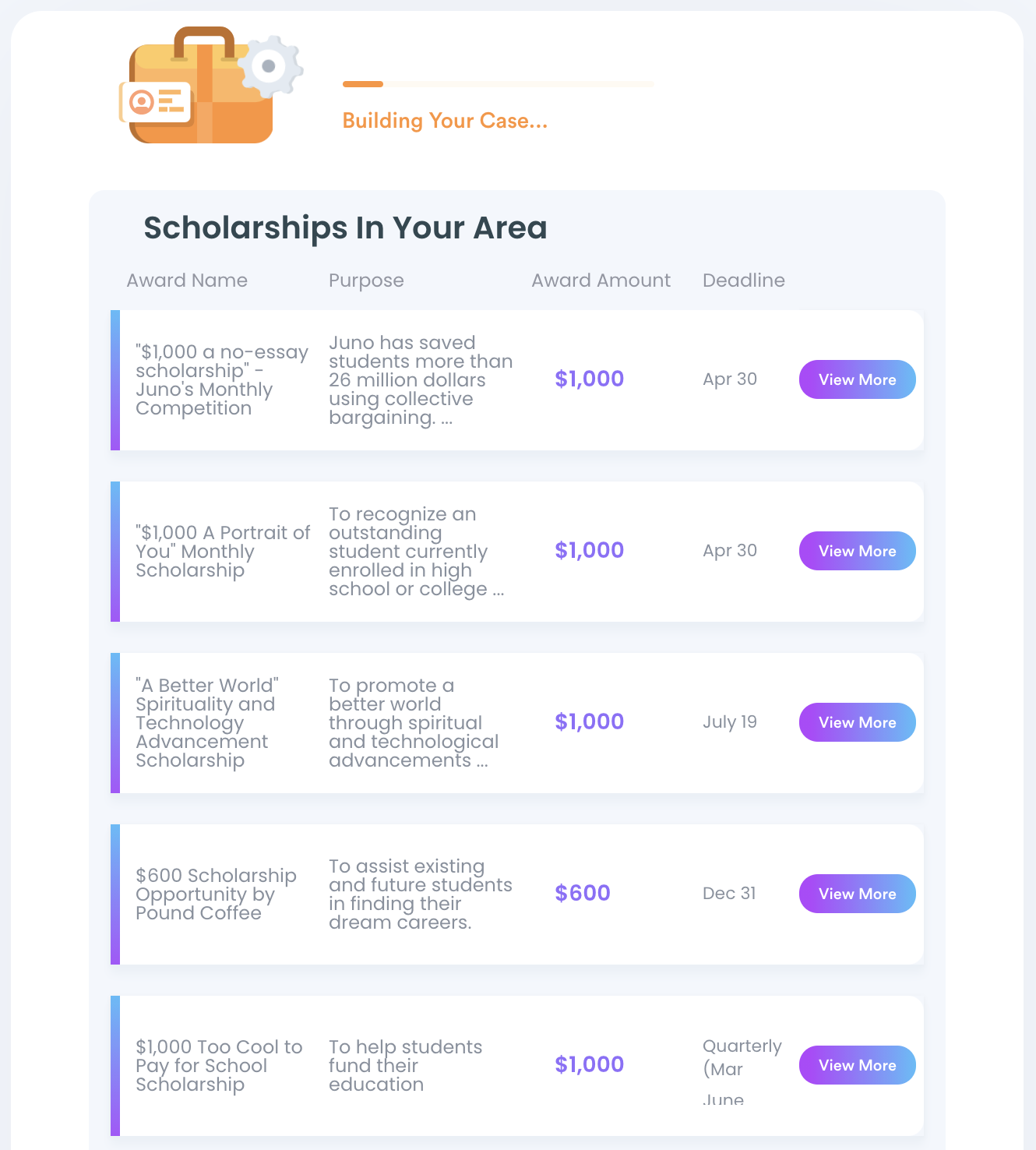 Administrative Issues? We Don't Know Them!
Forget about getting frustrated and overwhelmed by the administrative tasks waiting for you to complete them! With DoNotPay's numerous tools, you can easily resolve such tasks in a heartbeat! All you need to do is sign up for our app, and you'll be able to:
Get
Create
File

Divorce settlement agreements

Powers of attorney
Use DoNotPay To Protect Yourself at All Times
Are pesky robocalls and email spammers working your last nerve? Don't despair—we are happy to help you get rid of them! In a few clicks, you can also stop text spam and avoid the incessant phone buzzing!
You can use our app to protect your privacy by creating burner phone numbers and virtual credit cards. That way, you don't have to disclose personal info when subscribing to online services.
In case you're looking for a way to keep yourself safe from stalkers or work discrimination, we'll help you report the case and walk you through the entire process!
Protecting your work from copyright violation and asking for violent crime compensation in your stead is also something DoNotPay can do!