SAM Notarized Letter From A to Z
The System for Award Management (SAM) website allows companies and organizations to do business with the U.S. government or apply for government awards. To register for the SAM successfully, you must fulfill certain requirements, such as providing your SAM notarized letter.
Getting a document notarized can be a nightmare if you decide to do it the traditional way. The good news is that the standard notarization process isn't your only option. You can to find an available online notary who will notarize your SAM letter in under five minutes!
SAM Requirements
If you want to use the SAM website, you must meet certain requirements:
Requirements
Explanation

Registering for the SAM website

To register for the website, follow these steps:

Use that account to

log in to SAM

Go to

Register/Update Entity

Click on

Register New Entity

and select

Start Registration

Type in your:

Entity's Data Universal Numbering System (DUNS) number

Taxpayer Identification Number (TIN)

Taxpayer Name

Contractor and Government Entity (CAGE) code

Electronic Funds Transfer (EFT) information

Provide additional info and follow further steps

You will need to renew your registration once a year to keep your status active

Send a notarized letter to the Federal Service Desk (FSD)

Before SAM activates your registration, you must provide a notarized letter declaring that you're the Entity Administrator—the person authorized to make changes on your company's SAM account.

The letter needs to be printed on your company's letterhead and signed by your company's authorized signature authority. It also needs to contain the statement of authorization and your company's:

DUNS number

Legal business name

Physical address

Entity Administrator's name, address, phone number, and email address
Why Do You Need To Get Your SAM Letter Notarized?
In 2018, the General Services Administration (GSA)—an entity accountable for the SAM database—noticed potential security issues. To increase security, the GSA decided to make submitting a notarized letter that identifies the Entity Administrator a requirement for registration.
How Much Do You Need To Pay for the SAM Letter Notarization?
The price of notarization depends on multiple factors, such as:
Laws of the state your company is registered in

—Most states dictate the maximum price that notaries can charge for notarial acts and

services

. A handful of states allows notaries to determine their own prices (e.g., Iowa)

Notary you hire

—Notaries can choose to charge the highest possible price or to adjust the fee according to the area they live in

Notarization method you choose

—Some notarization methods are more expensive than others. Hiring a

mobile notary costs more

than having your SAM letter notarized the traditional way because you also need to cover the notary's travel expenses
Ways To Get Your SAM Letter Notarized
You can handle your SAM letter notarization by visiting a standard or electronic notary, hiring a traveling notary, or registering for an online notary platform.
Standard & Electronic Notaries
Regular and e-notaries operate from their offices. Standard notaries public notarize paper contracts while electronic notaries deal with documents in digital form. In-person appearance is obligatory if you choose this notarization method.
This process can be time-consuming since you'll have to spend too much time searching for a notary, scheduling a meeting, and going to his or her office.
Mobile Notaries
If you don't feel like going to the notary's office, you can make an appointment with a mobile notary. He or she will come to your preferred place, be it your house or office. Mobile notaries can come to various locations, including cafes, hospitals, airports, nursing homes, and similar.
Mobile notarization is the most expensive option as notaries usually charge high travel fees.
Online Notaries
Remote notarization is the most practical choice for document notarization as it enables you to get your SAM letter notarized from the comfort of your home. You will get connected with a notary via a video call, and he or she will finish the entire procedure virtually.
Most states allow their notaries to notarize documents virtually either permanently or during the pandemic, but some—such as California—still don't.
SAM Letter Notarization Explained
Whichever notarization method you choose, the notary you hire or get connected with will:
Require your appearance, either in person or via a video call

Examine your ID, passport, or driver's license to identify you

Determine whether you're of sane mind

Establish that you're aware of the SAM letter contents

Ask you if you're signing the letter willingly

Review the SAM letter to check whether it's complete

Perform the appropriate notarial act

Witness your signature

Write a notarial certificate

Notarize the letter by marking it with a

notary signature

and stamp
Need a More Efficient Solution? Rely on DoNotPay and Have the SAM Letter Notarized in a Flash!
Would you like to take care of your SAM letter notarization as quickly as possible? Need help notarizing a will, trust, affidavit, or car title? You're in the right place! DoNotPay has developed a product that connects you with online notaries from any state—including Utah, Colorado, Maryland, Tennessee, Wisconsin, and Pennsylvania—in no time.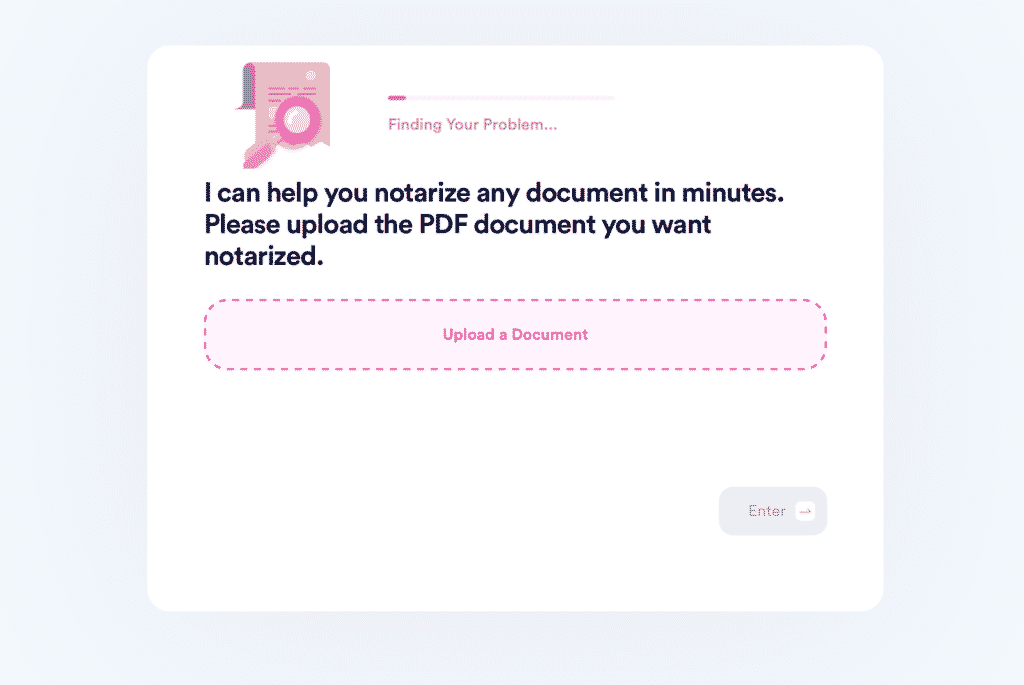 We will find an available 24/7 notary and email you a link through which you can schedule an online meeting as soon as you complete these steps:
Open our

Notarize Any Document

product

Upload your SAM letter

Provide your email address

Click on the link we email you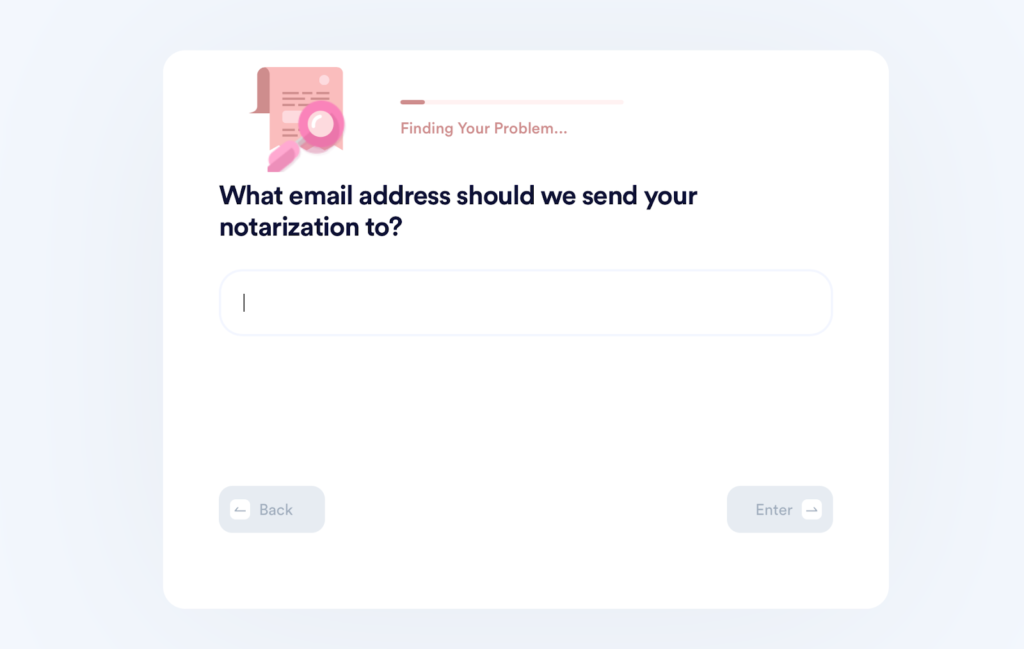 DoNotPay Can Help You Solve Pesky Issues Stress-Free
Dealing with everyday issues can become overwhelming, especially if they include bureaucracy. DoNotPay can help you handle numerous problems in a few minutes. With us, you can schedule your DMV appointments, get documents notarized remotely, and create various legal documents—including child travel consent statements—in a snap.
Do you need help paying your bills or disputing parking tickets? Once you register for DoNotPay, you'll be able to manage all of these and many more issues in no time.
What Else Can You Use Our App For?
Besides helping you handle tedious administrative hurdles, DoNotPay can do much more for you! You can use DoNotPay to:
With us, you can send online faxes or mail letters from the comfort of your home. Do you have friends or family members who are serving time? We can help you connect with inmates in a flash by enabling you to locate them and send them letters.