File a Return Request With Rue21 Quickly and Easily With DoNotPay
While the rue21 return policy is straightforward, the return procedure may take a lot of your time and energy. To avoid that, —the world's first and only robot lawyer you will ever need. Subscribe to our app and let the chatbot lead you through the return or exchange procedure that takes a few minutes.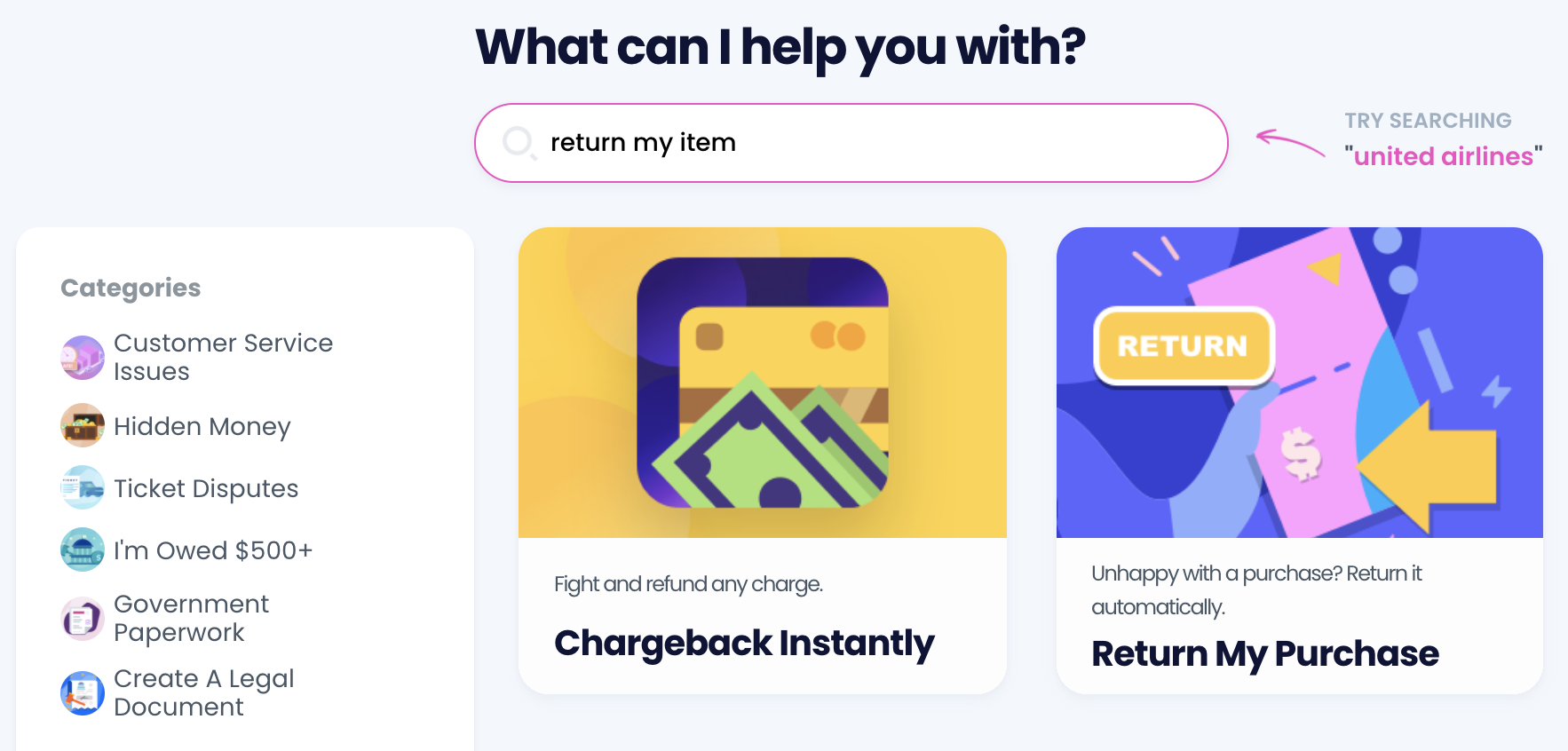 Rue21 Return Policy—Facts You Should Be Aware of Before Requesting a Return
According to the rue21 return policy, you can return almost any product you aren't happy with, whether you purchased it at a store or online.
To request a refund or an exchange, you must provide proof of purchase.
Depending on how you purchased the item, the proof of purchase could be:
The original receipt (sales check), if you bought merchandise in-store
The packing slip, in case you ordered the product on the seller's official website
The current deadline for refunds is 60 days following the original purchase. If you wish to exchange the product, there is no time limit.
What if I Don't Have Proof of Purchase or Miss the Deadline?
If you have lost the receipt or slip, you will get a refund in the form of a merchandise credit that you can use in any rue21 store. Keep in mind that the amount you receive will correspond to the item's current price, which may be lower than what you originally paid.
Do All Rue21 Products Qualify for a Return?
The rue21 return policy allows customers to return every product, regardless of their type or intended use.
If you want to return swimwear, all you have to do is ensure that the original ticket and the hygienic liner are in place. Otherwise, the retailer may refuse your request.
Rue21 In-Store Return Policy
You are free to take the merchandise to any rue21 retail store. Even if the shop isn't in the same town or state where you purchased the products, the staff will accept the return.
Note that you have to return goods bought at a physical store only to a store. If you attempt to return a product purchased in the store via rue21's online returns facility, it will be sent back to you at your expense.
Rue21 Return Policy for Online Purchases (In-Store Returns)
If you ordered the merchandise online, you can return it both at the store and online.
Do you wish to return goods bought online and paid via Klarna (a fintech company offering the online payments service) to a brick-and-mortar store? If so, keep in mind the following:
You will get a full refund via credit or debit card or store credit for in-store returns
The remaining installments will be deducted from your account every other week
How To Pack the Merchandise You Want To Return?
When shipping the product back to the rue21 store, do the following:
Put the merchandise in a bag (you could use the one you received goods in because it has a resealable tab)
Send the original packing slip with the parcel (make a copy of the proof of purchase for your records)
Write down the following information on paper if you don't have the slip:

Order number
Billing name
Your address

Attach the paper to the package
Note that you have to prepay shipping fees since the seller doesn't accept cash on delivery.
Before a shipping company takes the package, make sure to eliminate all labels from previous deliveries to avoid confusion and shipping delays.
Rue21 recommends you to send product returns via FedEx, UPS, or any other carrier that allows you to trace the shipment.
Send a Return Request With DoNotPay
Filing a return request to the vendor comes with various pitfalls. As much as the rue21 return policy is customer-friendly, you have to spend time visiting a store or covering return delivery expenses. That is where DoNotPay steps in to do the heavy lifting for you and eliminate shipping costs.
To kick start the process, you have to complete the following steps:
in any web browser
Choose the Item Return Request feature
Answer to our chatbot's questions and attach images, if needed
Click the Submit button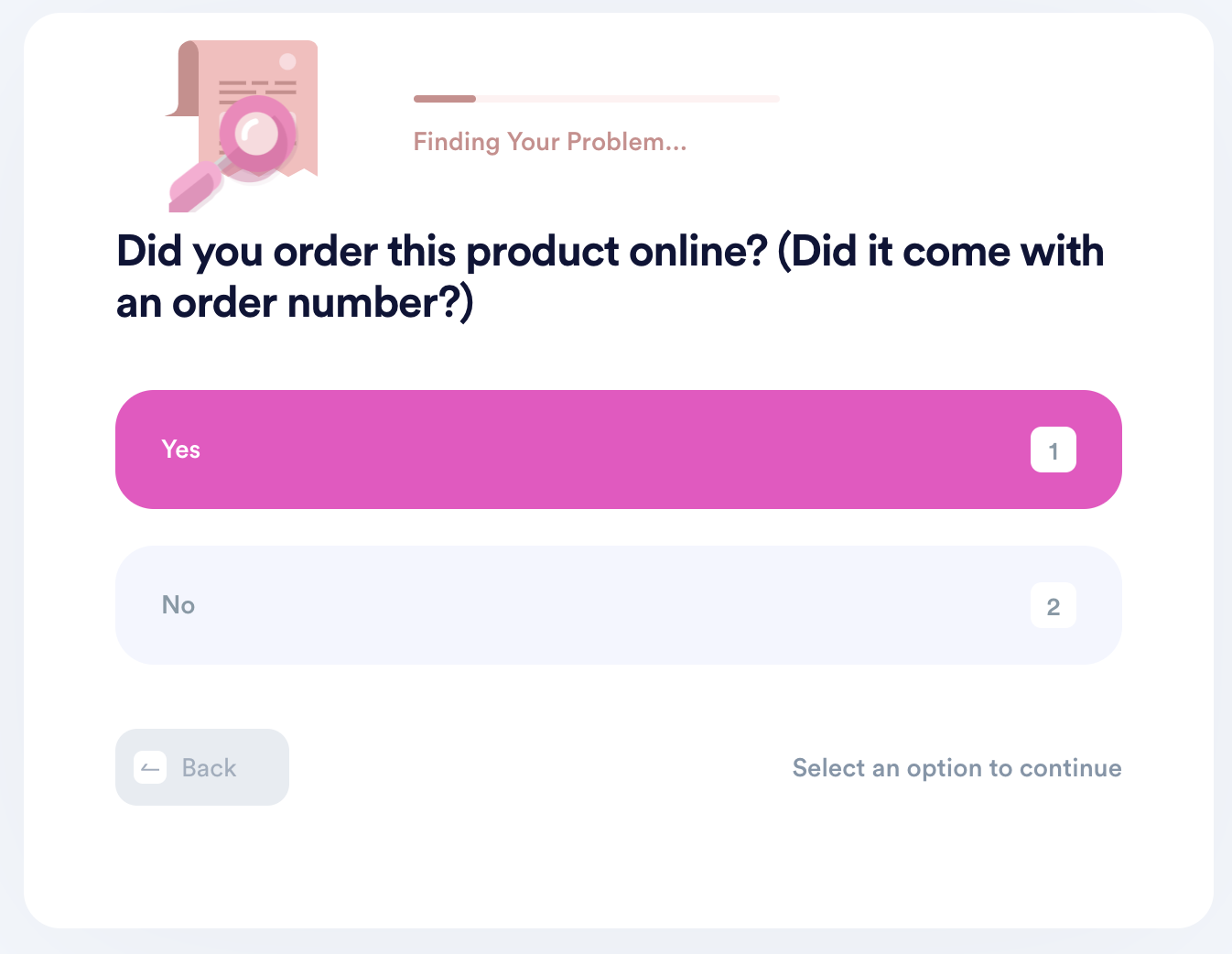 DoNotPay generates and sends a custom letter to the seller based on your answers. The letter will indicate whether you wish a replacement or a refund for the faulty product. Expect someone to contact you soon because we include a specific response deadline, as well.
Can DoNotPay Help Me Return Products to Other Vendors?
Use the DoNotPay robot lawyer to request a return from any seller. Refer to the following table to find brands and retailers popular countrywide and read through their return policies:
Is the Company Refusing To Cooperate? We Can Help You Get Justice
Is whatever company you're dealing with not being a good sport? Don't worry—the world's first robot lawyer is here to help. Our app can prepare all the necessary paperwork and provide guidance if you want to sue the company in small claims court.
We can also help you draw up any legal document you need for the case, have it notarized by an online notary, and fax it to anyone in a matter of minutes.
If you want to get revenge on tiresome robocalls or report a stalker or harasser, you can rely on DoNotPay.
Anything Else We Can Do for You?
Our AI-powered app is versatile—you can complete many tiresome, daunting tasks that you wouldn't want to tackle by yourself. You can use DoNotPay to:
If you want to get access to all of our nifty products, sign up now!