Have Your Documents Notarized Without Hiring a Notary in Van Nuys
The best way to confirm that the signatures on contracts, affidavits, and all other documents are valid is to have them verified by a notary. The procedure involves numerous steps that may confuse you, but we will break the process down for you!
If you live in Van Nuys and this is your first time looking for notary services, DoNotPay is the right deal for you! Get familiar with our app to discover how to find a suitable notary in Van Nuys and get any document notarized from the comfort of your home!
What Notary Services Are Available in Van Nuys?
California currently offers three types of notary services:
Regular notaries

work in many financial organizations and independent offices

Mobile notaries

can travel to the signer's location and perform notarial acts but charge more due to travel expenses

Notary signing agents

validate signatures on loan-related documents and provide valuable advice on the loan procedures
Unfortunately, even the COVID-19 pandemic didn't change the opinion of California authorities regarding online notarization. According to DLA Piper, the state still doesn't allow remote online notarization.
Such decisions are subject to change, which means your best bet is to check the latest updates and see whether anything has changed. Californians can still book a suitable notary from another state and have their signatures validated virtually. This is known as out-of-state remote notarization.
What Does Standard Notarization Look Like in California?
If you opt for in-person notarization in California, you must go through various stages before getting a notary's signature. You should:
Locate a convenient notary in your vicinity—in this case, within or near Van Nuys

Schedule a virtual appointment with the chosen notary via phone or other available methods

Visit the notary's office on the predetermined date and bring a physical copy of your document and an identification document, such as:

An ID

A passport

A driver's license

Any other government-issued document with a photo

Let the notary estimate whether you are:

Signing the document voluntarily

Sober and mentally stable

Sign the document in the presence of the notary

Wait for the official to validate your signature by putting their signature and stamp on the document
According to the Notary Public Handbook of California, once the procedure is over, the notary must create a notary journal entry. It should include:
Date and time when the notarial act took place

Notarial act type (was it a jurat, acknowledgment, etc.)

Client's signature

Statement regarding the identity of the signer based on satisfactory evidence

Applicable

notary fees

The right thumbprint of the signer (when notarizing deeds, deeds of trust, quitclaim deeds, etc.)
Where Can You Find a
Notary Public in Van Nuys
?
There are many ways to look for a notary in Van Nuys:
Online Resources
Institutions
Other Places/Methods

Credit unions

Insurance companies

Police departments

Money transfer offices

Law and accountant offices

City or county clerk offices

Courthouses
How Much Will a Notary in Van Nuys Charge You?
California has established specific price ranges for notary services based on regulations from California Government Code. You can find the maximum fees for the most common notarial acts in Van Nuys/Los Angeles below:
Acknowledgments

—$15 per signature

Jurats—$15 per signature

Public requests for line items—$0.30 per line item

Depositions—$30 per deposition

Certifying a

copy

of a

power of attorney

—$15 per copy
The state also allows specific social groups, such as persons who want to notarize voting materials or military veterans, not to pay for most notarial acts.
Discover Virtual Notarization With DoNotPay
Forget about waiting for an eternity to schedule a meeting with a notary. DoNotPay—our award-winning, AI-powered app—helps you do it in under five minutes! You can pick the appointment time and date you prefer in a few taps and have your documents notarized via video call.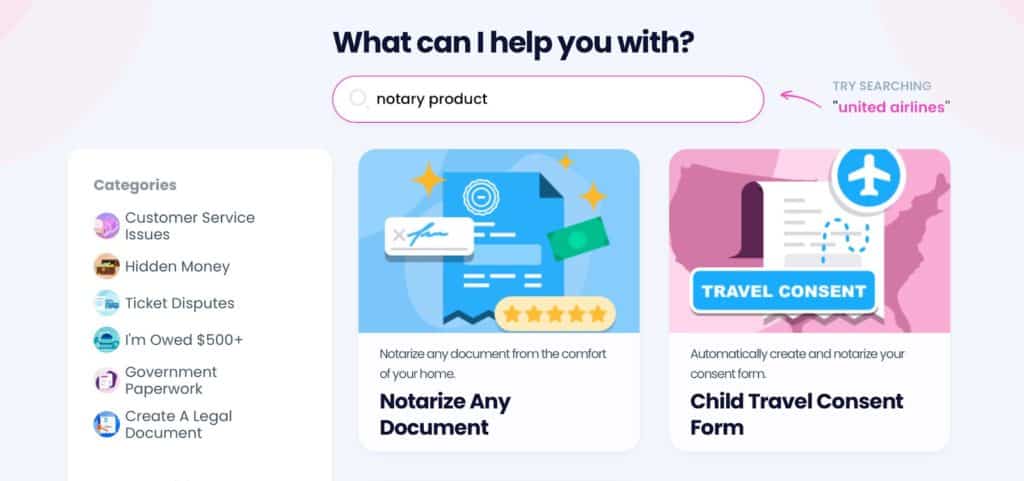 To use our notarization feature, proceed as follows:
and log in to your account

Navigate to the

Notarize Any Document

service

Provide us with an electronic copy of the document that needs notarization

Enter your email address
All that remains is to click on the link we send you and book the desired time slot!
Draft State-Specific Legal Documents in a Snap With Our App
Are you struggling to draft your contract? Use another amazing feature our app offers and draw up a perfect legal document before you know it! We offer up-to-date contract templates containing all crucial sections.
Here's how to do it:
Type in the name of the document you want to create

Answer several questions about your contract
We can generate:
Child care authorization form

General business contract

Independent contractor agreement

Intent to purchase real estate

Residential lease agreement

LLC operating rules document

Quitclaim deed

Non-compete agreement

Promissory note

Estoppel certificate

Non-disclosure agreement

Bill of sale

Prenuptial agreement

Child custody agreement

General affidavit
Need Help Fighting Bureaucracy? Use DoNotPay!
As the world's first robot lawyer, DoNotPay can help you resolve a plethora of tedious administrative issues. Our app will assist you in getting justice in small claims court, getting refunds from merchants, reporting annoying spam emails and text messages, reporting copyright infringement, bypassing phone number verification, and so much more!
You can also rely on DoNotPay's help when it comes to subscriptions. If you want to sign up for a free trial, cancel a service you no longer use, and skip the phone queue when doing so, our app will provide its assistance.
Our App Saves You Time and Money
Are you unable to pay your bills? Use the world's first robot lawyer app to cover them! Do you want to appeal your traffic or parking tickets? DoNotPay will help you appeal them in the blink of an eye.
Our app can do so much more than that, though—with DoNotPay by your side, you can sign up for clinical trials, ace government tests, claim any type of warranty, schedule an appointment with the DMV, and handle any other bureaucratic task.