Everything You Need To Know Before Visiting a Notary Public in Sunnyvale
The idea of finding a local notary and getting paperwork notarized in Sunnyvale may seem simple, but the reality is completely different. Online notaries are gaining popularity because they are significantly more practical than regular notaries, but the state of California does not allow remote notarization. Don't fret—there is a loophole!
to learn all about the notarization process in California and see if you can get documents notarized online without a notary public in Sunnyvale.
How Does Notarization Work in Sunnyvale?
Getting documents notarized in Sunnyvale is a complicated and time-consuming process. To prepare yourself for this endeavor, you have to check:
Whether your document needs to be notarized

If a notary public in Sunnyvale performs notarial acts you need

What you are required to do during the notarization
Which Documents Require Notarization in Sunnyvale?
Getting contracts and documents notarized doesn't make them legally binding, but it helps confirm their validity if necessary. Documents that should be notarized include, but are not limited to:
Wills

, including

living wills

Loan and credit paperwork

Adoption papers

Important

photocopies

Deeds, including quitclaim deeds and deeds of trust
What Is a Notary Public in Sunnyvale Authorized To Do?
A notary public in Sunnyvale can:
Execute a jurat

Administer an oath or affirmation

Protest a note and bill of exchange

Certify copies of a document

Take:

Statutory declaration

Verification on an oath or affirmation
Regardless of the notarization type, the notary is required to:
Confirm the identity of the signer

Determine the signer's willingness and understanding

Examine the document

Witness the signing of the document

Seal and

sign

the document

Make a record and add a notary certificate
The Breakdown of the In-Person Notarization Process
Once you've learned all about the notary's responsibilities, you should check out your duties:
Finding a notary public in Sunnyvale

Scheduling an appointment via phone call or email

Gathering the documents you need to have notarized

Bringing the identification document—ID, passport, or driver's license

Appearing before the notary in person

Answering the notary's questions and signing the document in front of the notary

Waiting for the notary to complete their duties and create the certificate
How To Locate a Notary Public in Sunnyvale
Browsing the first page of Google search results is not the only option for finding a local notary public in Sunnyvale. Websites like Yelp and Yellow Pages can narrow down the search, but you can get the most relevant results on specialized platforms, such as:
Getting documents notarized in public places is another solution. In Sunnyvale, you can find notaries in places such as:
Other Types of Notaries in Sunnyvale, CA
There are situations in which standard notarization won't cut it. That is why you should learn about different notary types in California:
Mobile notary

—When you are unable to go to the notary's office, a mobile notary can come to your home, work, restaurant, library, or any other location you agree on

Electronic notary

—Getting electronic documents notarized is not possible with the regular notary's stamp and signature. That is when eNotarization comes in handy! Notaries are authorized to use electronic stamps and signatures to notarize documents that are in electronic form. Other rules of standard notarization apply, meaning that you have to go to the notary's office for this service
While California doesn't allow remote online notarization (RON), you can still use an online notary to get documents notarized. Wondering how? You can book an out-of-state online notary and get your documents notarized according to that state's rules and regulations.
How Much Do Sunnyvale Notaries Public Charge for Notarial Acts?
One of the few benefits of traditional notarization is the low notary costs, but that is not the case when you're getting documents notarized in California. Notary fees in the Golden State are unusually high:
Notary Service
Maximum Fee

Deposition certificate

Oath and administration to the witness

$7

Jurat

Acknowledgment

Certified copy

Data entering on immigration forms

Notary service on immigration forms

$15

Deposition-related services

$30
Book an Appointment With an Out-of-State Notary Using DoNotPay
You can avoid the drudgery surrounding the traditional notarization in California by booking an online out-of-state notary, and DoNotPay can show you how!
Follow these step-by-step instructions to set up a meeting with an online notary:
Choose the

Notarize Any Document

feature

Upload the document you need to get notarized

Tell us your email address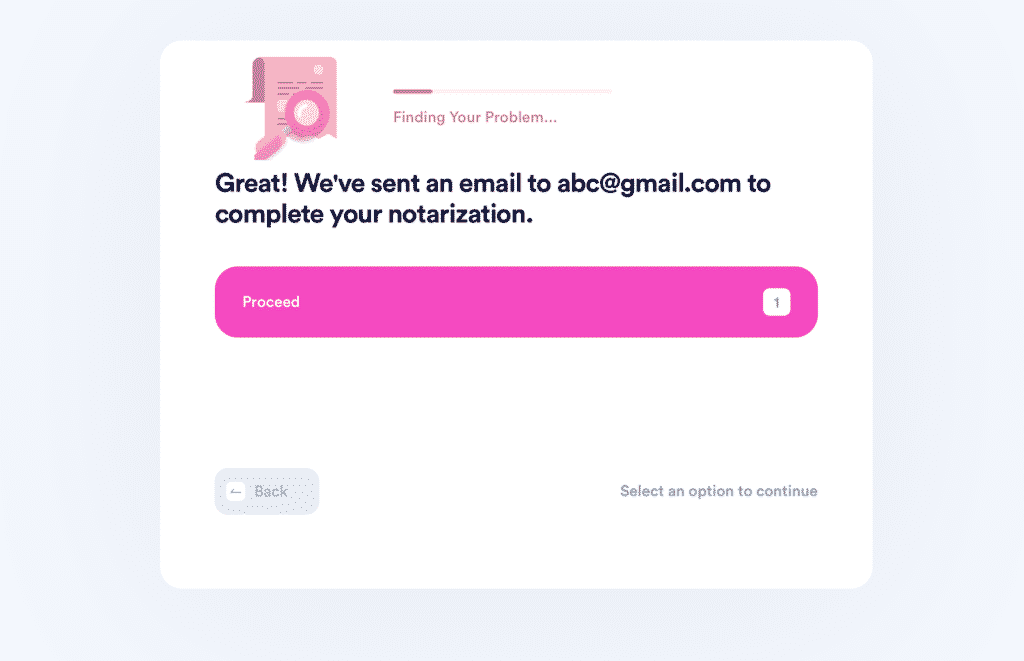 Once you complete the steps, we will send you a link via email. You should click on the link to confirm your appointment with an online notary from the state that allows remote online notarization.
Your Online Safety Is Our Priority
The benefits of the internet are numerous, but so are the opportunities for scams of all kinds. DoNotPay can help you fight scammers left and right with easy-to-use features, highly customizable to match your needs.
Our app can provide invaluable resources for fighting:
If you're an avid online shopper, we have your back. In case something goes wrong, we will help you contact customer service without holding, request a refund, or even sue the company in small claims court.
Diversity Is Our Middle Name
DoNotPay doesn't stop at online safety. Do you need to set up an appointment at the local DMV, but keep procrastinating because you know how awful the lines are? Are you a prospective college student trying to save on application fees? Have you lost track of all unnecessary subscriptions and memberships that keep draining your bank account?
If the answer is yes, DoNotPay is the right platform for you. Whether you're preparing for government-issued tests or looking for ways to lower your bills, our app will be of assistance.