An Online Notary Public in Edison, NJ, Can Be Your Medicine
Having documents notarized can be a tiring activity requiring lots of time and energy. Would you like to get all relevant information about a notary public in Edison, NJ, in one place? This article is for you then. DoNotPay offers lots of valuable specifics of notary services across the States. We also provide the most flexible notarization process you will complete in the blink of an eye.
What Can a Notary Public in Edison, NJ, Do?
A notary public in Edison, NJ, is authorized to:
Execute jurats

Administer affirmations and oaths

Take

acknowledgments

and proofs of execution

Witness the signing of

legal documents

, including:
To perform the aforementioned notarial acts, every notary public in Edison, NJ, will:
Notaries Take These Steps

Additional Information

Check the identities of all signing parties

You can prove your identity by presenting a valid government-issued photo ID document

Make sure you understand what you are signing

A notary needs to determine whether you are familiar with the contents of the document

Confirm that all parties are signing the document willingly

Should a notary believe someone is forcing you to sign the document, he or she will not complete the notary service

Finalize the notarial act

A notary will mark the document with the

signature

and stamp at the end of the service
Can a Notary Public in Edison, NJ, Refuse Notarization?
Notaries must refuse to perform the notary service if they:
Notice any irregularities

Suspect fraud or coercion
Another reason they might deny to notarize your documents or contracts is if you have signed them before meeting with them.
Keep in mind that notaries public are not allowed to provide any (legal) advice on the document you need to have notarized. If you need help with this, you could:
Call upon an expert, e.g., an attorney

Use DoNotPay's

Standardized Legal Documents

feature to draw up an agreement or document
How To Find a Notary Public in Edison, NJ
Two options are available if you need to look for a notary public:
Search for one by yourself

Skip the search and connect with a notary automatically
Want To Look for a Notary Alone?
If you would like to search for a notary public on your own, you can visit or contact the following places in your neighborhood:
While these businesses might employ notaries public, they do not have to provide their services for noncustomers.
How about googling? You might find the following websites helpful for getting the contact information of available notaries:
To access the available information and reviews, you will need to set up your search parameters by entering your city, state, or ZIP code.
No Need for a Search—Connect With a Notary Immediately
You can avoid:
Looking for contact details of a notary public

Calling or emailing one to:

Visiting a notary's office to get your documents notarized

Paying for high

mobile notary fees

to avoid heading to a notary's office

Meeting with a notary:

Only during business hours

Face to face and risking your health

in pandemic times
to connect with an online notary remotely and safely.
DoNotPay Tackles Your Notarization Issues Smoothly
DoNotPay collects all the necessary information about available online notaries across the USA. We can connect you with one in no time!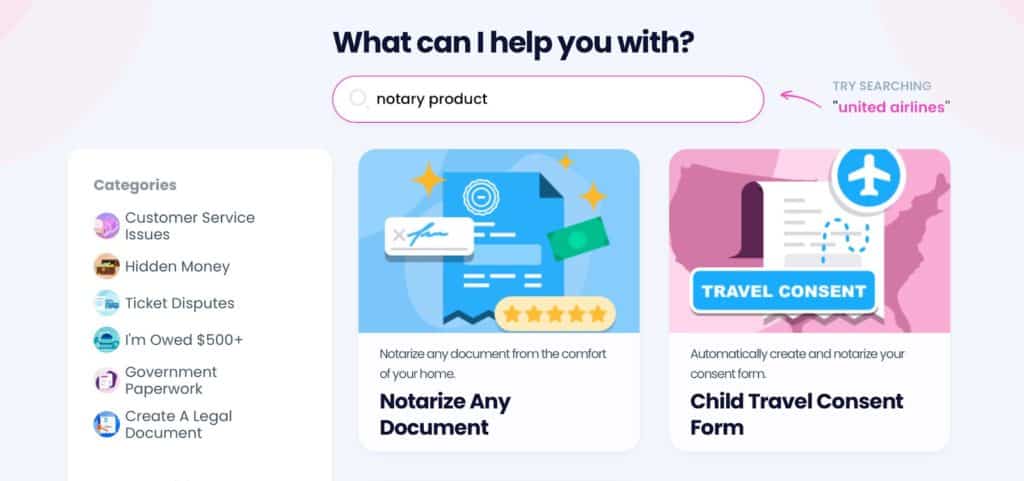 To connect with an online notary, and:
Choose our

Notarize Any Document

product

Upload the document you would like to get notarized

Provide your email address

Visit your inbox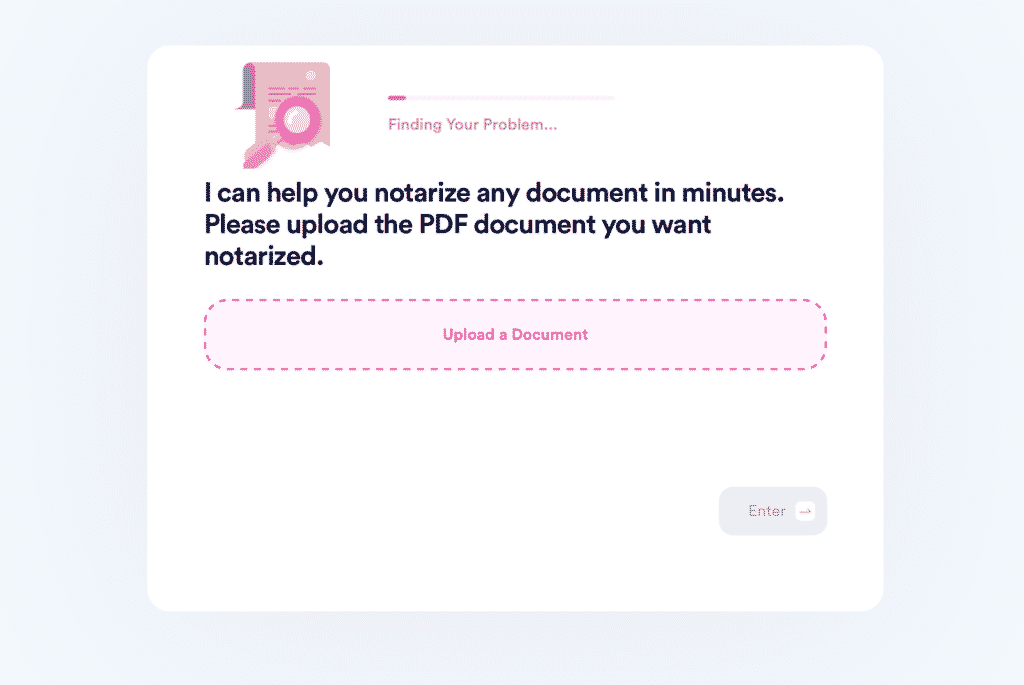 You will find our email with a direct link to a notary's 24/7 appointment schedule. The only thing left for you to do now is to:
Pick the time that fits your schedule

Add it to your reminder

Meet a notary at the agreed time
Use Our Integrated Features
If you would like to learn about all the products and services we offer, you should browse through our website. Not only do we provide useful tips in our articles, but we also keep designing new inventive solutions for taxing administrative procedures.
Keep in mind that you can connect a few of our products to deal with any issues you are experiencing faster. Here is an example of a logical path you can take via DoNotPay:
Use our

Standardized Legal Documents

product to:

Prepare a required document or contract

E-sign the generated document

Move on to the

Notarize Any Document

feature to:

Set up an appointment with a notary

Get your document notarized hassle-free

Finish with the

Online Fax

tool to:

Send confidential (notarized) files

Avoid the risk of your data ending up in the wrong hands
DoNotPay—The Quickest Way To Deal With Greedy Companies
Spending hours on the phone with customer care reps struggling to get a refund or cancel certain services due to complicated procedures can be tiresome.
If you sign up for DoNotPay, we can help you:
Has a company refused to accept your warranty claim even though it was valid or wronged you in any other way? Make sure to serve them justice by bringing them to small claims court with DoNotPay's help!
Use Our App To Resolve Any Issue
DoNotPay has numerous products you can use. We can help you resolve any problem in a few clicks.
Do you want to find unclaimed money? Would you like to know how to protect your work from copyright infringement? Are you wondering how to apply for a college fee waiver because the application fee is too expensive for you? If you rely on us, you will solve all of these and many more issues stress-free!
Even victims of violent crimes—such as stalking—can use DoNotPay to solve their problems. Having a stalker is traumatic and potentially dangerous. We can tell you how to deal with the situation and apply for crime victims compensation in your state if you need help covering counseling expenses.
We can simplify the document notarization process and help you send online faxes and mail letters from the comfort of your home in less than five minutes.