The Fastest Way To Get to a Notary Public in Aurora, CO
How can you have your documents notarized most practically? How much time will you need to find a notary public in Aurora, CO? 
DoNotPay answers these and more questions in this and other notary-related articles. We also provide the fastest and safest notary service that is available 24/7. 
What Can a Notary Public in Aurora, CO, Do for You?
A notary public in Aurora, CO, can perform the following notarial acts:
Attest to or certify

copies of documents

Administer affirmations and oaths

Take

acknowledgments
Aside from these acts, notaries can notarize numerous legal documents, such as: 
Prepare Well for an Appointment With a Notary Public in Aurora, CO
To understand the notary service better, take a look at the steps notaries will go through during the notary service:
What a Notary Will Do
Extra Tips

Verify your identity

You will need to:

Answer a few questions

Provide a valid ID document—you can bring your driver's license, ID, or passport

Inspect the document

If there are blank pages or spaces in the document, notaries cannot proceed with the service

Check your understanding

You need to show that you are familiar with the contents of the document you are signing. Otherwise, the notary cannot put the

signature

and stamp on the document

Establish your willingness

Notaries will not complete the notary service if they suspect coercion

Determine you are of sound mind

Another reason for a notary to refuse to perform the notary service is if you seem to be under the influence of some substances

Observe the signing of the document

Keep in mind that you should not sign the document before meeting the notary as he or she needs to be present for this act
Choose a Notary Public in Aurora, CO—Available Types
Visiting a place of business of a notary public in Aurora can be one of your options. Before heading to a nearby notary's office, you can explore some other alternatives. 
Here is a complete list to help you select the one that meets your requirements:
Mobile vs. Online Notary—Which One Is Better for You?
Both mobile and online notaries public are practical since you can meet with them at a venue that suits you. 
While you need to meet a mobile notary face to face, online notaries will conduct the notary service online. It means that, for remote online notarization, you can:
Stay anywhere in the USA

Make an appointment 24/7

Avoid paying the

travel costs

for mobile notaries

Be safe and sound

during the COVID-19 pandemic

Connect with an online notary instantly—

subscribe to DoNotPay

 
DoNotPay's Remote Online Notary Solution Is an Automated Revolution
DoNotPay offers lots of practical and user-friendly products you can use to handle annoying bureaucratic problems. With our remote notarization product, you can gain access to an online notary in three steps.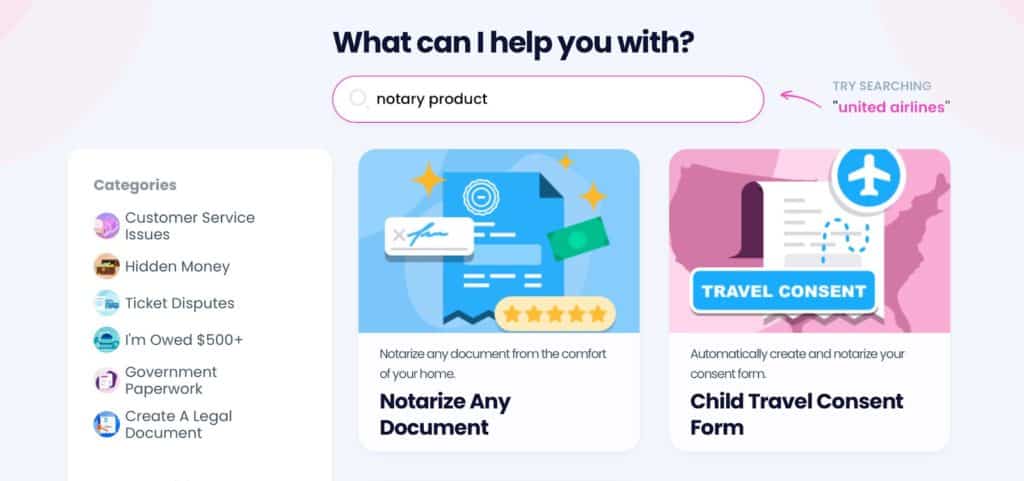 Sign up for DoNotPay and follow these simple steps:
Choose our

Notarize Any Document

product

Upload the document you want to get notarized

Enter your email address
What else? Follow the link we emailed you to confirm your appointment with a 24/7 notary public.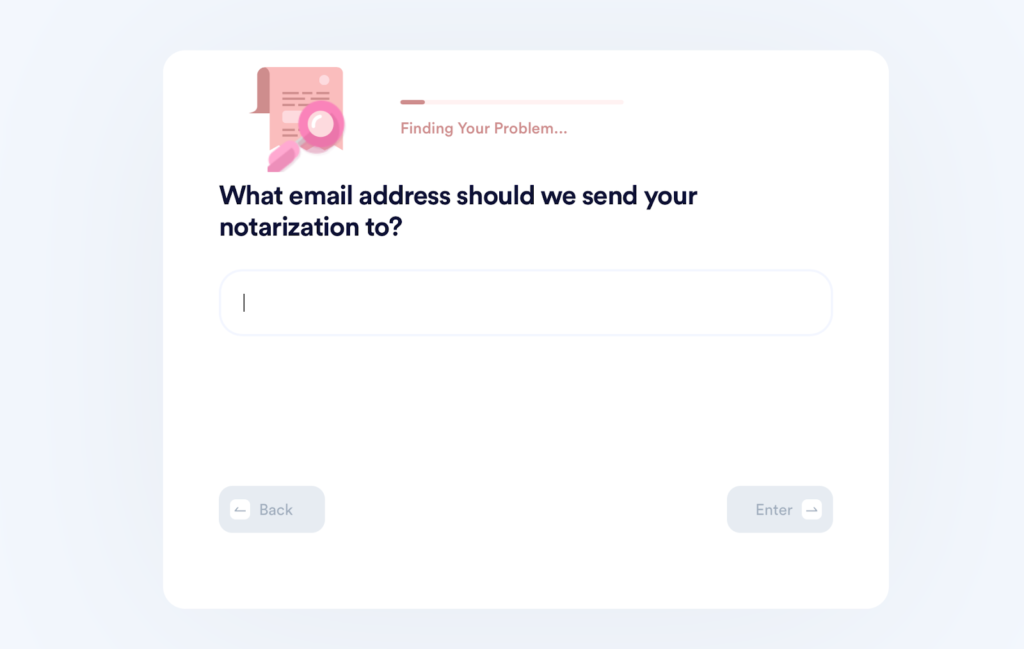 Need Help With the Preparation of Documents? 
Once you access our app, you do not need to log out as soon as you successfully solve one problem. Explore our other products as many are integrated and can assist with your everyday activities. 
To help you understand, we will give you an example of some products you can use jointly:
DoNotPay's Product

What Can You Use It For?

Standardized Legal Documents

You can use this product to draw up agreements or documents tailored to your personal or business needs

Notarize Any Document

Once you have prepared the required document(s) with our

Standardized Legal Documents

product, switch to the

Notarize Any Document

to get the document notarized

Online Fax

Sensitive documentation should not be emailed since it's unsafe. Use our

Online Fax

product to send your notarized documents and confidential data securely 
Would you like to know what documents we can help you create? Here is a noninclusive list:
Intent to purchase real estate

General business contract

Estoppel certificate

Quitclaim deed

Promissory note
DoNotPay Helps You Deal With Various Problems Worry-Free
DoNotPay has developed a wide variety of products you can use to manage numerous tasks.
Do you want to get a refund from a company? Are you wondering whether you can request compensation from airlines for poor Wi-Fi or canceled flights? Is hiring a lawyer to draw up legal documents too expensive for you? Sign up for DoNotPay and solve your issues in a matter of minutes!
Use our AI-powered app to get rid of robocalls, spam emails, and text messages. 
Need help locating and canceling all your unused memberships? DoNotPay has a product for that too! 
Prepare for your driving test using our Government Tests Prep feature and schedule a meeting with the DMV to take the test through the same app. We can even help you claim your car insurance or warranty and contest parking tickets in a flash!
Learn How To Protect Your Privacy With DoNotPay
Protecting your personal info online can be challenging but not impossible. The next time you come across a service that requires phone verification, make sure to use our Burner Phone product and have us generate a fake phone number you can use. 
Our virtual credit card can help you sign up for free trials without having to disclose your name, email address, or credit card info. 
Are you thinking about connecting with an inmate pen pal? Make sure to keep your real address a secret by relying on DoNotPay. Besides helping you send letters to inmates, we can also receive mail from the prison on your behalf, scan each letter, and send it to your email address.