Get Your Documents Notarized Without Having To Visit a Notary in Pleasanton
Finding a notary in Pleasanton can turn into a chore, especially nowadays, during the COVID-19 pandemic. If you want to get any document notarized from the comfort of your home, you can turn to DoNotPay! With the help of our app, you'll have your documents notarized in no time and you won't even have to visit a notary in Pleasanton. 
What Does a Pleasanton Notary Do?
A notary's duty is to add legal weight to documents by placing a notary signature on them. After he or she identifies a signer by examining the ID, the notary has to: 
Make sure that all parties—if there's more than one—know what they're signing 

Establish that the document is to be signed willingly 

Witness the signing 

Provide the official

signature

and stamp
What Documents Can a Notary in Pleasanton Notarize?
Apart from being able to take acknowledgments and administer oaths, notaries can notarize:
Types of Notary Services Available in Pleasanton
There are multiple ways you can get your documents notarized in Pleasanton:
In-person notarization

—

this is the most common way people opt to get their documents notarized. It is also the most tedious, expensive, and time-consuming option. You will have to find a notary public, schedule an appointment, travel to the notary's office, and wait for him or her to notarize your documents. This method is not optimal, especially given the circumstances brought by the COVID-19 pandemic 

Mobile notary

—

mobile notaries travel from one place to another to perform notarial acts. They have the same duties as the notaries who work from their office, but the difference is that they can come to your preferred location. Although it's convenient, this option can turn out to be pricey. You will have to pay for the travel costs and additional fees that the notary has to inform you about

Out-of-state online notarization

—

this option is the most convenient one as the whole notarization process takes place online via an audio-video call. Although notaries aren't allowed to notarize documents online in the State of California, there are ways to go around it. You can easily schedule an appointment with a notary from another state and have your documents notarized that way
Where To Find a Notary in Pleasanton
If you want to find a notary in Pleasanton, you'll have to search online or check if certain public places offer notary services. Here are some sources that may provide you with notary services:
| | |
| --- | --- |
| Websites | Public Places |
| | |
What's the Cost of Notary Services in Pleasanton?
Check out some of the notary fees for specific notarial acts: 
| | |
| --- | --- |
| Notarial Act | Price |
| Administering oaths or affirmations | $5  |
| Taking acknowledgments  | $5 + $2 for each additional name |
| Witnessing a signature | $5 per signature |
| Certifying a copy or deposition | $5 per certified copy |
| Noting a protest of a negotiable instrument  | $3 per page |
Why Bother Visiting a Notary in Pleasanton When You Can Do It Online?
Online notarization is not only more effective but much more affordable and simpler than the traditional method. Setting up in-person appointments, clearing your schedule, and meeting with a notary are all a thing of the past.
Online notaries are required to use encrypted digital signing certificates, which makes the process more secure than the traditional method. Using advanced technology makes it easier for notaries to detect forgery or any other suspicious activity. 
Requirements for Online Notarization
Online notarization needs to meet the following requirements to be considered valid:
The notarization process needs to happen via an audio-video call

The signer's identity needs to be authenticated by the notary 

The entirety of the call needs to be recorded
Get Your Documents Notarized With Ease Using DoNotPay
As if online notarization wasn't easy and efficient enough already, DoNotPay will make the process effortless for you. With the help of our app, you'll be able to get any document notarized in no time. To have our app do all the heavy lifting, just follow these steps:
Find the

Notarize Any Document

product

Upload your document

Enter your email address
DoNotPay will then send you an email, and you'll be able to schedule an online appointment with a notary.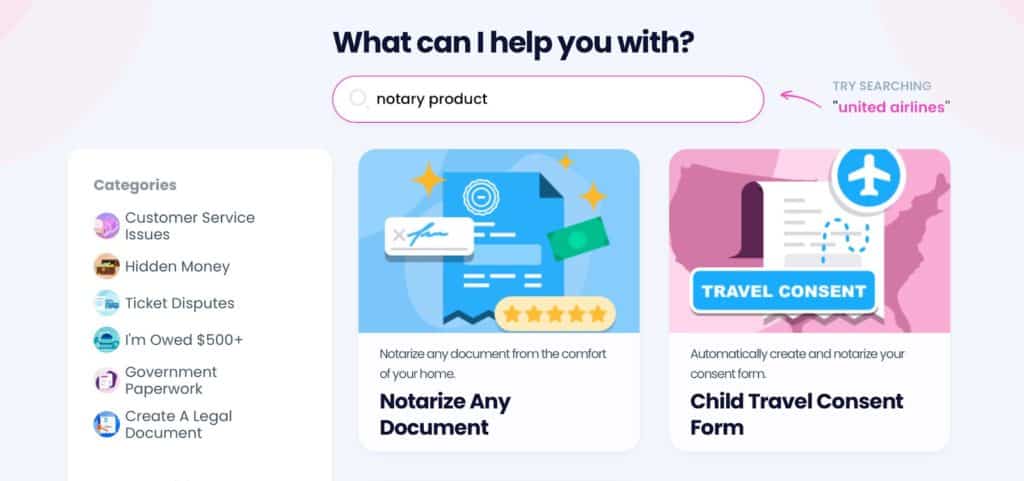 Use DoNotPay To Create Legal Documents in a Few Clicks
In case you need to create a legal document before you get it notarized, DoNotPay has your back! Whether you need a will, lease agreement, or any other type of document, our Standardized Legal Documents feature will help you in a couple of minutes. To have our app generate a legal document for you, all you have to do is:
Find the

Standardized Legal Documents

product

Type in the name of the document you need 

Personalize it by answering a few questions
Facing Financial Issues? DoNotPay Can Take the Burden Off Your Shoulders
If you need to count pennies at the end of each month, DoNotPay is here to help you get a payment extension and pay your bills worry-free. 
Prospective students who struggle to cover their university-related costs can also rely on DoNotPay to request a college application fee waiver.
Do you think that your property taxes are too high? Use our app to reduce your property tax bill as effortlessly as possible. 
Get Rid of Spammers For Good!
Are spam texts and emails cluttering your inbox? DoNotPay has a few products you could benefit from! Rely on us and get rid of spam in less than two minutes. If shady robocalls are testing your patience, you can block them with our help and request robocall compensation right away.
To avoid providing your real phone number when signing up for online services, you should choose our Burner Phone feature and use the number we provide.