The Simplest Way To Get Compensated for a Late Delivery Hassle-Free
Shipping delays and errors happen on a daily basis, which is why you may be waiting for a while to receive your package. This guide will shed light on the efficient methods of tracking the anticipated parcel and finding the way to get compensation for the late delivery. DoNotPay brings the best solution for reporting delayed USPS, FedEx, UPS, or Amazon packages and requesting your money back in a split second!
How To Check if Your Parcel Is Late
The best way to check the whereabouts of the expected parcel is to trace the whereabouts of the package using the courier's online tracking app. To do this, you need a tracking code—a unique number consisting of 8–40 digits and letters you should receive once the parcel is shipped.
Here are the steps you should follow to locate your package:
Visit the courier's website
Find the tracking section
Enter your tracking code in the search field
You will be redirected to the page with all the updates related to your package from the moment of acceptance, including the info on the current location of the parcel.
The package can be late if it has exceeded the estimated delivery time frame and there's no available delivery status or if the delivery status hasn't changed for more than 24 hours.
What if You Can't Find a Tracking Code for Your Parcel?
Most shippers let you use alternative tracking information if you failed to find the tracking number or didn't receive it. Depending on the courier, you may pinpoint the location of your package by entering:
Barcode
Door tag number
Reference number
Notices left after unsuccessful delivery
It's also advisable to contact the courier's customer support and report the issue you are facing. You can usually find their contact details in the Contact Us or Support section on the official website.
Why Is Your Delivery Late?
Here's a table listing the most common reasons for late deliveries:
| | |
| --- | --- |
| Reason | Explanation |
| Distance and customs | Traveling distance of your package is one of the essential factors that decide when it will be delivered. If you are expecting a parcel from a distant location, it may take longer to pass through the customs control and reach you |
| Traffic | Accidents, road works, and traffic jams can slow down the deliverer on their way to hand you the expected package |
| Weather conditions | Unforeseen weather conditions, such as rain, hail, snow, or a thunderstorm, can cause your package to arrive with delays |
| Motor vehicle breakdowns | A delivery car or any other vehicle that is supposed to bring the order may break down on its way to you |
| Technical issues | In case of internal technical or maintenance issues, the courier will probably inform you about the potential delays in advance |
| High volume shipments | If the courier faces an increase in shipment volumes, they may have trouble delivering the packages on time |
| Unsuccessful delivery | Sometimes the deliverer is unable to hand you the parcel at the first attempt. This may happen due to a wrong, misspelled, or outdated address that needs clarification, an incorrectly completed order form, or unclear writing. In such cases, they will leave a notice and set a redelivery time, which is why getting your parcel may need a bit longer to arrive |
| Difficult access | If your property has no doorbell or mailbox or you have protective or dangerous pets in the yard, the courier may find it difficult to reach you. This can also happen if you are in the middle of maintenance works or repairs that limit access to your house or property |
How Can You Get Compensated if Your Package Delivery Has Been Delayed?
Each shipper has a specific policy regarding refunds for late deliveries. In most cases, their money-back guarantee applies to specific postal services or delivery issues only. The safest bet is to check out the refund criteria for a particular courier and see whether you are entitled to receive compensation.
There are various ways to file a refund claim, such as:
Calling customer support
Emailing the company explaining the issue
Submitting an online refund request via the courier's official website
Visiting the courier's nearest facility and completing a refund request in person
and having your refund claim filed in minutes
Report a Poor Delivery and Demand Your Money Back Within Minutes Using DoNotPay
Whether you are dealing with late deliveries or you want to inform the courier about damaged or lost UPS, USPS, or FedEx parcels, DoNotPay can assist you in a matter of minutes! Forget about struggling to reach customer service or having exhausting disputes with representatives. We developed an app that reports delivery problems and files refund requests on your behalf in a few brief steps!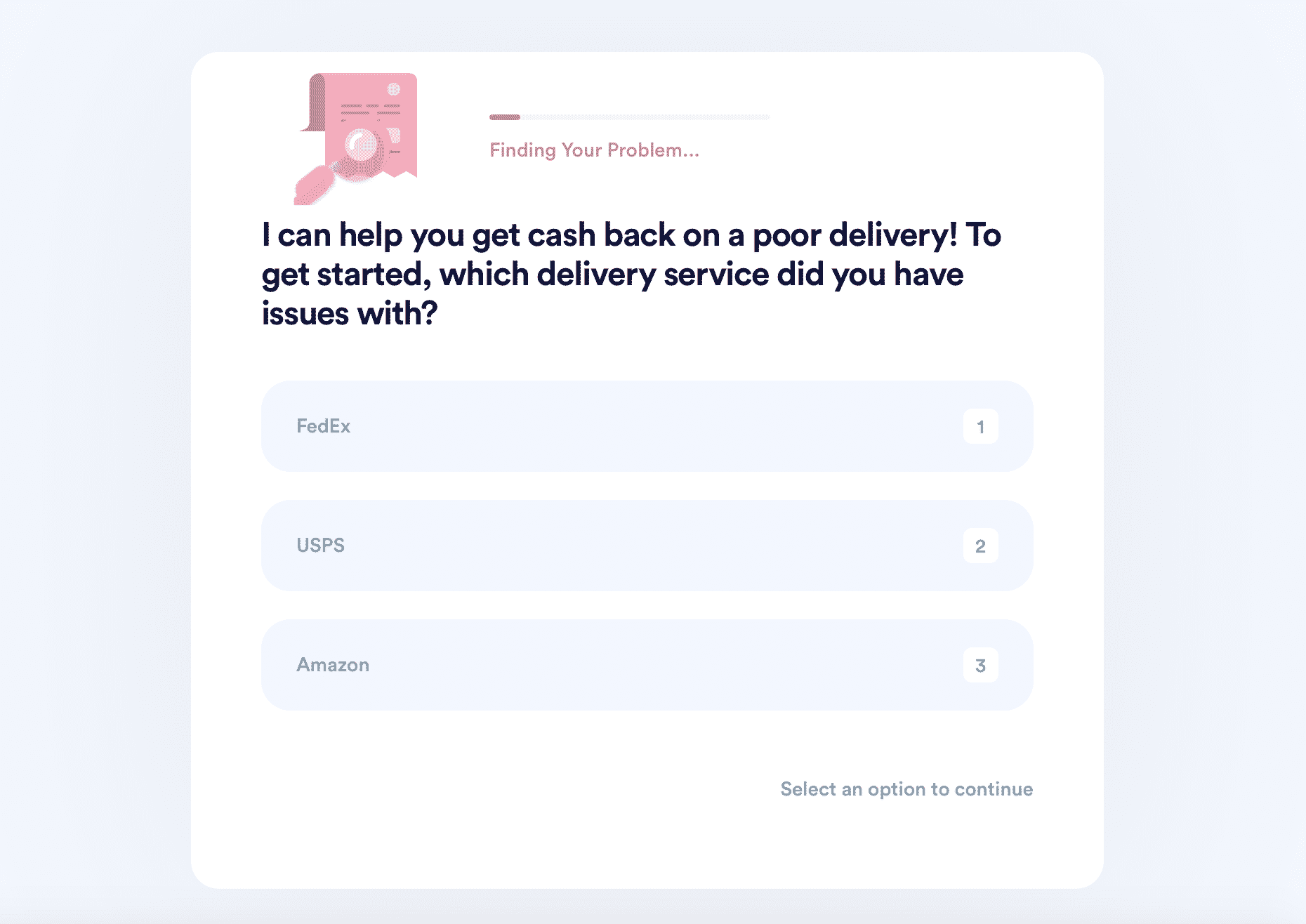 All you should do is in your web browser and:
Choose the Late Delivery Refund product
Pick the shipper responsible for the poor delivery
Input additional details about the parcel
Once we get all the required information, we will generate a complaint letter and a refund request in your name.
We can help you learn how to:
Deal With Companies on Your Terms Using DoNotPay
Claiming late, missed, and damaged item delivery refunds is only one in a sea of services you can get with our app. We can show you how you can:
As if that were not enough, we can also unsubscribe you from a company's email list, stop any annoying robocalls or robo texts they are bothering you with, and cancel any service or free trial you're unhappy with or are no longer using. Our Free Trial Card and Burner Phone products can help you try out any service without being spammed or auto-charged later on.
What Other Services Can DoNotPay Extend?
DoNotPay is invaluable when dealing with companies and their confusing policies, but we can also help you bypass tedious government procedures. If you use our app, you'll have no trouble filing FOIA requests, passing government exams, reducing property taxes, as well as drafting legal documents and getting them notarized in a single app!
To top it off, we'll also help you claim lost assets, delay bills, locate an inmate, report stalking and harassment, or take anyone to small claims court in any U.S. state.