If You Don't Know How To Notarize a Document in Florida, DoNotPay Can Help!
Even though it's not always required, getting documents notarized is recommended as it has many benefits. While useful, document notarization can easily turn into a proper bureaucratic nightmare, so it's no wonder you're looking for the easiest and most efficient way of dealing with it.
We offer you a quick fix on a silver platter— to learn how to get a document notarized in Florida hassle-free!
Understand the Duties of a Florida Notary
The Governor of Florida appoints notaries public to carry out six notarial acts:
Administering oaths and affirmations

Taking

acknowledgments

Attesting to copies of documents (that are not vital or public records)

Solemnizing marriages

Certifying the contents of safe deposit boxes

Verifying vehicle identification numbers (VINs)
To notarize a document, a Florida notary has to:
Check your identity

—Notaries in Florida can identify the signer in several ways—by:

Knowing the signer personally

Taking sworn written statements from one or two

credible witnesses

Examining a form of government-issued identification presented by the signer (such as an ID, passport, driver's license, and other forms)

Look for signs of coercion

—A notary can ask a few questions to determine whether you are signing the document under duress and has the right to refuse to perform

notary services

if that is the case

Examine the document

—By scanning the entire document, a notary makes sure there are no blank spaces or missing pages

Ensure you understand the document

—A notary has to make sure you are aware of the document's content before proceeding with notarization

Witness the signing

—You should keep in mind that a notary has to be present while you're signing the document, so it's best to avoid signing it beforehand

Create a notarial certificate

—Notarization is not complete without a notarial certificate, which includes some general information about the performed notarial act:

Date

Place

Signer's name

Notary's seal
Look Into the Types of Documents a Florida Notary Can Notarize for You
Not all documents require notarization, and not all can be notarized. Learning what documents you might have to get notarized can save you some trouble. In the following table, you can find the documents that usually need to be notarized:
Legal Documents
Real Estate Documents
Business Documents

Trusts

Executorships

Court documents

Deeds

Loan documents

Mortgage closing documents

Commercial leases

Employment agreements

Memoranda of understanding documents

Loan agreements

Construction agreements

Financial statements
Learn About Remote Online Notarization in Florida
As of January 2020, notaries public in Florida are authorized to perform remote online notarization (RON). Why is this important? RON enables you to get documents notarized without leaving your house and exposing yourself to COVID-19. Florida remote online notaries use audio-video communication technologies to conduct meetings with signers, making the entire process safer, faster, and easier.
If you opt for an online notary, you get to enjoy many benefits, such as:
Being able to use a notary service 24/7

Having paperwork notarized using a laptop or smartphone

Avoiding traffic and public transportation

Reducing paper waste
Get a Document Notarized Online in Florida Using DoNotPay
The easiest way to get a document notarized in Florida is with DoNotPay, and here is how:
Locate the

Notarize Any Document

product

Upload your document

Provide your email address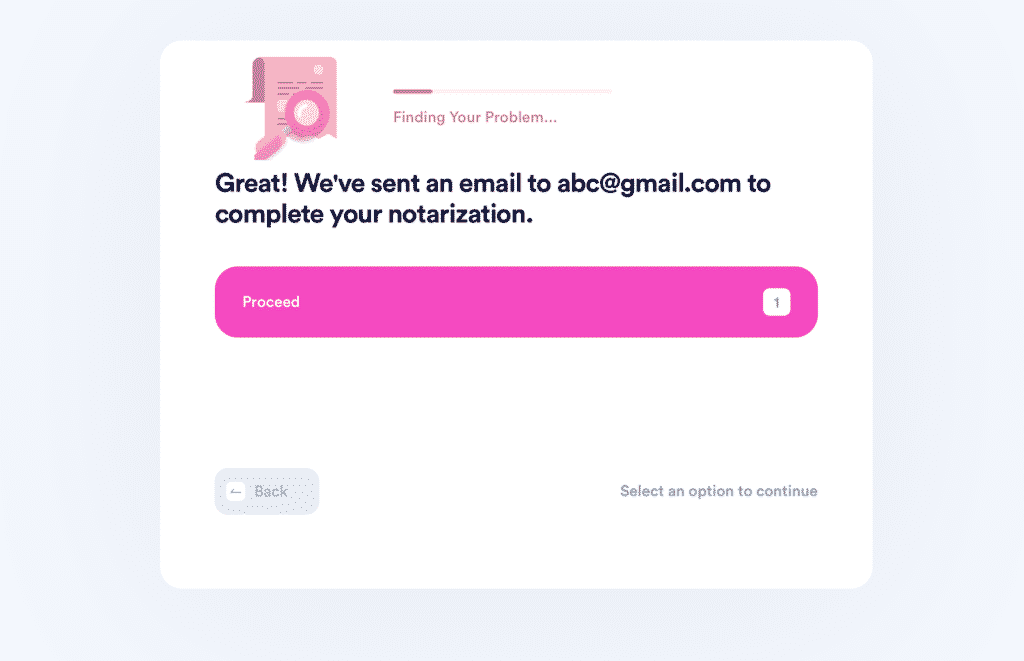 We will send you an email containing the link that you should follow to complete setting up a meeting with an online notary.
Being easy to use is not the only reason why DoNotPay stands out among online notary platforms. Once you register for our service, you gain access to other useful products that can help you resolve your bureaucratic issues.
Use the Standardized Legal Documents tool to create numerous contracts and legal documents, which you can later send with zero effort using our Online Fax service.
Check Out Other Ways of Getting Documents Notarized in Florida
If you prefer completing tasks in person, you can try:
Standard notarization

—Getting documents notarized the regular way requires going to the notary's office during working hours, which can be problematic if you work or have other obligations
Mobile notarization

—Mobile notaries perform their services by coming to your house or another location you agreed upon. This notarization type is great for people who are unable to leave the house or can't travel. The problem with mobile notaries is the additional fees due to travel expenses
E-notarization

—Registered notaries public can perform e-notarization using an electronic seal and signature while other rules and requirements of regular notarization apply. To get electronic documents notarized, you still have to go to the notary's office
Find Out How Much It Costs To Get a Document Notarized in Florida
Another key aspect of getting a document notarized in Florida is paying the notary fees. The State of Florida established the following maximum fees for notarial acts:
$10 for:

Taking an acknowledgment

Administering an oath or affirmation

Completing a jurat

Protesting a note

Certifying a copy of a document

$20 for verifying a VIN

$25 for performing online notarization

$30 for solemnizing a wedding
DoNotPay Is an Ultimate Money-Saving Assistant
Our app can help you manage bills that are too high to pay, but there are plenty of other money-saving possibilities out there we can help you with.
Want to challenge a parking ticket? DoNotPay can dispute parking citations in any city! Is someone getting revenue from your creative work? Cut the thieves off with DoNotPay!
We can also help you get your college application fees waived, file any insurance or warranty claims, locate unclaimed funds in your name, or earn some extra cash from paid clinical trials in your area.
No More Risky Free Trials With DoNotPay
Do you love free trials but tend to forget to cancel your subscription before the trial ends? If this is the case, check out DoNotPay's virtual credit card for a risk-free experience.
With our virtual credit card, you can sign up for any service without worrying about unwanted charges. DoNotPay will even provide you with a random email address, which will help keep your inbox clean from spammy emails from the company.
Our app can also get in touch with the company's customer service, request a refund from them, or even escalate your issue to small claims court if the company is challenging to communicate with.