A Full Guide to the GoPro Return Policy: What You Must Know
A GoPro camera is one of the essential gadgets in the life of an adventurer—but what happens if it comes with a defect and you need to return it? In this article, we will summarize the entire GoPro return policy and inform you of DoNotPay's capabilities to .
GoPro Return Policy in a Nutshell
GoPro accepts product returns within 30 days of purchase. To have your return request authorized, you must submit it via GoPro Return Authorization Request Form on their website.
It is essential that you send your Return Merchandise Authorization (RMA) number to GoPro before sending back the actual product. The company will send back a product delivered without the RMA to a sender, along with charging a 10% repackaging fee.
One major catch you should be aware of is that the brand only accepts the return of products that have been manufactured in the last six months! Simply put, you can only return the product that is "mint new," so to check whether you are eligible for a return, pay attention to this particular detail.
As per GoPro's Authorized Reseller Warranty & Return Policy, you should ensure that your GoPro packaging is properly labeled and that it contains all of the purchased components before you send it back.
GoPro customers are encouraged to get in touch with GoPro Customer Support via phone at 888-600-4659 from 9 a.m. to 6 p.m. Monday to Sunday or via live chat during working hours for more details.
What Else Do You Need To Know About the GoPro Return Policy?
With the basics of the GoPro return policy covered, let's address a few other aspects worth knowing:
The refund process can take up to 30 days
The product's price will be refunded via the same payment method the consumer used to buy it
The order number is essential for submitting a return request (you can find it in your order confirmation email)
What Does the GoPro Return Policy Not Cover?
GoPro will NOT accept product returns in these instances:
The product is damaged due to the user's negligence (human error)
The returned package does not have the latest firmware installed
Cameras have sustained water damage
You purchased a GoPro product by mistake
How To Send Your GoPro Product Package: Full Instructions
Sending your GoPro product after submitting a return request is fairly simple. Here is a full step-by-step process:
Use the brand's self-service tool on their website to submit your order number and email address
Pack up your GoPro product and its accessories and components carefully
Include the printed copy of a Return Authorization (RMA) form that was sent to you in an email as a response
Write the RMA number on the box's exterior
Drop off your return to the carrier within seven days of requesting a return to be eligible for a full refund
Keep the receipt given to you when sending the package
What Products Does the GoPro Money-Back Guarantee Policy Exclude?
GoPro's Money-Back Guarantee program does not cover all products.
Items not accounted for by the return policy belong to the company's line of Karma Products and include:
Karma with Hero5 Black
Karma for Hero5 Black
Flight Kit for Karma Grip
Karma Core
Karma Stabilizer
Karma Grip
Karma Controller
How To Submit a GoPro Return Request With DoNotPay in a Few Steps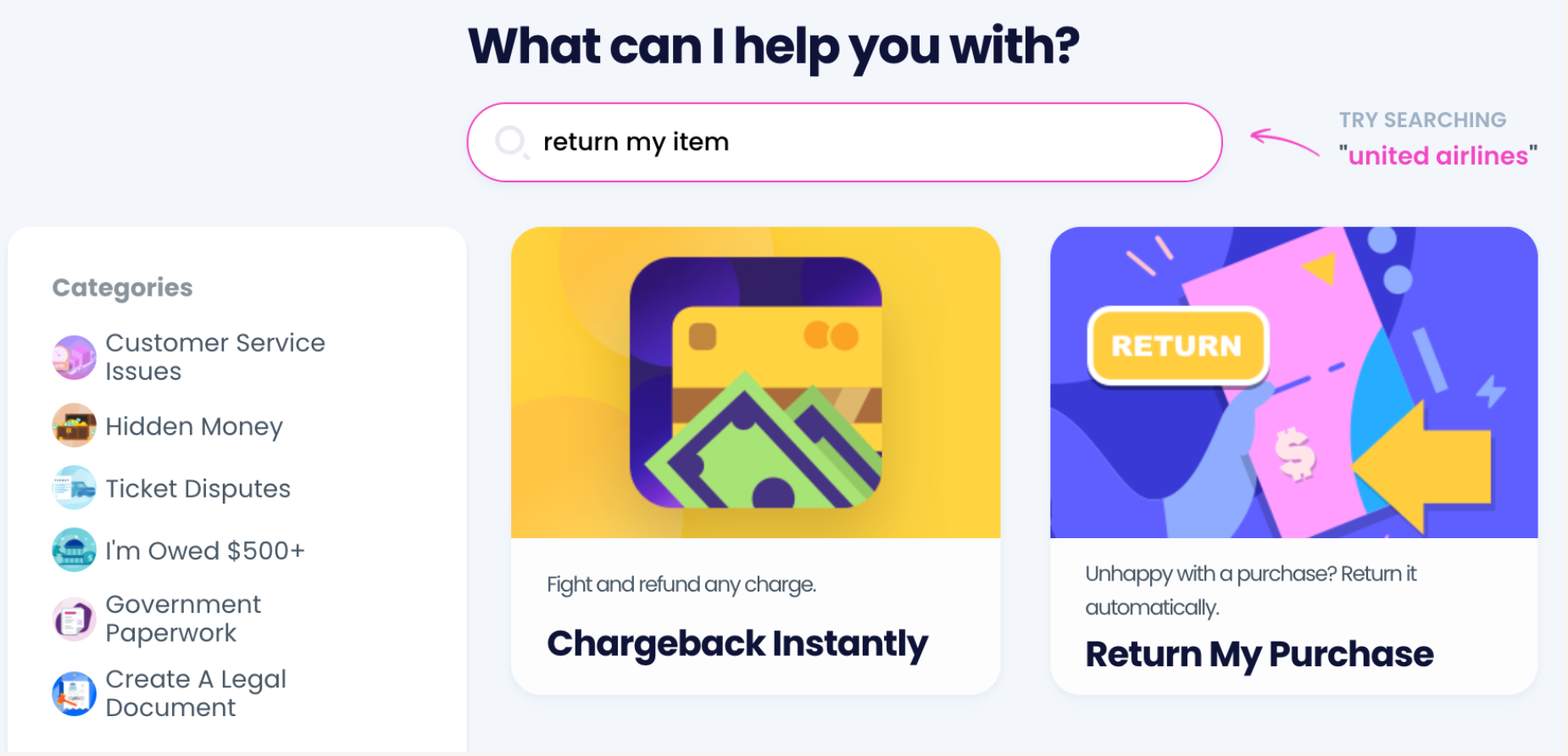 If you wish to avoid the stress and strife of product return processes, DoNotPay has you covered!
Save your precious time as we take over your return and refund process in its entirety. To draft your GoPro item return request with DoNotPay, follow these simple steps:
Choose the Return My Purchase feature
Answer a few chatbot questions (optionally, you can upload a photo of the product if it has certain defects)
Tap Submit, and you're done!
At this point, DoNotPay steps in, submits your return request to GoPro, and forwards you a delivery label that allows you to send your item back free of charge.
DoNotPay covers a wide array of brands and their return policies, including the ones in the table below.
The Company Doesn't Want To Refund the Damaged Item? We'll Help You Get Money in Other Ways
If the company you're dealing with refuses to issue a refund, you can take it to small claims court with your personal robot lawyer assistant. We'll create any legal document you may need for the lawsuit, have it notarized remotely, and fax it to anyone you specify in our short questionnaire.
Is there anything else you'd like us to help you with? No problem—rely on our AI-powered products to save the day:
Draft a divorce settlement agreement

Create a power of attorney document
Our Array of AI-Driven Products Doesn't Stop There
You can count on DoNotPay to lend a helping hand no matter what kind of struggle you're dealing with. Need financial assistance? Check out how our app can lower your utility bills and property taxes, appeal your parking tickets, get you a refund from any company or airline, find your unclaimed money, get you free raffle tickets, check your gift card balance and turn it into cash, and so much more!
Dealing with a noisy neighbor or a creepy stalker? Report them using our app! Want to get a refund for a late or missing parcel? Say no more—we'll help you get what's rightfully yours in mere minutes.