Get Any Georgia Notary Form in Four Simple Steps
Getting a notary's signature for your contracts, affidavits, and other documents usually takes a lot of time and nerves. It involves finding a notary, booking a meeting with them, and bringing all necessary documents. 
If you have never got your documents notarized in Georgia, we're here to help you handle the procedure more easily! This guide will explain how to schedule a meeting with a remote notary and get any Georgia notary form the easy way.
What Are Notary Forms?
A notary form is a document that confirms that all necessary formalities were completed during a specific notarial act. It:
Confirms that the signer's identity has been verified by a notary
States that the client is familiar with the contents of the signed document

Verifies that the client has signed the statement of their own free will
These forms can be filled out by individuals who act in their own right, attorneys, corporations, business partners, public officers, and others.
What Type of Notary Services Can You Use for Getting Notary Forms in Georgia?
When it comes to picking a suitable notary service in Georgia, you have four options:
Notary Type

Details

Standard notaries

Require the physical presence of the signers

Notarize paper versions of documents

Can be found in independent offices or large companies or institutions

Mobile notaries

Go to their client's homes, offices, or any other preferred location

May

charge more

because of travel costs

Online notaries

Perform notarial acts with the help of audiovisual technology (via video calls)

Put a digital stamp and signature on your document

Don't require the physical presence of the client

Electronic notaries

Notarize digital documents during a face-to-face appointment

Provide an electronic stamp and sign documents digitally
Popular Ways To Find a Notary in Georgia
After deciding what type of notary suits your needs best, the next step is finding an officer using one of the following methods:
Asking people you know for recommendations

Searching through online notary databases, such as the ones on:

Checking whether companies and institutions in your area have in-office notaries. You may find them in:

Hotels

AAA

stores

UPS

locations

Courthouses

Military bases

County clerk offices

Insurance agencies

Police departments

Money transfer offices

Check-cashing services

Banks

, including

Citibank

,

Wells Fargo

,

Bank of America

, and many more
How Much Can a Georgia Notary Charge You?
Most U.S. states have specific laws that propose the maximum fees a notary public can set for their services. In Georgia, these regulations are listed in Section 45-17-11 of the Georgia Code. 
According to them, an authorized official can't charge their clients more than $2.00 per notarial act. In case the situation requires a specific certificate from the Superior Court, the applied fee shouldn't exceed $4.00. Online notarial acts may cost up to $25.00.
The law also allows notaries public to waive their right to charge if they want to.
Skip Traditional Notarization—Choose DoNotPay
Online notaries are the most flexible option you have, but the platforms they use may be too complicated. Besides that, adapting the meeting date to your schedule without postponing your obligations may take too much time.
With DoNotPay, you can choose the appointment date that works best for you with zero hassle and within minutes! Our user-friendly app can match you with remote notaries that are available 24/7, which means we got your back at any time, including holidays and weekends! Once you connect with a suitable official, they will perform the notarial act over a video call and provide a digital stamp and signature for your document.
Here's how to use the service:
Sign up for DoNotPay

and log in with your credentials

Choose the

Notarize Any Document

option

Upload the digital version of the document that needs notarization

Disclose your email address
After opening the link we send you, access a table with available time slots and pick any appointment date you prefer!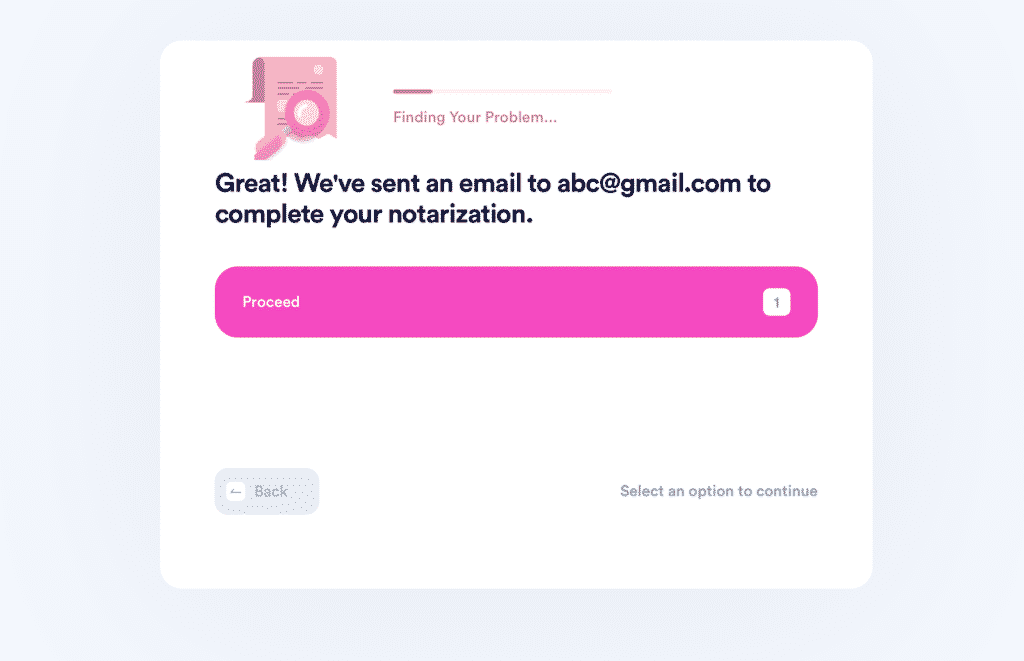 Avoid Costly Legal Services—Create Your Legal Documents With DoNotPay
If you don't know how to write a contract or a tight budget doesn't let you spend huge amounts on professional drafts—we can help. You can use DoNotPay to draw up detailed and comprehensive agreements and other legal documents in a few clicks! 
Here's how it works:
Look for the desired document

Add the details you want to include by answering a few short questions
As soon as we receive your information, you will gain access to the final version of your contract. 
Here are some of the legal documents we can create for you:
Promissory Note

Intent To Purchase Real Estate

Quitclaim Deed

General Affidavit

General Business Contract

Child Care Authorization Form
Learn About DoNotPay's Awesome Products!
DoNotPay is a multifunctional app that can solve numerous everyday challenges swiftly. 
You can use our app to protect your work from copyright violations, schedule your driving exam or any other appointment with the DMV, reduce your property taxes in a few steps, and similar.
We have created many useful products to help our users take care of their issues through the same app. With us, you can:
DoNotPay Connects You With Your Loved Ones
Sending letters to inmates can be difficult since you have to follow certain rules to a T to avoid having your letter rejected. The situation is even more complicated if you don't know where your incarcerated loved one serves time. DoNotPay's app can help you locate prisoners and correspond with them without worrying whether you're breaking any rules. 
Do you want to send a letter, but you don't feel like heading over to a post office? By using our mailing service, you can mail as many letters as you want from the comfort of your home. With DoNotPay, you can also send online faxes in under five minutes!
Email and text spam is something that everyone experiences at least once in their lives. DoNotPay has a solution for that too. Access your DoNotPay account and count on us to help you block spam and get compensation by reporting pesky robocalls.