Is the Tiny Fax App the Right Choice for You?
When you need fax services for your business or personal projects, you will review a few options before picking the one(s) for your specific requirements.
The Tiny Fax app can solve some of your faxing needs if you would like to have an option of sending documents on the go.
If you end up wanting more from your fax service, check out DoNotPay—a reliable fax app you can use for faxing from your phone, laptop, or desktop.
What Is the Tiny Fax App?
The Tiny Fax app is a fax product you can use to send documents via your cell phone. Lots of people tend to opt for mobile fax services these days.
If you do not want to depend on your office space and a fax machine in it but would like to send documentation wherever you are, you should consider a fax app. You can access files stored on a cloud drive or your phone and fax them easily.
To access the Tiny Fax app, you will need to give the following permissions:
Storage—For storing files on your phone

Camera—For using your camera to scan files

Contacts—For accessing your contacts when sending faxes

Google account—For joining your credits with your Google account
Do You Need a Fax App?
If you or your colleagues spend a lot of time outside, going to meetings, driving, or traveling, a fax app will serve its purpose. We need to keep in touch with clients and family members and sometimes send them documentation safely.
You can use an email or even messaging apps to send a file. These are the fastest and most convenient ways to send photos and files that do not contain sensitive data.
What happens when you must send a contract or medical report that shouldn't end up in the wrong hands? You will choose between:
Service
Pros
Cons
Regular (snail) mail

Exchange documents securely

Receive a return receipt

Expensive when mailing abroad

Time-consuming

Lost or delayed mail

A fax machine

Fast and secure transfers

Quick delivery confirmation

Large amounts of paper

Paper jams

Ink cartridges

Costly maintenance, repairs, and spare parts

Office/home access only

High costs of faxing to foreign numbers

A fax app

Fast and secure document exchange

On-the-go availability

Instant delivery confirmation

Dependent on an internet connection

Potentially costly for high volume faxing
If you would like to learn how to fax from your car, home, vacation, office, or a conference, DoNotPay will provide information. offers all these options for convenient yet fast and safe faxing.
Send Faxes With DoNotPay in a Few Clicks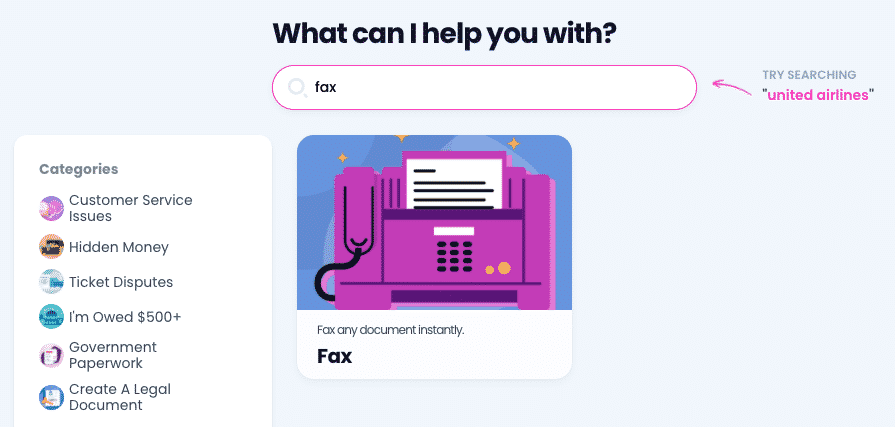 With DoNotPay, you can send faxes to numerous recipients. Regardless of whether it is your business partner, client, doctor, attorney, relative, or friend, you can fax your documents smoothly.
The best feature of DoNotPay's Fax product is that you do not need to worry about any sensitive information leaking.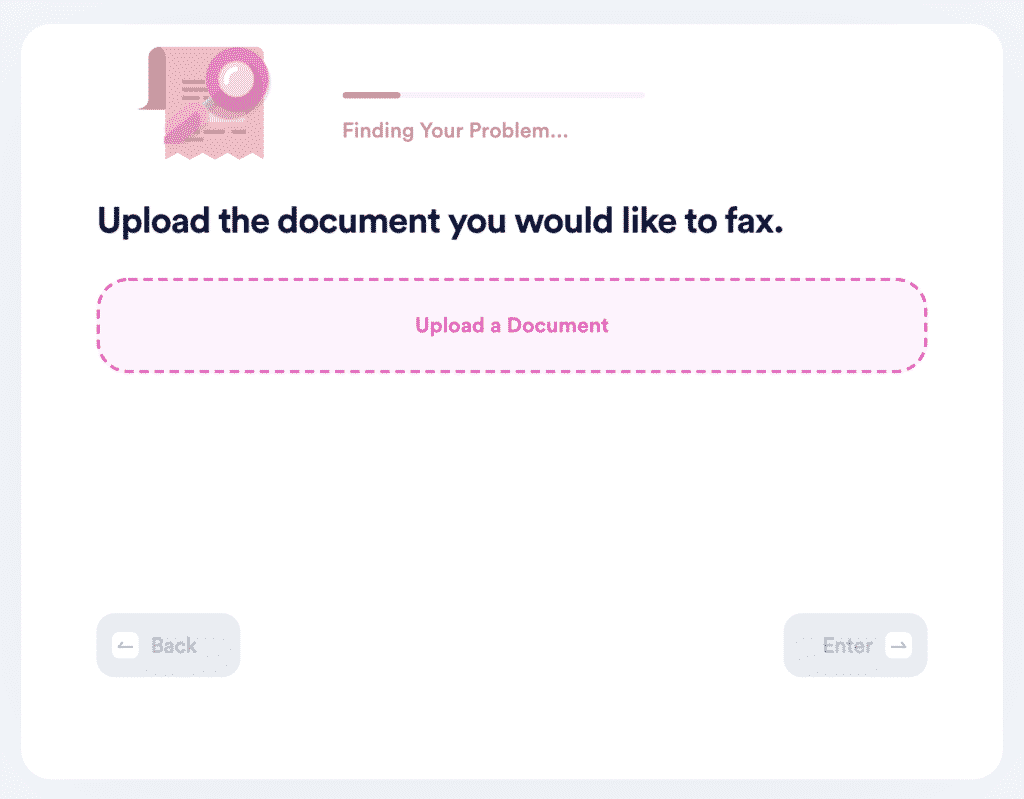 Here is how you make it happen:
Open DoNotPay in a

Locate the

Fax

feature

Upload a file or snap a photo

Enter the receiving fax number
In a few clicks, you can send a fax from anywhere in the world to any recipient. It is easy, convenient, fast, and safe.
Check Out How Expensive the Tiny Fax App Is
The Tiny Fax app can be a good choice if you work remotely, travel a lot, and do not have access to a traditional fax machine all the time.
You can download the app to your cell phone to send faxes from anywhere. It is less expensive than a traditional fax machine, but be careful if you need to use it regularly and for lots of pages.
The download is free of charge, but you need to purchase credits to use the Tiny Fax app. Their credit system ranges from $2.99 to $49.99. It can be confusing when you need to choose a credit package, so let's break it down. You will need:
10 credits per page

for faxes within the USA and to Canada

15 credits per page

for other destinations
Users can choose between several credit packages, including:
50 credits—

Five pages for $2.99

250 credits—

25 pages for $9.99
The given prices and page numbers are for faxing in the USA or to Canada. It is more expensive for foreign countries.
Still Deciding Between Tiny Fax and DoNotPay?
While you can use the Tiny Fax app on iPhone and Android phones, that doesn't mean it's the best option for you
If you are still mulling over which app to pick, check out the table below for direct comparison:
Tiny Fax App
DoNotPay App

Fax documents from email or other apps

Upload files from Google Drive, Dropbox, OneDrive, and Box

Fax photos from the gallery or camera

Access international

fax numbers

and a list of countries

Keep track of faxes by status

Send 100 pages for at least $25

Fax documents from your phone, laptop, or desktop computer

Send files and images from your gallery, camera, or any other storage

Get a confirmation of receipt

Keep track of faxes from your email

Send 100 pages for a low subscription price

Enjoy the fast and user-friendly interface

Use other DoNotPay's services within a single subscription, e.g., create a contract, e-sign, and fax it to any recipient smoothly
How Else Can DoNotPay Help You Find and Save Cash?
Our Missing Money feature helps you find any unclaimed assets in your name in any state. An additional perk is that you can claim your money right in the app—no need for further research!
We can also make sure you don't pay for any unfair parking citations and get the rightful compensation from airlines for any canceled or delayed flight.
Don't let big companies scare you into not claiming your warranties or insurance. DoNotPay helps you file these claims and appeal any rejections in minutes, which brings you closer to getting your money.
We can also delay your bill payments, get your college fees waived, or sign you up for paid clinical trials to earn some extra cash!
DoNotPay Keeps the Spammers Away
Whether you're dealing with email spam, text scammers, robocalls, or severe harassment, DoNotPay can help.
Use our virtual credit card or the Burner Phone feature to sign up for free trials safely—without revealing your real info. DoNotPay will make sure that no company can reach you when you use our tools.
We provide a fake email address, credit card info, and phone number that are in no way connected to your real data.
We can also help you cancel services or request a refund without you having to contact the company directly.