How To e-Fax—Everything There Is To Know!

Fax machines were a significant invention once upon a time. Then the Internet started progressing, and everything moved online. Banks, accounting firms, healthcare centers, and governmental organizations still needed a way to send documents safely, so faxes stayed in use.
Instead of machines, we now use fax apps and online fax services for document transfer. There are myriads of apps specially made for faxing, and eFax is one of them.
Are you wondering how to eFax? DoNotPay will give you all the necessary information.
Why Choose Online Fax Services Over Fax Machines?
If you need to send important documents, you may think the internet is not the safest option. Fax machines are becoming obsolete for numerous reasons, one of which is online faxing.
Take a look at the following table to see why you should choose online over traditional faxing:
Fax Machines
Internet Faxing

Pricey

Wasteful

Storage-consuming

Prone to malfunctions

Unable to work without a phone line

Cost-efficient

Accessible to everyone

Easy to use
How Do You eFax? Everything There Is To Know
Sending and receiving faxes by email and online is a convenient method of document exchange. Many services allow you to send faxes using your tablets, computers, and smartphones, and eFax is one of them.
The service doesn't require software or hardware. You can choose between the monthly and annual subscription plans. The basic subscription plan will cost you $16.95 a month.
Can I Send a Regular Fax to an eFax Number?
Yes, you can. The service allows receiving regular faxes from any number, even if it's not an eFax number.
How To Send a Fax With eFax
To send a fax using eFax, you need to do the following:
Create a new email message

Enter the recipient's fax number as an email address

Add

@efaxsend.com

to the number

Attach files

Click

Send
If you're not satisfied with their service and pricing, DoNotPay can help you cancel eFax.
How To Send a Fax on Your Own—Alternative Methods
If you are not into the idea of paying the earth to send a fax, you can check out some other faxing options, such as:
How To Send Documents Using a Fax Machine
Many banks and companies have fax machines in their offices, and stores still sell them. If you want to learn how to send a fax the traditional way, follow these steps:
Connect the machine to a power source

Plug in a phone line

Insert the files in order of receipt

Fill out the cover sheet

Dial the desired fax number

Start the process
How To Send Documents via VoIP
The Voice over Internet Protocol (VoIP) is a method of making phone calls over the internet, which means it does not require a phone line. To fax with a VoIP, you need a fax machine. Here's how to use VoIP to send faxes:
Connect the VoIP system to a fax machine

Adjust the settings on the machine

Add documents you want to send

Insert the recipient's fax number

Send the fax
How To Send Documents Using Windows Fax and Scan
Fax and Scan is a Windows feature that comes with every operating system—from Vista to Windows 10. Faxing with Windows Fax and Scan requires a landline phone line and a dial-up modem. The sending process looks like this:
Find

Control Panel

on your computer

Open

Programs and Features

Select the

Fax and Scan

option

Tap the

OK

button
DoNotPay Has the Best Online Faxing Service
Are you looking for a way to send faxes without a fax machine or phone line? You are in the right place! DoNotPay has the most practical and budget-friendly feature for faxing photos and documents.
Our Fax service enables you to:
Fax snaps of photos instantly

Send up to 100 pages a month

Use a laptop or

smartphone

to fax files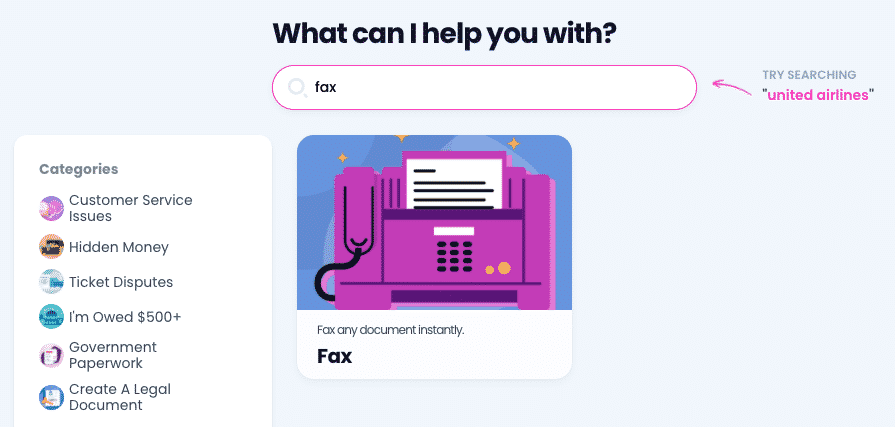 What is also great about the Fax feature is that it is integrated with our Legal Documents service. By combining the two, you are enabled to generate a contract or other legal document, e-sign it, and instantly fax it to the other party. 
How To Send a Fax With DoNotPay
We strive to make our features fast and practical, and the Fax service is not an exemption. Here's how to fax using DoNotPay:
Open DoNotPay in a

web browser

Find the

Fax

feature

Select

Send a Fax

Upload a file or document

Add the recipient's fax number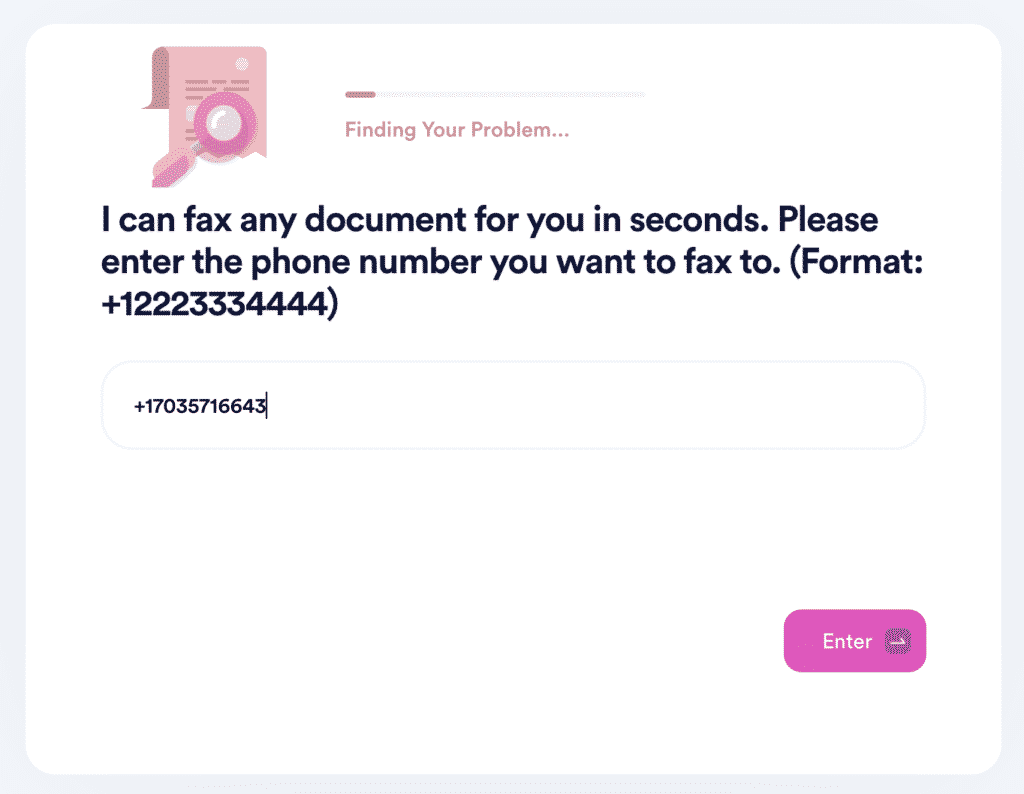 Once we send your fax, you will receive a confirmation about the completed transaction.
What makes DoNotPay stand out among countless fax apps and services is the fact that, with a low-price monthly subscription, you get a bunch of other practical services. Unlike eFax, DoNotPay enables you to claim warranties, terminate memberships, get college fee waivers, prepare for government tests, and much more.
Keep Your Money Safe With DoNotPay
Don't let greedy companies threaten your consumer rights by holding back refunds, refusing to cancel your subscriptions, or charging you after your free trial ends.
DoNotPay helps you try out different services without providing your credit card info or phone number—you will never again have to deal with unexpected post free trial charges!
Our app also helps you avoid paying unnecessary parking tickets, delay challenging bills, or waive your college application fees. 
If any company refuses to issue you a refund or an airline won't compensate for canceled flights, we can help you sue them in small claims court. 
DoNotPay Is a Time-Saving App
How many customer service reps do you have to deal with only to file an insurance claim or book your DMV appointment?
DoNotPay helps you sort out these tasks and much more in only a few clicks. 
Get your revenge on robocallers, report text scammers, find validated clinical trials, claim your warranties, get in touch with your loved ones in prison, and protect your creative content—all in less than five minutes. 
No more hours-long phone calls, emails, or in-person visits. 
We cover everything from freeing your inbox from spam to providing excellent prep tests for government exams! Save time with your all-in-one app!