Should You Use the Fax Burner App To Send Faxes?

The Fax Burner app is an online faxing tool. Find out how to fax with Fax Burner and how you can send faxes in a more efficient way. DoNotPay is here to offer you a much better option for online faxing!
How Does the
Fax Burner App
Work?

Fax Burner works similarly to any other online fax service. If you wish to use this app, you'll have to follow these instructions:
Create a Fax Burner account online or download the app first

Log in to your account

Request a fax number

Compose and sign the fax

Send the fax
Even though Fax Burner offers a free option of sending faxes, if you wish to get the job done properly with this app, you'll need to pay a hefty monthly price.
The Downsides of the Fax Burner App
The Fax Burner app is far from an ideal choice among the available online fax services and other fax apps. Here are some of the disadvantages of using the Fax Burner app:
The free package provides you with a fax number that is not permanent

You may only send up to five pages of free faxes

The Professional and Premier packages are way too expensive ($13 and $23 per month)
If you don't feel like spending hundreds of dollars on an app that you can only send faxes from and want a proper virtual assistant app that can complete this task in a flash and do so much more, we have a solution—DoNotPay.
DoNotPay's Features Will Make You Forget About
Fax Burner

is a much better option than Fax Burner. One of the greatest advantages is the number of features available on our app compared to Fax Burner, which is only a faxing app. DoNotPay comes with numerous other benefits, such as:
Faxing by taking a photo (a convenient choice to pay your bills and checks without the need to use a scanner)

Sending faxes from your laptop or

phone

Sending as many as 100 pages a month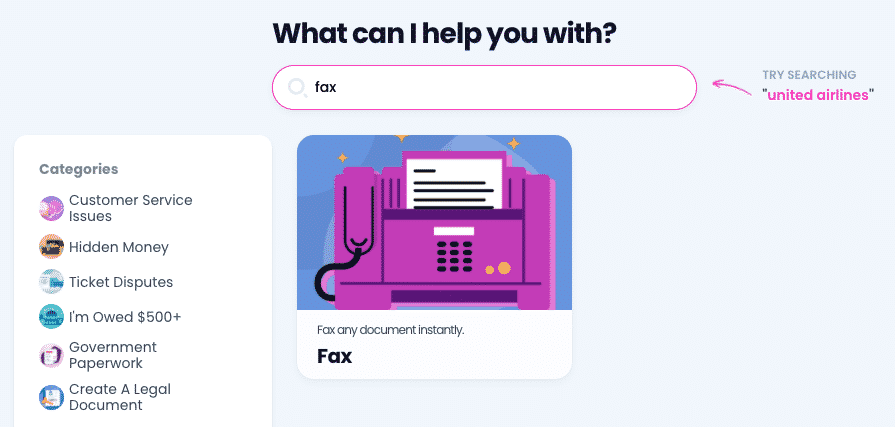 DoNotPay's Online Fax feature is linked to the Legal Documents product, which means you can generate, sign, and send files right away.
How To Send Faxes With Ease Using DoNotPay
DoNotPay is a super simple app. If you wish to send a fax from our app, you only need to follow two easy steps:
Access DoNotPay from a

Type in the fax number you want to send documents to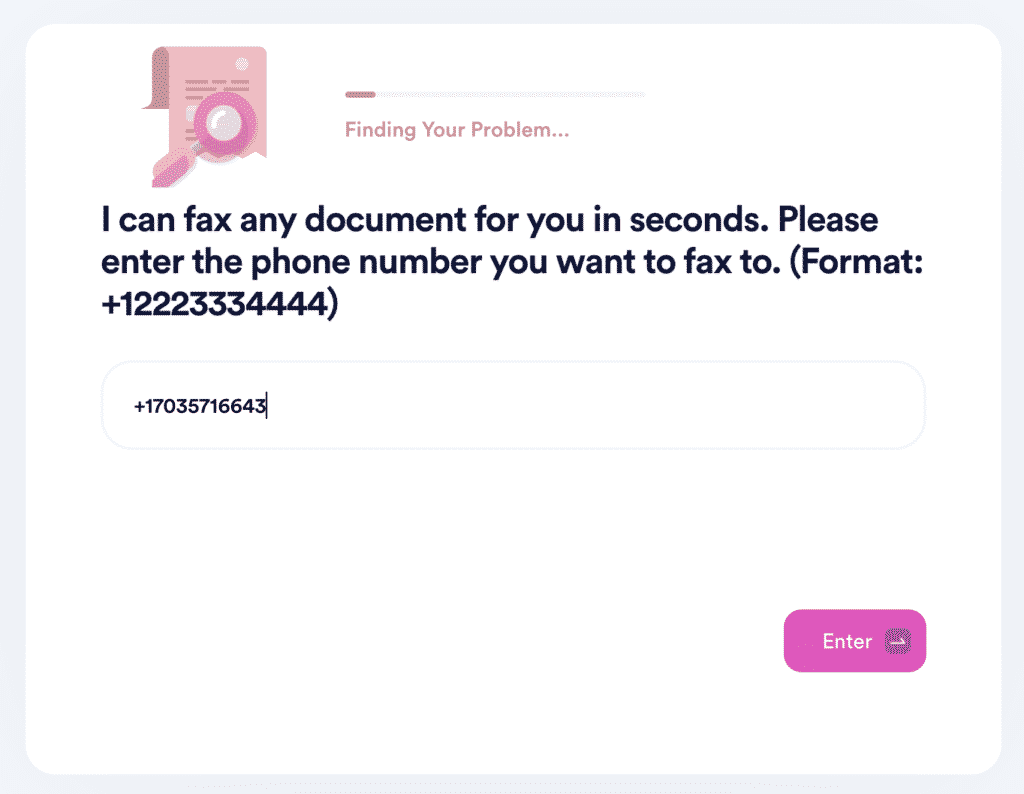 DoNotPay will notify you the moment the fax has been sent. You can also count on our app to help you get a fax number. We can tell you if faxing is secure and where you can find the best fax cover letter examples. Your virtual assistant has the info on faxing at the public library as well.
Alternative Methods of Sending a Fax
Fax is still being used as a method of distributing documents more than you would expect. Here are all the other more affordable ways of sending faxes compared to Fax Burner:
How Do Fax Machines Work?
Even though fax machines are completely outdated, some companies still use them. Here is what you need to do to make a fax machine work:
Connect the fax machine to a power source

Connect a phone line to the machine

Put the files you want to send in the machine

Complete the cover sheet

Call the fax number you want to send a fax to
How Does Windows Fax and Scan Work?
If you want to send documents via Windows Fax and Scan, you'll need to connect your PC to a phone line. To use this option, you'll need to:
Open Windows Fax and Scan

Click on

New Fax

Set the settings for sending a fax

Create your fax

Click

Send
You should bear in mind that only because these options may not be as expensive as Fax Burner, they are not without fault either. The main problem is the speed of sending files via both methods. You also need the proper equipment to start the process. DoNotPay offers quick faxing at a much lower price!
Online Faxing vs. Fax Machines
In case you are thinking about using a fax machine to send faxes, we'll quickly dissuade you. Take a look at the table below to see the differences between online faxing and fax machines:
Online Faxing Features Include:
A Fax Machine:

Sending signed confidential documents (safer compared to email)

Submitting files much faster than snail mail

Needs phone lines to function

Is slower than online faxing solutions

Isn't eco-friendly

Sends non-protected files because analog technology doesn't come with data encryption options

Takes up too much space in your office or room
DoNotPay Is Your Pocket-Sized Treasurer
To pay or to DoNotPay—that is the question! Our nifty app finds money where you didn't even know you had it.
With our app, you can avoid college application fees, cancel unused subscriptions, explore free trials, and get out of paying for unfair parking tickets.
We can also help you with high bills by composing due date extension letters or reducing property taxes, just as we can locate missing money that you can reclaim in any state you've ever lived.
To top it all, we'll even assist you in requesting compensation from any airline—whether it is for poor in-flight Wi-Fi, a delayed, or a canceled flight.
Can't Find Your Head in All the Paperwork? DoNotPay Sorts It Out for You!
You no longer have to cash out on pricy legal advisors to do simple paperwork for you—our app can draft legal documents for you in a matter of minutes!
We can write small claims court scripts, dispute letters for chargebacks and refunds, personalized letters to connect with inmates, DMCA takedown notices for copyright protection, and cease and desist letters for stalking and harassment protection.
If you need to get a DMV appointment before taking a driving exam or any other government test, we're there to schedule it in your stead!