Top Guide to the Fossil Return Policy
Has Fossil delivered you a faulty watch or the wrong bracelet? This guide will teach you everything you should know about the Fossil return policy.
Without the proper know-how, you could be stuck for weeks waiting for the company to process your return request! , and you won't be alone when dealing with the Fossil return procedure!
All You Need To Know About the Fossil Return Policy
The Fossil return policy sets an extended 90-day return deadline due to the current COVID-19 pandemic. If you honor the deadline, the company will refund you to your original payment method. Without the receipt, you will get store credit that you can spend on Fossil merchandise.
The company also allows exchanges, but you cannot order a replacement online—you'll have to make the exchange at a Fossil retail store.
For your return to be eligible, the item has to meet specific criteria. Fossil won't accept returns of the following items:
Worn apparel
Damaged leather goods
Gift cards
Even if your item meets the criteria, note that the company still holds the right to deny a return at their discretion.
Fossil Return Policy—How To Begin the Return Procedure
You can make a return request to Fossil in the following ways:
In person
Online
While both options are viable, Fossil encourages its customers to choose the latter due to COVID-19.
Initiating a Return Request Online
To initiate the return request online, Fossil requires you to have:
Item you are returning
Return shipping label
Printed return details
If you want to go through with the online method, follow these guidelines:
Log in to your Fossil account
Enter your order number, ZIP code, and email address
Go to the Order Status window
Use the Return This Item option
Select your reason for returning the item
Wait for your order to be processed
Download and print the label Fossil sends you
Pack your item in its original casing and attach the label
Ship it off at any post office
Depending on when the company receives the item, you can expect a refund in five to ten business days.
Keep in mind that Fossil will deduct any delivery fees from your refund. The processing of the return request can also be delayed because of the large number of online orders during COVID-19.
Returning Your Item to the Fossil Store
If you choose to return your item to a Fossil retail store, do as follows:
Go to the Fossil website
Use the Store Locator tool
Find the nearest Fossil retail store
Bring your original receipt or purchase invoice
Head over to a Fossil store and find a staff member
State why you wish to return the item
Request a refund or replacement
You will be refunded in cash or given in-store purchase credit immediately.
Request a Return the Quicker Way With DoNotPay
You don't have to waste your time navigating the Fossil return policy, only to have your return order put on hold. Register for DoNotPay, and we'll take over the hassle of both composing and sending your return request.
Here's a sample of what DoNotPay can do for you:
Create a personalized return request letter
Send the letter to the company in your stead
Set a deadline for the company to ensure a seamless return
Save you from paying any delivery fees with our free shipping label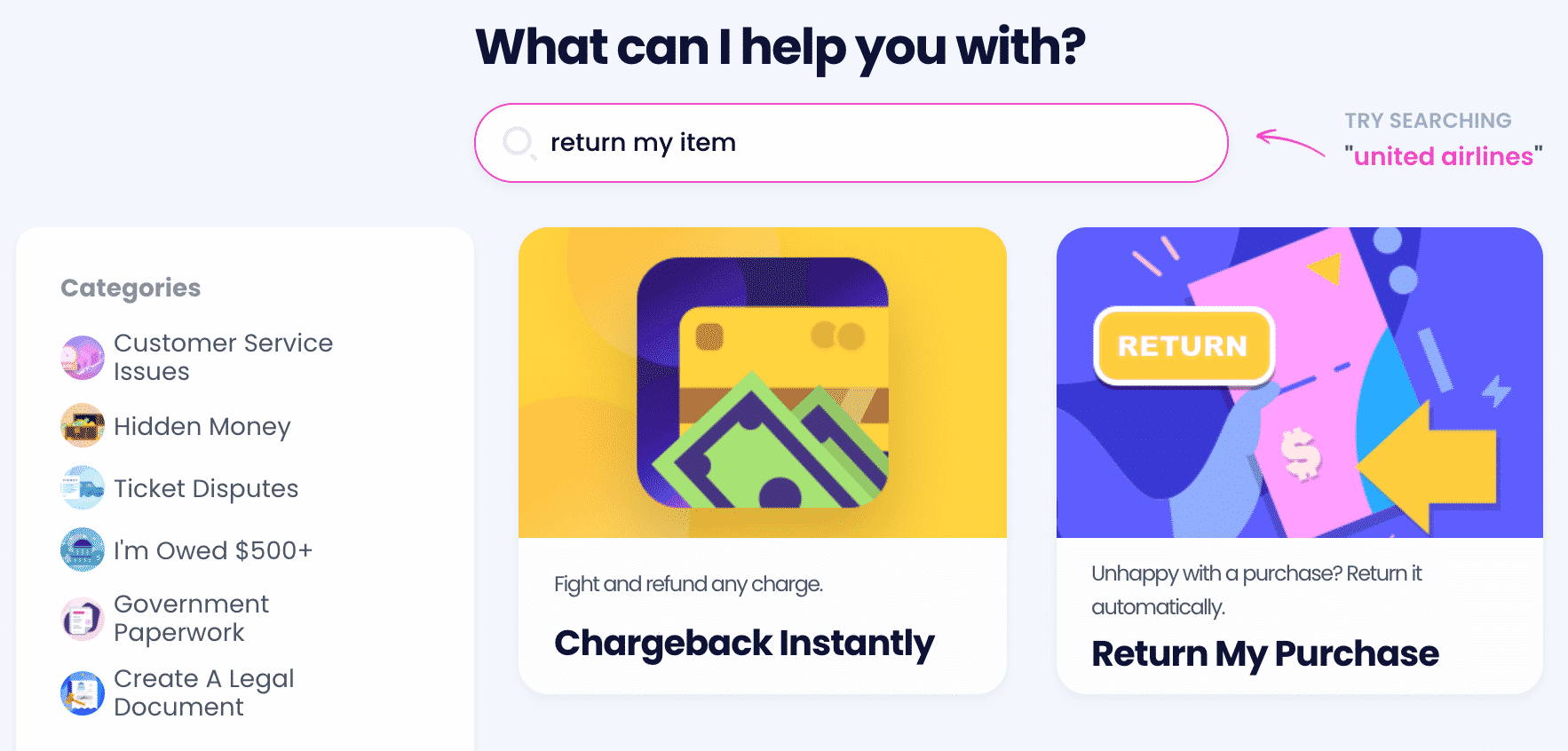 To send your return request stress-free, do the following:
Pick the Return My Purchase product
Enter the specifics about your item (upload pictures, if possible)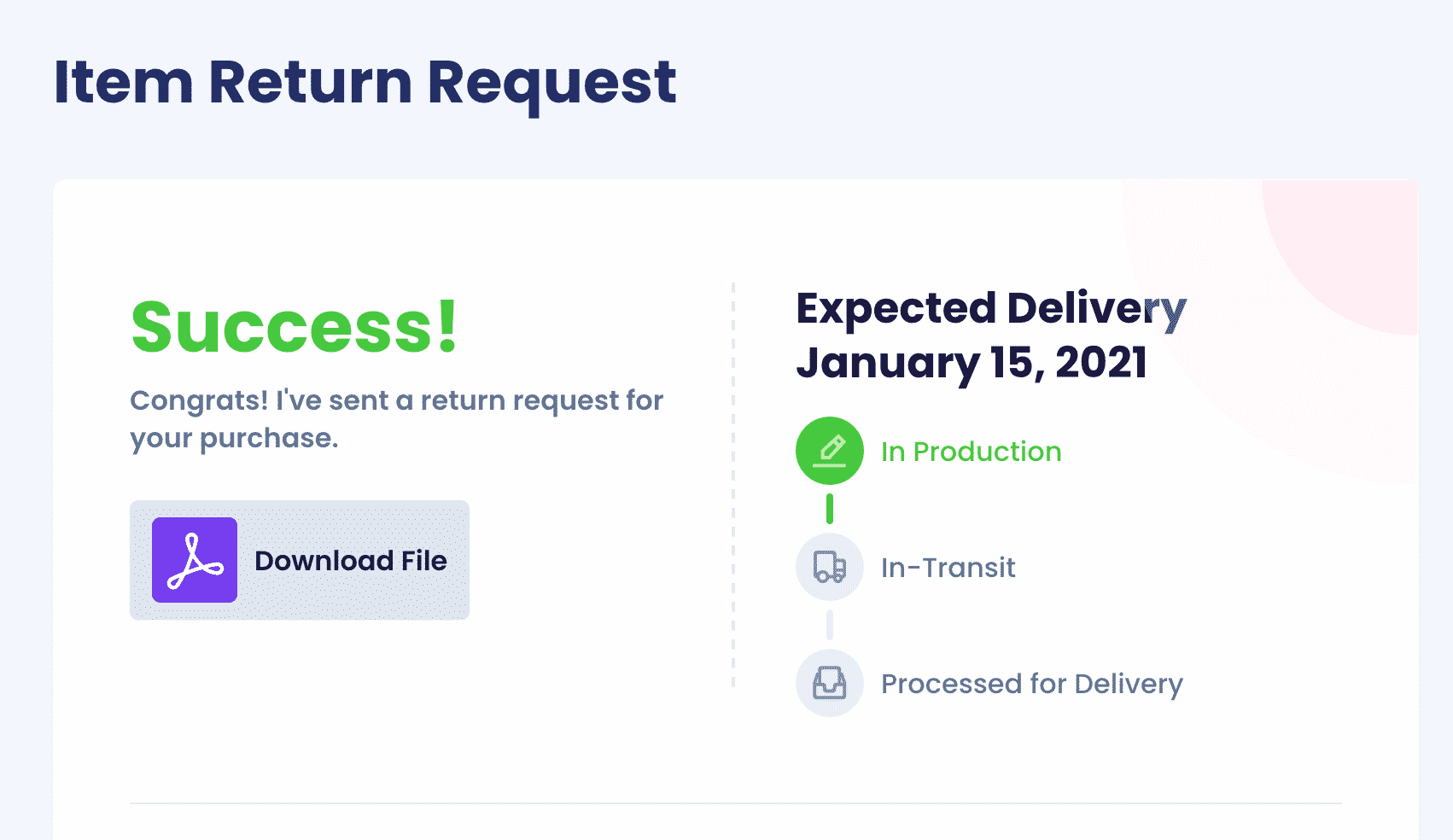 If you need help returning your item to another store, this table displays some other companies DoNotPay can also help with:
Is the Situation With the Merchant Getting Messy? Take Them to Small Claims Court!
If you feel like the merchant has wronged you, our AI-driven app recognized by the ABA Brown Award will help you sue them in small claims court! You don't need to worry about filling out lengthy court forms or collecting evidence for your case—we'll step in and do it for you!
You can use DoNotPay to generate any legal document you may need for the lawsuit, add legal weight to it through online notarization, and fax it to the court—all in a matter of mere minutes.
Facing any other legal issues? Check out how our app can assist you in:
Has Your Return Request Been Declined? You Don't Have To Settle
With DoNotPay by your side, you can rest assured that you'll get what's rightfully yours. We'll draw up a refund request letter in your stead and send it to the company in question. If it refuses to cooperate, our app will help you take it to small claims court.
We'll fill out all the necessary court forms, generate any legal document you need, get it notarized remotely, and fax it to any recipient of your choice. You're not alone in your fight for justice!
If you're dealing with anyone else who's difficult—be it a creepy stalker, neighbor, coworker, or email or text spammer—you can count on us to safeguard you.