A Complete Guide to the Floor & Decor Return Policy
Floor & Decor stores have everything you need for your next major DIY renovation project, but what if you bought something you're not happy with? You should request a return! will introduce you to all the details you need to know about the Floor & Decor return policy and help you with the return process.
What Is the Floor & Decor Return Policy?
In case the product you bought at Floor & Decor didn't turn out as expected, you can return it within 90 days from the date of the purchase.
The store accepts product returns in case the item you are returning is:
Undamaged (with certain exceptions)
Resalable
Floor & Decor is not responsible for any damage or defects that may occur during faulty installation. Before installing your item, you should check it thoroughly for signs of manufacturing defects or damage so that you'd be able to return it.
You can return all products in exchange for another item or opt for a refund. If you opt for a refund, you will be paid to your original payment method. In case you used cash or checks for purchases over $500, the refund will be processed as a mail refund check. When choosing an exchange, Floor & Decor will send the item to the billing address unless stated otherwise.
How To Return a Product to Floor & Decor
Floor & Decor has two options for returning products. You can choose between:
In-store returns
Mail returns
Return Your Floor & Decor Item to the Store
When returning a product to the store, you need to:
Pack it in the original box
Bring the receipt or proof of purchase
Ask the store employee to process your return
If you ordered your item online and you don't know where the nearest Floor & Decor store is, you can use the Store Locator tool.
Return Your Floor & Decor Item via Mail
To mail the product you want to return, you need to contact customer care at 770-421-3705 or 877-675-0002. A customer care agent will provide you with the shipping instructions. Keep in mind that you'll be charged for all return shipping costs.
You should choose between two different shipping methods:
FedEx
LTL (Freight)
You can use FedEx for items that are smaller than 13 inches and lighter than 75 pounds. For products that are over 13 inches and 75 pounds, you can mail them with LTL.
In case you bought an item at Floor & Decor Design Studio, the company allows returns via mail. You should call customer service and get the mailing instructions.
Can You Return Damaged Items to Floor & Decor?
Floor & Decor delivers its products across the U.S. and understands that damage may occur in transit, which is why the company has a policy on returning damaged goods. If you received a damaged product, you should contact customer service via:
Returning a Damaged Product
To return a damaged product and get a replacement, follow these steps:
Accept the shipment, even with visible damage on the package
Contact customer care
Disclose the Proof of Delivery Receipt
Send photos of the damaged product
Specify the number of damaged pieces
Mail your item
The company will mail the replacement for the product you are returning immediately after your shipment arrives.
Can You Return a Product to Floor & Decor Without the Receipt?
If you don't have the receipt to prove your purchase, you can still return the product you no longer want. When returning the goods in person, make sure to bring your ID. The company will keep your records to prevent fraud and to process your return.
Floor & Decor reserves the right to refuse or limit a refund or an exchange for returns without a valid receipt.
Not Sure How To Return a Product to Floor & Decor? DoNotPay Has a Solution
Is the Floor & Decor return policy difficult to digest? If so, DoNotPay has your back! We will provide assistance for your product returns from start to finish.
All we need you to do is answer a few basic questions, and your return request will be on its way. You can start the return process by following these steps:
Choose the Item Return Request product
Provide photos of the item
Submit your request
We will use the info you provide to generate a personalized return request and send it to Floor & Decor right away. The company will get a deadline to respond to the request.
Our app will also get you a free return label so that all the mailing costs are covered.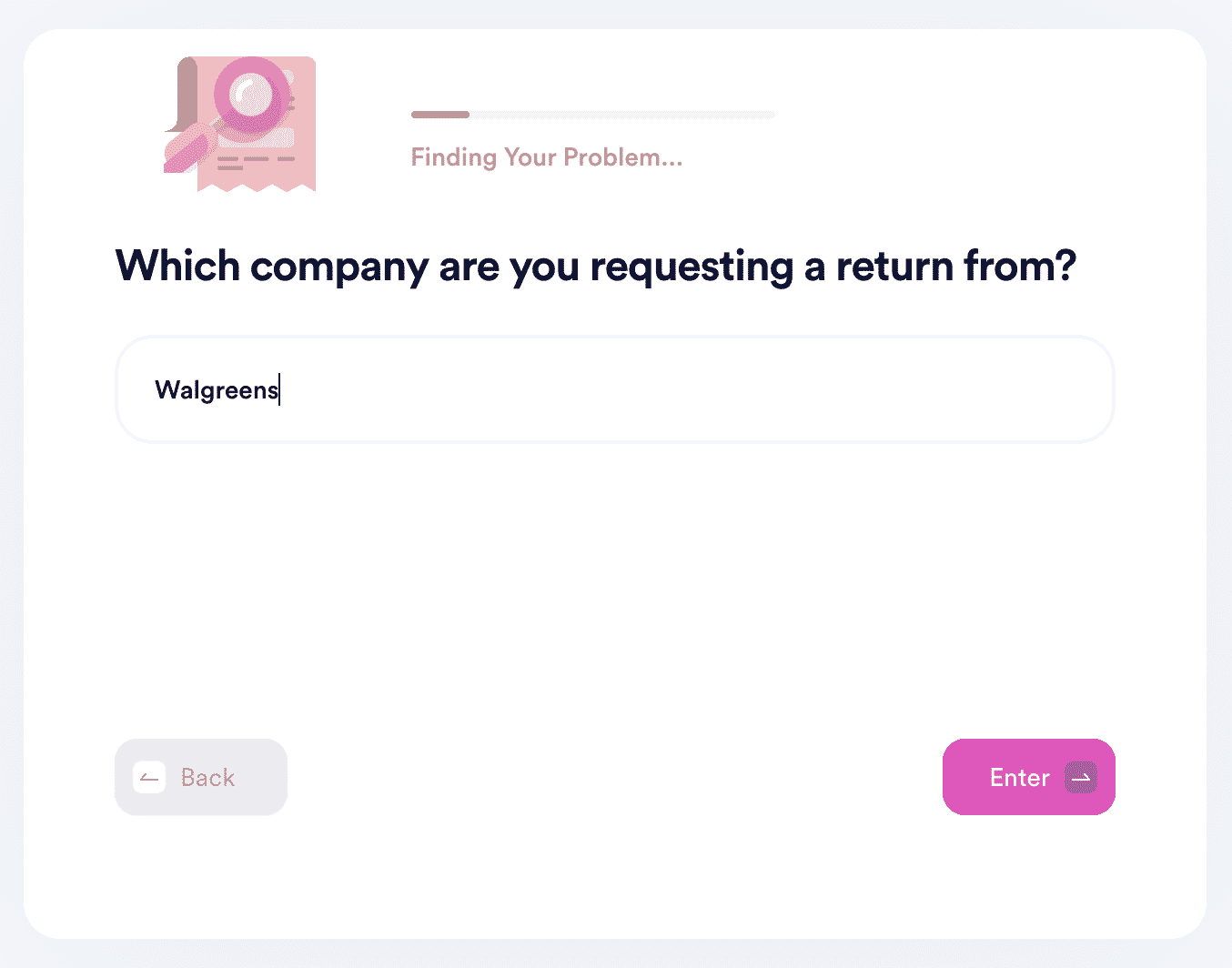 DoNotPay can help with returns to other companies as well. We have a vast database of guides on different companies' return policies. Check out some of them in the table below: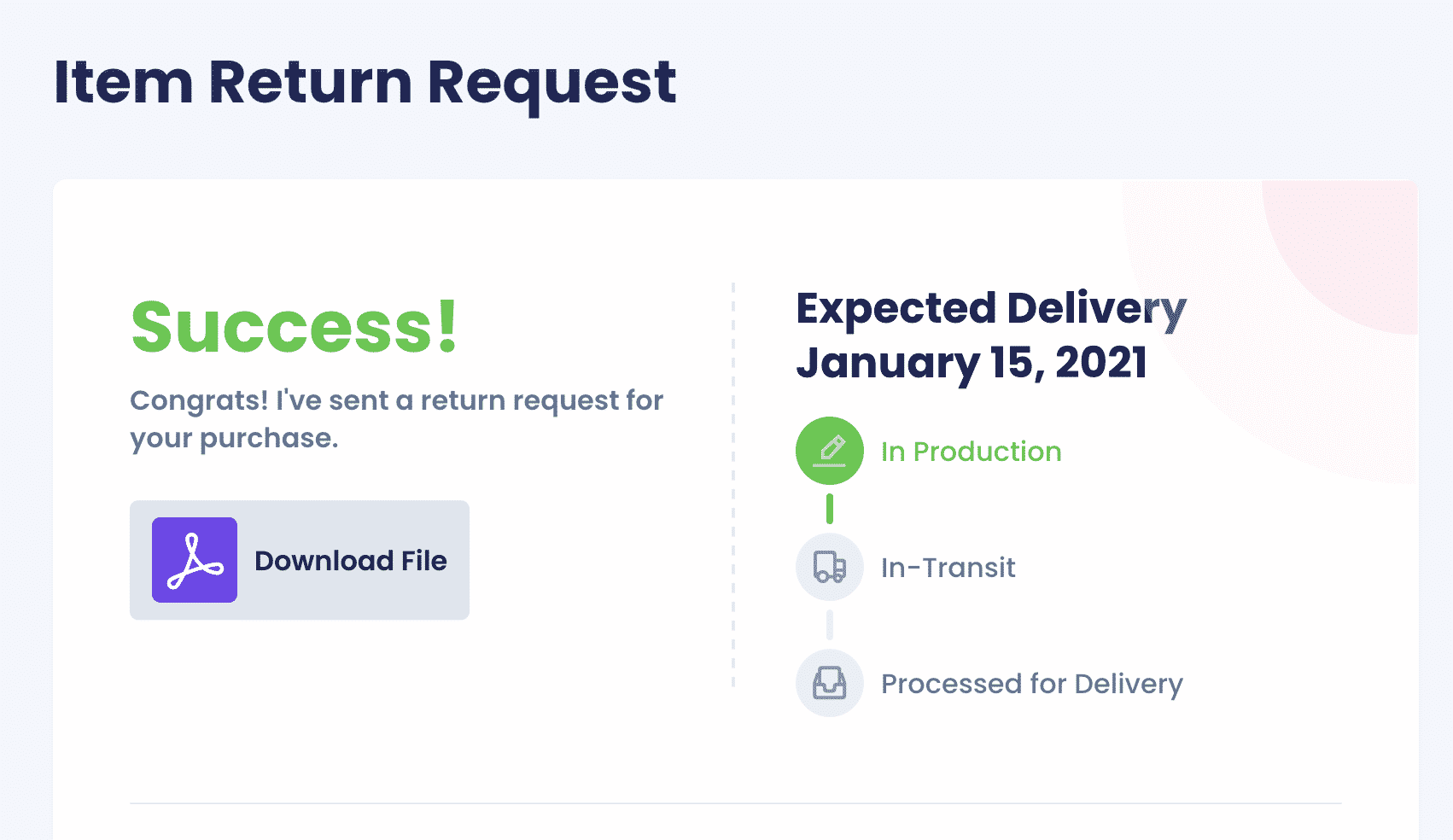 Want Your Money Back? Rely on DoNotPay!
The world's first robot lawyer can help you get your hard-earned money back in several ways. Are you dissatisfied with a product or service you paid for and want to request a refund? Do you want to request a late delivery refund? No problem—DoNotPay will do that in your stead! Do you think that you may have missing money and want to claim it? We can assist you in finding it!
No matter the issue, DoNotPay is your shortcut through bureaucratic hurdles. Our AI-driven app can help you dispute your parking tickets, get refunds and compensation from airlines, cancel any subscription service in a flash, and so much more!
What Else Is DoNotPay Capable Of?
Being your personal AI-powered assistant, DoNotPay can help you get rid of:
Are you sick and tired of big companies not taking their customers seriously? Our app will lend you a helping hand in the process of suing them in small claims court.
Do you want to skip waiting in lines at the DMV, jump the phone queue when reaching customer service, get help with paying your bills, or get copyright protection for your work? Sign up for DoNotPay to complete these tasks and so much more!