Claim Your Electronics Warranty in a Few Simple Steps
If you are planning to purchase an electronic device, besides looking at specs, you should think about the quality of the device. Think about whether you may need an electronics warranty as well.
Most gadgets come with a manufacturer's warranty. It covers faults or defects of components or materials.
For an additional level of protection, customers can often opt for an extended warranty on electronic devices. If you want to know how to file an electronics warranty claim, DoNotPay has all the answers!
What Is an Extended Warranty for Electronics?
After the guaranteed warranty period for your manufacturer's warranty expires, you are left to pay for all the repairs if something happens to your electronic device.
An extended warranty prolongs that period and offers you more comprehensive coverage.
Every extended warranty has different coverage, varies in price, and doesn't last the same amount of time. That's why you should shop around even for extended warranties for your electronic devices.
What Is Covered by Electronics Extended Warranties?
The coverage of an electronics warranty will vary between providers. Most companies offer extended warranties on the date of purchase. If you don't buy the warranty at that time, you will usually have 30 days to change your mind. An additional warranty allows you to replace the device or get a refund.
Most extended warranty providers also offer:
Protection of the product after the manufacturer's warranty expires

Replacements

In-home service for major appliances

Mail-in repairs for small appliances

Accidental damage coverage
Always read the terms of your warranty to know what is covered and what the exclusions are. Many contracts don't offer what you actually need, so your warranty claim might get voided. If you are having problems with claiming your warranty, DoNotPay can assist you in the process!
What Are the Best Electronics Warranty Companies?
There are many extended warranty companies in the market, and it can be confusing to research them all. We have compiled a list of the best electronics warranty companies you can choose from.
Company
Coverage
Cost

Cracked phone screens

Physical damage

Mechanical failure

Loss and theft

Water damage

Normal wear and tear

Chargers and earbuds coverage

From $7.15

Theft and loss

Water damage

Cracks

Hardware issues

Financial phone protection

Accidental damage

From $6 to $25 (depending on the coverage and mobile carrier)

Extended warranty

is available

Cracked screens

Water damage

Battery failure

Speaker failure

Touchscreen failure

Hard drive failure

Unexpected leaks

Smartphones: $8.99 to $19.99 a month

Laptops

: $89.99 to $549.99

Appliances

: $99.99 to $399.99

TVs

: $29.99 to $349.99

iPads: $109 to $259
No More Faulty Electronics When You Claim Your Warranty With DoNotPay
If your electronic devices have sustained damage and you need to file a warranty claim fast, DoNotPay can help you out! We can assist you in claiming any warranty, including a home or car warranty. Claiming an extended warranty for used cars is never a problem for us.
Follow these simple steps to file a warranty claim:
Open DoNotPay in your

Find the

Claim Warranty

feature

Click on the

Warranty on a Purchased Item

button

Select the company and enter the product name

Describe the issue you are having in detail
After you provide all the details, DoNotPay will automatically submit a warranty claim to the company. They should get in touch with you soon. If you don't know all the details about your warranty, we will use the implied warranty laws to generate the claim.
We can help you claim electronics warranties from other companies, including Amazon, Target, Costco, and Best Buy.
Our app can assist you in finding the best home warranties in America based on the most relevant home warranty reviews.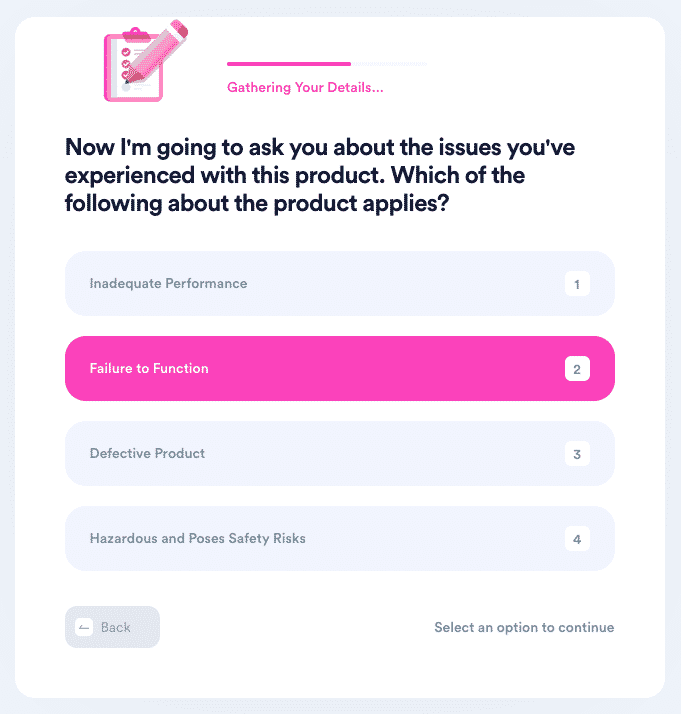 File an Appeal With DoNotPay if Your Warranty Gets Rejected
If a company denies your warranty claim, DoNotPay can file an appeal in your name. Most companies deny warranty claims at first, so you have to be persistent. If you give up, you will have to pay a high price to repair your device.
To file an appeal with DoNotPay, follow these instructions:
Open DoNotPay in your

Go to the

Claim Warranty

Feature

Select

Appeal a Denied Warranty Claim

Choose

Extended Warranty Provider

Provide the details about the rejected warranty claim and the company
When you click the Submit button, we will generate an appeal letter in your name and send it to the company. Expect to hear from them soon.
DoNotPay is the best solution if a dealer refuses to cancel an extended warranty too.
If you are having difficulties with a warranty provider and their product, you can claim a refund from Walmart and Target.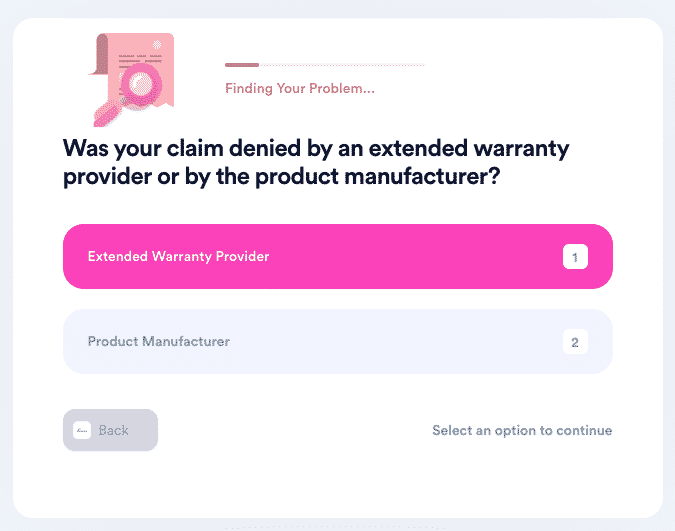 DoNotPay Breaks Down Communication Barriers
Communication and new technologies walk hand in hand, and DoNotPay can smooth out any bumps on that road. On our platform, you can find useful tools for avoiding phishing emails and text messages, sending faxes online, stopping annoying robocalls, or signing up for new services without phone verification.
Contacting customer support is no party, but DoNotPay can make the process so much easier, whether you need to request a refund, demand compensation for a canceled flight, or file a warranty claim.
You can even use our platform for locating your loved ones in prison and sending them letters the proper way!
Can Your Virtual Assistant Do This?
Hey, Siri! Make me ready for my upcoming small claims court appearance. No luck? Ok, Google! Prepare a DMCA notice for that website that uses my photos without authorization. Still nothing?
DoNotPay is the virtual assistant that won't back away from issues that require legal expertise. Our lawyer bots work around the clock to get you due date extensions for utility bills, reduce your property taxes, or stop stalking and harassment before it gets ugly.
The world's first robot lawyer will provide assistance even with securing compensation for victims of crime!