Want To File a
SquareTrade Laptop Warranty
Claim? DoNotPay Can Help!
SquareTrade is a company that provides extended warranty service for consumer electronics and appliances, such as TVs, laptops, tablets, and iPhones. The company prides itself on offering generous warranty plans and complete protection of your electronic devices at an affordable price.
If you want to know more about Squaretrade warranty coverage and methods of filing a SquareTrade laptop warranty claim, DoNotPay has the answers.
What Does
SquareTrade Electronics Warranty
Cover?
If you decide to protect your device with a SquareTrade warranty, you can choose between the Standard Plan and the Plan with Accident Protection.
The Standard plan covers damage to your item caused by everyday use. The Plan with Accident Protection provides additional warranty coverage to include the product's failure caused by accidents. 
SquareTrade adds another two years to your product's original warranty. If your item stops working during the product's manufacturer warranty period, SquareTrade will refer you to your manufacturer for a repair or replacement service. If the manufacturer refuses to accept your warranty, but the damage is covered by one of the two plans, SquareTrade will accept the warranty request.
Here is the complete overview of the Standard Plan and Plan with Accident Protection coverage:
Type of Warranty Plan
Warranty Includes

The Standard Plan

Mechanical/electrical failure

Inability to power on

Screen failure

Power supply burnout

Speaker failure

Remote malfunction

The Plan with Accident Protection

All failures covered by the Standard Plan

Drops

Cracked screens

Spill damage

Liquid damage
Can I Get a SquareTrade Warranty on a Refurbished Item?
The answer is yes. SquareTrade offers warranty plans for used and refurbished products purchased on eBay for less than $2000. SquareTrade warranty doesn't cover:
Items for commercial use

Products older than five years

Products with a pre-existing damage

Items purchased in a private transaction
How To File a
SquareTrade Computer Warranty
on Your Own
You can file a SquareTrade warranty claim via the official company website. You have to click on the File My Claim button and follow the instructions. The process requires you to:
Prepare the receipt or proof of purchase

Find your specific plan

Provide details about the device damage 
In some cases, SquareTrade reserves the right to delay the approval of your claim. If you want Squaretrade to accept your warranty request in the shortest amount of time, use DoNotPay!
Request SquareTrade Warranty Service With DoNotPay 
DoNotPay guarantees success with any warranty service request. In addition to filing a warranty claim for purchased items, you can turn to us for claiming car and home warranties and even extended warranties for used cars. 
The process of filing a warranty claim with our app is easy. You need to:
Navigate to DoNotPay in your

web browser

Go to the

Claim Warranty

option

Choose

Warranty on a Purchased Item

Select SquareTrade and enter some details about the issues with the product

Click

Submit 
The information you provide will help us draw up a convincing warranty claim. If you can't remember any specifics, don't fret! We will create a warranty claim based on implied warranty laws. After we submit the claim, SquareTrade will get in touch with you as soon as possible!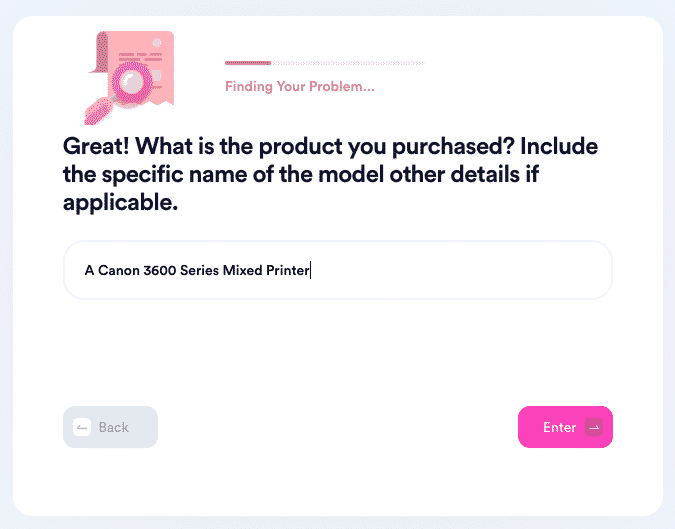 Is SquareTrade Being Difficult? Appeal Your Rejected Warranty Claim With DoNotPay 
SquareTrade rejected your warranty claim, so you're back to square one? You shouldn't give up! Companies often reject warranty claims in hopes that customers will drop their complaints. DoNotPay can help you file an appeal and receive the service SquareTrade promised you! 
You have to access DoNotPay from your web browser and:
Choose the

Claim Warranty

feature

Opt for

Appeal a Denied Warranty Claim

Select SquareTrade and enter information about the original warranty claim
DoNotPay will generate an appeal letter based on the information you presented. You can expect SquareTrade to reconsider denying your warranty claim in no time.
If you need to handle a dealer refusing to cancel your extended warranty, you can ask us for help!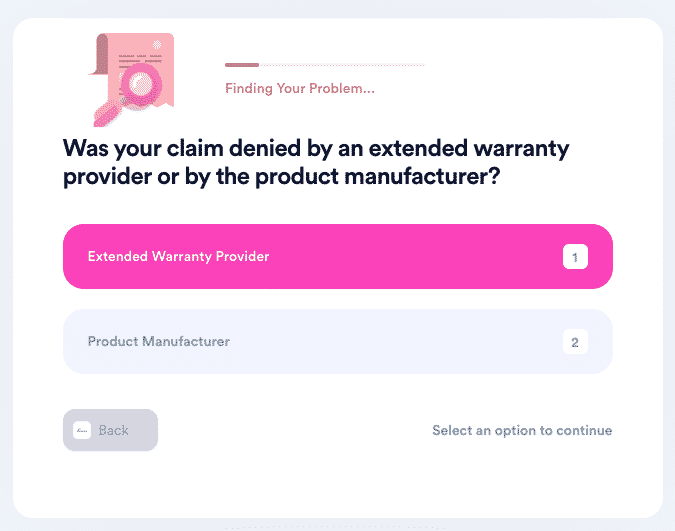 Fight Against Boring Administrative Problems With DoNotPay 
If you need more information about warranty services, you can check our learning center for home warranty reviews and discover what the best home warranties in America are. We offer information on warranties by companies like Apple or Samsung.
You won't be disappointed with any other service DoNotPay offers. Open our app in your web browser, and discover how easy it is to:
Overturn traffic citations 

Contest speeding tickets across America