Claim Your
Best Buy Warranty
With the Help of DoNotPay
You get a new Best Buy TV, phone, laptop, or another appliance, but a few days or weeks later, you discover your product has a defect. What do you do? File a warranty claim.
We will provide you with a step-by-step guide to claiming Best Buy warranty in the most efficient way.
What Does the Best Buy Warranty Cover?
The Best Buy limited warranty covers product defects due to poor materials or workmanship. Check out what you can expect from your Best Buy warranty in the table below:
Best Buy Warranty Covers
Best Buy Warranty Doesn't Cover

Repairs with new or rebuilt parts

Replacements—free of charge

Rebuilding using new parts

Cosmetic damage

Misuse

Weather damages

Abuse

Static or burn-in damages

Incorrect usage damages

Loss or theft

Damage caused by liquids

Installation

Customer education or instruction

Negligence
How Long Does Your Best Buy Warranty Last?
Your warranty period starts on the date you purchase your product and lasts for one year. You can always find the purchase date on your receipt.
What Is a
Best Buy Geek Squad Warranty
?
Geek Squad protection plans count as extended warranty. Purchasing these plans is optional, but they provide better product coverage and additional value. Geek Squad plans also protect against power surges and normal wear-and-tear damage and failures.
You have 30 days after you purchase a new product to buy a Geek Squad protection plan. Geek Squad warranties are transferable, which means that you can sell your product or give it as a gift, and it will still have an extended warranty.
How To Claim Your Best Buy Warranty
You can claim your warranty by calling 1-888-237-8289 and letting the agent know that you're having an issue with a product. They will give you further instructions on what to do, but generally, there are two ways you can return and replace your product:
In person

—Head to your local Best Buy store and be sure to bring your receipt. You need to put the product in its original packaging or the packaging that will provide the same level of protection. Approach a salesperson and discuss your warranty
By mail—

If you bought your product online, you'd need to mail it back to Best Buy. Include the receipt in the package and send it to the address that the customer service agent provided
How To Claim Your
Best Buy Warranties
With the Help of DoNotPay
If you use our platform to file a merchant warranty claim, you'll be done with the process in no time. DoNotPay's chatbot will take you through the whole process in a few simple steps. All you need to do is open DoNotPay in any web browser and do the following:
Access the

Claim Warranty

feature from your DoNotPay account

Tap on the

Warranty on a Purchased Item

button

Choose the merchant and enter the product name

Describe the issues you're having with the product

Click on

Submit My Claim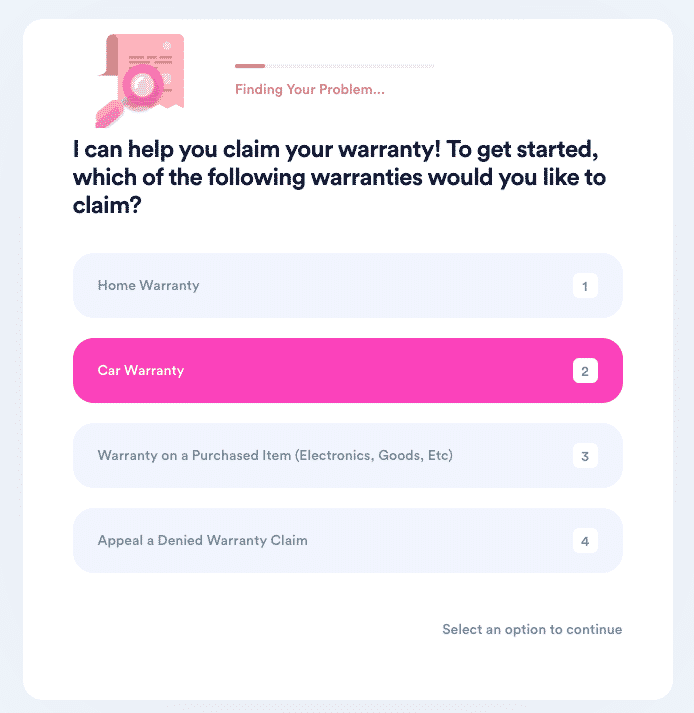 DoNotPay will submit your warranty claim even if you can't provide all the details. We will use the implied warranty laws to generate an argument for your case. The merchant will contact you directly.
With DoNotPay, you can also submit car and home warranty claims. We can assist with the extended warranties for used cars too.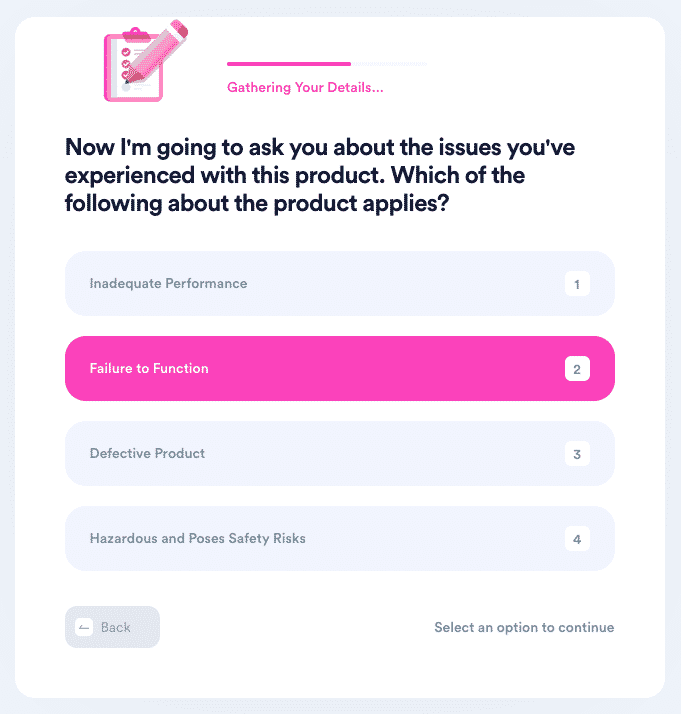 What To Do if Best Buy Denies Your Warranty Claim? Let DoNotPay Help
DoNotPay can file an appeal if the company denies your warranty claim. We created this feature because most companies tend to reject a claim the first time. They do this to prolong the process and make the customer drop the claim.
Submitting an appeal will enhance your chances of claiming your warranty. To submit an appeal, you'll need the original claim that the company rejected and a DoNotPay account. Follow these steps for further instructions:
Type

Claim Warranty

into the search box on DoNotPay

Select

Appeal a Denied Warranty Claim

Choose between

Product Manufacturer

and

Extended Warranty Provider

Attach the original warranty and provide details about the company

Hit

Submit
We will file the appeal after you click on the Submit button, and the company will get in touch with you to discuss your case.
DoNotPay will also help you in case your dealer refuses to cancel an extended warranty.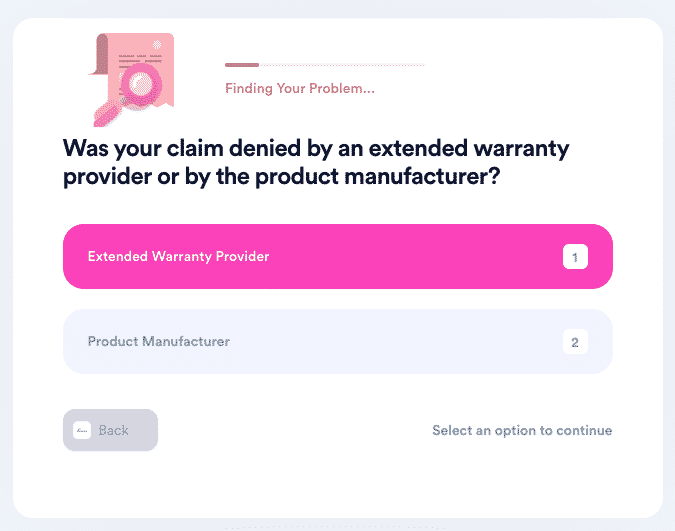 DoNotPay Can Be Your Robot Lawyer and Personal Assistant
DoNotPay can help you claim warranties with no trouble, but this isn't all we can do. Our platform can deal with other warranty companies, especially if it is a home warranty with negative reviews.
We offer our assistance with warranties by various companies nationwide—BFS, Nations, TotalProtect, Super Home, Blue Ribbon, and Home Warranty of America.
Find out what else DoNotPay has to offer by opening our app in any web browser. You will get help with:
Fighting speeding tickets

Contesting you traffic citations