Book a DeKalb County Notary in a Few Clicks
When they need to get a document notarized, most people first think of visiting a notary public in person. While booking an in-person meeting with a DeKalb County notary is a valid option, it is not the only one. We are here to offer you an easier solution—remote online notarization.
to learn all about notary services, and check out how to make a notary appointment in only three minutes!
DeKalb County Notary
Service—Explained
The standard, in-person notarization is usually tedious and lengthy. This is what it entails:
Finding an available notary

—Search online registries or visit public places that offer notary services

Setting up the appointment

—Call a notary office and set up your meeting at a convenient time. Be careful not to cancel at short notice since certain cancellation fees may apply

Inquiring about the fees

—Ask the notary about the fees they charge. You can inquire about the cancellation cost as well

Collecting the required documents

—Gather all the documents you want notarized since forgetting any requires scheduling another meeting

Bringing an ID

—Make sure to bring your ID, passport, or other proof of identity with you. A notary cannot finalize the process without verifying your identity

Completing the process

—Pay the fees the notary sets for you and sign the documents to finish the notarization process
After you sign the documents, a notary will provide his or her signature and stamp.
What Can a
DeKalb County Notary
Do?
Curious about what a notary does? Check out the list below to see what notaries in DeKalb County, Georgia, can do for you:
Verify your identity as a document signer

Confirm your willingness to sign the documents

Ensure you are aware of the contents of the documents

Witness the signing process
A notary in Georgia can notarize various documents, such as wills, trusts, affidavits, powers of attorney, and business contracts.
Where To Find a
DeKalb County Notary
We'll show you all the available methods of finding a notary to make the search easier.
There are two ways to go about this task:
| | |
| --- | --- |
| Online Registries | Public Places |
| | |
DeKalb County Notary
Types
Besides the standard in-person notary service, you can also opt for:
Mobile Notary Service
If you would prefer to meet a notary at a location of your choice, you can make an appointment with a mobile notary. They will travel to any place you choose and handle the notarization process on the spot.
Mobile notaries charge travel and mileage fees, so you should inquire about the costs before scheduling a meeting because the costs tend to get quite high.
Electronic Notary Service
Electronic notaries (eNotaries) offer the same service as the standard notaries. You visit them at their offices, and they will witness and notarize your documents. The only difference is that the documents are in PDF format, and an eNotary provides their digital stamp and signature.
Notary Signing Agents
In case you need to notarize loan documents, notary signing agents can do the job, and you can usually find them in banks and other financial institutions.
Online Notarization
Remote online notarization (RON) is the most popular choice nowadays since it helps minimize the risks that come with visiting a notary in person during the COVID-19 pandemic. That is not the only benefit RON provides.
You can make an appointment in minutes instead of spending hours on booking the nearest notary public. It's also a cheaper option than the pricey mobile notaries.
DeKalb County Notary
Fees
DeKalb County notaries are obliged to inform you about their notary fees and other cost-related details before notarizing your documents.
Every state has different rules on the maximum fee a notary is allowed to charge. Notaries in Georgia can charge a maximum fee of $2 per notarization. That fee excludes the costs of additional signatures and documents.
DoNotPay Makes Online Notarization a Smooth Sailing Experience!
Not only can DoNotPay help you schedule a meeting with a remote notary in a couple of minutes, but you can also do it any time you choose because we are available 24/7!
We made sure the process is simplified to a tee! Here's what you'll need to do:
Select the

Notarize Any Document

feature

Attach the documents you want notarized

Give us your email address
Once you go through the steps, we'll send you a link with the appointment timetable by email. Choose a slot that suits you, and a remote notary will witness the document signing via a video call and add his or her digital signature to your doc.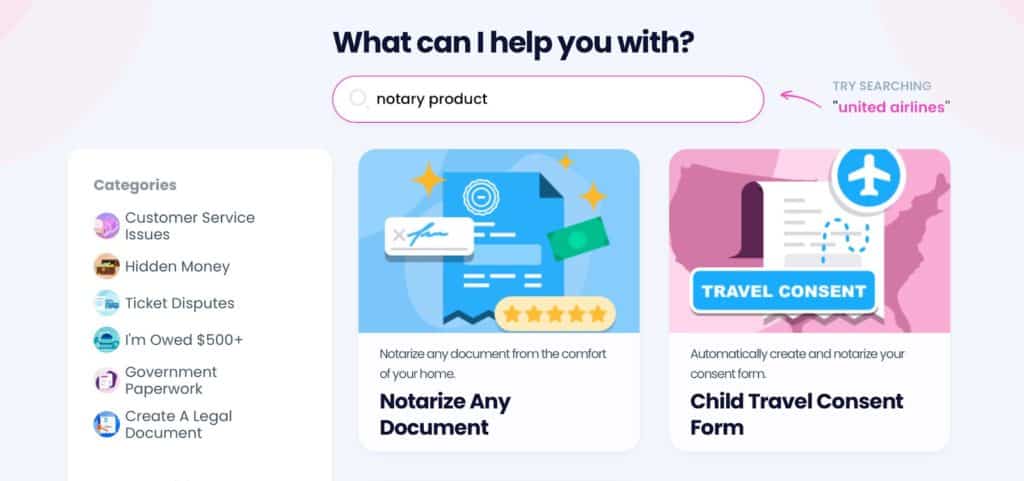 There's More DoNotPay Can Do for You
In case you're struggling to cover your bills, our hacks may help you earn or save some extra money. Use our app to sign up for paid clinical trials in your area and try your luck with free raffle tickets. You may not even know that you have funds lying around—rely on DoNotPay to uncover your unclaimed money.
If you have any documents or letters you need to send, we can save you the trouble of using a fax machine or waiting in line at a post office, thanks to our nifty products—Online Fax and Mailing Service.
Fast-Track Your Tasks With DoNotPay
If you've been putting off your errands because they take too long or they are too complicated, we know what to do! From filing insurance claims, getting documents notarized, demanding late delivery refunds, and getting a child travel consent—there isn't much we can't streamline for you.
You can count on our assistance even for more serious and complex tasks, such as: