Unleash Your Design Skills With AutoCAD Free Trial
AutoCAD is a program for commercial computer-aided design (CAD) and drafting. It was created in 1982 by Autodesk, a software corporation specialized in products and services for architecture, construction, engineering, manufacturing, education, media, and entertainment industries.
Having become a staple tool for architects and engineers around the world, AutoCAD comes in several variants:
AutoCAD LT

—a lower-cost version of AutoCAD, with reduced capabilities

AutoCAD 360

—an account-based mobile and web application that allows registered users to view, edit, and share AutoCAD files

Student version

—almost identical to the commercial version except for the DWG files having an internal bit-flag set
Is There an
AutoCAD Trial Version
?
AutoCAD is far from cheap, but luckily, Autodesk allows you to try the main program, apps, and a bunch of toolsets meant to enhance your work process for free. All free trial AutoCAD items are available for 30 days, and you will have to download each of them separately. The list of downloadable trials include:
AutoCAD

Architecture toolset

Electrical toolset

Map 3D toolset

Mechanical toolset

MEP toolset

Plant 3D toolset

Raster Design toolset

AutoCAD mobile app

AutoCAD web app
While AutoCAD runs on both Windows and macOS, toolset trials can be used only on Windows-operated computers. The free trial program doesn't differ from the paid version.
What To Check Before You Start the
AutoCAD Trial Version Download
AutoCAD is a big program, so you should make sure that the download and installation process of the free trial version goes as smoothly as possible. Here's what you can do for the best experience:
Use an Internet connection with a speed of at least 10 Mbps

Turn off all active programs during the process (even those in the background, like antivirus software)

Check the free space on your hard drive since AutoCAD installation files are hefty

Go over the system requirements to make sure your device will run the program

Reboot your computer after the installation
System Requirements for
AutoCAD Free Trial Version
If you want to try out the latest AutoCAD version, including all toolsets, your computer will have to meet these minimum requirements:
macOS

Windows

Operating system: macOS High Sierra, Mojave, or Catalina

CPU: 64-bit Intel CPU

RAM: 4GB

Display resolution: 1280 x 800 display

Disk space: 3GB

Operating system: 64-bit OS

CPU: 2.5–2.9 GHz processor

RAM: 8GB

Display resolution: 1920 x 1080 with True Color

Display card: 1 GB GPU with 29 GB/s Bandwidth and DirectX 11 compliant

Disk space: 7GB

.NET Framework: version 4.8 or later
Additional and recommended requirements for large datasets, point clouds, 3D modeling, and specialized toolsets can be found on AutoCAD's Free Trial page.
How To Start the AutoCAD Free Trial

Once you make sure your computer can support this program, follow these steps to start your AutoCAD free trial:
Open the AutoCAD

Free Trial

page in a web browser

Click on

Download Free Trial

Select which product you want to try and hit

Next

Click on

Next

when you review the system requirements and other useful tips

Select

a business user

and preferred language on the next page

Create an Autodesk account or sign in, if you already have one

Enter the details about your company

Hit

Begin download
When the installation file downloads, open it and follow the instructions to finish the process. For more detailed instructions on how to install AutoCAD on your computer, you can check their Download & Install page.
AutoCAD Free Trial for Students
If you are a student or a teacher, you can access the student version of AutoCAD for free:
Open the

Autodesk Education Community

page

Choose AutoCAD from the list of available software

Create and set up an Autodesk account or sign in to the existing one

Click on

Download Now

Select the program version you want

Click on

Browser Download
The serial number and product key will be sent to your email address, and you will have to enter them during the installation process to unlock the program. Upon starting AutoCAD for the first time, you will need to activate the license.
Students and teachers get one-year educational access to Autodesk products that can be renewed as long as they stay eligible.
Will I Be Charged After the AutoCAD Free Trial Expires?

Since you don't need to present any payment details to start using the free trial version of AutoCAD, you don't risk any unwanted charges when the trial ends. Once the 30-day free period expires, you will be locked out of the program, unless you purchase a subscription.
How Much Does the AutoCAD Subscription Cost?
Converting your free trial to a paid renewable subscription is possible when you click on the Subscribe Now button in the program. The pricing depends on the subscription length:
| | |
| --- | --- |
| Subscription Billing | Price |
| Monthly | $210 |
| Yearly | $1,690 |
| Every three years | $4,565 |
AutoCAD offers a 30-day money-back guarantee, but according to their Terms of Use, that time frame does not apply to monthly-billed subscriptions. If you purchase a monthly subscription, the return period is 15 days.
AutoCAD LT Free Trial
Those who find AutoCAD prices unaffordable can opt for AutoCAD LT. You can get the 30-day free trial of this AutoCAD variant by downloading the program on this page.
With AutoCAD LT, you won't have access to 3D solids modeling (including wireframe views, shadows, and reflections), network licensing, or built-in programming capabilities (like AutoLISP), but the monthly subscription costs $55.
DoNotPay Improves Your Free Trial Experience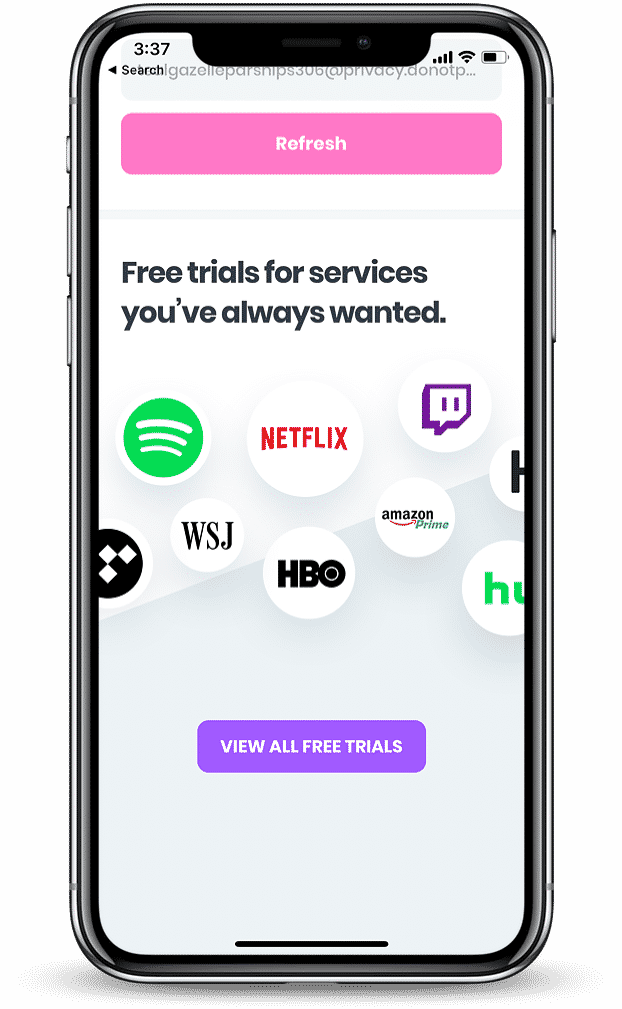 Payment details are not necessary for the AutoCAD free trial, but many other companies, like Netflix or Spotify, ask for credit card details at the signup. If you're reluctant to use the free period because you're afraid of forgetting to cancel on time, we have a solution for you.
Try DoNotPay's Free Trial Card and never again worry about unwanted charges after free trials. Our app generates random credit card information that will get you through the signup process, but if you forget to cancel, you won't be charged. The virtual credit card created by DoNotPay is not connected to your bank account, so when a company tries to charge it at the first billing cycle, they won't succeed.
The Free Trial Card comes with a temporary email address that you can use when trying out new products and services and avoid cluttering your primary inbox. This feature can help you avoid annoying marketing offers and newsletters that often come with a free trial.
You can generate your free trial card when you set up a DoNotPay account in a web browser.
With DoNotPay, You Always Get More

Signing up for free trials risk-free sounds great, but our virtual credit cards can also protect you from robocalls and scams hidden within spam emails and text messages.
We want to make sure your consumer rights come first so DoNotPay steps in when you need to lower your Internet bills or sue big companies like Verizon in small claims court.
Check out our useful tools and features in a web browser:
Challenging speeding tickets

Challenging traffic tickets