Download Microsoft's Windows 10 Free Trial Now
Microsoft needs no introduction as one of the top technology companies in the world. This tech giant's latest operating system from the Windows family is Windows 10.
Why bother upgrading from your Windows 8.1 version? Well, Windows 10 is not only software but also a full-blown platform. Upon its initial installation, you'll get regular quality and feature updates. If you are confused about all the bells and whistles, Windows 10 Update Assistant is there to lend you a hand. Learn more below and put the free Windows 10 trial to the test.
What You Need To Know Before Downloading the Free Trial of Windows 10
Once you get used to one operating system, its interface, settings, and characteristics, it might be hard to switch to something new. Well, there are more than a few nifty features included in Windows 10 that could pique your curiosity.
Windows 10 Enhancements
Here are some of the benefits of Windows 10:
New and improved calendar

—creating new events has never been easier

Cloud clipboard

—when you lose track of what you copied, the cloud clipboard is there to show you your copy history. Isn't that awesome?

Digital assistants

—voice commands to facilitate tedious work

Intel processor debugging

—say goodbye to bugs and enjoy a smooth workflow

Notifications

—turn them on, off, manage or customize them

Windows search

—suggestions appear as you type to help you along the way
If you want a detailed description, check the What's new section on Microsoft's website.
Features Removed From the New Windows 10 OS
When a better option is added, it comes as no surprise that some features have to be taken away. See what functionality you'd have to give up if you switch to the new OS:
Cortana

has lost some previous features, such as playing music

Syncing messages

has been disabled, so you'll have to check each Windows device separately

The Hologram app

has been replaced with the

Mixed Reality Viewer

Language control

can no longer be found in the Control panel, so you'll have to open your Language settings to access it
The changes to Windows 10 are intricate, and there are so many of them. If you're not an IT pro and find it difficult to understand them, visit this PC Magazine's review on what's new and how different users have reacted to it. For more details, open this section on Microsoft's website.
Does Microsoft Offer a Free Trial Version of Windows 10?
Yes, it does. Microsoft will allow you to test Windows 10 free of charge for 90 days! That's enough time to check out all the new features, get used to the new interface, and see how your PC or laptop works with it.
There are two versions of the free trial Windows 10:
ISO—Enterprise

ISO—LTSC
The Enterprise version is just like the paid Windows 10 Pro version.
The LTSC—the Long Term Servicing Channel—is a bit different. It's a special edition that
Can I Download the Free Windows 10 Trial Version on My Computer?
Before downloading Windows 10 to test it out, you should check if your PC or laptop meets the requirements for the installation.
Basic System Requirements for Installing Windows 10 Free Trial
Make sure your computer is fit for Windows 10 by reviewing this list:
Processor

: 1GHz or equivalent

Hard drive

: 32GB

Graphics card

: compatible with DirectX 9

RAM

: 1GB (32-bit) or 2GB (64-bit)

Internet connection

: required

Display

: 800x600
Besides these conditions, you might want to know about what your computer needs for any future Windows 10 updates by reading this webpage.
doesn't get frequent updates.
How To Download and Install the Windows 10 Free Trial
Now that you know the requirements needed for the free trial version of Windows 10 and what options are out there, you are ready to install it.
There is a catch, though. The Windows 10 free trial is mainly enabled so that companies and organizations could try it out and later buy Windows 10. You can download it on your personal computer, but be aware that steps to do it are numerous, and you will have to work around some traps if you're a personal user.
We are here to assist you until the very end. Follow the step-by-step breakdown below:
Scroll down to

Windows products & resources

Click on

Windows 10 Enterprise

Select

ISO - Enterprise

and click

Continue

Complete the form with your personal information

Click on

Continue

Choose between

32 bit

and

64 bit

, depending on your computer. Most computers nowadays support the 64-bit option

Select

Download

Follow the steps during

Windows setup

depending on your preferences about where and how to download it
In the end, you'll see a sign-up screen. Here is the tricky part. It will ask you to sign in with your Microsoft business account. If you are downloading it for your company, no problem there. As an individual user, you'll have to take some extra steps:
Click on

Domain join instead

in the bottom-left corner

Give your name and generate a password

Activate Cortana and choose other settings
There you have it! It may seem complicated, but just follow our guide, load Windows 10, and enjoy your 90 days of the latest operating system for free.
Does the Free Trial Version of Windows 10 Automatically Turn Into a Paid Subscription?
No, it doesn't. The Windows 10 free trial lasts for 90 days, and it does not renew after that period has passed.
You will get a notification about the expiration date and a suggestion to subscribe to a paid version. You do not have to do it. You can go back to your previous operating system, or if you wish, you could buy Windows 10 and continue using it.
Microsoft has a special webpage to help you on your trial journey and reveal tips and tricks to give you the best possible experience. The end goal is to inspire you to eventually buy Windows 10, which you may do following the instructions on their website.
Never Again Will You Lose Money on Automatic Renewals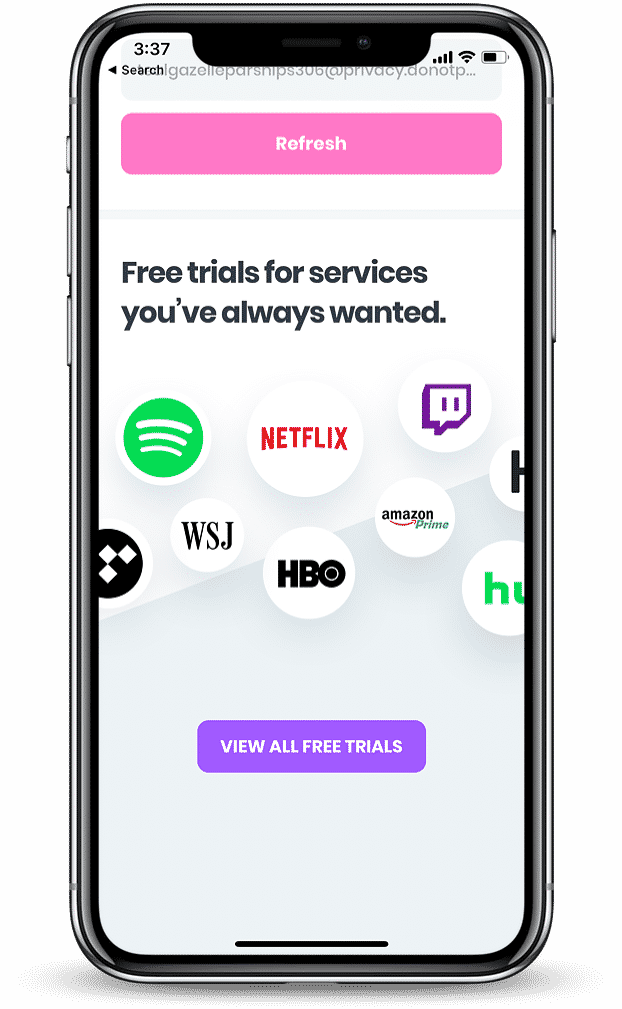 Free trials are there for you to test the product or service, see if it's a good fit, and decide if you want to spend money on it or not.
Although it doesn't hold true for the Windows 10 free trial, most companies make that decision for you. They design free trials with automatic renewals, which can be expensive. Whatever the cost, you don't want to spend money on something you didn't want to buy in the first place.
Another issue you might have with this is the collection of your personal information, specifically your bank account details. If something is truly free, why do you need to disclose your payment info?
With DoNotPay's assistance—on the —you can shield yourself from companies' greedy tricks in no time.
If you get DoNotPay's virtual credit card, you'll never lose a penny on subscriptions again. This card is made with a virtual credit card generator, which means that it is a set of random numbers that mimic those of genuine credit cards. That way, companies cannot trace you and make you pay after the trial. When they try to charge you, they realize it's impossible and cancel the subscription themselves.
Don't worry, DoNotPay's free trial card is not linked to your bank account and contains no funds, so there is not even a slight chance of revealing your real credit card creds or getting charged for no reason.
How Much Do I Have To Pay After the Windows 10 Free Trial?
You already know that Windows 10 won't continue into a paid membership and charge you after the trial. Installing the free trial version doesn't change the price later, should you decide to buy Windows 10. Check your options below.
| | |
| --- | --- |
| Type | Price |
| Windows 10 Home | From $139.00 |
| Windows 10 Pro | From $199.99 |
| Windows 10 Pro for Workstations | From $309.00 |
Other Amazing Solutions to Red-Tape Problems

When there's no end in sight with tedious forms and unclear rules, DoNotPay is here to save the day—on our . DoNotPay can help you with an abundance of problems with your Microsoft accounts—from canceling Office 365 and stopping unwanted emails in Outlook to reporting Microsoft spam emails and robocalls.
Browse through the list of our other quick fixes:
Disputing traffic tickets

Contesting speeding tickets