Use the CompTIA A+ Exam Objectives To Ace the Test
CompTIA A+ is a government test designed to assess your skills in providing entry-level computer services, such as installing, maintaining, customizing, and operating personal computers. Companies use the A+ certificate as a basis for hiring their computer service technicians.
Passing a CompTIA A+ exam requires a lot of skill, patience, and—above all—preparation. Exam objectives can improve your studying technique and give you a direction. DoNotPay is here to explain what the CompTIA A+ exam objectives are and how CompTIA A+ practice tests can help you prepare for the real exam.
What Does the CompTIA A+ Exam Consist Of?
Before you can focus on the CompTIA A+ test objectives, you must become familiar with the exam structure. To acquire an A+ certification and land a well-paid job as a Service Desk Analyst, Technical Support Specialist, or a Field Service Technician, you must pass two exam parts.
Each of the test segments focuses on a different but equally important set of IT skills.
The first part of the CompTIA A+ exam is 220-1001 (Core 1). To pass it, you need to score at least 675 on a scale of 100–900. This part of the test will assess your knowledge of:
Hardware

Virtualization

Mobile devices

Cloud computing

Network technology

Networking troubleshooting
The second part of the test is 220-1002 (Core 2). It requires you to achieve a minimum 700 test score on a scale of 100–900. To pass the second part of the CompTIA A+ exam, you must demonstrate skills in:
Installing operating systems

Providing expanded security

Configuring operating systems

Managing operations procedures

Handling software troubleshooting
Each exam has 90 questions that can be multiple-choice, drag-and-drop, or performance-based questions. You will have 90 minutes to complete both segments of the exam.
What Are the CompTIA Exam Objectives and Why Are They Important?
Few tests are as extensive as CompTIA A+. The exam objectives can help you make a studying plan and shift your focus on aspects relevant to you.
Exam objectives represent a competency standard designed to guide you through your studies and prepare you for your future job. All exam objective documents contain several areas with different objectives. They outline the skillset that the applicants need to have to be successful in a certain job position.
If you don't know what to study for your certification test or are not sure which IT certification is right for you, you can use the CompTIA A+ website to help you make a decision. It assists by providing:
The CompTIA Career Pathway

—

Shows which exams build upon each other

CompTIA Certification webpage

—

Covers each certification topics, intended job roles, and recommended experience levels

An exam objectives document for multiple certifications

—

Allows you to compare the objectives for numerous exams and find the certificate that serves your needs the most
Knowing the exam objectives is also beneficial for your preparation process. The exam objectives will indicate what will be on the test and how much progress you are making with the test material.
How Else Can You Prepare for Your CompTIA A+ Exam?
It is hard to assess how hard the CompTIA A+ test is because of the differences in skills, knowledge, and experience of each applicant. While the exam objectives make a world of difference in your studying process, you should consider applying additional learning methods, such as:
Preparation Method
Options

Instructor-led learning

Guided online learning

Workforce development programs

Self-studying
In most cases, CompTIA study guides, practice tests, and patience are everything you need to pass the test on the first try. The key is to find the practice tests you can trust—and DoNotPay can help you access them in no time!
Practice for Your CompTIA A+ Certification With DoNotPay
DoNotPay offers the most convenient way of preparing for the CompTIA A+ exam. You can access our practice tests easily and take them as many times as necessary.
You need to perform a few simple steps first:
Open DoNotPay in a

Enter

CompTIA A+

in the search engine

Choose the practice test length

Start the test
Our app allows you to choose the test length—10, 20, or 30 questions—so that you can practice according to your preference. You will be able to retry correcting a wrong answer straight away or retake the test after you finish. If you need more information on CompTIA A+ testing centers and the prices of taking the CompTIA A+ exam, explore our knowledge base!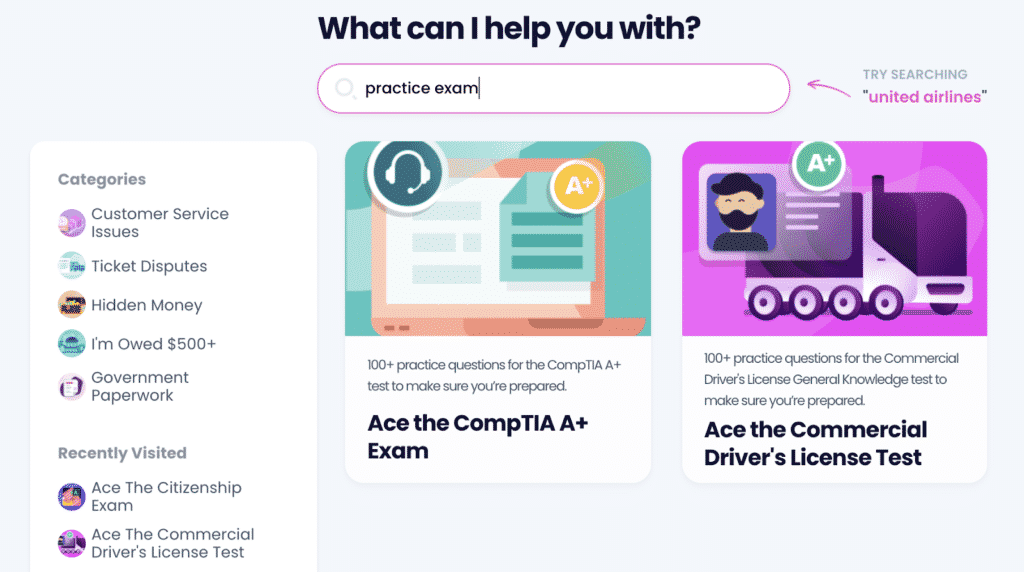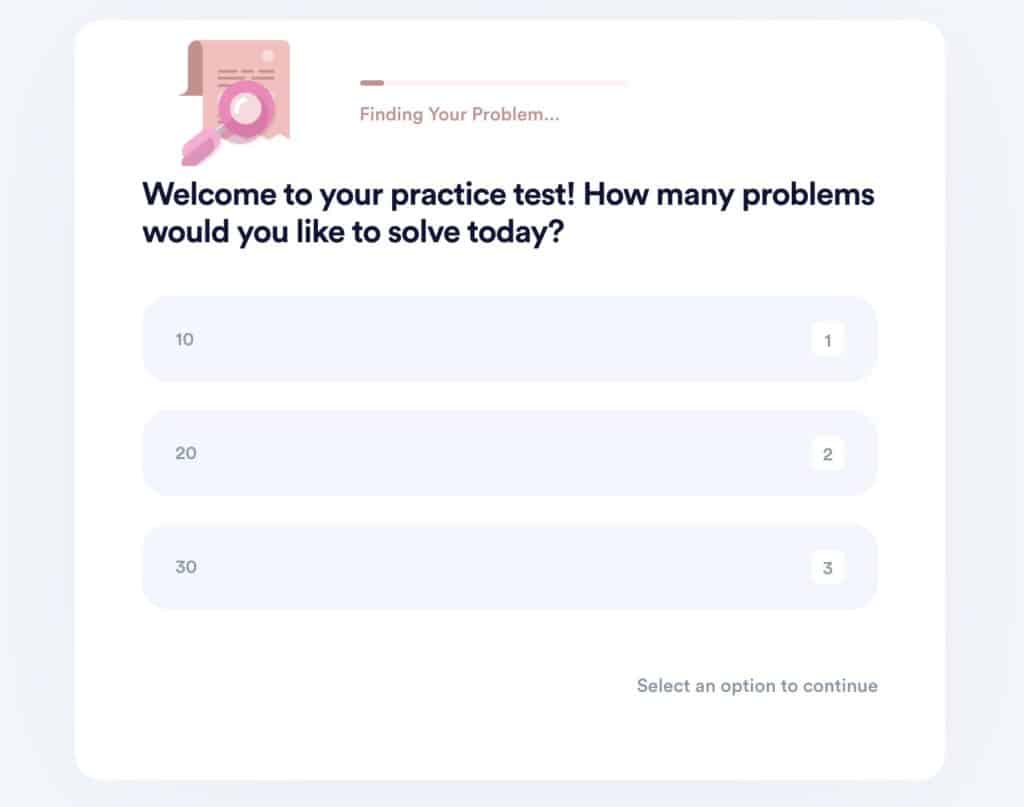 What Other Government Tests Can DoNotPay Help You With?
DoNotPay's Government Test Prep database can assist you with other tests, such as:
Open DoNotPay in your and take advantage of our Government test expertise to gain more knowledge on the subject. We can help you book a DMV driving test appointment and nail any written driving test. By giving you insight into
ASVAB test scores, we can assist you with another demanding government test.
DoNotPay Keeps Your Privacy Intact
DoNotPay can help you surf the web safely and securely. No need to provide your personal information to every company whose service you'd like to take for a test drive. Our Virtual Credit Card and Burner Phone products shield your data from prying eyes and dishonest merchants.
Feel like subscribing for a free trial? Make it truly free and avoid automatic membership renewals with our card. It can also help identify spammers and potential scammers who send bothersome robocalls and robo texts your way. As soon as they act on the virtual card number, DoNotPay will unmask them and demand compensation!
DoNotPay Can Help You Bring Any Business to Justice
Should a company refuse to grant you a refund or compensation, our app will help you take them to small claims court!
We'll help you cancel the service in question to avoid any future charges, and we'll call their customer service so you can get info on your denied request. We'll draft the relevant court documents for your jurisdiction and give you instructions on filing them.
More Nifty Features That'll Make Your Day
You may not have breach of privacy issues or reasons to bring someone to court, but you surely have ample motivation to save or earn a few dollars here and there—especially if we catch you unawares!
DoNotPay can show you how to reclaim funds that you didn't know were under your name or make a denied warranty appeal to any company. We streamlined the processes of requesting refunds, college fee waivers, airline flight compensation, parking infraction dismissals, as well as applying to clinical trials that pay!