How To Start Sony Vegas Pro Trial Risk-Free
Sony Vegas Pro is a modern NLE video editing software package. It is suitable for both beginners and advanced users. Sony Vegas Pro offers a user-friendly, flexible interface with lots of high-quality audio/video editing and mastering options.
What Equipment Do I Need To Run Sony Vegas Pro?
You need an up-to-date Windows computer since Sony Vegas Pro is a video editing software. It is recommended to buy a ''gaming'' computer for the software to run smoothly. It is best compatible with Windows 10. It can also run on Windows 7, but not all features will be available, so it's recommended to have the latest version of Windows installed on your computer. Sony Vegas Pro is not yet available for Mac or Linux.
Does Sony Vegas Pro Offer a Free Trial?
Sony Vegas Pro offers a 30-day free trial. The free trial offers the same functions as the paid version. When the 30-day free trial expires, you can subscribe to the full version of the program without having to reinstall it.
Ways To Get a Sony Vegas Pro Free Trial

You can download the software for free on the VEGAS website. Follow these simple steps to get the Sony Vegas Pro trial version:
Go to the Vegas

home page

Click on the

Vegas Pro

title on the header of the page or click the

Vegas Pro

icon in the middle of the home page

Scroll all the way down until you see

VEGAS Pro 18

Under

Select a version

, select the version of Sony Vegas Pro which you would like to try out

Under the

Select a purchase

option, choose

Free trial

Click on the blue

START DOWNLOAD

button on the right side of the page

After being redirected to a new page, check the

I am not a robot

box

When you see a green checkmark, click on the green

Start Download

button

Wait for the download to finish
You don't need to leave your credit card info when you sign up for the free trial version of Sony Vegas Pro.
Does the Service Automatically Renew Into a Paid Subscription?
Your subscription does not automatically renew after the 30-day free trial period ends.
If you want to use the full version of the program, you don't need to reinstall it—you only need to enter the serial number given to you by Sony Vegas once you purchase the license.
Avoid Automatic Renewal With DoNotPay Virtual Credit Card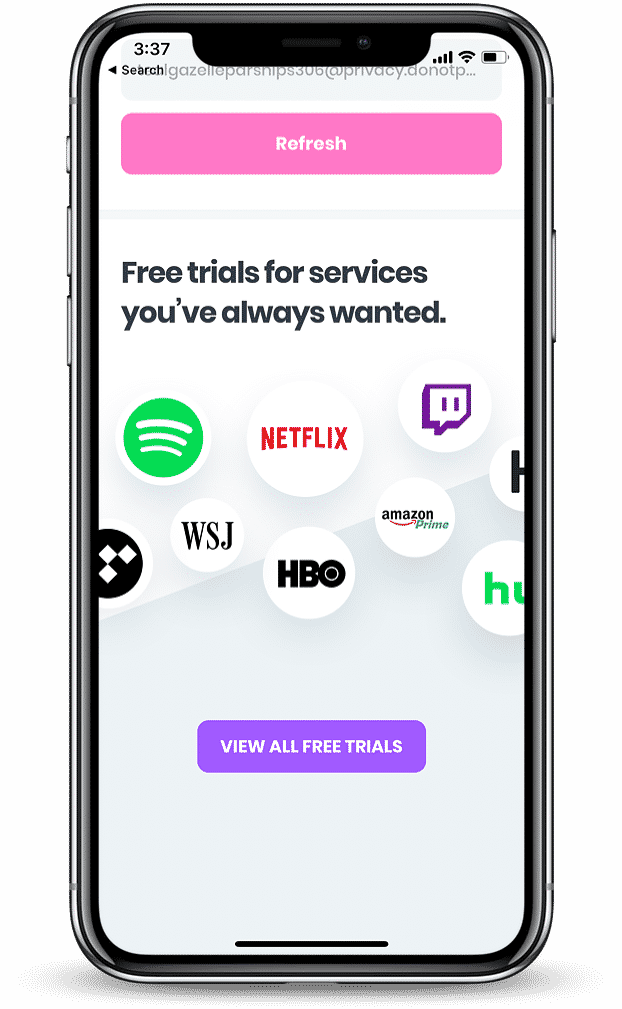 Even though Sony Vegas Pro is fair and will not make any attempts to trick you into subscribing, very few companies are equally trustworthy. Many of them use underhanded means to get to your money. Among all the dirty tricks they use, the most common is using the supposedly free trial to weasel into your wallet.
It has probably happened to you before—you sign up for a free trial, don't care for the service too much, and forget all about it until your bank statement shows a charge you didn't expect because you didn't read the small print. It happens quite often that people accidentally stay signed up for a service they end up not using. Don't let it happen to you!
To avoid getting charged for a service that you no longer want to use, use a virtual credit card instead of your real credit card.
DoNotPay has developed a magnificent new product called DoNotPay Virtual Credit Card.
Visit DoNotPay on your web browser and try it out!
The DoNotPay Virtual Credit Card is easy and wonderful to use. It works in the following way:
DNP produces a random number and generates new credit card info that you can use to subscribe to virtually any service

When the free trial expires, the service can't charge you because there is no money available on that card, so the service provider will automatically unsubscribe you from the service
You can learn more about DoNotPay's Virtual Credit Card and find out what other amazing services DoNotPay has to offer!
How Much Does Sony Vegas Pro Cost When The Free Trial Ends?
Sony Vegas Pro comes in different versions. Each of the versions contains different or enhanced features. The price depends on the version of the product that you decide to purchase. You can see the information about the products and price in the table below:
| | |
| --- | --- |
| Types of products | Price |
| VEGAS Pro Edit | $399 |
| VEGAS Pro | $599 |
| VEGAS Pro 365 | $19.99/month |
| VEGAS Pro Suite | $799 |
Vegas Pro 365
For Vegas Edit, Vegas Pro, and Vegas Pro Suite, you pay a fixed price when you pay for the product. Once you buy it, you don't have to pay a monthly membership.
For Vegas Pro 365, you can choose the payment plan that best suits your needs.
The payment plans are:
12 months/monthly payment
Sony Vegas Movie Studio
Sony Vegas offers a comprehensive product series called Movie Studio. The products contain state-of-the-art features. You can easily create picture-in-picture effects, arrange your clips, and find the most important part of your video before adding it to your project. It also supports 4k media, which allows you to import, edit, and publish in SD, HD, or Beautiful Definition.
This product is a must-have if you are serious about video making!
The following packages are for sale:
| | |
| --- | --- |
| Name of the product | Price |
| VEGAS Movie Studio 17 | $49.99 |
| VEGAS Movie Studio 17 Platinum | $79.99 |
| VEGAS Movie Studio 17 Suite | $139 |
You need to pay a fixed price shown in the table, and the selected product is yours without paying a monthly or annual membership.
Contact Sony Vegas Customer Support if You Have More Questions

If you feel overwhelmed and uncertain about which product or type or membership would best suit your interests and needs, you can contact Sony Vegas' Customer Service. You can contact them as a registered member on their website or as a guest.
If you have an account: 
Go to the

Home page

Click on the human-looking icon on the header

Select

I already have a MAGIX login

Type in your email address and password
If you don't have an account:
Repeat steps number 1 and 2

Select

I don't have a login and want to sign in 

Click on the blue

Proceed

button on the right

Fill in the registration form
You can also:   
Check out their FAQ page

Talk to an agent via live chat

Call this number: 1-608-424-4246
The Vegas Support team works from 1 p.m. to 5 p.m. EST, Monday to Friday.
Contacting Customer Service can be a real hassle sometimes. If the procedure annoys the hell out of you, feel free to ask DoNotPay for help! Our app can cut down the wait time when you're trying to get in touch with a customer support rep. Open DoNotPay in your web browser and our clever robot lawyer will hold the line in your stead and notify you when an actual human picks up the call.
What Else Can DoNotPay Do for Me?

DoNotPay is a state-of-the-art app that defends your interests and guides you through otherwise difficult processes. Our list of services is expanding quickly. Check out our page on your web browser and see how we can help you when it comes to:
Disputing traffic tickets

Fighting speeding tickets