A Step-By-Step Guide to Getting a
Northwestern Law Fee Waiver
Stress-Free
Northwestern Pritzker School of Law—also known as Northwestern Law—is Chicago's first law school and one of Northwestern University's professional graduate schools. 
If you want to apply to Northwestern Law but can't afford to pay the application fee, DoNotPay can assist you in requesting an application fee waiver as quickly as possible.
How Much Is the
Northwestern Law School Application Fee
?
Students need to pay $100 to apply to Northwestern Law, which makes it one of the most expensive school fees in the U.S. 
Interested in knowing how much some other law schools in the U.S. charge? Here's an overview of the most popular ones and their application fees:
Should I Get a College Application Fee Waiver?
If you want to apply to more than one school, you might be overwhelmed with all the college fees that you have to pay. You will probably spend around $500 on applications, which is a big chunk of money considering that you'll also have to pay for other college-related expenses, such as:
Test preparation

Travel expenses for on-campus visits 

Test scores you need to send to each school
Since the costs can pile up quickly, having your college application fees waived can be of significant help, especially if you live in a low-income family. 
How To Get a
Northwestern Law School Fee Waiver
Northwestern Pritzker School of Law grants fee waivers to any student who completes an online form before the first of December. The school wants to motivate potential candidates to submit their applications early by allowing them to apply for free. 
Once you submit the request, the Admissions Committee will generate the fee waiver code and email it to you. You should receive the code within three days of completing the form. 
Students who apply after the first of December should request a need-based fee waiver by completing the Juris Doctor (JD) Fee Waiver Application form. The form can be found on the Law School Admission Council (LSAC) website. 
Have you registered for the LSAC's Credential Referral Service? If your answer is yes and you meet the Northwestern Law Admissions Committee's requirements, the school might send you a fee waiver even if you didn't consider applying. 
Students who attend the school's fall recruiting events could also be offered an application fee waiver.
When you receive the fee waiver code, make sure to use it before its expiration date because you won't be granted another one.
How To Get a Law School Admission Council (LSAC) Fee Waiver 
To be eligible to receive the LSAC fee waiver, you need to have one of the following:
American, Canadian, or Australian citizenship

Permanent U.S. residence and an Alien Registration Receipt Card

The

Deferred Action for Childhood Arrivals (DACA)

immigration status 

Permanent residence or be a Convention Refugee in Canada
The process of requesting the LSAC fee waiver will depend on your citizenship:
United States citizens

Complete the fee waiver form through your

LSAC account

Include the following documents:

Make sure to send all documentation within 45 days of sending your fee waiver request

Canada citizens

Download the

fee waiver form

and complete it according to the provided instructions

Prepare your tax documentation

Send the form and required documentation by:

Australia citizens
Besides the Northwestern Law School application, the fee waiver also covers the following:
The LSAC fee waiver is valid for two years.
LSAC's Credential Referral Service Explained
Students who register for the Credential Referral Service (CRS) allow the following info to be shared with law schools:
Full name

Email address

Phone number

Biography

Academic and employment details

Law school preferences
Any law school can recruit you and offer a fee waiver for your application if you meet their requirements regarding your age, GPA, citizenship, LSAT score, etc.
Learn How To Get a
Northwestern Application Fee Waiver
for Other Undergraduate Schools
Suppose you don't want to enroll in Northwestern Law but are interested in other schools at Northwestern University. In that case, you'll need to pay $75 for the application fee.  
Students who live in a low-income household can request a Northwestern fee waiver in a few ways:
Through the Common App 

By sending an email to Northwestern University

With DoNotPay
If you plan to use the Common App to apply for multiple schools, you've probably noticed that it features a fee waiver option. Northwestern University is one of the 900 member colleges that allows the students to waive their application fees through the Common App.
You can also send an email to the university at ug-admission@northwestern.edu and include the following info:
Name

Date of birth

Common App ID number 

Email address
Once you complete this step, head over to the Common App. Indicate that you have submitted a request via email under the Northwestern-specific question field.
Want to avoid wasting time with complex procedures? Rely on DoNotPay's helpful tool and request a fee waiver as effortlessly as possible.
DoNotPay Helps You Request an Application Fee Waiver for Any College Fast and Easy
Regardless of the university you wish to apply to, DoNotPay has the best solution for students who hope to waive the application fees. Our convenient tool allows you to spend less than two minutes completing your request for the following fee waivers:
New Student Application

Transfer Student

Enrolment Deposit
If you want to waive your college fees quickly and save both time and money, sign in to your account from a web browser, and follow these steps:
Click on our

College Application Fee Waiver

tool

Choose the fee you want to wave

Select the college you want to apply to and respond to our questions about your financial situation

Tell us if you need to get your counselor's signature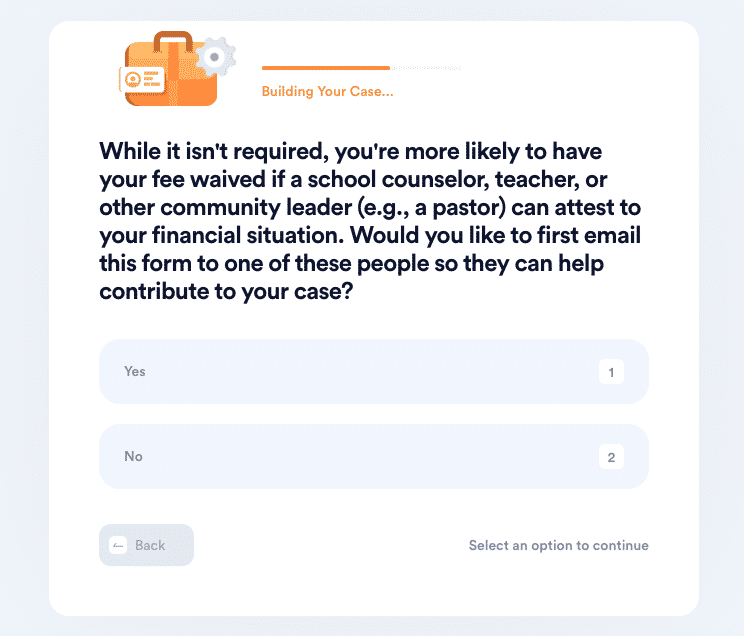 Besides completing the required fee waiver form on your behalf, DoNotPay will also compose an email and send it to your guidance counselor or desired university. 
Dealing With Other Bothersome Issues? Take a Look at Other DoNotPay Features!
Signing up for services such as Chegg, Mathway, and Study Edge can be useful when dealing with homework issues, but most platforms can be super challenging to cancel. Are you still subscribed to services that you use rarely or never? If you're not sure how to unsubscribe, rely on DoNotPay. We will help you terminate any membership in a few clicks.
DoNotPay can also help you use Grammarly and Turnitin for free while writing the college essay and ensure you don't get charged once the trial ends. To take advantage of these and many other handy features, open your account in a web browser and rely on us when you want to:
Contest traffic tickets

Fight speeding tickets