Everything You Need To Know About a Georgetown Law Fee Waiver and How To Get It
Georgetown Law is one of the oldest law schools in America and the second-largest regarding enrollment. The school has been one of the Top 14 (T14) law schools in the U.S. News ranking since 1987.
If you want to apply to Georgetown Law but would like to avoid paying the application fee, you should consider getting a fee waiver.
Why Do I Need a College Application Fee Waiver?
The first issue students notice when researching their desired colleges is how pricey universities in the U.S. are. Besides having to pay enormous amounts of money on books, tuition, and housing, students also have a lot of other expenses, such as:
Preparations for tests

Travel expenses for on-campus visits
Considering that most students apply to around seven schools, they can spend hundreds of dollars on college fees, which is a lot. If you're worried about not being able to afford everything, you can request to have the college application fees waived.
How Much Is the Georgetown Law School Application Fee?
Georgetown Law charges $85 for the application fee. You can try to waive your fees as the school offers three types of fee waivers:
Merit-based

Need-based

Service-based
You can apply for all these waivers, but the school advises students to wait to hear the result of their first request before applying for an alternative one.
Two main rules regarding a Georgetown Law School application fee waiver are:
Students who received a fee waiver before and used it to apply to Georgetown Law for free won't be able to get it again

If a student was granted a fee waiver in the past but didn't apply to Georgetown, he or she can try to waive the fees again
How To Get a Georgetown Law Application Fee Waiver
To request a college application fee waiver, you need to fill out a form on the Georgetown Law website. The form and document requirements are different for each type of fee waiver.
How To Get a Merit-Based Georgetown Law School Fee Waiver
If you want to apply for a merit-based fee waiver, you need to complete the required form on the website.
Besides providing the basic info such as your full name, GPA, email, and program you're applying for, you'll also need to type in your GRE and LSAT scores. You won't be able to get a merit-based fee waiver before taking one of those two tests and receiving your score.
If you only have a GMAT score, you aren't eligible to receive this type of fee waiver.
How To Get a Need-Based Georgetown Law School Fee Waiver
To request a need-based fee waiver, fill out the form on the Georgetown Law website. You'll need to enter your personal info and answer a few questions about your financial status.
You also have to provide information about every living parent regardless of your age or financial independence. Students who can't provide these details can briefly explain the reason in the form.
You can also attach documents such as your tax report or any other proof that you need financial aid. This step is not mandatory, but it could increase your chances of getting the application fees waived.
How To Get a Service-Based Georgetown Law School Fee Waiver
Service-based fee waivers can be requested by filling out the appropriate form. This type of fee waiver covers the following programs:
You'll be asked to provide proof of service:
| | |
| --- | --- |
| Program | Required Documents |
| Military | Office brief or duty orders signed by a Commanding Officer (Military I.D. is not sufficient) |
| TeachForAmerica | Official TFA letterhead signed by a supervisor or TFA administrator |
| Peace Corps | Official Peace Corps letterhead signed by a supervisor or Peace Corps administrator |
| Truman Scholars | Document or certificate on official letterhead |
Georgetown Law will contact you if you need to provide additional documents.
The following programs are not covered with a Georgetown Law School fee waiver:
Americorps

Jesuit Volunteer Corps Service

NYC Teaching Fellows
How To Get a Fee Waiver for Other Colleges in the U.S.
If you want to apply to other colleges, you should visit their websites to check if they have any special requests regarding the fee waivers.
Most colleges send their application fee waiver forms to high schools, so there's a good chance that your guidance counselor has it. He or she can explain how to complete the form and determine whether or not you're eligible, depending on the requirements of your desired school.
Another option is to visit the Common App portal and check if the college you want to apply to is a member. If it is, you'll be able to send your application and request a fee waiver through the Common App. One of the flaws of this platform is that it doesn't cover all colleges in the U.S.—you can use it for only around 900 member schools.
DoNotPay offers the best solution to get a college fee waiver not only for Georgetown Law but for any university in America, including Princeton, Boston University, and the University of Michigan.
Request Your Georgetown Law Fee Waiver With DoNotPay and Save Time!
Want to get your college application fees waived as effortlessly as possible? DoNotPay has a solution for you.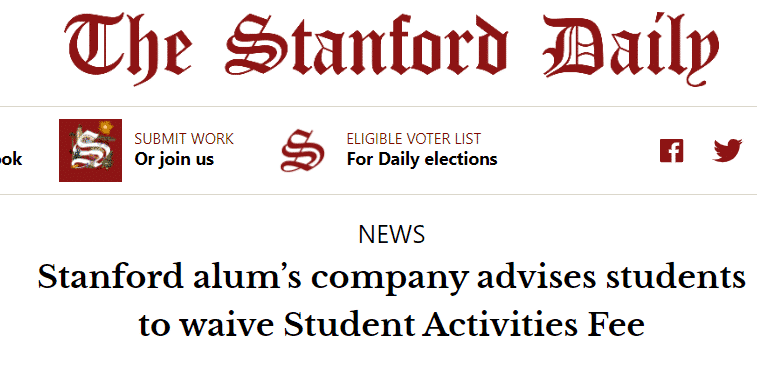 Once you sign in to your DoNotPay account from a , take advantage of our helpful feature by following these steps:
Pick the

College Application Fee Waiver

option

Choose the fee you want to waive:

New Student Application

Transfer Student or

Enrollment Deposit

Select the college you want to apply to

Answer a few questions regarding your financial situation

Tell us if you need to get your counselor's signature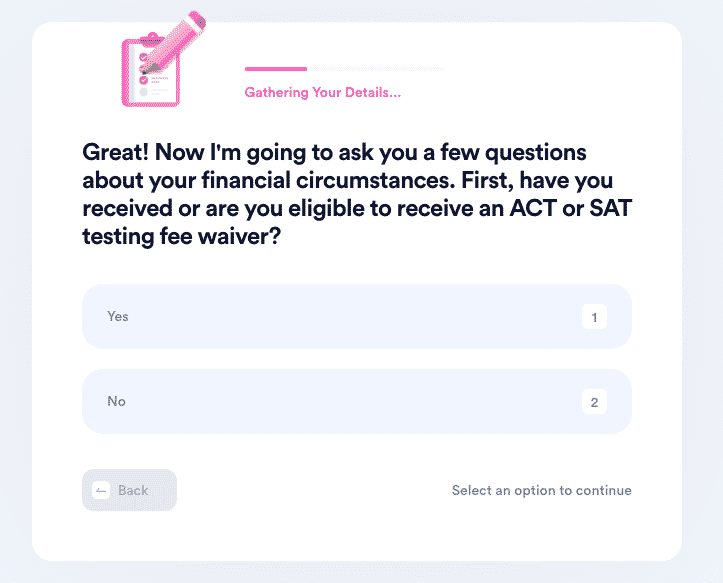 Once you submit the request, DoNotPay will:
Complete the fee waiver form

Compose a formal email

Send the form to your guidance counselor if you need to obtain the signature

Email the form to the university in question
DoNotPay enables a quick and easy way to get your fees waived when applying to Harvard, Stanford, Northwestern, or any other law school in the U.S.
DoNotPay Can Help Students Deal With Many Other Issues!
If you think that our College Application Fee Waiver tool is impressive, you should check out some other awesome features that DoNotPay offers. We can help students all across America terminate their subscriptions to student-oriented services such as Chegg, Study Edge, and Mathway.
Got some student loan bills you need to handle? DoNotPay is at your disposal! Open your account in a and take care of any other annoying issue effortlessly. We can assist you with:
Appealing speeding tickets

Disputing traffic tickets