Secrets Behind the Colorado Notary Law
Understanding the notarial procedures isn't easy. We are here to explain how the Colorado notary law works and tell you all about remote online notarization!
for straightforward guides on how to get documents notarized effortlessly!
Understanding the
Colorado Notary Law
Colorado notary law has changed over the years. Notarizing documents used to require an in-person visit to a notary public, and there was no other way to finish the process.
It all changed in 2020 during the COVID-19 pandemic when the State of Colorado allowed temporary online notarization. Remote notary law became fully effective on December 31, 2020, and now, notaries throughout the Centennial State can perform online notary services at any time.
Colorado Notary Law
—Remote Online Notarization
Colorado remote notarization law requires the notaries to use real-time audio and video communication. Both the signer and the notary have to participate in the process simultaneously and provide their digital signatures.
To perform remote notarization in Colorado, notaries also have to:
Be approved by the

Colorado Secretary of State

Use an approved communication provider

Record and keep the audio and video file of the meeting

Be located in Colorado during the signing process
What Can Be Notarized According to the
Colorado Notary Law
?
Notaries are independent officials appointed by the government to authenticate signatures on various legal documents to help prevent fraud and forgery. The main tasks a notary performs are:
Verifying the signer's identity

Checking whether the signer is of sound mind during the signing

Witnessing the signing of documents

Notarizing documents by placing their

signature

and official stamp
Notaries in Colorado can notarize a variety of documents, including legal forms, business contracts, and financial papers. Check out the table below to see what documents usually require notarization:
Legal Documents
Business Documents
Financial Documents

Trusts

Court documents

Advanced directives

Executorships

Custody and guardianship agreements

Employment contracts

Articles of incorporation

Memorandums of understanding

Construction and loan agreements

Vendor contracts

Commercial leases

Loan documents

Property deeds

Mortgage closing documents
Some documents cannot be notarized, such as birth and death certificates, photographs, and documents with blanks or missing pages.
What Other Notarization Methods Does
Colorado Notary Law
Allow?
Besides the standard in-person notarization, here are the notary services allowed in Colorado:
Colorado Notary Law
—Notary Fees
In Colorado, a notary is allowed to charge a maximum fee of $5 for standard notary service. The notary fee includes receiving evidence of the signer's identity and the notary's stamp and signature.
The fee is different for remote online notarization (RON). Colorado notaries can charge up to $10 for RON.
DoNotPay Connects You to a Remote Notary Fast!
DoNotPay provides the easiest online notary service in Colorado! We help you schedule a meeting with a remote notary in a few minutes.
You can use our app at any time of day or night and from any U.S. state. In case remote notary law is not passed in your state, DoNotPay will connect you to an out-of-state notary who will handle the notarization. Here's how it works:
Select the

Notarize Any Document

feature

Attach your documents and give us your email address
We'll send a direct link to a notary meeting timetable by email, and you can book an appointment quickly!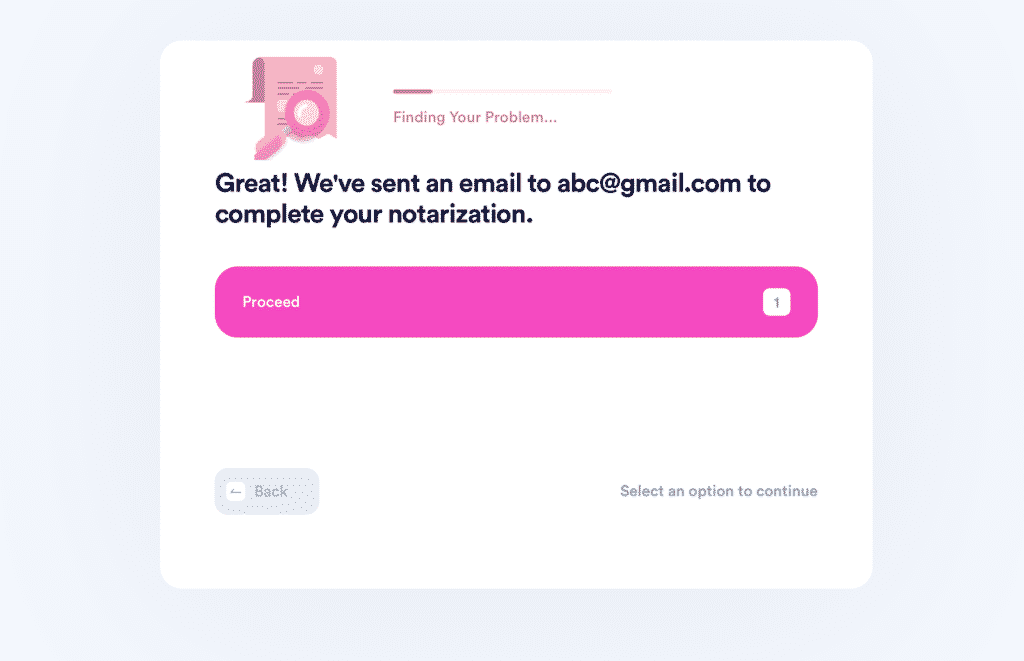 A notary will witness the signing process over a video call and add a digital stamp and signature.
If you need additional info about notarization, DoNotPay has the updated intel! We explain where to find a notary, what notaries do, whether you need to get a contract notarized, whether there is a 24-hour notary, how to notarize diplomas, forms, and letters, and much more!
DoNotPay Does More Than Help With Notarization!
DoNotPay offers another feature that you may find super useful—the Standardized Legal Documents tool. It's a quick way to draw up a contract that you can also get notarized and fax from the same app!
Here is a list of documents we will generate for you in minutes:
Business Contracts
Other Contracts

Non-Disclosure Agreement

Independent Contractor Agreement

Bill of Sale

General Business Contract

Non-Compete Agreement

LLC Operating Rules Document

Residential Lease Agreement

Intent To Purchase Real Estate

Estoppel Certificate

Quitclaim Deed

General Affidavit

Promissory Note

Prenuptial Agreement

Parenting Plan (Child Custody)
Say No to Spam and Unnecessary Paperwork
If your inbox, mailbox, or to-do list is overflowing, our app is exactly what you need! Check out ways to declutter your life:
You can have your cake and eat it too—DoNotPay makes it possible to cut down on unnecessary red tape and save you money—all in one full swing. We can help you overturn your parking tickets, apply for a college fee waiver, uncover missing money, submit a FOIA request, and much more.
Discover Numerous Fast and Easy Solutions
DoNotPay is all about helping you through a complicated task by coming up with simple solutions: