Cornell Application Fee—Everything You Should Know
Cornell University is a big name among the Ivy League schools. It has almost 25,000 students in seven undergraduate colleges and the same number of graduate divisions.
If you are interested in the universities of this class, you are probably already aware of the expensive tuition and college fees that accompany them.
In case you have a scholarship, these costs can be lowered or removed. Before you embark on the uni journey, you will have to deal with application fees. DoNotPay can help you out with them!
What's the Deal With College Application Fee Waivers?
The more expensive the tuition, the more expensive the application fee. This means you will have to spend larger amounts of money applying to private universities than public ones.
Sometimes this sum is $30, but usually, you should count on $50+. Whatever the cost of this fee, if you apply to multiple universities, the total will not be small.
This presents an issue if you come from a low-income family. Thankfully, fee waivers exist for this reason! Only people who meet certain requirements set by the school may request them. You should be wary of the way you ask for your fees to be removed because you can end up entangled in a complicated process of obtaining one.
To sail through the procedure, you should choose DoNotPay!
What Is the Cost of the Cornell University Application Fee?
Undergraduate students have to pay an application fee of $80 to Cornell. Graduate students need to spare even more money—$105. The situation is no different in other Ivy League Schools. Take a look at the table below to see their application fees:
You won't have to spend a dime for any of these schools if you turn to DoNotPay for help.
Use DoNotPay To Obtain the Cornell Application Fee Waiver
Requesting fee waivers is the simplest task when using DoNotPay. Let your virtual assistant help you with the Cornell or any other college or university application fee. We have a large database of schools across the U.S., so you can request fee waivers without worrying about whether we can help you out.
It doesn't matter if you are a new or transfer student or want to get an enrollment deposit fee—we can waive them all.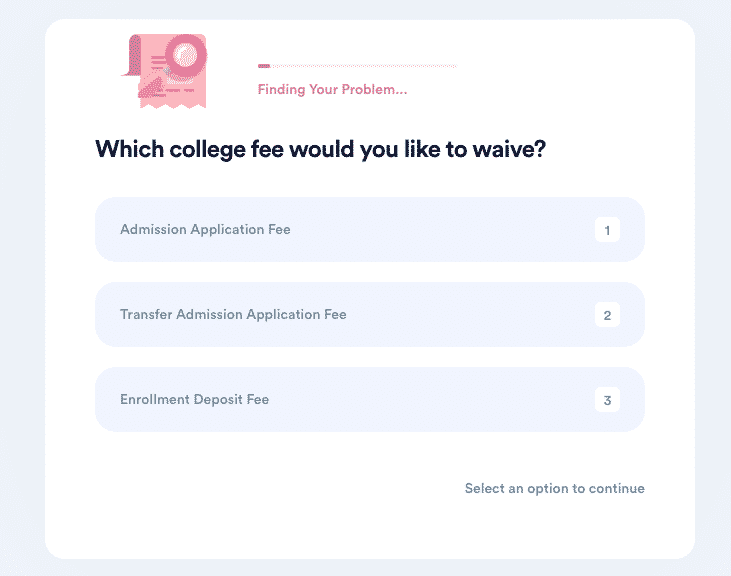 You'll only need to access our app from a and follow these simple steps:
Find and choose the

College Application Fee Waiver

feature

Select the fee you want to waive

Pick

Cornell University

as the school you are applying to

Answer a few questions about your financial status

Inform us if you need a signature from your school counselor
Once you're done with completing this simple form, we will handle the rest. You don't have to trouble yourself with the mailing process—DoNotPay will send the form directly to Cornell's financial aid office.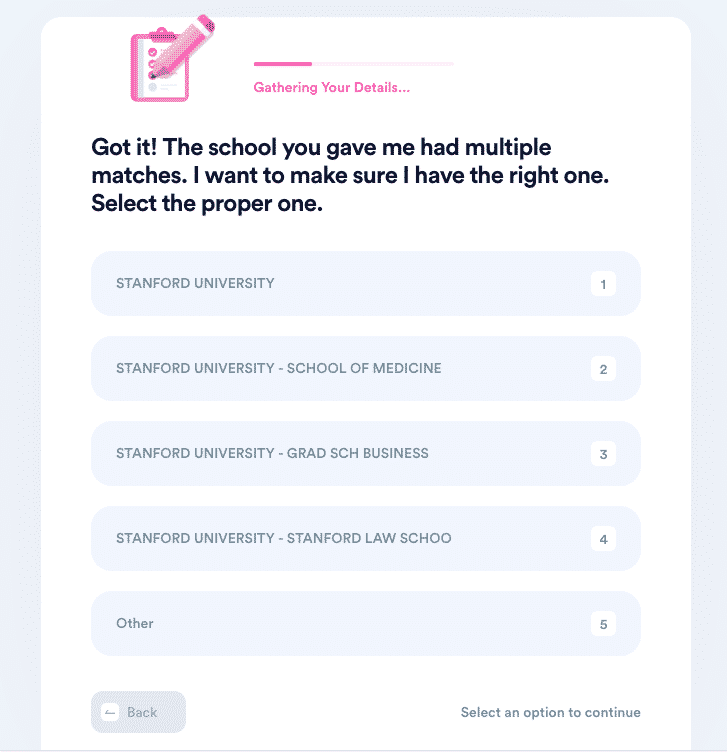 Who Can Request an Application Fee Waiver From Cornell?
Both graduate and undergraduate students can request fee waivers from Cornell if they experience financial hardships. These are some of the criteria:
Being unemployed

Being underemployed

Participating in programs that help students with low incomes

Receiving public assistance

Being homeless

Being an orphan

Coming from a country with tough economic conditions

Having an

Expected Family Contribution (EFC)

from

FAFSA
Grad students may also ask for fee waivers if they are participants of certain programs. Here are some that can make you eligible for a fee waiver:
How To Get an Application Fee Waiver From Cornell on Your Own
You can request a fee waiver manually in a few ways. You can see the available options in the list below, but each one is more complicated and time-consuming than DoNotPay.
These are your choices:
The

College Board

Request for Waiver of College Application Fee form

The

NACAC

Application for Fee Waiver Form

Email

Letter

Phone
How To Request an Application Fee Waiver From Cornell Using the Common App
You can apply to Cornell via the Common App and fill out the questions regarding the fee waiver there. This is what you'll need to do:
Set up your account

Navigate to the

Profile

link

Choose the

Common App Fee Waiver

feature

Answer a plethora of questions about your financial status

Submit your request
How To Request an Application Fee Waiver From Cornell via the College Board Fee Form
You can get the College Board fee request form if you got the ACT or SAT fee waiver in the past. You can obtain it from your college advisor or guidance counselor and present it to Cornell. Your fee will be waived automatically.
How To Request an Application Fee Waiver From Cornell via the NACAC Fee Form
You can request a fee waiver from Cornell if your guidance counselor or college advisor completes the NACAC form. You will then need to submit the form to the school as proof.
How To Request a Fee Waiver From Cornell via Email, Letter, and Over the Phone
In case you are unable to request a fee waiver with any of the previously mentioned ways, Cornell leaves you with the choice of getting in touch with the Undergraduate Admissions Office by:
Calling

607-255-5241

Sending a letter to

Undergraduate Admissions Office, Cornell University, Application Processing Center, East Hill Plaza, 349 Pine Tree Road, Ithaca, NY 14850-2899

Sending an email to

undergradapp@cornell.edu
You will need to explain your situation and reason for not submitting the application online. You also have to tell them about your financial status and explain why you need your fee to be waived.
Tired of Bureaucratic Issues? Use DoNotPay To Fight Them
If you are leading a busy life in the Empire State, you should use DoNotPay to handle tedious administrative tasks in the shortest time. Perhaps you want to cancel your subscriptions with companies, such as The New York Times, The New Yorker, or New York Daily News? We've got you covered.
The world's first robot lawyer can also help you renew your driver's license or appeal parking citations in NYC.
Maybe you are wondering what the penalty for harassment in NY is? We have the answer.
In case you are looking to apply for clinical trials in NYC, we can assist you in finding the perfect match for your needs as well.
Open DoNotPay in your , and let us manage tasks like:
Disputing speeding tickets

Fighting traffic tickets