Want To Save on Your UPENN Application Fee? Find Out How To Get Your Application Fee Waived
The University of Pennsylvania is one of the most advanced research universities in the States, specialized in fields such as medicine, business, technology, and science. Diverse programs, various student organizations, and extracurricular activities make UPENN one of the most attractive schools in the U.S. It is also one of the most selective universities, with an 8% acceptance rate. 
If you are unsure whether you will be admitted or want to explore other options, you should find a way of reducing your application costs. Getting an application fee waiver will save you a lot of money and allow you to apply for more backup colleges. DoNotPay is here to explain what the application fee waivers are and offer assistance in getting them.
What Is an Application Fee Waiver and Why Should You Get One?
When applying for a college or university, you must pay an application fee. The costs of college application fees vary from university to university. Most don't exceed $50, while Ivy-League colleges, the University of Pennsylvania being one of them, can charge up to $90 for applying. Add that amount to other expenses—on-campus visits, taking standardized tests, and sending test scores to universities—and you are looking at hundreds of dollars for applying to just one college.
Most universities offer the possibility of getting the application fee waiver if the applicant can prove financial hardship. Each school has its own set of requirements for students who want to apply for free. 
The Cost of University of Pennsylvania Application Fee
The application fee for the University of Pennsylvania is $75. UPenn is considered an Ivy-League university, which is why the application fee is one of the highest. Here is a table of other prestigious colleges and universities with high application fees:
The application deadline is January 15. The application fee for UPenn is non-refundable, so make sure to email admissions@gse.upenn.edu and ask for an application fee waiver before you submit your application.
Am I Eligible for the UPENN Application Fee Waiver
UPenn allows students who face financial setbacks to apply for a fee waiver. To qualify, you should meet the following criteria:
Being granted a fee waiver for taking the SAT and ACT automatically makes you eligible for receiving a college application fee waiver.
How Does UPenn Provide Financial Assistance to Students?
The University of Pennsylvania offers all kinds of financial assistance to students beyond the application fee waiver. 
If you apply for financial aid and prove that your family's income is not sufficient to cover the costs of attending the university, UPenn can help with the following:
Tuition fees

Application fees

Housing

Food

Transportation

Allowance

Books and other supplies
The costs UPenn handles are based on grants and school funds, so you don't have to pay the money back once you graduate.
How To Apply for the University of Pennsylvania Fee Waiver on Your Own?
You can apply for a University of Pennsylvania fee waiver by accessing the fee waiver section on Common App or Coalition App. Here's how to do it:
Common App
Access the

website

 

Click on the

Create My Account

button in the upper right corner

Select

First Year Student

Provide the necessary information to create a

Profile

Click

Yes

to indicate that you qualify for a fee waiver 

Select every field that contains a statement that applies to your financial situation

Provide your e-signature in the required field
You will receive a reminder that your school counselor needs to verify your financial situation. If you got a fee waiver for your SAT or ACT, the counselor should only sign off the form. If not, you will have to provide proof that you meet the criteria for a fee waiver. 
Coalition App
Click on

MyCoalition

to create an account 

Access the

Free Waiver

questions on the

Profile

section of your account

Select every field that corresponds to your financial situation 

Choose

Add to List

next to college names 
Your guidance counselor will receive your fee waiver request. After they approve, the confirmation will be sent to colleges you want to apply for via the app.
Use DoNotPay To Get the UPENN Application Fee Waiver in No Time
We are aware of the difficulties students go through when trying to manage college expenses. DoNotPay is here to simplify the process and take the burden off student's backs. 
There are three types of fee waivers we can help you get:
New Student Application Fee Waiver

Transfer Student Fee Waiver

Enrollment Deposit Fee Waiver
The world's first robot lawyer can assist in requesting the application fee waiver for any college, thanks to our extensive database of all universities and colleges across the States. We will even fill out the form and mail it on your behalf. You are all set once you complete the following steps:
Open DoNotPay in your

web browser

 

Select the

College Application Fee Waiver

option

Choose UPENN and answer a couple of questions about your financial status

State whether you need a guidance counselor's signature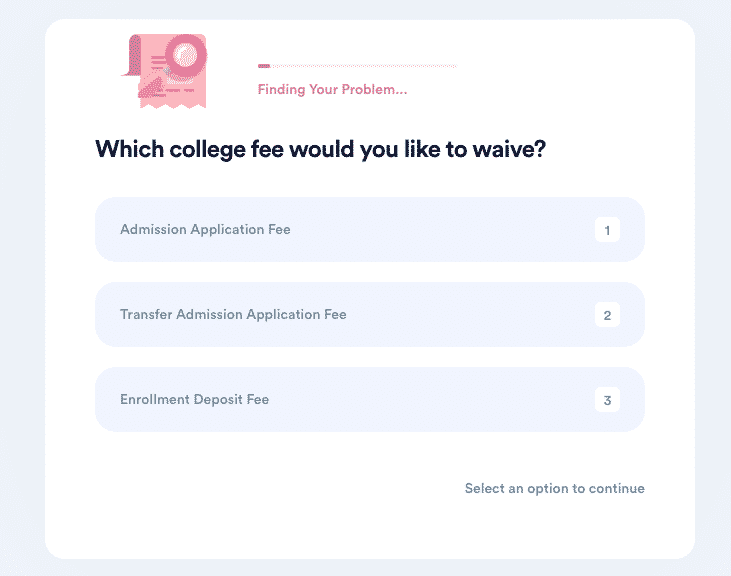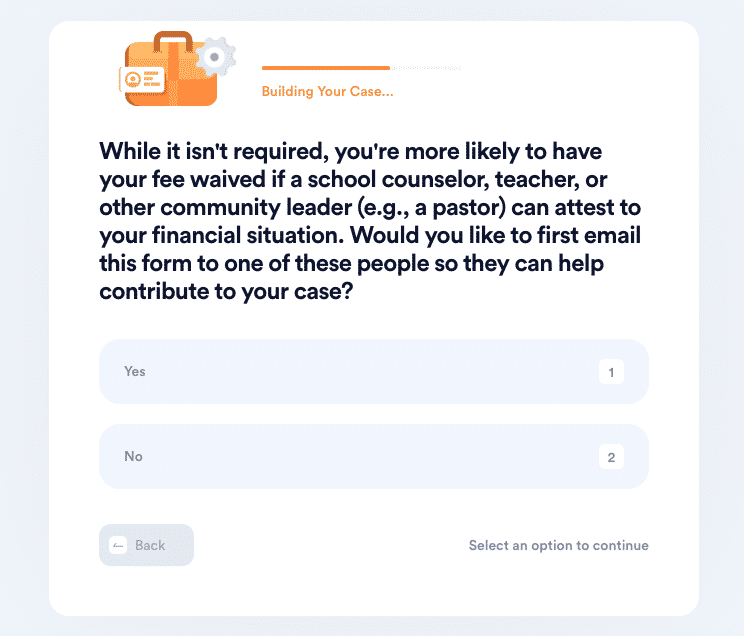 Your job is done! DoNotPay will automatically fill out the form and send it to your counselor, in case you need their signature. If not, the form will be sent to the university's financial aid office.
Let DoNotPay Deal With Bureaucracy on Your Behalf
Are you tired of dealing with bureaucratic issues? DoNotPay is here to help you solve them efficiently. If you are interested in learning more about Pennsylvania laws and how to deal with harassment in this state, we can show you the ropes. In case you need help paying your electric bills, we will show you how to get an extension. 
We can help you waive fees for other universities, such as the University of Texas at Austin, Georgetown Law, or Virginia Tech.
We offer the easiest way of applying for clinical trials and will assist in contesting parking tickets in Philadelphia. 
Open DoNotPay in any web browser and get assistance with:
Appealing speeding tickets

Disputing traffic tickets