Check Your Rubio's Gift Card Balance in a Heartbeat
Many people tend to get rid of used gift cards because they're not sure if they can use them again. If you found your card from Rubio's and don't know if there's any money left, don't throw it away!
In this article, you'll find instructions on how to check your Rubio's gift card balance swiftly and convert it to cash hassle-free!
Rubio's Gift Cards—All You Need To Know
Rubio's Coastal Grill offers two types of gift cards—physical and digital (e-Gift cards). They can be purchased in any Rubio's restaurant or on the website. Here's all you need to know about these gift cards:
They can be redeemed for food and drinks at any Rubio's restaurant location (except casinos)
You cannot redeem them online
They can be used for:

Dine-in
Take out
Catering orders

They are reloadable
You cannot redeem or return them for cash
How To Check Your Rubio's Gift Card Balance
You can do your Rubio's gift card balance check in three ways. Consult the following table for the methods and specifics:
Rubio's Balance Check Method
Details
Via phone
To check your Rubio's gift card balance over the phone, here's what you should do:

Call 1-866-964-4839
Inform a customer support agent that you want to check the balance on your gift card
Provide the necessary information (card number and PIN) and follow their instructions

In person
If you want to do a balance check in person, you should:

Find the nearest Rubio's restaurant—you can use their store locator
Take the gift card (if it's physical) and visit the restaurant
Inform an employee about your request
Give them your card or provide them with the information they need (number and PIN) if it's an eGift card

After completing these steps, you should wait for the employee to check your balance and notify you about the remaining funds

Online
The easiest way to check your Rubio's gift card balance is to do it online. Here's what you need to do:

Visit the Rubio's official website
Scroll down to the bottom of the homepage
Choose Gift Cards
Click on Check Gift Card Balance Online
Type in the 19-digit gift card number and six-digit PIN
Confirm that you're not a robot
Hit the Check Balance button
Use DoNotPay for a Quick Check of Your Rubio's Gift Card Balance
We offer a super-easy way to figure out how much money you have on your Rubio's gift card. All you are supposed to do is and:
Choose our Check Gift Card Balance option
Upload photos of both sides of your card
Verify your email address
Our AI-powered technology will check your balance and let you know as soon as possible.
What Can You Do After Checking Your Rubio's Gift Card Balance?
Once you perform your Rubio's gift card balance check, you should decide what to do with the remaining balance (if there's any money left). Here are some ideas:
Get a tasty meal—Spending funds from a Rubio's gift card is easy. You can get tacos, nachos, burritos, or any other delicious dish. The best part is that this card doesn't expire, so if you don't feel like eating there at the moment, you can hold onto the card and get dinner some other time
Reload the card—Rubio's allows you to reload your gift card, so if there's not enough for the whole meal, you can add extra money by visiting the nearest restaurant location
Give the card to someone—If there's a substantial amount of money left on your gift card and you no longer want to use it, you can give it to someone as a present
Trade it—This is a great option if you want to use a card from a different store or restaurant. You can find a gift card exchange group online (on Reddit or Facebook) and get in touch with someone who wants a card from Rubio's
Sell it—The restaurant doesn't state that you cannot sell your card, which leaves you that option. You can put your gift card for sale on eBay, Craigslist, or another online marketplace. This way, you can even earn extra money if you got your card as a present or for free
Can You Get Cash Back From a Rubio's Gift Card?
According to the restaurant's policy, you cannot redeem your gift card for cash unless required by law. This refers to the cash back policy that obligates companies and restaurants to give the clients their unused gift card funds if required. Locations in the U.S. that have this policy include:
Massachusetts
Rhode Island
Connecticut
Washington
New Jersey
Puerto Rico
California
Colorado
Vermont
Missouri
Oregon
Maine
Is your state not on the list? Don't fret! Sign up for DoNotPay to get your cash back no matter where in the States you live!
Use DoNotPay To Retrieve Unused Money From Your Rubio's Gift Card!
Retrieving unused money from a gift card can be unnecessarily complicated sometimes. That's why we created the Gift Card Cash Back product!
With DoNotPay, you can get the remaining funds from any gift card in three simple steps. All you need to do is:
Choose the Gift Card Cash Back product
Answer our chatbot's questions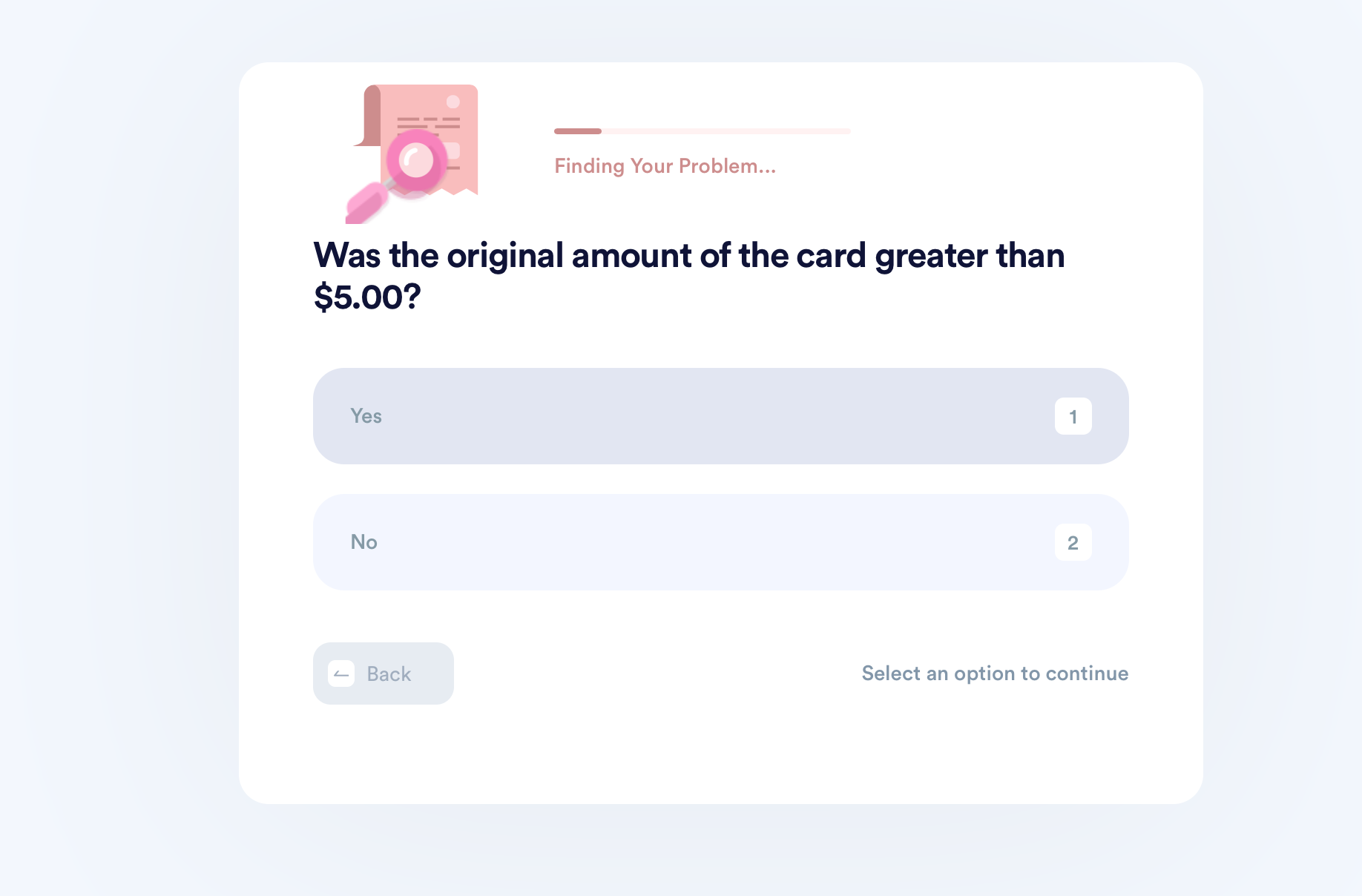 After sending your request to Rubio's, you can expect to receive your cash or check within the next two weeks.
Rubio's is not the only restaurant we can help you request cash back from! Here are some of the many places we can assist you with:
Outsmart Big Corporations by Using DoNotPay
Our platform is always on the side of regular people, and the number one item on our agenda is fighting for your rights.
If you need help requesting refunds for faulty products, late parcels, or canceled flights, you can turn to DoNotPay for help. Protect your privacy and stay one step ahead with our spam email collector, burner phone numbers, and virtual credit cards.
We will provide you with everything else you need in your fight—online fax, mailing service, and products for drafting legal documents and having them notarized online.
Improve Your Leisure Time Too!
You can win some serious battles with the help of DoNotPay—after all, our app can even get you ready for small claims court—but we offer numerous useful features that will improve the quality of your entertainment.
Signing up for free trials doesn't come with the risk of losing money anymore, and if you get bored with that new streaming service, you can easily cancel it using our app.
If entering raffles is your idea of fun, you'll be glad to know we can help you participate in all kinds of these games of chance. You can also review your knowledge using our government tests prep quizzes or retrieve any unclaimed money under your name and spend it on something fun!