How To Check a PacSun Gift Card Balance—A Step-by-Step Guide
Do you have a PacSun gift card that you used and forgot about? Don't throw it away because there might be some leftover funds on it.
In this article, we'll show you how to:
Check your PacSun gift card balance
All About the PacSun Gift Card
There are two types of PacSun gift cards:
Classic gift cards
Electronic or e-Gift cards
Regardless of the type, you can redeem your card in PacSun stores and on the official website. You can choose a preloaded gift card in the amount of $25, $50, $75, $100, or $150 or specify the amount you want between $5 and $500. They are redeemable for merchandise only. Store credit is not transferable.
You can get a replacement for a lost or stolen gift card only if you have proof of purchase and some unused funds on it. If you want to resell your PacSun card, you'll need written permission from the company. PacSun gift cards can be redeemed for cash, but this policy varies from one state to another.
How Can I Check My PacSun Gift Card Balance on My Own?
PacSun lets you check your gift card balance online. Here's what you should do:
Visit the PacSun official website
Scroll down to the bottom of the homepage
Find the Account & Services section
Select Gift Cards
Scroll down to find the Gift Card Balance section
Input your 19-digit gift card number and four-digit PIN
Hit Check Balance
Other Ways To Check Your PacSun Gift Card Balance
If you prefer someone else to check your gift card balance for you, here are your options:
Call customer support
Ask a cashier

Use DoNotPay
Checking a PacSun Gift Card Balance Over the Phone
You can find out the amount of money left on your PacSun gift card by contacting customer support. Do that by calling 800-560-7166. Prepare the gift card number and PIN and give the information to the customer support representative once you get ahold of them. They will check your gift card balance and notify you.
Checking a PacSun Gift Card Balance in the Store
If you're already thinking about going to a PacSun store, you can check your gift card funds there. Use the store locator to find the nearest one, head over there, and ask a cashier or salesperson about your card balance.
Don't forget to bring your gift card so that you can provide the required information.
Checking a PacSun Gift Card Balance With DoNotPay
If you opt for DoNotPay, you won't have to talk to a cashier or customer support rep. We'll reach out to PacSun on your behalf and find out all you need to know about your remaining gift card balance. Here's how to get started once you :
Select the

Check Gift Card Balance

tool

Upload photos of your PacSun gift card (front and back)

Confirm your email address
DoNotPay will get all the info and email it to you as soon as possible.
What Can I Do With the PacSun Gift Card Remaining Balance?
Did you find any remaining money on your PacSun gift card? Here's what to do with it:
Reload the card—PacSun allows you to add value to a plastic gift card only. You can do this in a store. Once you have enough funds, you can continue shopping for your favorite teen and young adult apparel
Resell it—As stated in the PacSun terms and conditions, you can resell your gift card if you have written permission from the store. Once you acquire the authorization, you can put your card up for sale on an online marketplace, such as eBay or Craigslist
Exchange it for another—If you don't want to use your PacSun gift card anymore, you can trade it for another one. Find a gift card exchange group or website and ask if someone wants to swap cards with you
Redeem it for cash—According to the company's terms and conditions, the cards can be cashed out if requested, but not everywhere. This is due to the fact that gift card laws are different in each state. If you sign up for DoNotPay, you can get your cash back regardless of where you live
Get Your PacSun Gift Card Cash Back With DoNotPay's Help!
Getting your gift card cash back is never an easy task. It is possible only in 12 U.S. locations, and even there, you can come across some obstacles. If you don't want to explain your customer rights and the cash back policy to an unaware cashier, DoNotPay has the right product for you!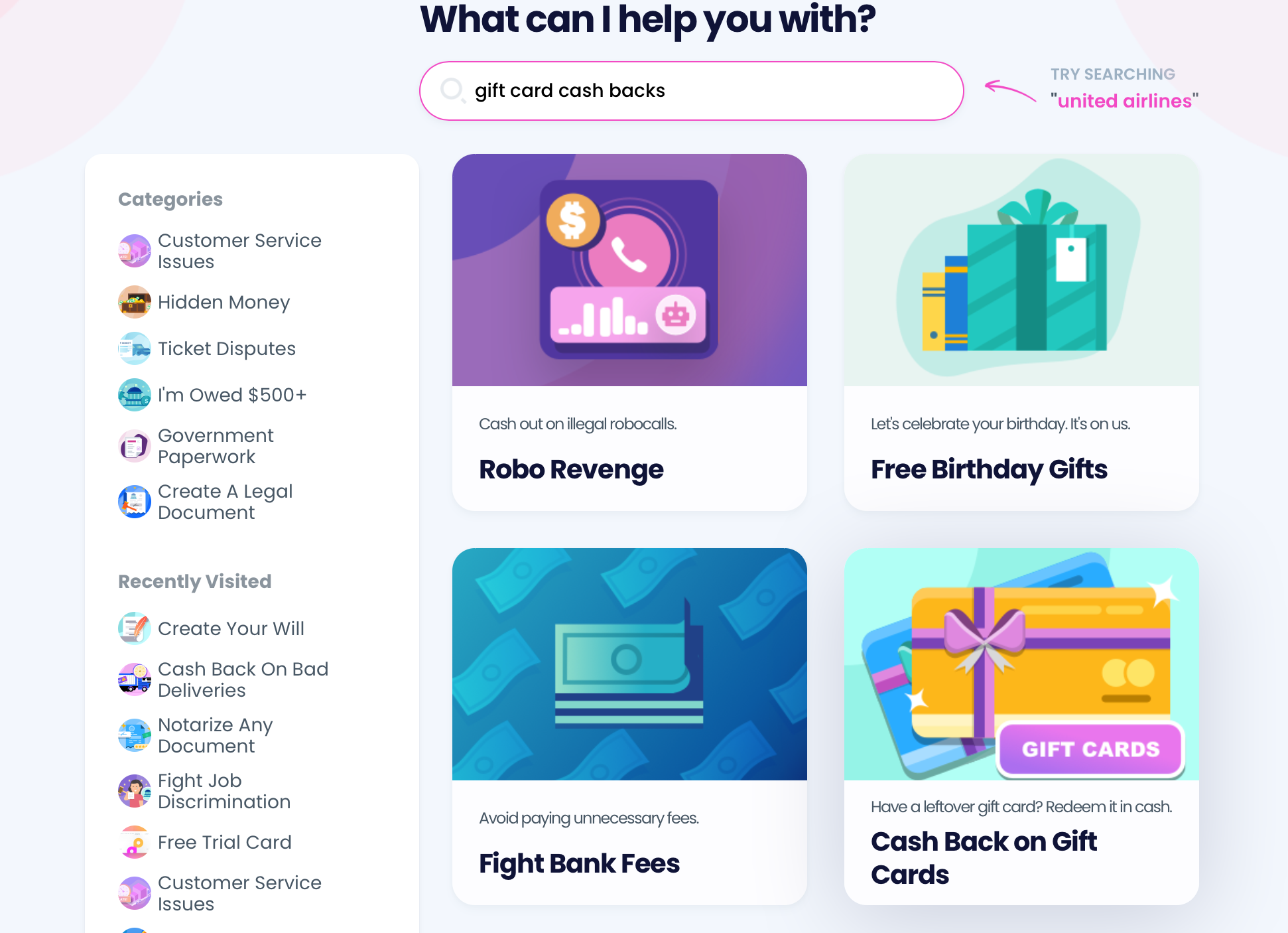 Here's everything you need to do:
Locate the Gift Card Cash Back feature
Provide the required information, such as the gift card number, company name, and remaining balance
PacSun is a brand based in California—one of the 12 locations with a cash back policy. This means the company will give you the unused cash back upon receiving the request. If you live in a state that doesn't have this policy, we'll file a demand to the company's headquarters in California. You can expect to receive your cash (or check) in the following two weeks.
Want to know how to get free gift cards and whether you can return them for cash? Visit our learning center to get answers to these and other questions regarding the matter. We'll help you cash out gift cards from other companies, such as:
Good Things Come in Small Packages
Siri and Google Assistant are great in their own right, but their skills leave a lot to be desired when it comes to the practicalities of our daily lives. DoNotPay is an app, a true pocket-sized assistant that has the power and the know-how to help you deal with navigating bureaucracy and fighting for your rights efficiently.
Our platform, accessible from your phone or computer, is brimming with products that will help you:
From Government Tests Preparation to Copyright Protection
Whether you are getting ready for your driving test or wish to protect your creative work, DoNotPay has something in store for you.
We can help you handle some serious tasks—like suing someone in small claims court or reporting workplace discrimination—or deal with more mundane activities, such as getting that leftover money from your used gift cards.
The best part is that your DoNotPay subscription gives you access to all our services, be it online fax or virtual credit cards!