Discover How To Get Unbanned From YouNow
If you have a good following and make some money on YouNow, getting your account suspended or banned can be frustrating. Not being able to live stream and connect with your followers can be such a nightmare.
If you are permanently banned, you don't have to say goodbye to the platform without a fight—you should try to get unbanned by sending an appeal. This guide will walk you through the ins and outs of the platform's bans and suspensions system and show you how to get unbanned from YouNow in only four steps.
What Is the Difference Between a Ban and a Suspension?
YouNow moderators are always monitoring users and can suspend or ban accounts that violate the platform's rules. YouNow users can also flag inappropriate content that violates the platform's terms of service. When something is flagged, live moderators investigate the report and take the necessary action if the user is guilty. This can be a warning, ban, or suspension.
Both bans and suspensions limit your activity on the YouNow platform. When you are banned or suspended, you will receive an alert and won't be able to do the following:
Posting on profiles
Gifting
Chatting
Broadcasting
When a user's account is banned, it is permanently restricted from contributing to the platform. If the account is suspended instead, the user cannot access it for a limited period. Suspensions can last from 15 minutes to 48 hours, depending on the severity of the violation, and you don't need to send a suspension appeal.
Why YouNow Bans or Suspends Accounts
YouNow has a set of community guidelines that every user needs to follow. Violating these rules can result in a ban or suspension, depending on the offense. Here are some of the reasons why a YouNow account can be banned or suspended:
Showing violent behavior, such as threatening to harm or kill
Engaging in or promoting self-harm activities, such as suicide
Dancing in a sexually suggestive manner
Sharing sexually explicit content or nudity
Wearing underwear, bikinis, lingerie, or any other revealing clothing on camera for users under 18
Bullying or harassing other users
Using vulgar language in chat or on camera
Using or encouraging the use of illegal drugs on screen
Using the platform if you are younger than 13
Sharing people's personal contact information
Making prank calls to emergency authorities or hotlines
Promoting rule-breaking behavior, such as violating the community standards
Spamming
Impersonating a YouNow user or any organization
Sharing content that infringes other people's copyrights
Harassing YouNow employees and staff
How To Get Unbanned From YouNow
If your YouNow account is suspended, you will need to wait for the specified time to expire before you regain access to your account. If your account was permanently banned, you don't have to make peace with the ban yet.
YouNow gives banned users a chance to appeal the ban and recover their accounts. You can appeal your ban by following these steps:
Visit the YouNow Support page
Sign in using your email and password or opt to sign in with your Facebook account
Follow the on-screen instructions to complete your ban appeal
You should provide a detailed or convincing explanation of why YouNow should unban your account. If you have anything that can show you didn't violate the platform's rules, like screenshots or a way to illustrate your understanding of and readiness to comply with the community guidelines, don't hesitate to use it.
YouNow support team will review your request, but it can take up to 72 hours to get a response.
Get Unbanned From YouNow Using DoNotPay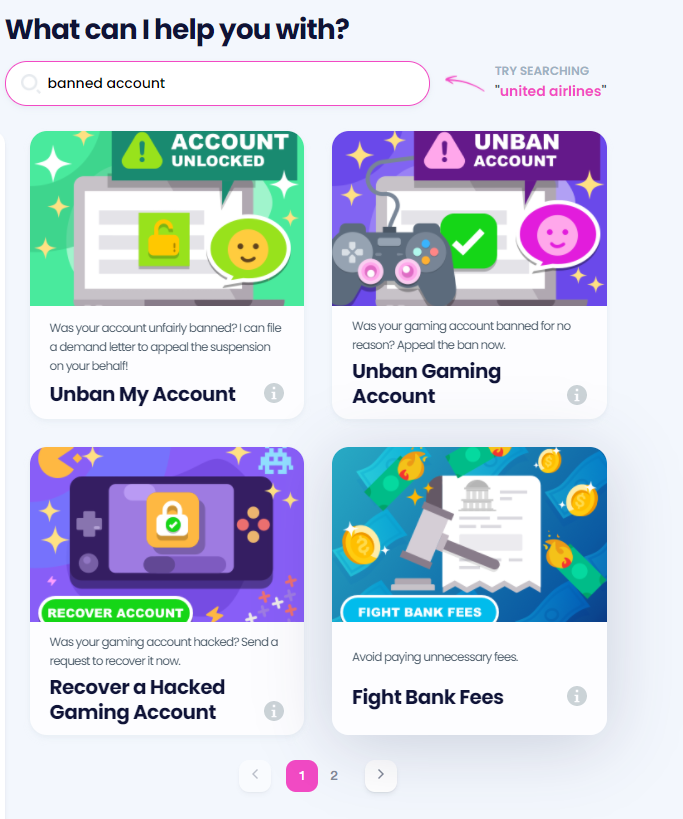 To convince the YouNow customer support that you deserve to be back on the platform, you need to make a strong case. If you are unsure whether your argument is good enough, don't risk being ignored—use DoNotPay.
Our app uses AI to help you draft customized and professional demand letters in less than five minutes. DoNotPay will collect your information, generate a custom demand letter, and send it to YouNow on your behalf quickly. You only need to do the following:
Select the Unban My Account product
Answer a few questions from our chatbot
Click Sign and Submit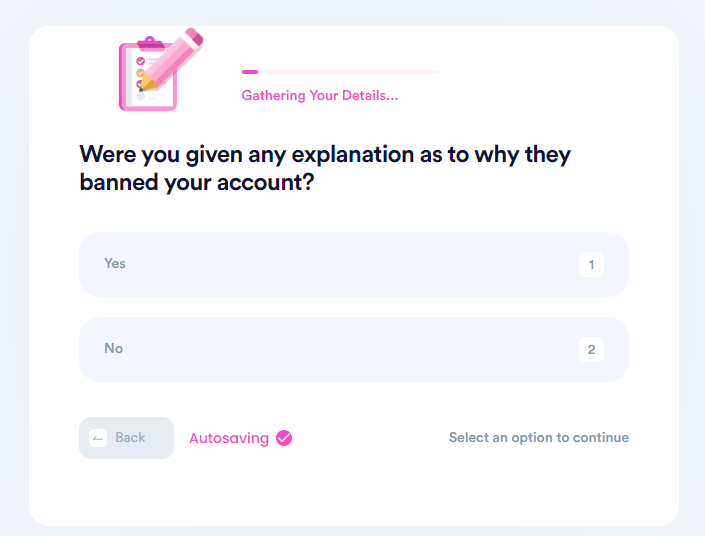 That's it for you. The letter includes a two-week deadline for the company to respond to your request so that you don't wait too long. If you believe YouNow banned you because of your sex, national origin, race, color, religion, veteran status, or disability, DoNotPay will help you take action. All you need to do is select the form of discrimination you believe happened in the questionnaire.
Use DoNotPay To Get Unbanned From Other Platforms
When you , you can use the Unban My Account tool to appeal a ban or suspension on various platforms. For gaming accounts, use the Unban Gaming Account tool.
Note that DoNotPay is best used for appealing the initial ban or suspension. This means that if you ask the company to unban your account and the support team gives you a negative response, sending another appeal will most likely be fruitless.
If you want to discover more about how you can recover your accounts from other companies, our detailed guides have all the information you need:
What Other Issues Can Our App Solve?
DoNotPay can support you through various burdensome procedures and turn them into a breeze! Here's a table showing a tiny part of our extensive offer:
DoNotPay Can
Services
Create various documents

Divorce settlement agreements

Powers of attorney

Many other legal documents

Protect your safety and privacy
Get your money back
DoNotPay Is Your Ticket to Simpler Life
Don't bother going through complicated tasks alone—we are here to take care of them! Seek our help if you want to get in touch with customer service quickly, fax anyone online, or get your documents notarized. Besides providing these amazing services, DoNotPay can make preparations for your travel adventures by assisting you in getting passport photos at home and obtaining tourist visas.