Pass Your Ohio CDL Test With Flying Colors With DoNotPay's Help
All drivers who want to operate Commercial Motor Vehicles have to get a Commercial Driver's License (CDL). The way to obtain a CDL is by taking a CDL test.
The CDL test consists of two parts—general knowledge and skill test. Every state has its own set of rules and regulations, and this article will take you through what you need to know to pass the Ohio CDL test.
DoNotPay can help you prepare for and ace the Ohio CDL test. We also enable you to practice for your DMV test. 
What Is Ohio Commercial Driver's License Test?
Ohio CDL test consists of 50 multiple-choice questions that test your knowledge of:
Traffic signs

Right-of-way rules

Traffic signals

Trucking laws

Speed limits

Commercial vehicle safety

Vehicle inspection
You need to do 40 questions correctly to pass the test.
The Ohio CDL test is there to confirm that you are a safe driver and know the laws, rules, and regulations in traffic.
To get an Ohio Commercial Driver's License, you need to have a valid Ohio driver's license, be at least 18 years old, and be a U.S. citizen or permanent resident.
If you fail any part of the CDL test, you can take it again in 24 hours.
Why Should You Prepare for the Ohio CDL Testing?
Preparing for any kind of test is essential, be it a DMV, ASVAB, Notary, HazMat, U.S. citizenship, or any other government test. Only by studying can you pass a test.
An average CDL manual has over 180 pages, which means that your CDL test won't be a piece of cake. You'll need to know detailed information to pass it.
Another strong reason for preparing for the test is that you'll acquire knowledge that is necessary when you're on the road. The CDL tests are difficult because determining if someone's ready to be a driver is such a responsibility.
You can make the whole process easier by studying. Aside from making you more comfortable and self-assured, practicing for your test will familiarize you with questions, flush out your weak spots, and enable you to pass the test without being anxious.
How To Prepare for the CDL Test in Ohio?
The only way you can prepare for your Ohio CDL test is by practicing. Follow some of these tips to prepare for your Ohio CDL test:
Study the official

CDL Ohio Manual

Find extra material online

Do a lot of online tests

Use DoNotPay for help

Give yourself enough time

Don't study the night before the test

Get enough sleep before the test
Where Can You Take an Ohio CDL Practice Test?
The Internet is full of various practice tests, but not all of them are good enough to prepare you perfectly. Some might not be up-to-date, while others may be too expensive considering the services they offer.
Check out some of the websites where you can practice your Ohio CDL test:
Website
Features

Free

Classic, practice, and exam mode

Questions from Ohio CDL manual

Free

20 questions

Four mistakes allowed

Free

Premium account

App for iOS and Android devices

Free

Cheat sheets

50 questions
Take the Ohio CDL Practice Test With DoNotPay—This Is the Easy Way
DoNotPay created the Government Test Prep feature that enables you to practice for any government exam you can think of. We wanted to make sure that our users can find all the resources they need to pass their tests on the first try.
DoNotPay will help you prepare for your Ohio CDL test fast and easily. If you make a few mistakes during your practice, DoNotPay will encourage you to do the test again so you would practice more and prepare for your test perfectly. You can also retry every question separately. If we inform you the answer is incorrect, you can redo the question immediately or continue with your test.
Access our revolutionary feature from any web browser and follow these steps to start practicing:
Sign in to your DoNotPay account

Type in

Ohio CDL Test

in the search box

Pick the test you find the most suitable

Select the number of questions you want to answer—10, 20, or 30

Practice the questions over and over to achieve perfect results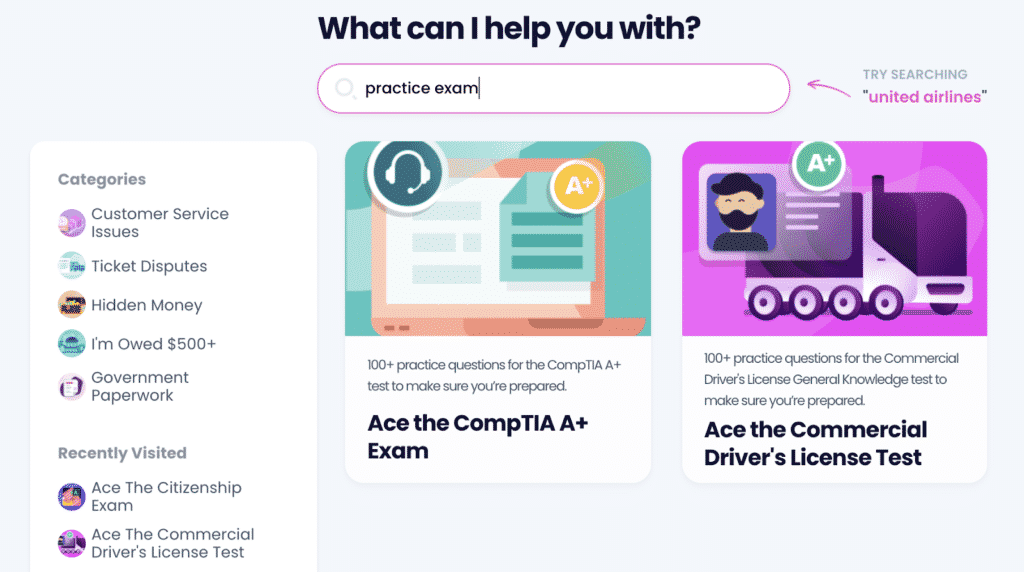 Get the best out of our app—DoNotPay will help you with scheduling DMV driving tests, passing your written driving test, getting the best test score on ASVAB, and practicing for various other tests like: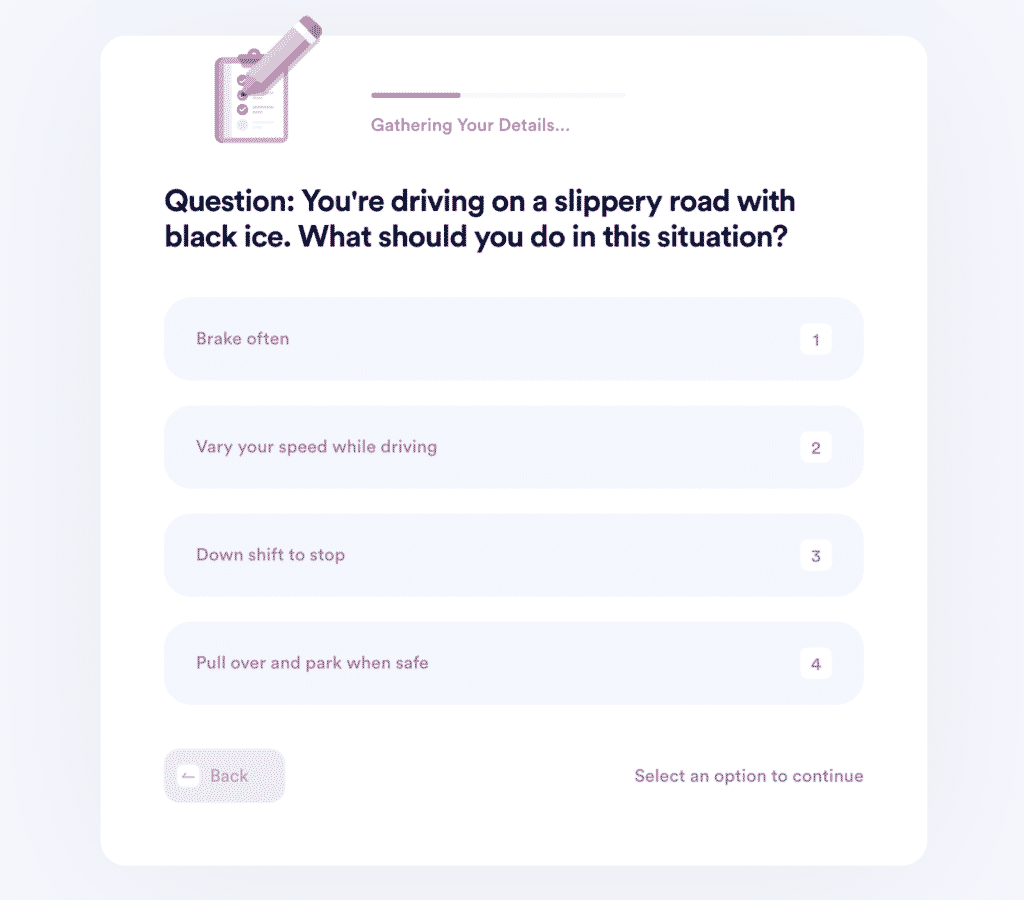 How To Schedule a Real Ohio CDL Test?
To take your general knowledge test, you'll need to visit a driver exam station in Ohio. You can find the location that suits you on the Bureau of Motor Vehicles (BMV) Ohio website. Locate your testing place by following these steps:
Visit the BMV Ohio website

Click on the blue button in the top left corner

Select

Driver License & ID Card

Tap on

Commercial Driver

Scroll down to the bottom to the

Where Do I Go

section

Click on

Driver Exam Station

Select your location and get the address

Call them to schedule an appointment
What Other Issues Can DoNotPay Help With?
If you're interested in how CDL testing works in other parts of the country, we can provide information and more than that. You can find out more about CDL practice in NY, Texas, Florida, Illinois, and other states.
If you want to keep it more local, then check out how to find the best and paid clinical trials in Cleveland and Ohio in general. Our platform can even help you avoid paying for your parking tickets in Cleveland.
DoNotPay is a platform that offers various solutions to problems like handling electric bills in Ohio if you can't currently settle them. Another one of our interesting features concerns inmates—if you have someone you love in an Ohio prison, DoNotPay can help you send them packages.
You can easily learn more about DoNotPay by exploring our app in any web browser. With our help, you'll be able to:
Appeal speeding tickets in any state

Fight traffic citations in various cities across the U.S.