Learn All About the
CDL Practice Test in TN
—Get Your CDL License Fast!
To operate any commercial motor vehicle (CMV) in Tennessee, you need to be a commercial driver's license carrier. If you're interested in taking a CDL test, you should consider preparing for the exam to pass it effortlessly. DoNotPay offers various government prep questions—including the DMV practice tests—that can help you prepare stress-free.
The Ins and Outs of the
Tennessee CDL Test
Prospective drivers who would like to obtain a CDL in Tennessee need to complete the following steps on their driving test checklist:
Undergoing

medical examination

Applying for the knowledge test

Taking and passing the written test

Acing a required endorsement or restriction exam

Completing the

road test
When filling out your application, you'll have to indicate which CMV you're applying for. CDL includes Classes A, B, and C, depending upon the following parameters:
Gross Vehicle Weight Rating (GVWR)

Gross Combination Weight Rating (GCWR)

What is being transported
 You will also have to bring the following documents:
Valid medical card

Social Security number proof

Non-commercial driver's license or ID (valid CDL from another state is also acceptable)

Proof of Domicile in TN

Proof of U.S. Citizenship/Lawful Permanent Resident Status
The general knowledge test for CDL in TN consists of 50 multiple-choice questions. Candidates need to have 80% correct answers—i.e., 40 questions—to pass the test. 
Chauffeurs who want to increase their job opportunities often take an endorsement or restriction test as well.
CDL Endorsement and Restriction Tests in Tennessee
Tennessee CDL carriers can obtain six endorsement symbols on their license:
Each state issues restrictions that prohibit the operation of certain vehicles. To remove them from your CDL, you need to pass the required test. These are the basic restrictions found in most American states, including Tennessee:
Restriction Symbols
Description 

Z

Prohibits chauffeurs from driving vehicles with full air brakes 

V

Issued to drivers with a medical variance, such as diabetes, seizure, and vision and hearing impairments

O

Disallows chauffeurs from operating a commercial motor vehicle with a fifth-wheel connection

N

Allows CDL carriers to operate only a:

School bus

Class C passenger vehicle

M

Permits chauffeurs to drive only a:

School bus

Class B

passenger vehicle

Class C passenger vehicle

L

Forbids drivers to operate a CMV with

air brakes

E

Prohibits chauffeurs from driving a vehicle with a manual transmission
Preparation Is Key for Any Exam!
General knowledge and endorsement tests can be pricey if you fail multiple times. To ace your CDL exam in Tennessee on the first try, you should be well prepared. 
Besides knowing what to expect, you'll also be less nervous on the day of the exam. Stress can be the worst enemy when taking a test since it can make you forget even the easiest topics. If you start preparing a few weeks in advance, you won't have difficulties passing your CDL test.
Best Methods To Prepare for the
TN CDL Test
You have numerous options to prepare for your CDL test:
Reading the official Tennessee CDL Manual is useful in the beginning. You can find it at your local DMV office

Attending online and offline courses, which can often be expensive

Writing flashcards if you have time

Taking a few practice tests is the best method as it is effective, time-efficient, and usually free
Key Aspects of the
TN CDL Practice Tests
If you find studying from the manual boring, you'll appreciate the convenience of taking the TN CDL practice tests. Responding to sample questions is the most effective way of memorizing for most people. You will notice that the practice tests are almost the same as the real exam. Prep exams collect questions not only from the handbook but also from previous exams. 
If you'd like to try this method of preparation, you can take prep tests on the following platforms:
Here's how you can make your studying with practice tests more efficient:
Find an online platform you like (

hint

—DoNotPay is the most reliable source)

Take one or multiple tests question by question

Write the areas you find challenging in a notebook

Analyze the mistakes you made

Reread the problematic topics in the manual

Retake the test

Repeat until you feel ready to make an

appointment

for the real exam
Prepare for Your
TN CDL Permit Test
With DoNotPay
DoNotPay is the best platform for taking CDL practice tests because it's user-friendly and offers an extensive database. After responding to a few prep questions on our platform, you'll feel confident in your knowledge and ready to take the real test. To ace your CDL exam in Tennessee, Kentucky, South Carolina, or any other state, follow these steps:
Open DoNotPay in a

web browser

Enter the name of the test

Pick the exam you'd like to prepare for

Choose the length of the test—10, 20, or 30 questions
DoNotPay will give immediate feedback to each question. If your response is incorrect, you'll have an opportunity to answer it again or choose to continue with the test. Should you be unhappy with the final score, you can retake the test.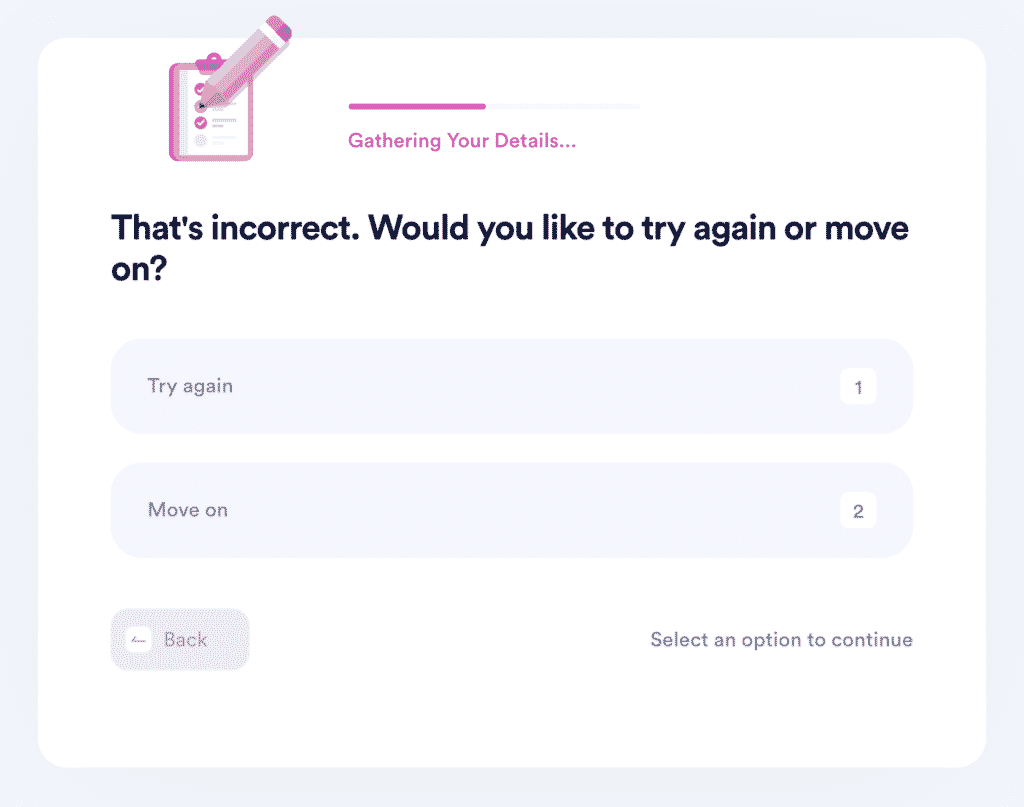 The commercial driver's license test is one of many government exams DoNotPay can help you prepare for. We offer ample questions for the Armed Services Vocational Aptitude Battery (ASVAB) test to help you get the best score. Take a look at all the other tests you'll pass effortlessly thanks to DoNotPay's assistance:
More of What We Can Do for You 
Our multifaceted app can call and record the conversation with the customer service of the company that just won't let you go! If you are having trouble canceling an unwanted service via the traditional channels, use DoNotPay to get it over and done with!
We can help you stop the persistent robocalls and robo texts from the nagging company and request a refund for unused services in a matter of minutes.
We'll also lend a helping hand in stopping spam mail—whether it's electronic or paper. Our Spam Collector product unsubscribes you from unwanted emails and cleans up your physical mailbox too!
DoNotPay Can Do Your Paperwork for You! 
Feeling like you're in bureaucratic hell? Our robot lawyer will draft the paperwork you need and get you out of any hurdle before you know it! 
We can compose most of the documents that you require for any administrative purpose in your jurisdiction, most notably: