Can You Track Your Package Without a Tracking Number by Using Other Information?
Shipping companies create a tracking ID number for each parcel they dispatch and send it to the recipient. While this code may look like another confusing number on the package, using it is the best and quickest way to locate your parcel. The problem arises if the courier fails to send you one or you can't find it in the sea of other shipping info.
Can you track your package without a tracking number, and what's the best way to do it? Find the answers in our guide and learn how to pinpoint the location of any parcel by using alternative methods. Besides that, we will show you how to file a complaint in case of a poor or late delivery and get your money back by !
Why Is My Tracking Number Missing or Invalid?
At times, the shipper may fail to provide you with the tracking code or send the wrong one. These are common situations, and they can arise for various reasons:
The company sent a tracking code for a different order by mistake
There may have been technical issues—the courier's system for sending shipment notification can experience bugs and glitches
You have an overstuffed email inbox that prevents the email with the tracking ID from being delivered
You changed the order details, and the original tracking number became invalid
Before you decide to try out the alternative ways to track your parcel, contact the customer support of the courier in question. If you disclose other shipping information and pass through a security check, the reps may be able to save you time and provide you with the correct tracking number.
Can I Track a Parcel by Address or Name?
Unfortunately, in most cases, entering your name or address into a tracking search field won't help you track down your parcel. Most couriers need specific information to look for your order. The only way you can use these pieces of information is to contact the sender and ask them to find you in their records using these details. Once the sender locates you in their database, they can provide you with a tracking number since they get it from the courier as well once the package is shipped.
Can I Track a Package With Other Shipping Information?
In case your tracking number is wrong or outdated, there may be other shipping details you can use to follow your parcel:
Reference numbers
Service notice information—in case the courier has already tried to deliver the package
Door tag number
Transportation control number (TCN)
Most U.S. couriers also provide specific online tools or apps that let recipients track their parcels without entering the tracking code. In most situations, the person expecting the parcel should create an account and check out the shipping information for their existing packages. Below is the table that shows some of these services:
Courier
Services
UPS
USPS
FedEx

Delivery Manager
FedEx Mobile app
What if None of the Alternative Tracking Options Work?
If you can't find other shipment details or you are still experiencing the issue with locating your package, it's best to get in touch with the courier's customer care again. Explain the issue, let them know which tracking methods you have tried, and ask them to help you check the status of your order.
The representatives may need some additional information, including the shipping address, your phone number, or the name of the sender. By checking these details in their system, they will be able to tell you where your package is, when it should arrive, and if there are any issues regarding the delivery.
Here's the table showing the contact details of the most popular U.S. couriers:
| | |
| --- | --- |
| Courier | Contact Info |
| UPS | Phone number: (800) 742-5877 |
| USPS | Phone number: (800) 275-8777 |
| FedEx | Phone numbers: (800) Go FedEx and (800) 463-3339 |
| DHL | Phone numbers: (800) CALL DHL and (800) 225-5345 |
DoNotPay Helps You Tackle Delivery Issues in a Heartbeat
Have you just had a dissatisfying experience with the courier responsible for your parcel? We hear you—such situations happen regularly. One of the most common ways to deal with missing, damaged, or late deliveries is to confront the company and discuss the compensation options. Since it can be quite a frustrating and overbearing experience, we created a special service to help you overcome it fast and without dealing with customer care reps!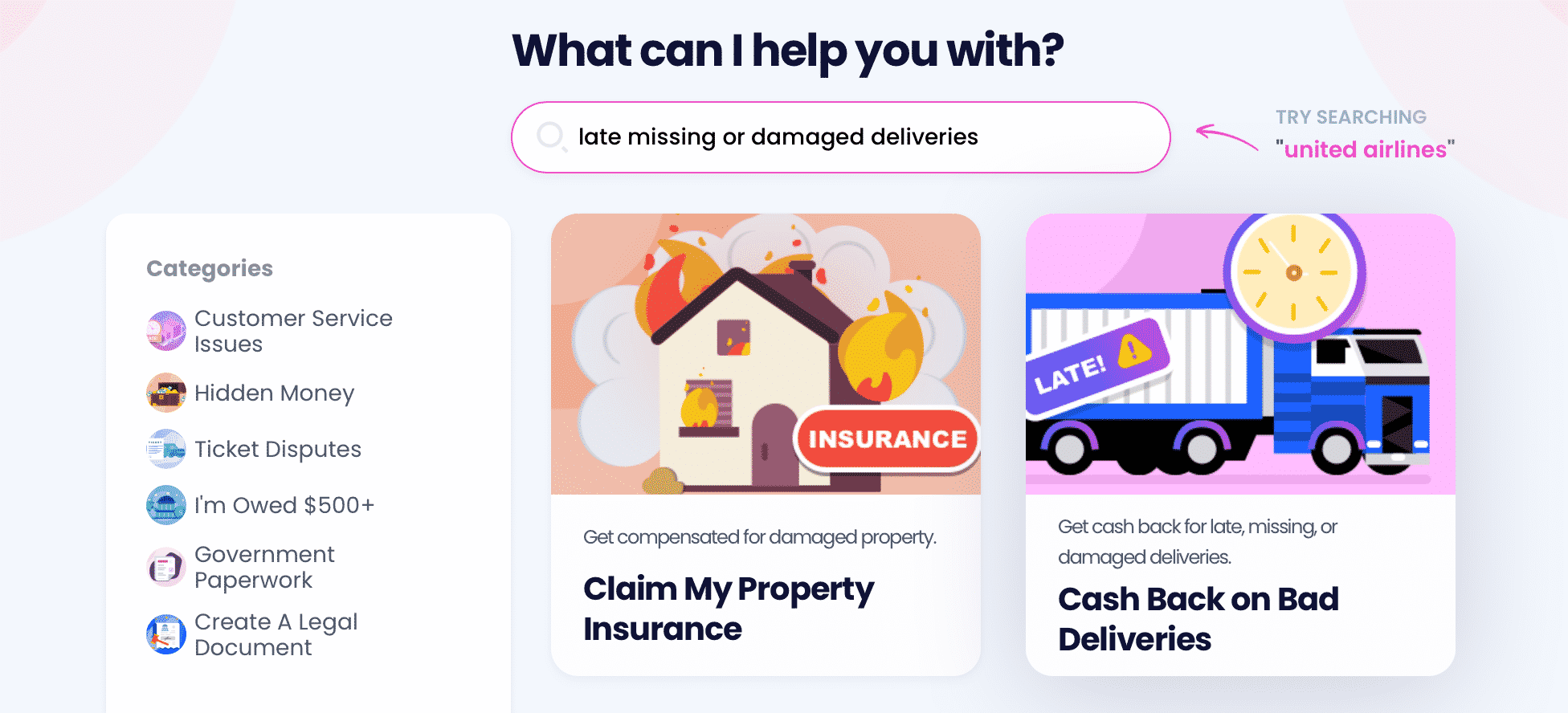 Our app lets you raise a complaint regarding:
Not only can we report all these issues in your stead, but we also file a refund claim with USPS, FedEx, or Amazon in your name and pass it on to the courier's claim department!
The process is simple and doesn't take more than three minutes—you only need to follow the steps below:
in any web browser
Go to the Late Delivery Refund section
Select the courier in charge of the delivery
Enter your tracking number and other shipping details to help us create a claim for you
By exploring the vast variety of tips in our knowledge base, you can learn how to tackle many other delivery issues, including: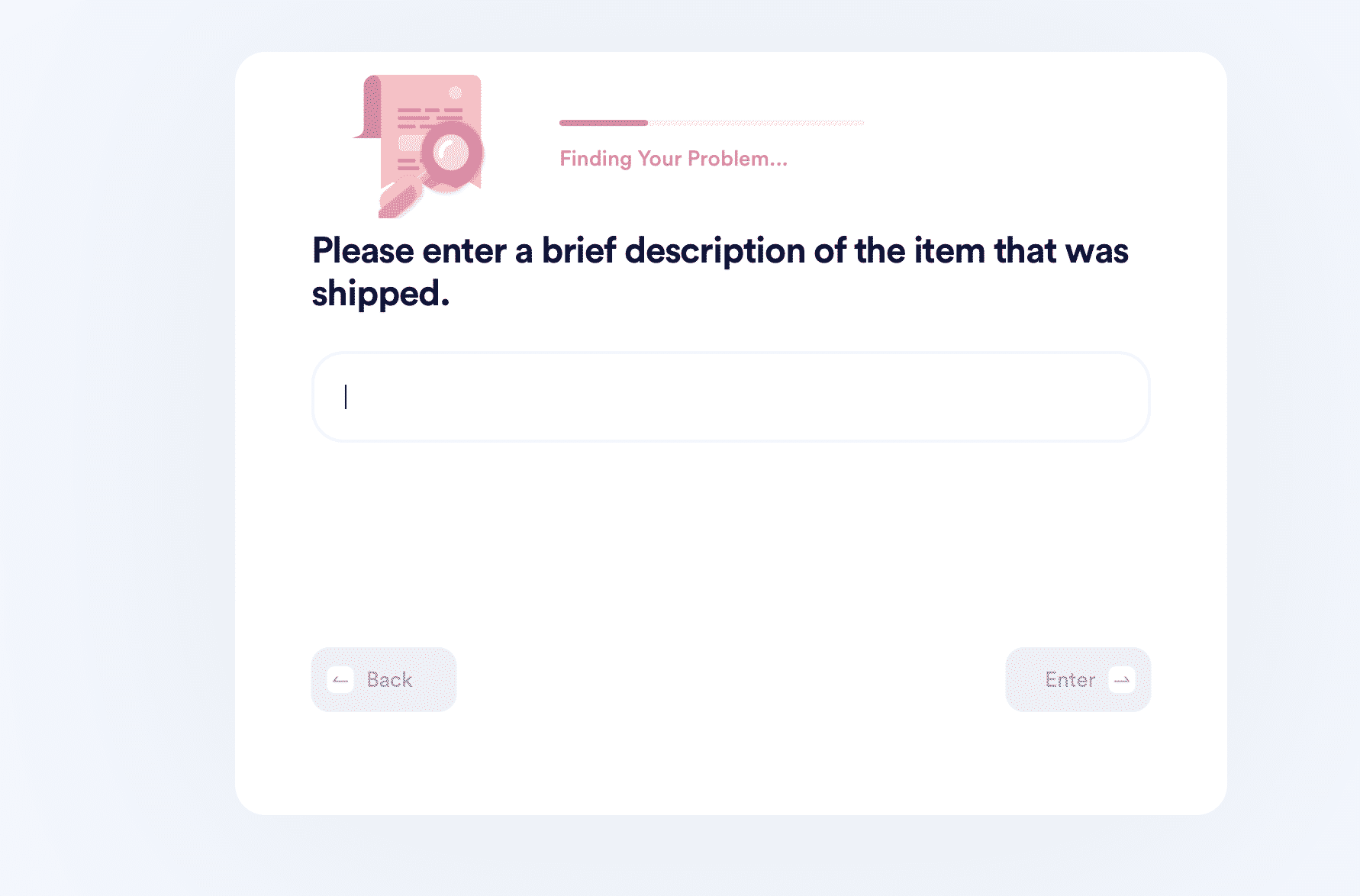 How Else Can DoNotPay Be of Assistance?
DoNotPay will help you take care of your item delivery problems and send a delivery refund request in your stead, but we can do so much more along the way. Use our app to find out how you can return an unwanted item to any company or get a refund for any service.
Not only can we clear a path to your rightful refunds, but we can get you the cash that's left on your gift card balance and secure any compensation you deserve. Use our app to get compensation for:
How To Use DoNotPay the Right Way
Many companies start spamming you with unwanted correspondence as soon as you start using their products or services, but our app can put a stop to that. If you use DoNotPay's Burner Phone and Virtual Credit Card products, you'll never have to supply your real info to random companies again. We'll make sure that you can subscribe to any free trial risk-free or cancel a service you don't use in a matter of minutes!
We'll also help you do boring tasks quicker or take care of them entirely on your behalf. Use our app to draft documents and contracts, get them notarized, or send them using an online fax functionality of our app. We'll schedule a DMV appointment for you, help you get access to public records, or find out what property tax exemptions you qualify for and how to apply in record time.