A Guide to Taking the ASVAB Arithmetic Reasoning Practice Test
The Arithmetic Reasoning portion of The Armed Services Vocational Aptitude Battery (ASVAB) exam will test your ability to solve arithmetic word problems. The arithmetic test falls into the math domain, and you can expect to get questions on basic arithmetic, such as subtraction, addition, and multiplication.
To make sure you nail every portion of the ASVAB test, take as many practice tests as you can—they are the most convenient and efficient way to prepare for and ace the exam!
What Is the ASVAB Exam?
The ASVAB exam is an aptitude test that you take to determine your potential to join the U.S. military training. The test is developed by the Department of Defense, and it consists of several segments.
Arithmetic Reasoning is one of the four most important test segments, and you should take preparing for it seriously. You can't fail the ASVAB exam, but you can fail to score high enough on any of the four segments. That will affect your qualification, and you may not be eligible for a military job of your preference.
Luckily, DoNotPay can help with that by offering you practice tests to perfect your knowledge before taking the real ASVAB test!
How To Take the
Arithmetic Reasoning Practice Test
With DoNotPay
You can find and take the ASVAB practice test with DoNotPay in a matter of minutes!
We prepared a quick, five-step guide for you to follow and start practicing for your ASVAB exam in no time:
Visit DoNotPay in any

Look for the

ASVAB

practice tests

Choose which test you want to start practicing

Pick how many test questions you would like to have (you can choose 10, 20, or 30 questions)

Take your ASVAB practice test!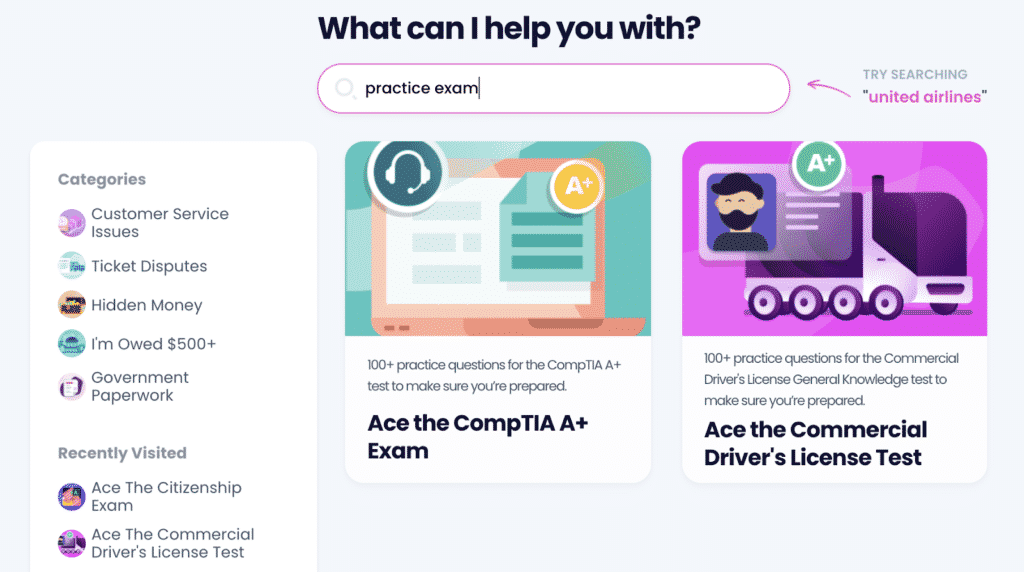 DoNotPay provides you with nine practice tests you can use to nail your exams on the first try!
You can choose from: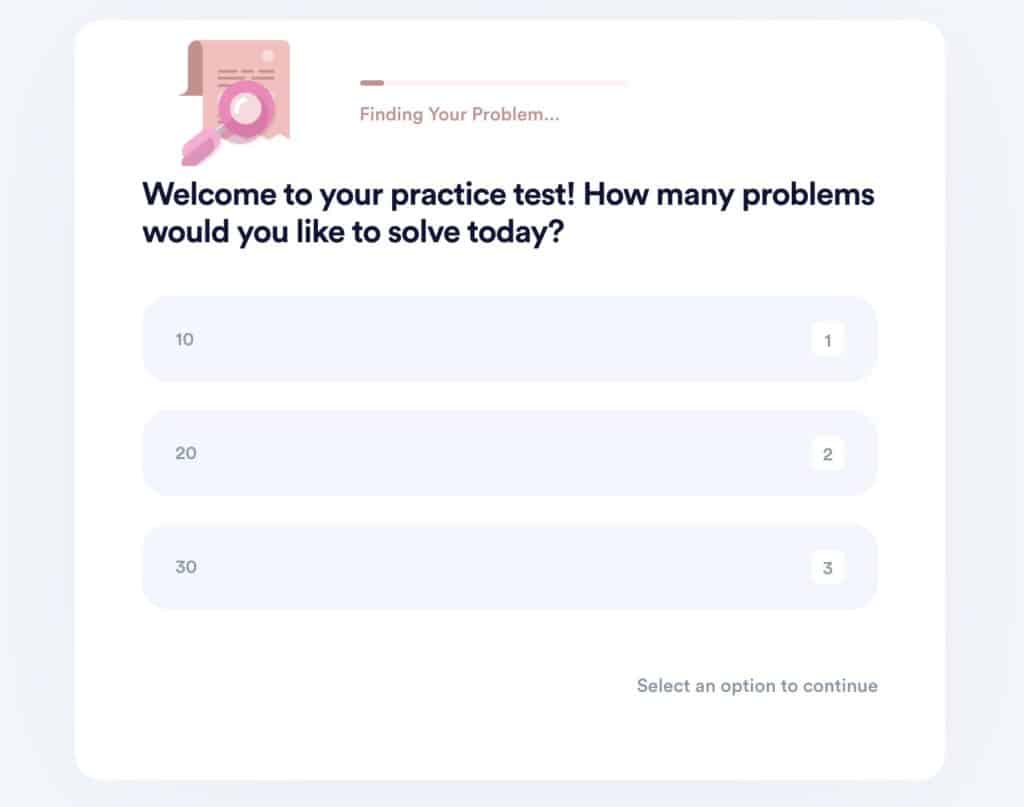 What can you do if you get a question wrong on your practice test? Either try it again right away or wait until you finish the practice test and retake it.
DoNotPay offers you useful guides on how to pass and practice for other ASVAB exam segments as well! Not only can you learn how to pass your ASVAB test on the first try, but you can also see how to nail the ASVAB math test portion and take the ASVAB electronics practice test!
Why Is Preparing for the ASVAB Test Important?
The ASVAB exam encompasses a lot of material and different segments, including math, science, word knowledge, and more. To make sure you pass every single one of them, you will have to practice and study as much as you can.
The Arithmetic Reasoning portion of the exam focuses on the basic arithmetic word problems and can prove quite difficult, so you should consider paying the most attention to the math domain of the exam.
How Can I Prepare for the Arithmetic Reasoning Portion of the ASVAB Exam?
You will have to pay attention to all parts of the ASVAB exam to ensure you have the best score. The ASVAB exam encompasses nine subtests, including:
Arithmetic Reasoning

Mathematics knowledge

Paragraph comprehension

Word knowledge

General science

Auto & shop information

Mechanical comprehension

Electronics information

Assembling objects
The best methods of practicing Arithmetic Reasoning are sample questions and practice tests. You can find the sample questions on the official ASVAB website and take practice tests with DoNotPay easy-peasy!
If you still find it difficult to score high on the Arithmetic Reasoning practice tests and you have a hard time understanding the material, you should find a tutor to explain it better.
Where Do I Take the ASVAB Exam?
To schedule your ASVAB test, you will have to reach out to a military recruiter. You can visit the Today's Military website to find a recruiter close to you. Make sure to bring valid identification with you—you will need to show it to be admitted into the ASVAB testing room.
A recruiter is going to ask you questions about your education, marital status, arrest record, and similar before they send you to take the ASVAB test, and you need to answer these questions honestly. The recruiter will then determine whether you are qualified and schedule a time for you to take your ASVAB test at a Military Entrance Processing Station (MEPS) or a Military Entrance Test (MET) site.
Don't be late for your ASVAB exam, or you will be turned away and asked to take the test another time!
What Can I Expect on the Real ASVAB Exam?
The ASVAB subtests serve as a way to examine aptitudes in four segments: Math, Verbal, Science and Technical, and Spatial. You can see the subtests in the order in which they are administered. Since the ASVAB test is rather complex and has multiple categories, let's break down each of them and see what it covers in detail.
| | |
| --- | --- |
| Category | Coverage |
| Arithmetic Reasoning | Solving arithmetic word problems |
| Mathematics knowledge | Knowledge of high school mathematics principles |
| Paragraph comprehension | Obtaining information from written passages |
| Word knowledge | Selecting the correct meaning of words given in context and recognizing the best synonym for a given word |
| General science | Knowledge of physical and biological sciences |
| Auto & shop information | Knowledge of automobile technology, tools, and practices |
| Mechanical comprehension | Knowledge of mechanical and physical principles |
| Electronics information | Knowledge of electricity and electronics |
| Assembling objects | Determining how an object is going to look when its parts are put together |
The questions are multiple-choice, and although there are some time limits, candidates usually finish the exam before the time runs out. The test is administered via both paper-and-pencil and computer formats in the Enlistment Testing Program. You will be able to see your test results right after you finish your exam.
You Can Accomplish So Much More With DoNotPay!
Let DoNotPay be your assistant and help you deal with any task you need!
Using our app, you can also learn how to check your ASVAB test scores, take the ASVAB word knowledge practice test, find out how to take the Air Force ASVAB test or the Marine ASVAB test, and so much more!
Visit DoNotPay in your and see how we can help you deal with tasks like:
Fighting speeding tickets

Disputing traffic tickets