A Guide to Taking the ASVAB Electronics Practice Test
Taking the Armed Services Vocational Aptitude Battery (ASVAB) test is a required step for military enlistment. The exam consists of multiple subtests designed to measure the applicants' potential for success in the military. 
The ASVAB Electronics Information (EI) exam is one of the subtests. Do you want to get a good ASVAB score in EI and go after a military job in electronics? You should take a few ASVAB practice tests with DoNotPay to prepare. 
Understanding the ASVAB Test
The Department of Defense designed the ASVAB test to examine the candidates' knowledge and strengths for the military jobs. Besides being used for enlistment purposes, the test is also a part of the ASVAB Career Exploration Program (CEP). It helps high school and college students—as well as other young individuals—learn which jobs are the most suitable for their skills.
The Armed Services Vocational Aptitude Battery (ASVAB) exam consists of ten subtests and lasts three hours. All subtests examine the applicants' aptitude in four domains:
Subtest
Description
Domain

Math Knowledge (MK)

Applying mathematical principles learned in High school

Math

Arithmetic Reasoning (AR)

Solving arithmetic word problems

Paragraph Comprehension (PC)

Reading text passages to identify the meaning

Verbal

Word Knowledge (WK)

Identifying the definition of words in a certain context and using synonyms

Electronics Information (EI)

Understanding electronic devices

Science/Technical

General Science (GS)

Employing physical and biological science knowledge

Shop Information (SI)

Utilizing the knowledge of tools, shop processes, technology, and procedures

Auto Information (AI)

Applying automobile technology comprehension

Mechanical Comprehension (MC)

Understanding physical and general mechanical principles

Assembling Objects (AO)

Determining how certain objects will look when their parts are put together

Spatial
What Is the AFQT Score?
The Armed Forces Qualification Test (AFQT) score is a combination of points from the WK, AR, MK, and PC tests.
The AFQT score is used to indicate which job a candidate is suitable for. Every military branch has minimum score requirements:
Navy—35/99

Army—31/99

Coast Guard—40/99

Air Force

—36/99

Marine Corps

—32/99
What Is the ASVAB Electronics Information Test?
Electronics Information subtest is created to measure the applicants' understanding of circuits, radio, electricity principles, electrical components, etc. The computer version of the EI test consists of 16 questions. Candidates need to answer them in eight minutes. The paper version requires applicants to answer 20 questions in nine minutes.
While the EI subtest isn't included in the AFQT score, it's an essential part if you want to pursue a job involving electronics. 
How To Prepare for the ASVAB Electronics Information Test
There isn't an official manual that can help you prepare for the ASVAB test. You can save your high school notes and learn from them. Once you go over your notes, the best solution is to rely on EI practice tests to prepare for the exam. 
What Are ASVAB Electronics Practice Tests?
The ASVAB EI practice tests allow applicants to get familiar with the exam questions stress-free. You'll have access to questions drawn from previous exams. Each test covers the basics of all subtests. 
Many people prefer studying for the exam using the prep test method. Immediate feedback allows you to realize which areas could use more attention. Practice tests will also help you calm your nerves because you'll be familiar with the exam structure and covered topics. 
You can find the ASVAB EI prep tests on the following platforms:
DoNotPay Is the Most Reliable Way To Prepare for the ASVAB Electronics Information Subtest
Finding a user-friendly platform with an extensive prep test database can be challenging. DoNotPay is here to help you out. Our app allows you to prepare for the ASVAB Electronics test fast and easy. To begin your EI test preparation, access our platform from any web browser, and do the following:
Type in

ASVAB Electronics Practice Test

in the

Search

field

Click on the test you want to prepare for

Choose how many questions you want to respond to—10, 20, or 30

Respond to each question at your own pace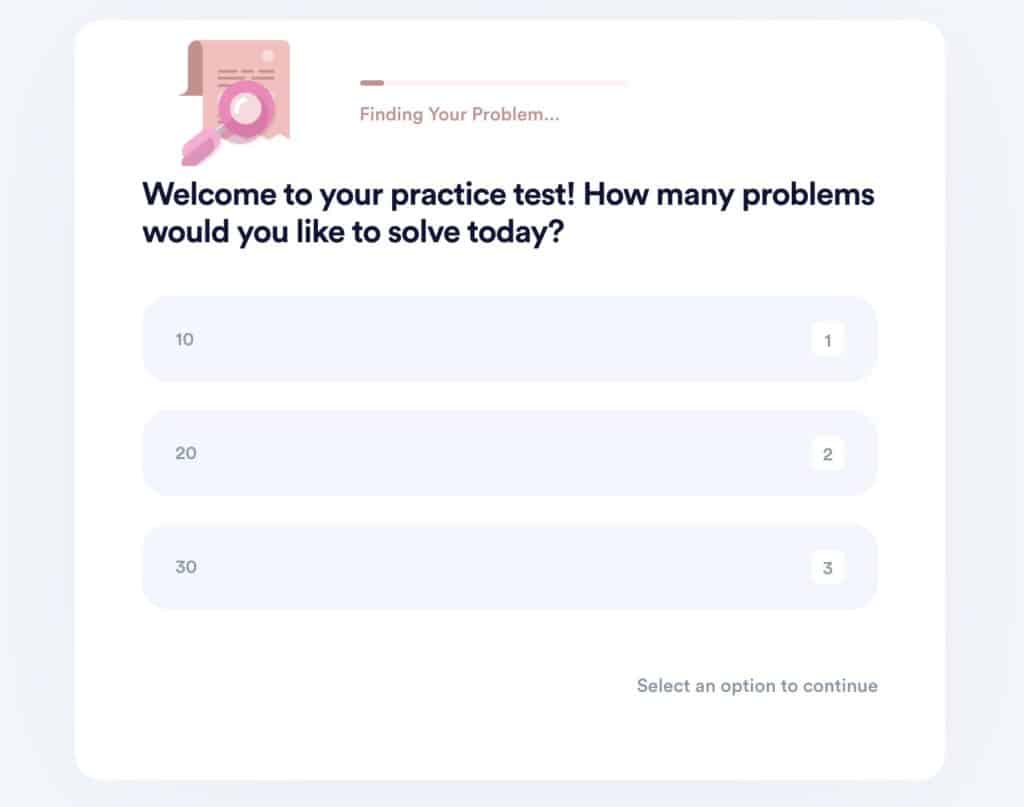 DoNotPay offers a possibility to redo the incorrect questions right away and learn the correct answer on the spot. You can choose to retake the test if you're disappointed in your score. 
You Can Take Practice Tests for Any Government Exam Thanks To DoNotPay
DoNotPay's database contains not only the ASVAB sample questions but also other government practice tests. Sign in to your DoNotPay account in a web browser, and prepare for the following exams: 
We can even help you pass the written DMV exam in Utah, Oregon, or any other state in America. Besides offering the best DMV practice tests, DoNotPay can also help you schedule an appointment with the DMV in all states, including Arizona, Nevada, and California.
What Else Can Our Award-Winning App Do for You?
If you think that's impressive, wait until you've heard about other features we boast!
Our AI lawyer can draft paperwork for you, locate unclaimed funds under your name, cancel subscriptions, sue robocallers, and protect you from stalkers and harassers—all in one nifty browser app!
Our legal services have been recognized by the esteemed ABA Brown award, serving as a testament to our abilities to assist you with your small claims issues, free trial auto-renewals, college fee waivers, public records, copyright protection, and much more!
More Benefits of DoNotPay
DoNotPay is a useful tool for handling many otherwise annoying life's trifles, including: