Get Your SUNY Fee Waiver in Minutes!
The State University of New York (SUNY) is a system of public colleges and universities in New York, the largest in the United States. The SUNY system comprises four university centers: Albany, Binghamton, Buffalo, and Stony Brook.
SUNY, like most other universities, has an application fee. You will need to pay a specific amount when applying to SUNY university, but if you are a student who is facing significant financial hardship, you can request the SUNY application fee waiver—with DoNotPay or via other methods. Let's break them down step-by-step.
What Is a College Application Fee Waiver?
Fee waivers are forms that students can complete and submit to colleges to either avoid paying the application fee entirely or request a lower price. Every college and university decides on its own application fee amount. The usual price for application fees is around 60 dollars, but some universities (like Stanford and Columbia) have a much higher fee of 80 to 90 dollars.
Applying to colleges can be quite overwhelming and expensive, especially considering the fact that students tend to apply to more than one school, which results in application fee costs piling up and amounting to hundreds of dollars. Additional expenses like tuition, school supplies, and travel costs complicate the matter further.
Fee waivers play a big role in making this process a bit easier and taking something off students' plates. To get your application fee waived, you will have to meet certain criteria, such as being in financial need.
General Criteria For Getting Fee Waivers
To make it easier for you to understand whether or not you are eligible for a fee waiver, we made a list of the factors affecting your eligibility status. You are qualified for a fee waiver if you:
Are also eligible for the

Federal Free or Reduced Price Lunch program

Meet the

Income Eligibility Guidelines

set by the USDA Food and Nutrition Service

Enrolled in a program that helps students coming from low-income families

Receive public assistance

Live in public housing or a foster home

Are homeless, an orphan, or a ward of the state
Who Is Qualified for a SUNY Fee Waiver?
Suny has clear eligibility criteria when it comes to waiving their fees. The qualifications for a SUNY application fee waiver are as follows:
You must be a resident of New York State or a citizen of the U.S.

You meet the financial eligibility criteria explained in the table below
| | |
| --- | --- |
| Household Size | Annual Income |
| One | $23,606 |
| Two | $31,894 |
| Three | $40,182 |
| Four | $48,470 |
| Five | $56,758 |
| Six | $65,046 |
| Seven | $73,334 |
| Eight | $81,622 |
If you have a large family, add $8,288 for each additional family member.
What Is the Cost of the SUNY Application Fee?
The fee for SUNY applications is $50. You will need to pay a nonrefundable fee for any SUNY campus to which you decide to apply, and most of its campuses use the SUNY common application.
Are You Qualified for an Automatic College Fee Waiver?
Students who already got an ACT or SAT fee waiver are eligible for college application fee waivers automatically. If you were identified as an eligible candidate for a fee waiver as part of a district or state program, you are qualified to receive college application fee waivers.
In case you are using the Common App or the Coalition App, the process should be even easier. Both of these facilitate the college fee waiver process, which makes it faster for you to get one each time when applying to a school.
Getting a SUNY Fee Waiver on Your Own
You can apply for a SUNY application fee waiver by yourself if you meet their qualifying criteria. The way to do that is not difficult.
Follow the next few steps to request your SUNY application fee waiver:
Download the

Fee waiver request form

to your computer

Complete the

Student Confirmation

section

Have a school counselor complete the

Verification section
Once your fee waiver request form is filled out, send it to SUNY to the address:
P.O. Box 22007
Albany, New York 12201-2007
Let DoNotPay Help You Get a SUNY Fee Waiver Fast and Easy!
With DoNotPay, you can apply for a SUNY or any other application fee waiver without breaking a sweat! The process of getting college fees waived can be quite overbearing and tiring, and our College Application Fee Waiver feature will help you every step of the way.
Turn to our app for assistance so that you won't have to stress and wonder about what your next step should be. We provide you with a quick step-by-step guide you should follow to get your college fee waivers with DoNotPay.
This is how it works:
Open DoNotPay in your

Select the

College Application Fee Waiver

and tap on the fee you need help with

Choose the college that you are applying to and provide a few short answers about your financial situation

Decide whether you would like to obtain a counselor's signature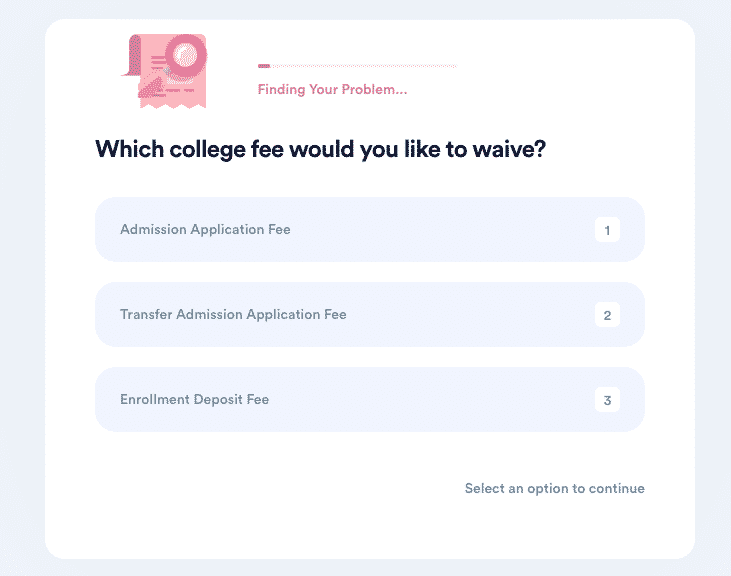 We can do even more for you! Apart from helping you apply for fee waivers, we can offer you help with:
Filling out the form on your behalf

Sending the form to SUNY's financial aid office

Applying for college application fee waivers for both undergrad and grad studies

Requesting test fee waivers (except for the SAT and the ACT)
You can get our assistance with three types of fee waivers:
New Student Application Fee Waiver

Transfer Student Fee Waiver

Enrollment Deposit Fee Waiver
DoNotPay provides you with another tool that you can use to improve your application—getting a school counselor's signature. We will email the form to your counselor in your place together with the details of your financial situation so that the counselor can attest to your financial need. This will boost your chances of getting a fee waiver!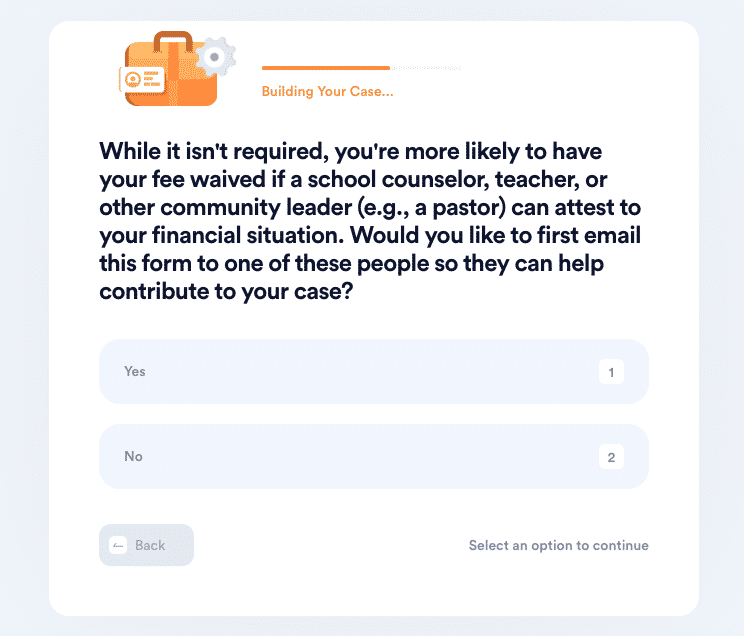 DoNotPay Can Help You Deal With More Than Fee Waivers!
DoNotPay's features for waiving college application fees are convenient and user-friendly, but there is a lot more we can offer you aside from that!
Are you tired of paying for subscriptions and memberships you don't even use anymore? We can help you cancel any service, including New York Life, The New Yorker, and New York Daily News! If you need assistance in finding clinical trials in New York City or jumping the line when making a DMV appointment there, we can give you all the necessary information on that as well. You can also find useful guides to renewing your license and disputing parking tickets in NYC with our app in a matter of minutes!
All you need to do is open your and see how we can assist you in:
Disputing traffic tickets

Fighting speeding tickets