Get To Know the You Deserve It Scholarship
Do you want to get free money for college but without the hassle of demanding applications? You should aim for easy scholarships in that case. One program that doesn't have a long list of requirements is the You Deserve It Scholarship.
If you want to learn more about this financial aid opportunity, you are in the right place. DoNotPay answers all questions you might have about You Deserve It aid. Our comprehensive guide will reveal:
Whether the program is legit
Its eligibility requirements
How much the award is
We'll also let you know how you can find more aid and what the easiest way to discover and secure scholarships is.
Is the You Deserve It Scholarship Legit?
You Deserve It Scholarship is sponsored by Scholarship Owl—a platform designed to help students with scholarship applications. To attract more students to its service and support them in their educational journey, Scholarship Owl has established this simple scholarship program. It is a legit financial aid program available to students across the U.S.
To feel more confident about applying, learn more about the platform and scholarship by contacting Scholarship Owl in one of these ways:
Scholarship Owl You Deserve It Scholarship—The Basics
Why is the You Deserve It Scholarship considered to be an easy one? Because you don't need to write scholarship essays, collect letters of recommendation, put together a resume, or deal with any other nuances of that sort.
The eligibility requirements are as basic as it gets—as you only need to:
Be a legal U.S. resident
Be at least 16 years of age
Reside in any of the United States, District of Columbia, or U.S. territories—excluding Rhode Island and Michigan
Be enrolled now or within three months of registration in a qualified high school, college, or university in the U.S.—international students studying abroad aren't eligible
All applicants have the same chance of winning. It doesn't matter whether you are a woman or a man, a high school senior or college junior, a biology or math major, an African or Asian, or a mom or veteran—you can earn the award.
Students' financial situations and academic achievements also don't play a role. If you have a low income or high ACT score, it won't go to your advantage.
The amount you'll receive is $2,222. You'll also get to use Scholarship Owl for free for one month. A single applicant can receive the aid, and it is rewarded once per academic year.
You Deserve It Scholarship Application Process
If you register for Scholarship Owl services, you'll enter the contest automatically. The rule for 2021 is that the platform will nominate every user who creates an account after July 30 directly.
You can apply for the Scholarship Sweepstakes subsequently up to one time every seven days. Send the request during the Sweepstakes Period only—from July 2021 until August 29, 2021, at 11:59 p.m. The draw will take place on September 10.
There are two methods for applying:
Online application on the website
Mailing a postcard—Write your name, age, state, and email address and email it to Apply Me, Inc., 427 N Tatnall St. 91572 Wilmington, Delaware 19801-2230
Want More Aid? Check Out These Easy Scholarships As Well
Education costs for undergraduate and graduate studies can amount to tens of thousands of dollars. You Deserve It Scholarship can reduce your financial burden, but it won't be enough to cover all your expenses.
Don't limit yourself to this single program as there are many others. If you want to stick to easy scholarships, consider these gift aid, and get yourself some more money:
| Scholarship Name | Who Can Apply | Award |
| --- | --- | --- |
| The Scholarship Points $10,000 Scholarship | Current or prospective college students | $10,000 |
| $2,500 Christian Connector Scholarship | High school juniors and seniors who plan to enroll full-time at a Christian or Bible college for the first time | $2,500 |
| Nitro $2,000 Scholarship–No Essay! | High school seniors, undergraduates, and graduates | $2,000 |
| 50 Days of $1,000 Scholarships Giveaway | Students who are 18 years or older | $1,000 |
| $1,000 Easy Money Scholarship | High school or college students | $1,000 |
| Because College is Expensive Scholarship | U.S. citizens who are high school juniors, seniors, college undergrads, or grad students | $500 |
These are only a few of the many available scholarships. Do you want to know what other options you have? , and we'll curate a full list of financial aid opportunities you qualify for. We'll make sure that you don't miss out on any great scholarship.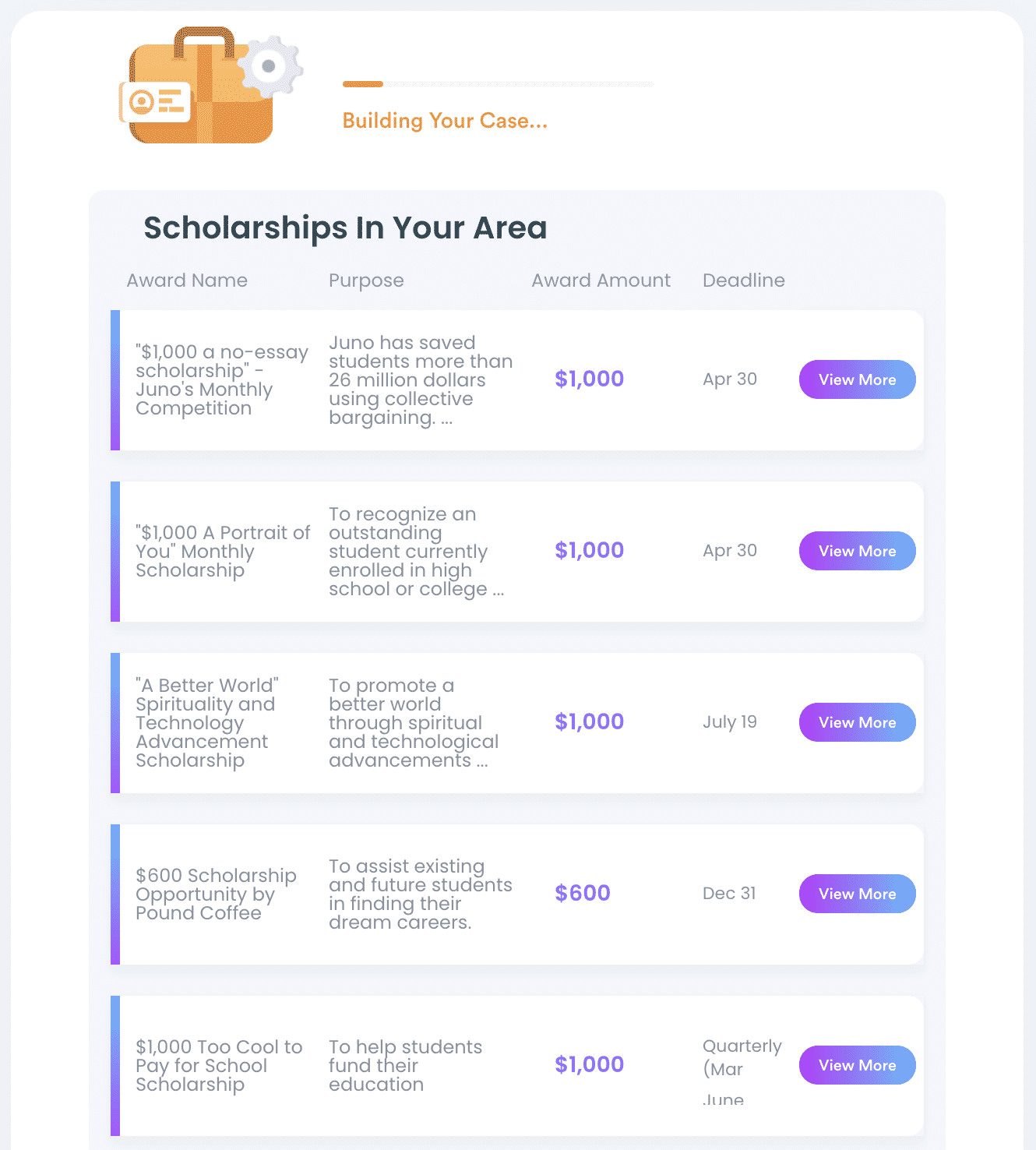 Apply for You Deserve It Scholarship Automatically, and Collect More Awards With DoNotPay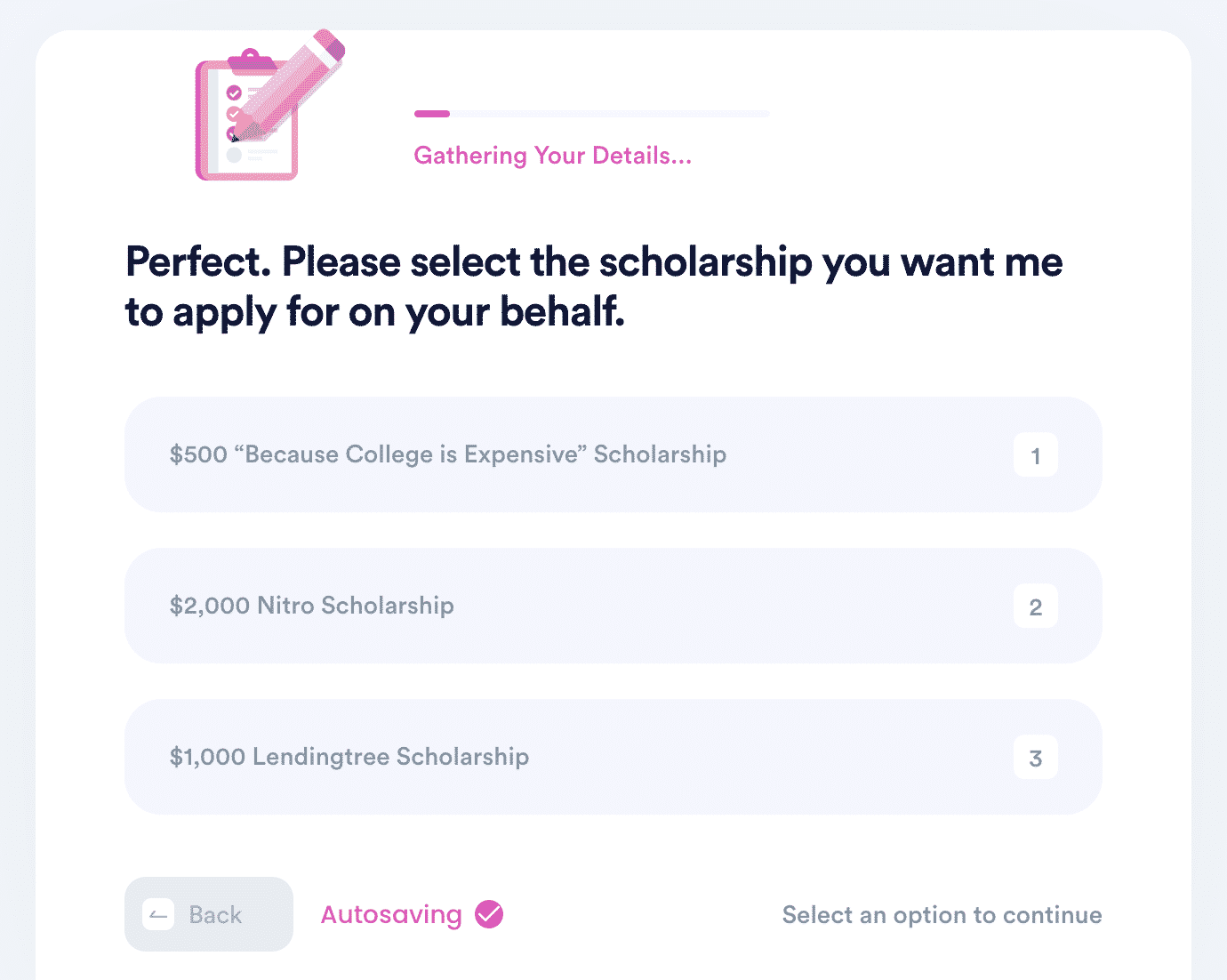 Instead of searching for easy scholarships and applying for them one by one, there is a simpler and faster solution—use the DoNotPay app. We will comb through all scholarships, grants, and prizes and present you with the ones you can get.
For all no-essay scholarships—including You Deserve It—you can apply automatically in the app. You'll also be able to review the amounts, deadlines, and requirements for other programs. This will make it easy for you to spot additional opportunities.
If you want to take a shortcut to scholarship awards, and:
Log in
Select the Apply for Scholarships product
Answer our chatbot's questions about your education level, grade, interests, and special qualifications
Anything Else You Need?
DoNotPay offers an exhaustive range of products and services for one low monthly fee. You can take full advantage of our offer once you resolve the issue at hand.
Our app can both save you money and help you earn it—sign up to appeal parking tickets, get assistance with utility bills, get compensation from airlines, request a refund, have your college application fees waived, find your missing money, reduce property taxes, enter any sweepstake, or send a financial aid appeal letter to any school.
We can also turn your gift card balance into cash, help you apply for scholarships, and assist you in getting compensation as a victim of crime.
There's Even More to Our Offer
The world's first robot lawyer can turn any nightmarish admin or legal procedure into a piece of cake. Look into our knowledge base to find out how to send a letter of warning to your bad neighbor, submit an anonymous complaint to your HR, fight workplace discrimination, get access to public records, deal with a stalker or harasser, put an end to robocalls, and file a complaint with any company.